After swearing them off, David E. Kelley returns to law shows with 'Goliath' — but not for a network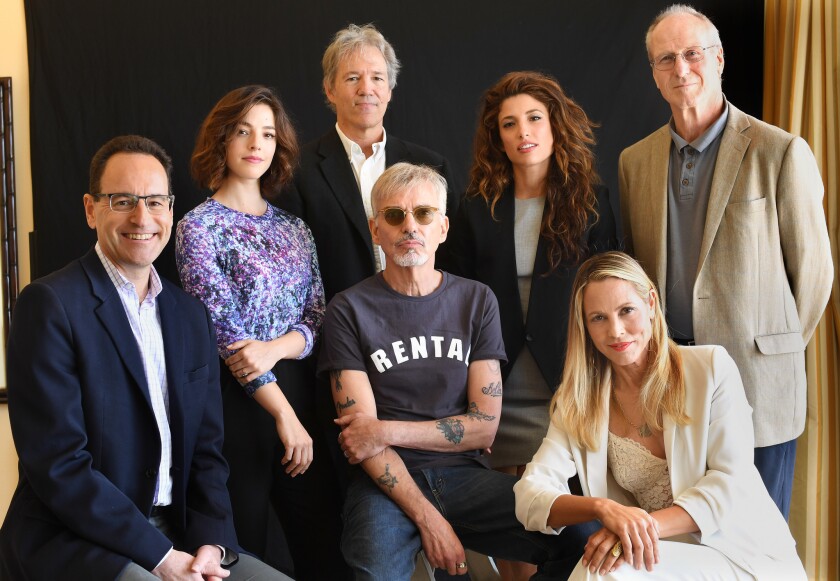 David E. Kelley swore he was done. He even made the promise on paper to his grown children.
No more law shows.
The former Boston lawyer-turned-prolific writer and producer has built a reputation as TV's legal drama maestro thanks to such popular series as "L.A. Law," "The Practice," "Ally McBeal" and "Boston Legal." Each helped solidify the time-tested dependability of courtroom dramas on the small screen. After his last legal show, "Harry's Law" starring Kathy Bates, was canceled in 2012 after two seasons due to its older-than-desired audience, Kelley thought maybe it was time to put the gavel down.
READ MORE: David E. Kelley looks back on "Ally McBeal" | "The Practice" | "Boston Legal" | "Harry's Law"
"I know there aren't long lines on the street corners with people saying, "Give us another law franchise, will you?'" Kelley said on a recent morning. "But I started thinking about what kind of stories I want to tell, what kind of characters I wanted to mine — they invariably led back to law."
And his kids were overruled.
The series that pulled him out of legal drama retirement will be unveiled on Friday with the release of "Goliath" on Amazon — yes, Amazon, a first for Kelley. "It's a whole new and unknown journey for me," said Kelley, who has been a mainstay on broadcast TV with series that have run on CBS, NBC, ABC and Fox.
The legal thriller stars Billy Bob Thornton as a burned-out lawyer, Billy McBride, trying to take down a megalithic firm that he helped build. The series was co-created by Jonathan Shapiro, a former federal prosecutor and trial lawyer with whom Kelley also worked on "The Practice" and "Boston Legal."
"Goliath," which also stars William Hurt and Maria Bello, sets out to explore the disparity of the haves and the have-nots — and not just on an individual level, but also on a business level, delving into the ramifications of big corporations gobbling up smaller ones. Part of the idea was borne out of Shapiro's time working at a similar behemoth-like law firm in recent years.
(Warning: Video contains graphic language.)
"Nobody goes to trial anymore because they can't afford it," Shapiro said. "Most people can't afford a lawyer. The whole concept of David vs. Goliath just in present day is totally different," Shapiro said. "It started to feel like David wasn't going to win anymore."
Morgan Wandell, head of drama series at Amazon Studios, said part of the allure was that it wasn't a traditional law show. It's "much more of a thriller and a character piece," he said. "The novelistic approach David and Jonathan are taking really appealed to us. It felt like it had a lot of cinematic possibilities as well. It feels like a fantastic eight-hour Billy Bob Thornton movie."
Wearing a suit with slightly disheveled, surfer-like hair in a West Hollywood hotel room, Kelley, 60, is easygoing but becomes animated when talking about law and his unending fascination with what it uncovers about human pathos.
"The law is a very imperfect world," he said. "It's the best piece of machinery we have to legislate societal norms and values and a code of ethics. But it's extremely imperfect when you try to apply it systematically. It has all kinds of breakdowns. That's opportunity for storytellers to examine those fissures, not just the legal system, but also in the characters that function in it."
It's why he's not surprised by television's revived fascination with true-crime narratives. But he does have competing emotions about it. There is his own enchantment with them — he watches "Dateline" frequently and was "riveted" by "Making a Murderer" — and his own concerns about measuring up with them as a dramatist.
"What I find so great about those series, aside from the actual plot, is they are just wonderful character studies, the people in it, the lawyers in it," said Kelley. "Fiction really can't compete with true life. I can't compete with that. I wouldn't even try. I think one of the reasons I fled the practice of law is, I think on some unconscious level, I didn't want to be stuck with the facts. When you make it up, and you can freewheel as a storyteller, it's a little more fun."
Of course, it wasn't the career he planned. Kelley graduated from Princeton University in 1979 with a degree in politics. He followed that up with a law degree from Boston University. While he was content practicing law, on a whim, he wrote a screenplay — "From the Hip," set in the world of law — out of a desire to tell a story.
Before it was put into production, he got a call from Stephen Bochco, who had created "Hill Street Blues" and would go on to leave his own formidable mark on the television landscape. It was the mid-'80s and Bochco was developing "L.A. Law" and was seeking writers with a legal background.
"What he was able to render was a workplace in a courtroom, which most writers turn into a kind of formal environment that is kind of dull," said Bochco in a telephone interview. "David turned the courtroom into a prosaic environment where people are funny, people are not paying attention, judges are impatient. He just absolutely created a world that most people who don't interact with the law had never really seen before. It became a very human place. I was completely seduced by that."
Kelley came out to meet with Bochco, and never went back to practicing law.
"I went into the world of law under the delusion that it combined all these great things — you get to compete and there's winning and there's losing and you get to perform," said Kelley, whose interest in competition stems from his youth as an avid hockey player.
"Then the actual practice," he continued, "was more about the nuts and bolts, research and the boring discovery trail and the realization that you don't actually get the intellectual part of the equation. Cases usually settle on more pragmatic concerns. I did like being a lawyer. I didn't wake up one day and hate it. I just stumbled into this other world. A make-believe world, it was just more fun."
Some of those nuts and bolts of the profession and its process will get explored in "Goliath." After years on broadcast television, where an hour-long drama actually unfolds in roughly 45 minutes because of commercial breaks, Kelley has more time to play on Amazon. For the first time, he is experimenting with focusing on a single case in the course of the show's eight-episode season. In fact, the case "Goliath" explores is one Kelley and Shapiro had wanted to explore on "The Practice" but had trouble compressing into a single episode.
"On broadcast TV, there's only so much unearthing you could do," Kelley said. "You opened a case at two minutes past the hour and, then, 30 minutes later your people are literally in closing arguments. So the idea that we could take one trial and sort of be more myopic over eight episodes, that was something that I found appetizing."
But will this be his last law-themed show?
He just chuckled.
---
---
---
---
---
ALSO:
Review: 'American Housewife' finds comedy in the new normal
Even without Mark Burnett's help, more Trump stories from 'The Apprentice' surface
Jeffrey Wright on working with Anthony Hopkins and why he loves his character on 'Westworld'
---
The complete guide to home viewing
Get Screen Gab for weekly recommendations, analysis, interviews and irreverent discussion of the TV and streaming movies everyone's talking about.
You may occasionally receive promotional content from the Los Angeles Times.