On the Set: When 'Fargo' brought its snowy noir to Los Angeles
Noah Hawley doesn't want to sit on the bed.
It's an overcast day in mid-February and Hawley, the man who has reimagined the "Fargo" universe for TV, is standing in a dark corner inside a Hollywood Boulevard motel. He scans the room, where flecks of sunlight poke through bistered curtains and chipped paint mars the drab walls. But it's the floral comforters draped over the room's two full-size beds — each appearing like it could write a colorful memoir of debauchery and hopelessness — that give him pause.
"You can really smell the despair in here," Hawley says.
Here at the motel, a story is being told. A "Fargo" story.
Since launching in 2014, the FX anthology series — loosely based on the 1996 Coen brothers movie of the same name — has set its offbeat noir in the snow-covered Midwest. But with its current third season, which follows feuding brothers (both played by Ewan McGregor) whose tense relationship quickly escalates to murderous levels, the series ventured beyond its Minnesota framework for a trip to Los Angeles in Wednesday's episode.

MORE: See photos from the Los Angeles set of 'Fargo'
Titled "The Law of Non-Contradiction," the episode takes place in two eras: present day(ish) in 2010 and in flashbacks to the 1970s. We watch as sort-of, kind-of local Police Chief Gloria Burgle, played by Carrie Coon, ventures to Los Angeles to investigate her deceased stepdad's mysterious past as sci-fi author "Thaddeus Mobley." Part of the expedition includes staying at the same motel where he camped out while caught up in a scheme to make his book into a major motion picture.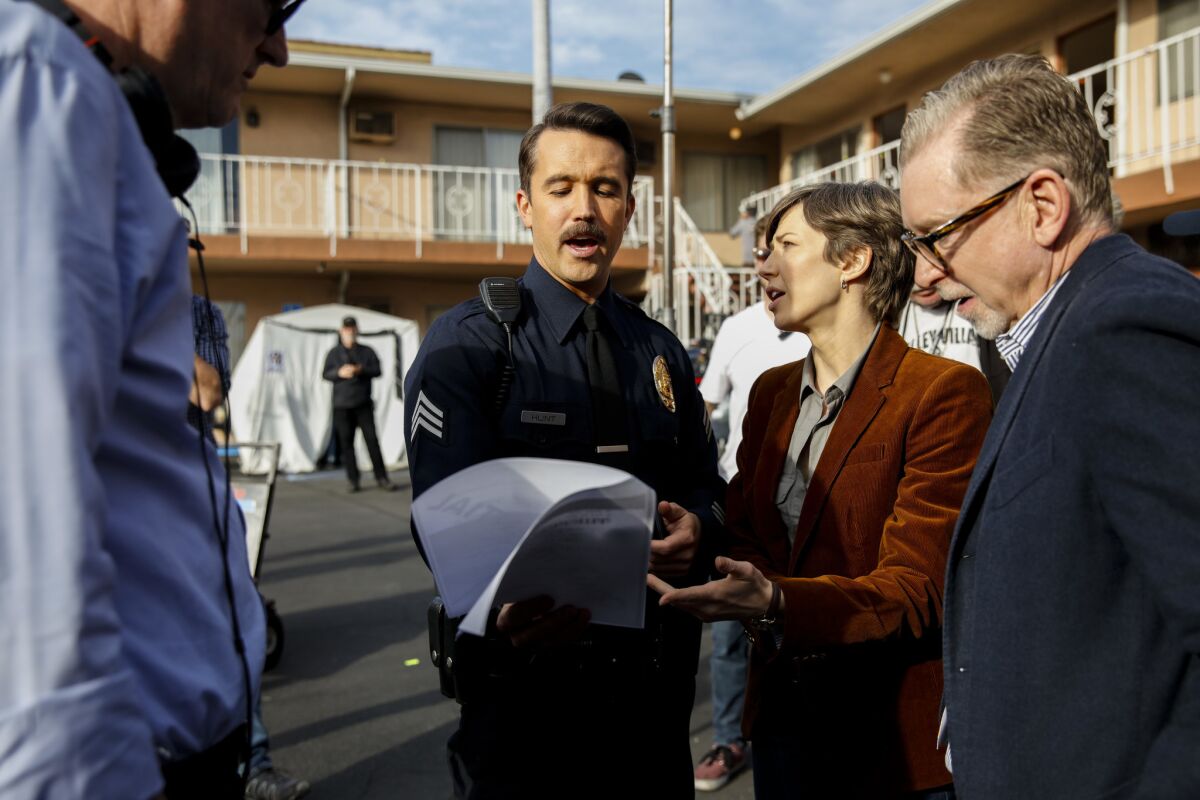 On this overcast day, to step onto the motel's premises on Hollywood Boulevard in Thai Town is to be visually slapped by the absurd. A gag in the John Cameron-directed episode involves a Santa Claus convention—playing off L.A.'s winter-averse reputation. A flock of impersonators wander about aimlessly — in the halls, down stairwells; some lounge by the pool, others graze the craft service table; a few are in complete costume, some sport white tank tops with velvety red pants.
"I think it will be a colorful, offbeat and much-talked-about chapter of 'Fargo' because we've never been here," executive producer Warren Littlefield says in the motel parking lot as the whir of L.A. traffic intensifies. "This is not the world we inhabit. So it looks and feels quite, quite different."
The Coen brothers, who grew up in 1960s Minnesota and work out of New York, have a long and well-documented love-hate fascination with the machinations of classic Hollywood. "Barton Fink" (1991) followed a playwright attempting to remain uncorrupted by the temptations of Tinsel Town, while their recent "Hail, Caesar!" (2016) affectionately looked at the spiritual travails of a 1950s studio fixer.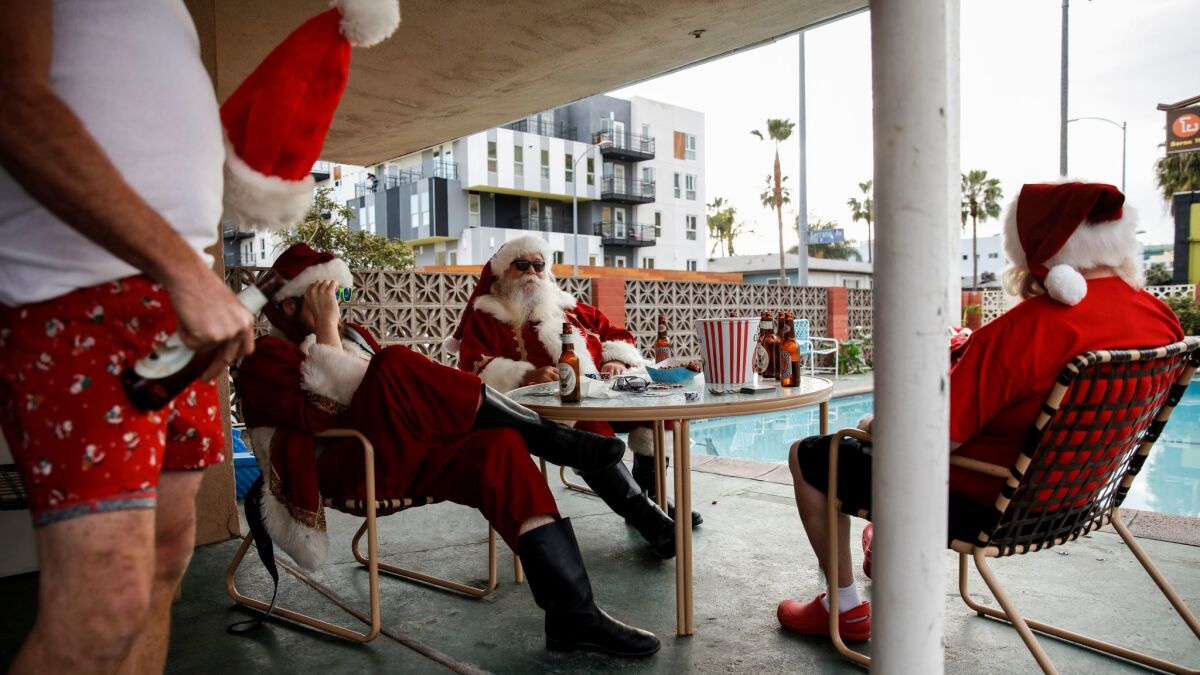 During a break from production at the motel, where amenities include free WiFi and a pool, Hawley refers to that enthrallment as motivation for the show's L.A. romp this season,
"I was excited about the idea because obviously the Coens have a very long relationship with the idea of Hollywood," he said, noting that the brothers particularly like to play with different periods in Hollywood.
"This [episode] has a period element to it as well, but it's not really a period they've dealt with in their films. It has its own tone. But there is something interesting about bringing a character who sees the world in a certain way, into a world where people are much more cynical and calculating."
I was excited about the idea because obviously the Coens have a very long relationship with the idea of Hollywood.

— "Fargo" showrunner Noah Hawley
Coon, who was born and raised in Ohio, says the field trip brought up familiar memories.
"It's very much a fish-out-of-water story for Gloria and it reminds me of the first time I came to L.A.," she says. "I was a Midwesterner. I came in for an audition … when I first got out of the airport and I looked around, I could feel how the landscape was not part of my DNA at all. I felt like I was on another planet."
Coon's Gloria is the only central character to appear in the episode.
"Obviously there's a big risk in your third hour, when things are picking up steam and everyone is invested in your characters, to go off for an hour with one of the characters," Hawley says. "I'm interested to see how people respond to it. It felt both fun to me and important to the story. But it has to be a compelling hour if I'm asking people not to see Ewan McGregor for one of the 10 weeks of the show."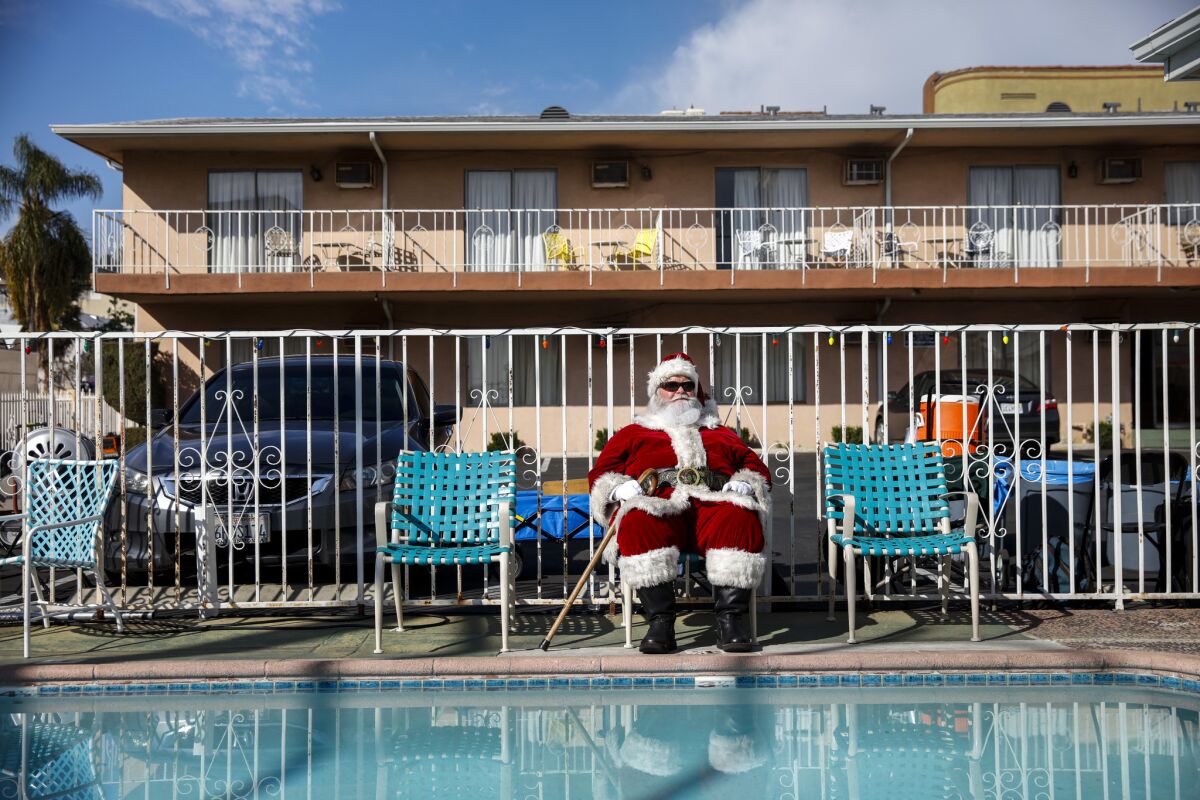 The show's L.A. cast of characters include Rob McElhenney ("It's Always Sunny in Philadelphia"), who plays an LAPD officer; Francesca Eastwood and her mother, Frances Fisher, as younger and older versions of a Hollywood starlet named Vivian; Fred Melamed as a shady producer, and Thomas Randall Mann as Thaddeus.
"I am in 'Fargo' but I don't even get to do the Midwestern accent — I would have killed that accent," McElhenny says playfully during a break, stroking his fake mustache. (His appearance marks the second actor to make the temporary detour from "Sunny" to "Fargo" following Glenn Howerton's arc in Season 1.)
Shooting for "Fargo's" third season — like its previous two cycles — mostly took place in Calgary, Canada, which stands in for the show's snowy Midwest setting. But Wednesday's episode was almost entirely shot and set in L.A.
"We really wanted to be here if we were going to be here," Hawley says.
Filming took place at roughly seven L.A. locations in the span of a week with a crew that was mostly based in L.A., according to the show's Los Angeles location manager, Lyal Holmberg.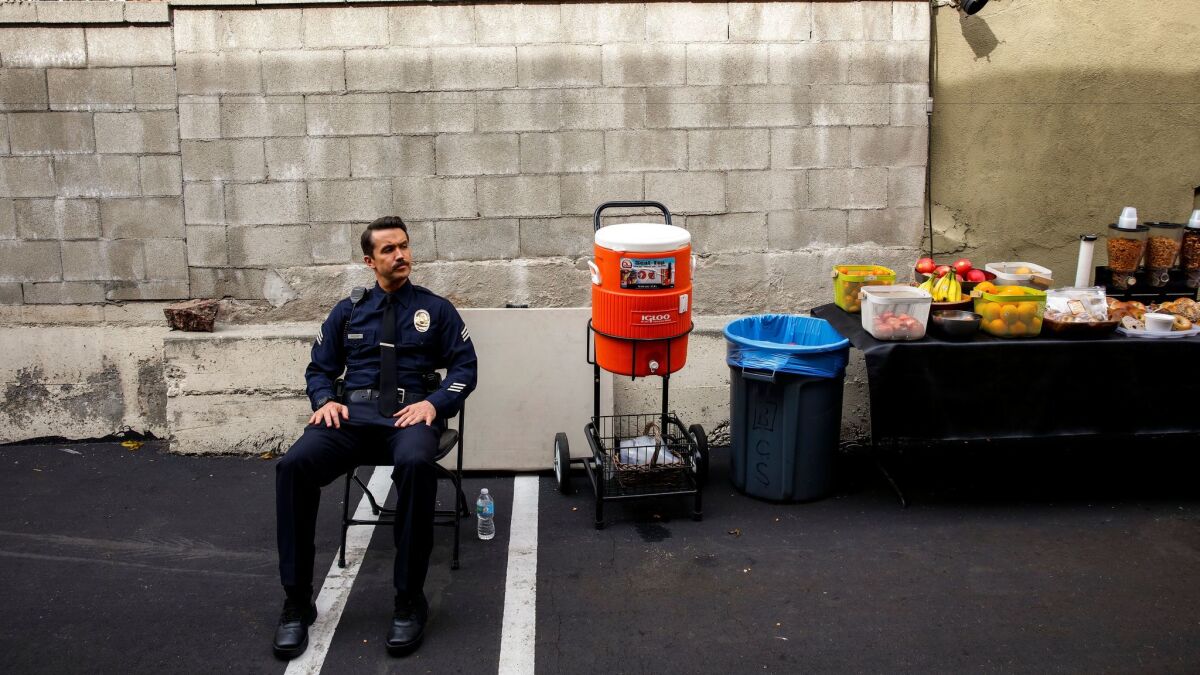 "The climate in Calgary is obviously quite different than L.A.," Holmberg says by phone. "The intention was really selling L.A. and making sure it had a much different feel. We had to be mindful of parking meters and movie posters — just making sure everything was period-appropriate. Some stuff, like the motel, look like they're just stuck in the '70s."
In addition to the motel, which most recently made an appearance in Justin Timberlake's "Can't Stop the Feeling!" music video, locales featured in the episode included LAX, Pann's restaurant, the Gower Theatre on the Paramount lot, Dockweiler Beach, Boardner's by La Belle, and an overpass along the 101 Freeway near Silver Lake.
It has to be a compelling hour if I'm asking people not to see Ewan McGregor for 1 of the 10 weeks of the show.

— "Fargo" showrunner Noah Hawley
It wasn't a totally picture-perfect visit, to be sure. The show's L.A. excursion happened to coincide with one of the strongest rainstorms to hit the city in some time — dumping more than six inches of rain in some areas of the county during one of the days of production. Soaked umbrellas piled up near the entrance of Pann's near Inglewood on that day of filming. In a stroke of luck, the scenes only involved interior shots. (But for those who wondered about the rapidly swaying foliage seen through the window in the scene where Gloria approaches older Vivian at work, there's the story.)
Rain or shine, Hawley is pleased with the outcome of inserting the series into new, unfamiliar surroundings.
"Part of my goal is that if I invest you enough in that story of Gloria's stepfather's secret past, there may come a moment in the episode where you think, oh, she's going to solve it," Hawley says. "There's some fun to do it. It's also exploring the idea of futility. What can she really hope to do? If you can't bring him back from the dead, at the end of the day, what good is any of it?"
And, so, the story continues.
The most-read Entertainment stories this hour »
'Fargo'
Where: FX
When: 10 p.m. Wednesday
Rating: TV-MA (may be unsuitable for children under the age of 17)
Twitter: @villarrealy
Get our L.A. Goes Out newsletter, with the week's best events, to help you explore and experience our city.
You may occasionally receive promotional content from the Los Angeles Times.