Samantha Bee celebrates (some of) the press at 'Not The White House Correspondents' Dinner'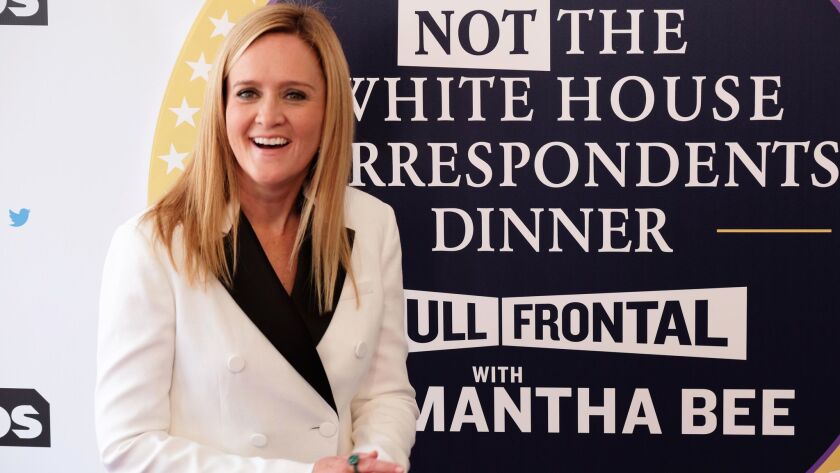 Reporting from Washington —
Comedian and late night host Samantha Bee on Saturday skewered President Trump — and the 24/7 broadcast news media who cover him — at the "Not The White House Correspondents' Dinner."
The event, held a stone's throw from the White House at DAR Constitution Hall, was more than just a roast of the 45th president, who marked his 100th day in office on Saturday. While the commander in chief took quite a few shots, the evening was primarily a celebration of the brand of scrappy, muckraking journalism that feeds topical comedy shows like Bee's "Full Frontal" on TBS.
Offering a blistering critique of Fox News, CNN, MSNBC, and other insiders of the Washington press corps, the dinner, which was taped for broadcast a few hours later, was an alternative to the annual schmoozefest of the White House Correspondents' Association Dinner later that evening.
The opening salvo was a pre-taped sketch featuring Allison Janney — who played a presidential press secretary on "The West Wing" — fielding increasingly ludicrous questions from the White House press corps. "You are the dregs of a free society," she told the faux reporters in the spoof.
Then Bee, dressed in a symbolically potent white tuxedo, took to the stage. "We came here to Washington, D.C., to celebrate the press," she told the audience of several thousand fans, journalists and celebrities. She promised that "at a later date, I will get Mexico to pay for your drinks."
"Full Frontal" correspondents, including Allana Harkin and Ashley Nicole Black, acknowledged the work of journalists at outlets as varied as the Weather Channel, Slate, Teen Vogue and NPR. Bee also touted the $200,000 raised by the black-tie event, which will be donated to the Committee to Protect Journalists.
Another correspondent, Amy Hoggart, wore an old-fashioned newsboy cap and urged the audience to support journalism by buying newspapers, such as the Flint Journal, which helped uncover the water crisis in that Michigan city.
In a segment greeted by raucous cheers at the arena, Bee contrasted that kind of investigative journalism with what she characterized as the bombastic sparring that has become a staple of cable news.
One of her key targets was Jeff Zucker, president of CNN — which happens to be a corporate cousin to Bee's home network, TBS. She accused Zucker of populating the channel with "loyal partisan hacks who make us measurably dumber" in a mercenary effort to turn politics into sport.
Some CNN personalities, including Don Lemon and Van Jones, were in attendance, but didn't seem to mind the barbs. In fact, one bit featured anchor and chief Washington correspondent Jake Tapper grilling Bee for offering paltry finger foods at a party billed as a "dinner," a humorous poke at his reputation as one of the network's more probing reporters.
Since the November election, Bee has been arguably late night's most vociferous Trump critic. Her weekly show takes an unapologetically feminist point of view, which was reflected Saturday by an all-female band wearing shirts emblazoned with "feminist" and "free press."
Bee hammed it up in a pretaped bit imagining an alternative universe in which Democratic presidential hopeful Hillary Clinton had won the election. Sponsors included Planned Parenthood and NARAL Pro-Choice America.
So it was no surprise when Bee addressed the sexual harassment scandal at Fox News. The former "Daily Show" correspondent commemorated "two media titans who were taken from us far, far too late" — the departed Roger Ailes and the recently fired Bill O'Reilly.
She saved most of her venom for 21st Century Fox Executive Chairman Rupert Murdoch, describing him as a "sentient liver spot" who'd fostered the hyperpartisan media climate at the network owned by his corporation.
The evening's running gag, inspired by the often breathless cable news coverage of Trump's campaign on cable news, involved a camera cutting away to tease an impending appearance by a "surprise guest" at a lectern surrounded by American flags.
The "surprise guest" turned out to be Will Ferrell, reprising his popular impression of George W. Bush.
Channeling the former president, the comedian paid tribute to Trump — sort of.
"How you like me now?" he asked the audience, who welcomed him with a standing ovation. "For the longest time, I was considered the worst president of all time. That has changed. And it only took 100 days."
Ferrell also offered Trump some sartorial tips: "A big, long tie that goes past your mid-thigh does not mean what you think it means"
"Not The White House Correspondents' Dinner" took place on a hectic day on the political calendar. As Trump crossed his 100th day in office, thousands of protesters marched down Pennsylvania Avenue in near-record heat to raise awareness about climate change, snarling traffic throughout the district.
Across town, a quieter version of the actual White House Correspondents' Assn. Dinner, the event that inspired Bee's counter programming, took place as scheduled at the Washington Hilton, hosted by Hasan Minhaj, a correspondent for "The Daily Show With Trevor Noah."
Trump made sure he was out of earshot of all the criticism, commemorating the 100-days milestone with supporters at a rally in Harrisburg, Pa.
Or, as Bee put it, "trying to win Pennsylvania."
See the most-read stories in Entertainment this hour »
Follow me @MeredithBlake
---