'The Talk — Race in America' tackles thorny, and sadly timely, topic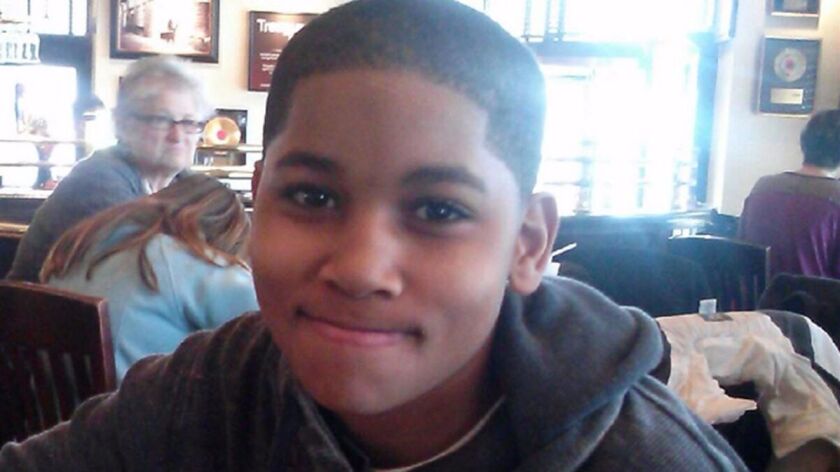 "The Talk — Race in America," a two-hour documentary premiering Monday on PBS, is ostensibly about the difficult conversations between black and Latino parents and their children about interacting with police.
This discussion has grown more urgent in recent years, as the deaths of young men and women of color such as Michael Brown, Sandra Bland and Philando Castile have turned the issue of police violence into a national flashpoint. This fraught subject has inspired books like Ta-Nehisi Coates' "Between The World And Me," and episodes of TV shows including "black-ish" and "The Carmichael Show."
But "The Talk" is also about other vital conversations taking place across the country — between law enforcement and the communities they serve, between activists and their allies, between grieving parents and a justice system often indifferent to their pain.
In one of the more resonant moments of the documentary, a father in Oakland named Amir Abdul-Shakur says he doesn't want his 5-year-old son "to be that next hashtag."
The comment speaks not only to his obvious fear, but also to the ways in which once-unknown young men and women have become symbols of injustice and achieved a kind of posthumous notoriety no parent would ever wish for their child.
Presented in six segments, each produced by a different filmmaker, and set in a community affected by violence, "The Talk" does its best to go beyond the hashtags. We hear from parents who've lost a child, and others who fear they might; from activists and advocates about the most effective ways of speaking about race and policing. Both the most frustrating and most honorable thing about the film is that it doesn't offer easy answers, only an array of approaches.
The film opens in Cleveland, where we meet Samaria Rice, whose 12-year-old son Tamir was killed by police while playing with a toy gun. "If he was a white boy, I believe he would still be alive," she says, an assertion that's made repeatedly in various forms throughout the film.
A caption relays grim statistics from the Washington Post that strengthen the claim: In 2016, 48 unarmed people were shot and killed by police. 33% were black males, a group that constitutes a mere 6% of the population.
"The Talk" also explores cases that garnered less national coverage or didn't fit the black-white binary often portrayed in the media. We meet Pastor Catherine Brown, who was dragged from her car by Chicago police and beaten in front of her two small children as she attempted to pull into her own driveway. Filmmakers also focus on a story that drew much local attention when they interview the family of Oscar Ramirez, an unarmed 28-year-old man from Paramount, Calif., who was shot and killed by a Los Angeles County sheriff's deputy.
In the interest of balance, there's also a segment told sympathetically from the perspective of officers who put themselves at risk on a daily basis. As another graphic, also sourced from the Washington Post, notes, 64 officers were killed in the line of duty in 2016, an increase of 50% over the previous year.
At the South Carolina Criminal Justice Academy, the filmmakers follow trainees as they learn the protocol for using deadly force — decisions that are of course easier to make in a contained setting than in high-pressure real-life situations. While there is an acknowledgment that some officers are "badge heavy" — using their authority to scare people— others reason that "I would rather be tried by 12 than carried by six," as retired New York police officer Eric Adams puts it. (It seems worth noting that Adams is African American, as are many of the law enforcement officials in the documentary.)
The South Carolina segment also articulates one of the potent underlying themes in the documentary: the pervasiveness of guns, which in turn leads to greater fear. "Almost everybody's carrying a gun now," says Mark Keel, chief of the South Carolina Law Enforcement Division.
Between each segment, we hear from celebrities including "black-ish" creator Kenya Barris and "Boyz n the Hood" director John Singleton. Their experiences vary: Barris recalls his son's bafflement over the anger and violence that erupted in Ferguson, Mo., after Michael Brown's fatal shooting, while Singleton recounts a story about his son defensively throwing rocks at police cars at the age of 3.
As for "the talk" itself, the approaches and advice vary. Activist Bakari Kitwana takes a pessimistic view focused on parents. "Don't be surprised when America kills your black male child," he cautions, "because this is the norm." Others are more pragmatic: "Always show your hands," counsels Angel Carrazco, an attorney.
Whatever one's feelings are on the circumstances of each particular case, it's difficult to imagine identical conversations taking place in white households. And that's possibly the most painful aspect of "the talk," whatever form it takes: acknowledging to children that the world is an imperfect place where they may be viewed with suspicion just because of their skin color.
'The Talk — Race in America'
Where: KOCE
When: 9 p.m. Monday
Rating: TV-PG-LV (may be unsuitable for young children with advisories for coarse language and violence)
See the most-read stories in Entertainment this hour »
Follow me @MeredithBlake
---
Inside the business of entertainment
The Wide Shot brings you news, analysis and insights on everything from streaming wars to production — and what it all means for the future.
You may occasionally receive promotional content from the Los Angeles Times.