27 Images
TV shows and their spinoffs
Succesful television shows often lead to spinoffs -- new shows that focus on specific characters, themes or events introduced in the original series. While some spinoffs have long runs like their originating series, not all shows do as well as networks hope. Here is a look at some TV shows and their progeny.
By Tracy Brown
(Richard Cartwright/UPN / Jessica Burstein/NBC Universal / Comedy Central / Nickelodeon)
In "How I Met Your Mother," Ted Mosby (played by Josh Radnor and voiced by Bob Saget) sits down with his teenage kids to regale them with a tale of a time long before he was a parent, recounting the events that led to him meeting their mother. From MacLaren's Pub to a certain wedding that happens in Farhampton, the stories recounted in the series give the kids (and the viewers) a non-chronological glimpse into the relationship haps and mishaps of Mosby and his friends Marshall (Jason Segel), Lily (Alyson Hannigan), Barney (Neil Patrick Harris) and Robin (Cobie Smulders). In November 2013, CBS ordered the pilot of a female-centric spinoff titled "How I Met Your Dad," with Greta Gerwig cast as the central character.
(Gary Friedman, Ricardo DeAratanha / Los Angeles Times)
The show:
Sometimes people need to take a break from all their worries. People like Norm (George Wendt), Cliff (John Ratzenberger) and Fraiser (Kelsey Grammer) get away by going to a place where everybody knows their names - Cheers. Set in Boston, the show's eponymous bar is owned by Sam Malone (Ted Danson).
The spinoffs:
"Frasier" follows Cheers' resident psychiatrist and radio host Dr. Frasier Crane after he moves back to his hometown Seattle and reunites with his father Martin (John Mahoney) and brother Niles (David Hyde Pierce). Cheers waitress Carla's (Rhea Perlman) ex-husband Nick Tortelli (Dan Hedaya) marries Loretta (Jean Kasem) in an episode of "Cheers," and the two star in "The Tortellis," the first "Cheers" spinoff that aired in 1987.
(Mark J. Terrill, Reed Saxon / Associated Press)
The show:
What happens when a chef, a street musician, a struggling actor, a paleontologist, a fashion enthusiast and a data analyst meet at a bar? Well, replace "bar" with a coffee shop named Central Perk, add an ode to "Smelly Cat" or an argument about actions while "on a break" from a relationship, and you get a scene from "Friends."
The spinoff:
"Joey" follows fictional soap-star Joey Tribbiani (Matt LeBlanc) after the series finale of "Friends." Joey moves from New York to Los Angeles to pursue his acting career.
(Warner Bros.)
The show:
Jon Stewart tries to make sense, or when that's impossible just makes fun, of the crazy world of politics and current events in the satirical news program "The Daily Show With Jon Stewart."
The spinoff:
Long-time "Daily Show" correspondent Stephen Colbert makes viewers question whether imitation is indeed the sincerest form of flattery with "The Colbert Report." Colbert satirizes more politically conservative hosts and news programs and his show serves as the counterpart to the more openly liberal-leaning "Daily Show."
(Comedy Central)
The show:
Anybody who survived high school knows that high school students have a flair for the dramatic. This drama plays out on screen in "Laguna Beach: The Real Orange County," a reality show centered on students attending Laguna Beach High School.
The spinoffs:
"The Hills" follows "Laguna Beach" alumna Lauren Conrad after she leaves Orange County for Los Angeles to pursue a career in the fashion industry. "The Hills" also launched spinoffs following Conrad's cast mates and friends, including "The City" with Whitney Port, and "Audrina" with Audrina Patridge.
(MTV)
The show:
A working-class bigot uncomfortable with change, his "dingbat" wife, their daughter and "meathead" son-in-law live under the same roof in "All in the Family." Archie Bunker (Carroll O'Connor) may be bad-tempered and ignorant, but his honesty and work-ethic keep him lovable.
The spinoffs:
There are five "All in the Family" spinoff shows. The Bunkers' neighbors, the Jeffersons (Sherman Hemsley and Isabel Sanford), move on up and out of their working-class Queens neighborhood into a luxury Manhattan apartment in "The Jeffersons." And then there's "Maude," with Edith Bunker's (Jean Stapleton) outspoken, liberal, "uncompromising, enterprising, anything but tranquilizing" Maude (Bea Arthur). The other three spinoffs are "Gloria," "Archie Bunker's Place" and "704 Hauser." Additionally, "Maude" launched its own spinoff featuring the Findlay housekeeper titled "Good Times," while "The Jeffersons" launched "Checking In," following the Jeffersons' maid as the housekeeper at a hotel.
(TV Land / CBS / File)
The show:
In every generation a Slayer is born, one girl that battles against vampires and other monsters in order to save humanity. In "Buffy the Vampire Slayer" the chosen one is Buffy Summers (Sarah Michelle Gellar), and she and her friends fight against vampires and annual apocalypses in Sunnydale, Calif.
The spinoff:
Angel, a vampire cursed with a soul, was part of "Buffy the Vampire Slayer" through the third season. Buffy's former lover-turned-foe leaves Sunnydale in search of redemption in Los Angeles and stars as the title character in his own spinoff.
(Richard Cartwright, Justin Lubin / The WB)
The show:
The truth is out there. This belief drives FBI agent Fox Mulder (David Duchovny) as he investigates unsolved cases involving paranormal phenomena along with his more skeptical partner Agent Dana Scully (Gillian Anderson) in "The X-Files."
The spinoff:
Conspiracy theorists and hackers Melvin Frohike (Tom Braidwood), John Fitzgerald Byers (Bruce Harwood) and Richard Langly (Dean Haglund) assist Agent Mulder on several cases throughout "The X-files." Known collectively as "The Lone Gunmen," these government watchdogs star in the spinoff show with the same name.
(Fox)
The show:
Capt. James T. Kirk (William Shatner) leads his crew on their five-year mission "to explore strange new worlds, to seek out new life and new civilizations, [and] to boldly go where no man has gone before." These voyages of the starship Enterprise are chronicled in "Star Trek."
The spinoffs:
Capt. Jean-Luc Picard (Patrick Stewart) leads his crew aboard a new Enterprise in "The Next Generation," continuing with the exploratory mission set forth in the original series. "Deep Space Nine" differs from the previous two series as it moves the setting from a starship to space station. Deep Space Nine, a space station jointly operated by the Federation and Bajoran goverment, is under the command of Starfleet officer Benjamin Sisko (Avery Brooks). In "Voyager" the focus is back on a starship crew. Led by Capt. Kathryn Janeway (Kate Mulgrew) the Voyager crew is attempting to journey home after being flung to a far edge of the galaxy while chasing a rebel Maquis ship. "Enterprise" is a prequel series following the interstellar exploits of the very first starship Enterprise led by Capt. Jonathan Archer (Scott Bakula).
(Paramount Pictures)
The show:
Friends, pals, confidants and family are some of the words that can describe the relationships between Dorothy Zbornak (Bea Arthur), Rose Nylund (Betty White), Blanche Devereaux (Rue McClanahan) and Sophia Petrillo (Estelle Getty), who prove there is still a lot of life left to live after 50. They share a house, and often some late-night cheesecake, in "The Golden Girls."
The spinoff:
The Girls' neighbor is Harry Weston (Richard Mulligan), and in "Empty Nest," two of his adult daughters move home to live with him after his wife's passing. "The Golden Palace," another spinoff series, follows Sophia, Blanche and Rose after they move out of their shared home and invest in a hotel.
(Steve Fontanini / Los Angeles Times / NBC)
The show:
The cutthroat world of surgical interns and residents is the focus in "Grey's Anatomy." The controlled intensity the doctors relish in the operating room at their Seattle hospital is rivaled only by their not-as-controlled passionate on-call room rendezvous in this medical drama.
The spinoff:
Neonatal surgeon and obstetrician-gynecologist Dr. Addison Montgomery (Kate Walsh) learns to live life at a different pace when she leaves Seattle and "Grey's Anatomy" to join Oceanside Wellness Group, a co-operative private practice, in Santa Monica on "Private Practice." Dr. Montgomery's friends from medical school Drs. Naomi Bennett (Audra McDonald) and Sam Bennett (Taye Diggs) are her new neighbors and co-workers who help her with the transition.
(Scott Garfield, Craig Sjodin / ABC)
The show:
A mother, father, 2.5 children and a dog - the makeup of the iconic American family. In the Griffin family the father is impulsive with a less-than-average intelligence, the 0.5 child has matricidal tendencies and the dog is a frustrated pseudo-intellectual that can talk (all three voiced by series creator Seth MacFarlane). "Family Guy" follows their (mis)adventures and antics.
The spinoff:
In "The Cleveland Show," the Griffins' neighbor Cleveland Brown (voiced by Mike Henry) moves back to his hometown with his son Cleveland Jr. (voiced by Kevin Michael Richardson). He marries Donna Tubbs (voiced by Sanaa Lathan), his childhood crush, and inherits a couple of stepchildren.
(Fox)
The show:
A mother's dying wish would be that her children are well looked after. The mother in "Diff'rent Strokes" was Phillip Drummond's (Conrad Bain) housekeeper, and he fulfills her wish by taking in her sons, Arnold (Gary Coleman) and Willis Jackson (Todd Bridges), to live with him and his daughter Kimberly (Dana Plato).
The spinoff:
A house full of schoolgirls sounds overwhelming but Edna Garrett (Charlotte Rae) proves she is up to the task when she trades being the Drummond housekeeper to being the housemother of a dormitory at Eastland School, an all-girl boarding school in Peekskill, N.Y.
(NBC)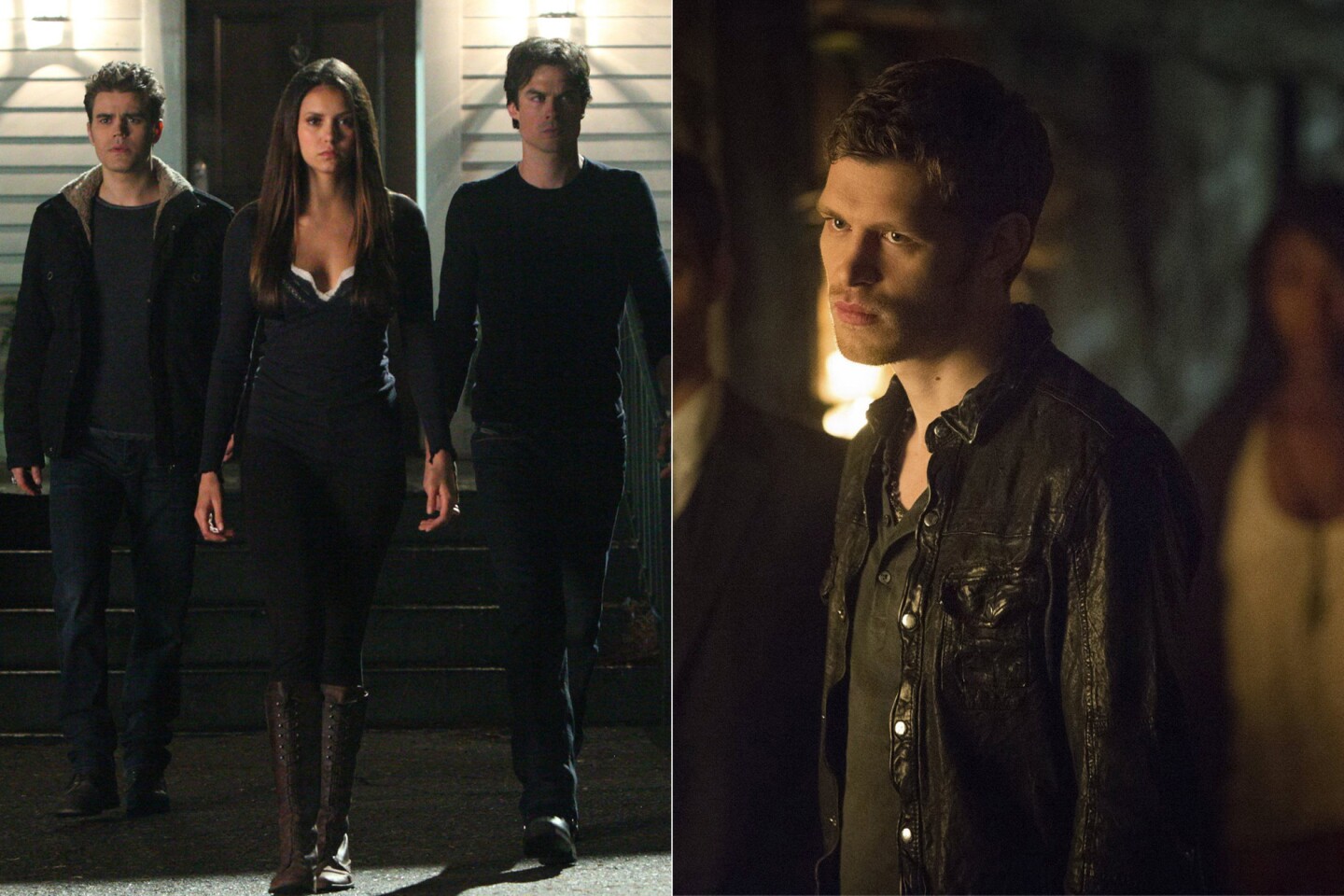 The show:
As if high school alone was not complicated enough, Elena Gilbert (Nina Dobrev) stumbles into the supernatural world of vampiric love triangles, witches, werewolves and doppelgängers after she falls in love with Stefan Salvatore (Paul Wesley) and later his brother Damon Salvatore (Ian Somerhalder) in "The Vampire Diaries."
The spinoff:
All vampires can be traced back to one family -- the Mikaelsons. "The Originals" follows Klaus (Joseph Morgan) and his siblings, Elijah (Daniel Gillies) and Rebekah (Claire Holt), the world's original vampires born centuries ago when their mother used a blood ritual to protect them from werewolves.
(Annette Brown, Bob Mahoney / The CW)
The show:
Stray fibers found on a victim's body, the composition of the dirt around it, bullet holes in a nearby wall and other physical evidence left at a crime scene tell a story. The forensic investigators in "CSI: Crime Scene Investigation" use the power of science to connect the dots and reveal the criminal narrative for the Las Vegas Police Department.
The spinoffs:
"CSI: Miami" follows forensic investigators and police officers of the Miami-Dade Police Department, who, like their Las Vegas counterparts, use scientific methods to help solve crimes. "CSI: NY" follows the equivalent investigative team from the NYPD.
(Robert Voets, Ron P. Jaffe , Craig Blankenhorn / CBS)
The show:
Whether it's a knock to fix a jukebox or a snap to attract ladies, Arthur "Fonzie" Fonzarelli (Henry Winkler) wields his magic hands in "Happy Days." The show follows Richie Cunningham (Ron Howard) and his family, and Fonzie is their upstairs tenant.
The spinoffs:
"Laverne & Shirley" follows Laverne De Fazio (Penny Marshall) and Shirley Feeney (Cindy Williams), roommates that were first introduced on "Happy Days" as acquaintances of Fonzie. Another successful spinoff, "Mork & Mindy," focuses on Mork (Robin Williams), an alien from the planet Ork who landed in 1970s Boulder, Colo., to study humans and moves in with Mindy (Pam Dawber). Mork made his initial television "Nanu Nanu" in an episode of "Happy Days" as an alien trying to abduct Richie. Other "Happy Days" spinoffs include "Joanie Loves Chachi," "Blansky's Beauties," and "Out of the Blue."
(Paramount Pictures / Nickelodeon / ABC)
The show:
Technology turns on its creators with apocalyptic results in "Battestar Galactica." When a cybernetic race known as the Cylon launch a surprise attack on humans and destroy their planets, the only hope for the fleet of survivors is the fabled planet Earth. The sole surviving military ship, Galactica, leads the fleet under the leadership of Commander William Adama (Edward James Olmos) and President Laura Roslin (Mary McDonnell).
The spinoffs:
"Caprica" is a prequel series that shows how humans first created Cylons in the Twelve Colonies. The show follows Daniel Graystone (Eric Stoltz) and Joseph Adama (Esai Morales) after both lose family members to a terrorist attack. Joseph Adama is William Adama's father. "Battlestar Galactica: Blood & Chrome" is another prequel spinoff, first released online, following William Adama (Luke Pasqualino) during the First Cylon War. The series eventually aired as a television movie.
(Carole Segal / Syfy )
The show:
In a small seaside town called Capeside, teenagers balance their angst by dreaming big and loving hard. Aspiring filmmaker and high school student Dawson Leery (James Van Der Beek) draws on his experiences and friendships as inspiration for his future feature in "Dawson's Creek."
The spinoff:
Prestigious boarding school life is chronicled in "Young Americans." One of the students is Will Krudski (Rodney Scott), introduced as Dawson, Joey (Katie Holmes) and Pacey's (Joshua Jackson) former classmate in an episode of "Dawson's Creek," who earns a scholarship to attend Rawley Academy.
(Fred Norris, Eric Liebowitz / The WB)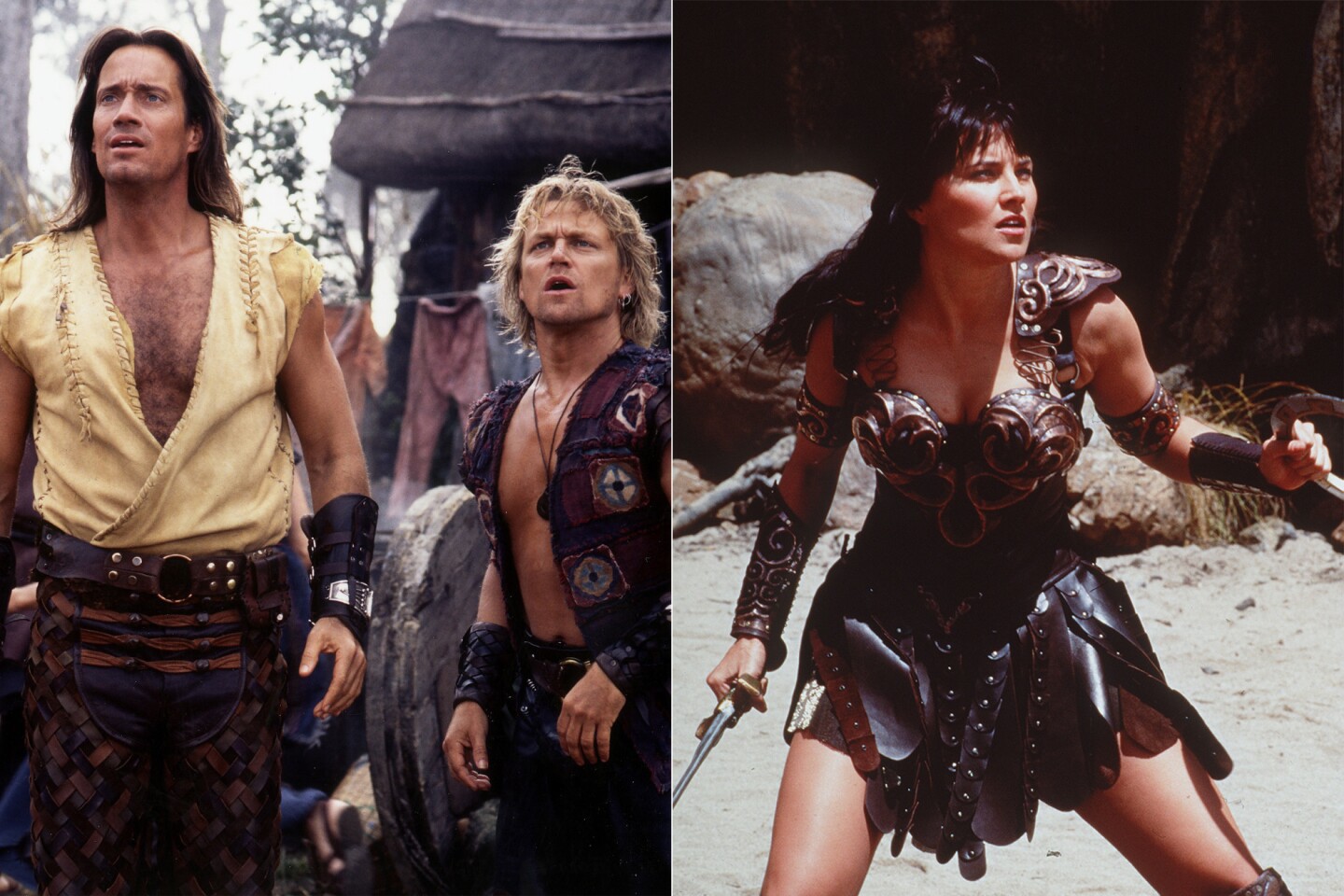 The show:
Sibling rivalry and family drama take an epic turn in "Hercules," where Hercules (Kevin Sorbo), the half-mortal son of Zeus, travels ancient Greece along with his friend Iolaus (Michael Hurst). Often, the heroes have to save the people they encounter from warlords or Hercules' Olympian family.
The spinoffs:
Xena (Lucy Lawless), introduced in "Hercules" as a warlord and villain, seeks redemption for her crimes in "Xena: Warrior Princess." She is accompanied by Gabrielle (Renee O'Connor) who helps her stay focused on "the greater good" throughout their journey. Another spinoff, "Young Hercules," is a prequel series that follows Hercules (Ryan Gosling) while he attends a youth warrior academy where he befriends Iolaus (Dean O'Gorman) and Jason (Chris Conrad). The show aired for one season from 1998 to 1999.
(Handout / Geoffrey Short / Universal Television)
The show:
Larry Appleton (Mark Linn-Baker) finally gets some privacy when he escapes his large family and moves out on his own for the first time. Or so he thinks, until family comes a-knocking in the form of Balki Bartokomous (Bronson Pinchot), his distant cousin from Mypos whom he has never met. While Larry initially rejects him, Balki eventually moves in with him and together they sometimes get so happy, they do the dance of joy in "Perfect Strangers."
The spinoff:
Nerdy, clumsy, annoying Steve "Did I do that?" Urkel (Jaleel White) is in love with the girl next door, Laura Winslow (Kellie Shanygne Williams). Unfortunately, his love is unrequited. Laura's mother Harriette Winslow (Jo Marie Payton) was introduced in "Perfect Strangers" as the elevator operator where Larry and Balki work.
(ABC)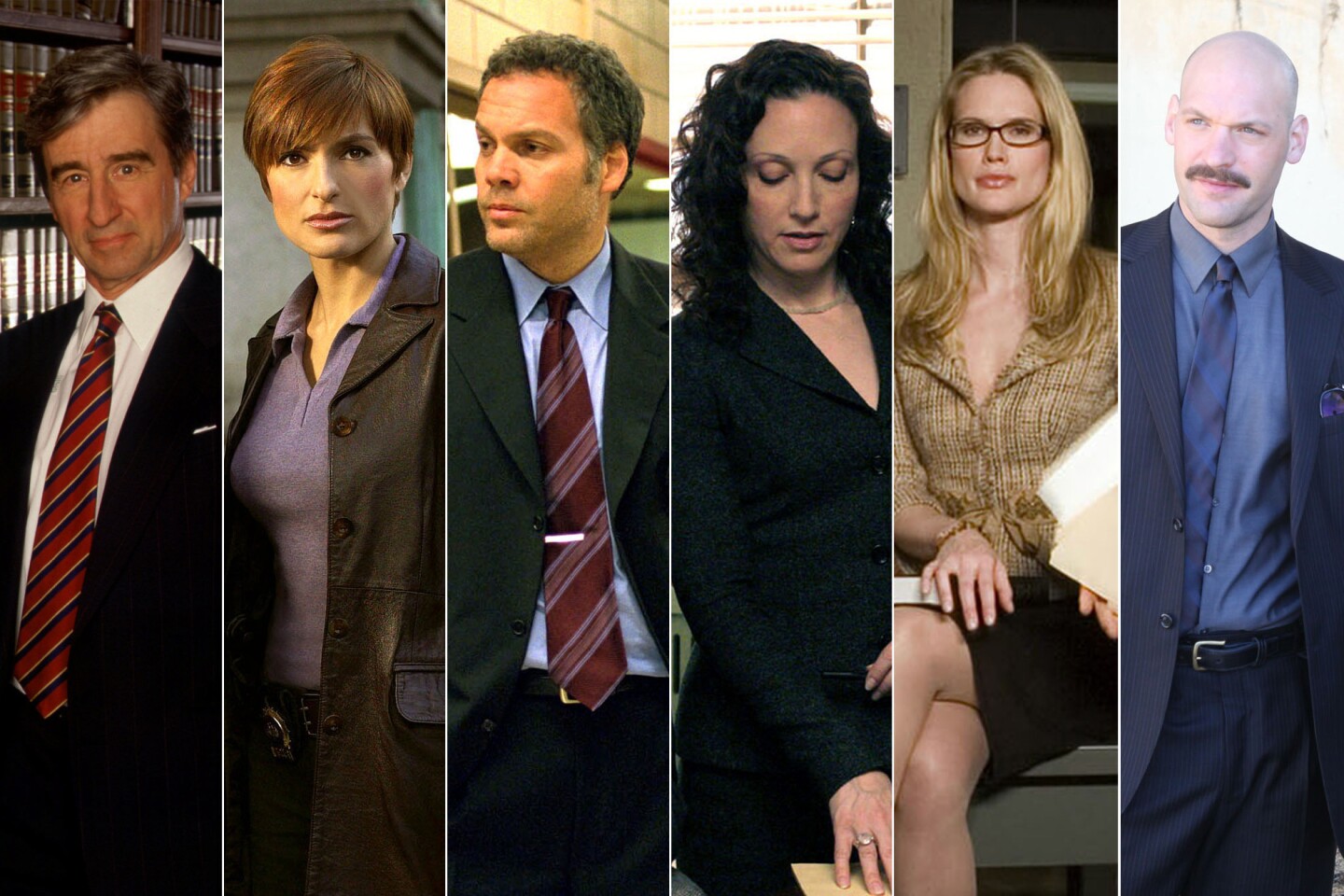 The show:
The criminal justice system consists of two arms: "the police who investigate crime and the district attorneys who prosecute the offenders." Similarly, episodes of "Law & Order" consist of two parts -- the first focuses on the detectives' investigation surrounding a violent crime leading to an arrest, and the second focuses on the prosecutors' work in the courts to procure a conviction against the accused. The show is set in New York.
The spinoffs:
Set in the same New York as the original series, "Law & Order: Special Victims Unit" follows a similar structure but focuses on the detectives and prosecutors who work specifically on cases involving sexually based criminal offenses, which are "considered especially heinous." Likewise, "Law & Order: Criminal Intent" follows the detectives in the Major Case Squad who investigate high-profile cases. "Law & Order: Trial by Jury" focuses more on the trial specifics and the preparation and procedures of both the prosecution and defense attorneys. "Conviction," unlike the other shows in the "Law & Order" franchise, focuses on the characters' personal lives and features former "SVU" prosecutor Alexandra Cabot (Stephanie March) as a Bureau Chief supervising young assistant district attorneys. "Law & Order: LA" follows the original series' format, but is set in Los Angeles instead of New York.
(NBC)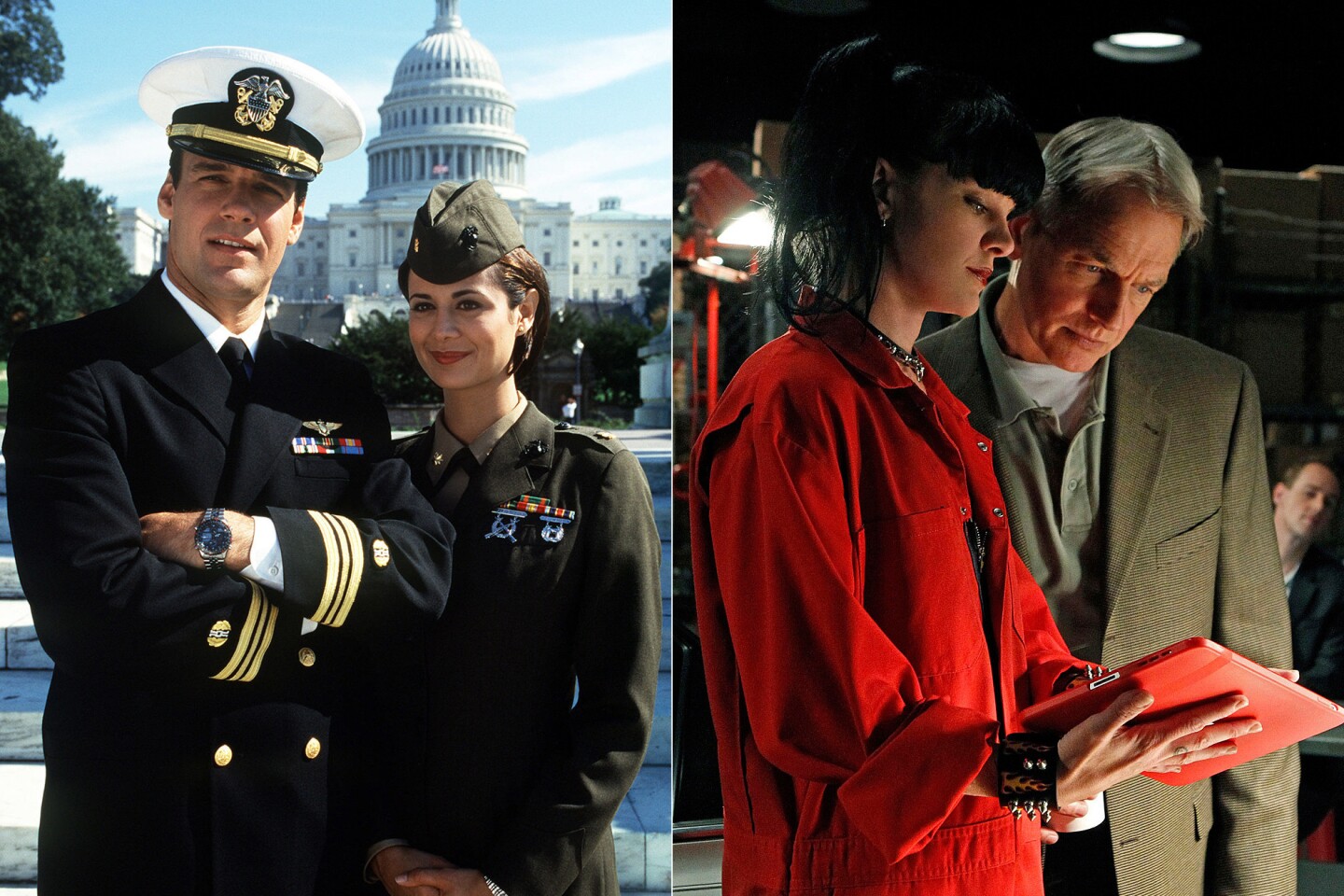 The show:
Military legal matters fall beyond the scope of the standard civilian judicial system. When military members are involved in crime, the investigation, prosecution and defense fall under the jurisdiction of the uniformed lawyers in the Judge Advocate General's Office. "JAG" follows judge advocates Harmon "Harm" Rabb Jr. (David James Elliott) and Sarah "Mac" MacKenzie (Catherine Bell).
The spinoff:
Within the Department of the Navy, all major criminal offenses are investigated by the Naval Criminal Investigative Service. "NCIS" follows a group of Special Agents from the Major Case Response Team, led by Leroy Jethro Gibbs (Mark Harmon). The "NCIS" unit and characters were introduced in "JAG" during a murder investigation involving Rabb. "NCIS" launched its own spinoff, "NCIS: Los Angeles," in 2009.
(CBS)
The show:
Forget spaceships, interplanetary exploration is happening deep under Earth's surface in "Stargate SG-1." At Stargate Command, a top-secret underground U.S. Air Force base located under Cheyenne Mountain, military teams tasked with being Earth's frontline against alien attacks travel through portals to distant planets by using an ancient alien transport device called a Stargate.
The spinoffs:
In "Stargate Atlantis" teams from Earth are stationed at the Lost City of Atlantis, a city built by the Ancients (the alien race that built the Stargate system), and they explore planets in another Stargate network in the far-away Pegasus galaxy. Unlike the other shows, "Stargate Universe" is set on a spacecraft. When their colony is attacked and the planet about to explode, survivors flee using the Stargate and find themselves on a spacecraft built by the Ancients. Far away from the Milky Way galaxy, the evacuees are searching for a way to return to Earth.
(Bob Akester, Eike Schroter, Carole Segal / SyFy)
The show:
Secrets are deadly. Spencer Hastings (Troian Bellisario), Hanna Marin (Ashley Benson), Emily Fields (Shay Mitchell) and Aria Montgomery (Lucy Hale) learn this when they start receiving threatening messages from "A." The secrets "A" knows lead the girls to suspect their anonymous antagonist is Alison DiLaurentis (Sasha Pieterse), their former ring leader who has disappeared, until her body is discovered and the threats continue.
The spinoff:
In "Ravenswood" Caleb Rivers (Tyler Blackburn) discovers a tombstone bearing his name, survives a car crash and starts seeing the ghost of Miranda Collins (Nicole Gale Anderson), who was not as lucky. Together they work to uncover the mysteries of the town's deadly curse. Caleb is Hanna's boyfriend.
(Gary Friedman/Los Angeles Times / Bob D'Amico/ABC Family)
The show:
While some lawyers may launch their careers with the ideal of protecting the innocent, they sometimes discover that in reality they have to defend more unsavory characters and utilize underhanded tactics to stay financially stable. This is the case in "The Practice," which centers around the partners and associate attorneys at a Boston law firm led initially by attorney Bobby Donnell (Dylan McDermott).
The spinoff:
Alan Shore (James Spader) joins legendary litigator Denny Crane (William Shatner) at the firm Crane, Poole & Schmidt after his wrongful termination from the firm in "The Practice." The two attorneys show that sometimes, winning a case is more important than avoiding questionable ethics in "Boston Legal." Denny Crane!
(ABC)
The show:
Hello Wisconsin! Eric Forman (Topher Grace), Donna Pinciotti (Laura Prepon), Mike Kelso (Ashton Kutcher), Jackie Burkhart (Mila Kunis), Steven Hyde (Danny Masterson) and Fez (Wilmer Valderrama) are all alright as they spend their high school days hanging out in (and smoking out) the Forman basement.
The spinoff:
Although not a direct spinoff, "That '80s Show" is another decade based sitcom that follows a similar show structure to "That '70s Show" and shared many of its writers and production staff. The show follows Corey Howard (Glenn Howerton) and his friends who live in San Diego.
(Fox)