TV networks look to pilots to help them ascend in ratings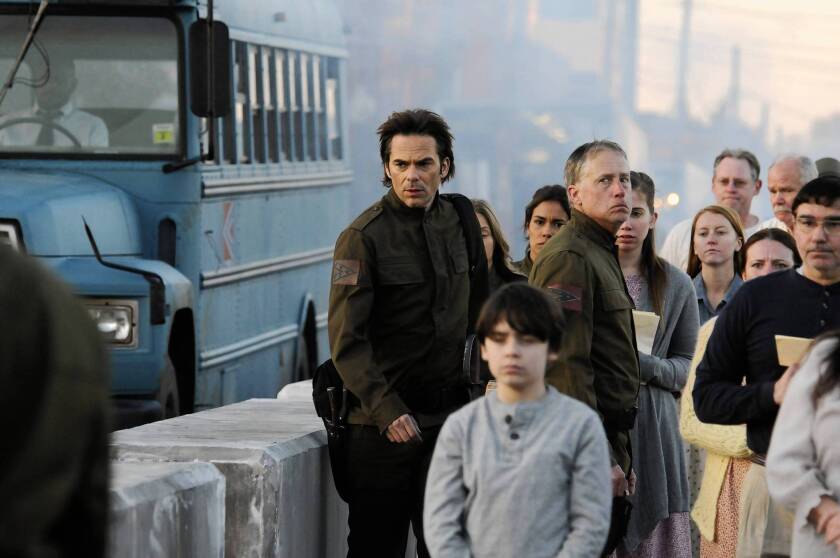 There are monsters and vampires, science fiction, trips back and forward through time, supernatural themes and other out-of-this-world scenarios in the television pilots vying for space on the networks' fall schedules.
The five major networks, ordering more than 100 potential new shows for their 2013-14 season, have scoured this planet and distant ones for buzzworthy big-tent series. They've snagged prominent talents like Michael J. Fox, Robin Williams, Toni Collette and Matthew Broderick and adapted film franchises such as "The Avengers" and "Beverly Hills Cop" to try to lure audiences to NBC, CBS, ABC, Fox and the CW.
---
FOR THE RECORD:
TV pilots: In the April 24 Calendar section, an article about the larger number of network TV pilots being developed for next season said that CBS' ratings were down 3% compared with last season among viewers ages 18 to 49. Based on new ratings released Tuesday, CBS is now even with last year in that ratings category. —

---
Networks may never have needed a few behemoth hits more than they do now. Viewing has dropped across the board in the advertiser-coveted demographic of viewers ages 18 to 49, with even top-rated CBS off by 3% this season compared with the last one, according to Nielsen. Fox and the CW are down double digits for the season to date.
PHOTOS: Hollywood Backlot moments
And all broadcasters face stiffer competition from cable, where one of many runaway hits, AMC's "The Walking Dead," drew 12.4 million viewers for its spring finale (3 million more watchers came from time-shifted viewing), beating everything on the dial.
A number of existing network shows are sagging — Fox's perennial powerhouse "American Idol" has dropped 18% this season — and only one new series in the current season, NBC's "Revolution," qualified as a hit in its fall 2012 premiere. But even that doomsday-inspired drama faltered after a hiatus, sliding more than 40% in recent episodes from its premiere, Nielsen said.
"It's a make-or-break year," said Brad Adgate, an analyst at Horizon Media. "The gap between network and cable has been closing, and now cable has shown for the first time that it can compete head-to-head in original scripted programming and win. It's a day of reckoning for the networks."
There's also a growing threat from Netflix, which has stepped up its original content, and from Hulu, Aereo, YouTube and other entertainment options.
That means a lot of pressure on this year's pilots, which network executives will use to try to plug holes in their prime-time lineups, replace underperforming shows and build successful blocks.
Executives will present their buffed-up schedules to advertisers next month during the annual "upfront" market, during which most of the ad time is sold for the new season. More than $9 billion in commercial time is on the line.
Because so many shows quickly flopped this season — NBC's Jekyll-and-Hyde drama "Do No Harm" lasted only two episodes, ABC's thriller "Zero Hour" ran for three and CBS canceled its only new fall sitcom, "Partners," after poor ratings — the networks have "very shallow benches" and need to restock, said David Scardino, entertainment specialist at media buying firm RPA.
INTERACTIVE: TV's highest paid stars
That could be why executives ordered a few dozen more pilots than they have over the last several years and chose projects from well-known hit makers such as J.J. Abrams, Chuck Lorre, Dick Wolf, Jerry Bruckheimer, David E. Kelley, Seth MacFarlane and Lorne Michaels.
"The networks can't really afford to have another season like this current one, where the new shows pulled down the entire schedule," Scardino said. "That would be horrible."
It's no surprise that executives would look to proven genres and characters, such as cops and crime, doctors, lawyers and politicians, for tomorrow's hits. NBC is considering a remake of the classic legal drama "Ironside," with Blair Underwood in the title role, and CBS may add another "NCIS," this one dubbed "NCIS: Red," with John Corbett ("Sex and the City") and Kim Raver ("24").
As television is wont to do, there are also imitators of shows that have worked in the past. There are a number of quirky geniuses, à la Hugh Laurie in the departed "House." Rainn Wilson plays a cynical but brilliant detective in CBS' cop drama "Backstrom," Steve Coogan stars as a bargain-basement lawyer battling personal demons in ABC's hourlong "Doubt" and Greg Kinnear, in his first TV pilot, plays a blunt, womanizing defense attorney in Fox's "Rake."
Spinoffs, a favorite TV trope, are in the mix, with ABC considering a "Once Upon a Time" offshoot that centers on Alice in Wonderland. NBC, though it has had modest success with Dick Wolf's "Chicago Fire," may double down on that drama.
Every pilot crop has its wild cards, or oddballs, depending on the perspective. The CW is mulling a one-hour show about a young Mary Queen of Scots set in the 16th century, and ABC may add the western period piece "Big Thunder," based on parent company Disney's theme park ride.
Supernatural themes abound, with ABC's "Gothica" centering on mythical creatures such as Dracula and Frankenstein; the CW's "The Originals," serving as a prequel to "The Vampire Diaries"; and NBC's graphic novel-based "The Sixth Gun," from "Lost's" Carlton Cuse, tracing the otherworldly powers of six firearms.
PHOTOS: Cable versus broadcast ratings
"Some of the concepts sound great and some sound completely preposterous," said Shari Anne Brill, TV research analyst. "It matters most how they're executed, where they're scheduled and how they're promoted."
Industry watchers say it's always tough to figure out from brief story lines what will come to life as a viable show. But there's considerable chatter about a number of this season's pilots, including "Agents of S.H.I.E.L.D.," for ABC. The Marvel comic-based action adventure comes from Joss Whedon, the filmmaker behind the blockbuster "The Avengers," which included "S.H.I.E.L.D." characters.
Also visible on the radar is an untitled comedy on CBS starring Broderick, switching to TV from live-theater gigs, and Kristin Chenoweth. The project, reminiscent of "The Courtship of Eddie's Father," stars Broderick as a widowed dad who reenters the dating pool. Chenoweth is his strong-willed sister.
A number of other comedies are generating heat, like ABC's girl-centric "Super Fun Night," starring comedian Rebel Wilson, and its sports-themed "Back in the Game" with James Caan. Lorre's "Mom" at CBS puts Anna Faris and Allison Janney together as a troubled mother-daughter pair, and NBC has already committed to 22 episodes of Michael J. Fox's return to the network, starring in a sitcom loosely based on his life as a family man dealing with Parkinson's disease.
"Easier said than done, but all you need is that great big show that everyone starts to talk about," Brill said, "something with really broad appeal that will create the buzz."
Real places, fake characters: TV's bars and eateries
PHOTOS: 'The Ellen DeGeneres Show' through the years
PHOTOS: Violence in TV shows
---
The complete guide to home viewing
Get Screen Gab for weekly recommendations, analysis, interviews and irreverent discussion of the TV and streaming movies everyone's talking about.
You may occasionally receive promotional content from the Los Angeles Times.