9 Images
Olympic Games TV moments worth remembering
The first Olympics broadcast on a regular, extensive basis on TV were the 1960 Winter Olympics in Squaw Valley, Calif. CBS paid all of $50,000 for the rights, and newsman Walter Cronkite anchored the coverage. Many of the Games had singular TV moments -- outstanding athletic feats and also social landmarks. Here are a few.
()
CBS flew in footage from Rome to New York, where relatively unknown announcer Jim McKay did voice-over. The dream matchup was Rafer Johnson, the world-record holder in the Decathlon, and his UCLA teammate and training partner, C.K. Yang. For two days -- some events being delayed by rain -- they were one-two by far. It gave CBS a story line -- the first one in a long line of Olympic up-close-and-personals. The competition came down to the final event, the 1,500-meter run. Yang was better in the event, but Johnson was ahead in points and needed to lose by only less than 10 seconds to get the gold medal, which he did, running his fastest 1,500 meters ever. At the end, he stumbled forward and put his head on Yang's shoulder -- a win-win-win for Johnson, Yang and CBS.
(Keystone / Getty Images)
Billy Mills was raised in poverty on the Oglala Sioux Pine Ridge reservation in South Dakota but became good enough at long-distance running to get a scholarship to the University of Kansas. He was an afterthought, though, in the Olympics 10,000 meters, a race no American had ever won before (or since). It was a surprise when he went into the final backstretch in third place. But it was even more of a shock when he kicked in the final straightaway to sprint to the gold medal in a time 50 seconds faster than he had ever run. Bud Palmer, the play-by-play man, was somewhat sedate in his announcing, but NBC analyst Dick Bank was almost apoplectic, yelling, "Look at Mills. Look at Mills." Mills, only the second Native American to win a gold medal, went into the Marine Corps soon afterward, an American hero. Bank ¿ astonishingly, given the hype Olympics TV became ¿ was never employed again as an Olympics broadcaster.
(AP)
There had been predictions of either possible records or possible physical disasters, depending on how athletes reacted to the altitude in Mexico City. The long jump was one of the few events ABC would show live, a risky venture given the still-shaky nature of satellite connections. The network need not have worried. Bob Beamon jumped 8.90 meters, which broke the existing record by more than a half-meter. "Records were usually broken by inches or tenths of a second," said McManus. "This was outrageous." The shot of Beamon after the jump, holding his face and shaking and crying for joy gave ABC instant credibility as an Olympic telecaster.
(AP)
Seventeen-year-old Sean McManus was ecstatic to go with his father, Jim McKay, who had been covering Olympics for a decade, to Munich, West Germany. McKay was the gymnastics and track reporter and would have one day off in the middle to sightsee with his son. McKay took a swim and a sauna in the morning, but ABC sports chief Roone Arledge had left him a message when he returned to his room. "Arledge told Dad, 'I don't know exactly what is happening, but I want you on the air with it,' " said McManus. "It" was the taking hostage of Israeli athletes by Palestinian terrorists. Arledge passed over the main sports anchor, Chris Schenkel, and even newsman Peter Jennings, who was on the scene. "Dad had been a police reporter at the Baltimore Sun and then a news anchor in Baltimore before he came to network sports, so Roone used his gut and chose him," said McManus. McKay was on the air for 14 hours straight, but, unfortunately, he made broadcast history just after 3 a.m. Munich time, when he said, "When I was a kid my father used to say, `Our greatest hopes and our worst fears are seldom realized. Our worst fears have been realized tonight. They have now said there were 11 hostages; two were killed in their rooms yesterday morning, nine were killed at the airport tonight. They're all gone."
(Kurt Strumpf / AP)
As the broadcast hours expanded, ABC expanded its coverage of gymnastics since it ran over many consecutive days and there could be a story line. The Soviet women's team was strong, especially with the general favorite, the beautiful Ludmilla Tourischeva. "But out of nowhere came this athletic sprite, Olga Korbut," said Dave Kindred, the former Washington Post columnist who covered Olympics from 1972 to 1996. "She became the star of the Games, doing things no gymnast had done before, and immediately attracting women to the Olympic telecasts." Korbut won three gold medals, but most spectacular may have been her silver-medal performance on the uneven parallel bars, when she did the first standing backward flip in competition. For TV, the best part of Korbut's performance was that she cried and laughed throughout the competition and became the first of a long line of gymnastics TV starlets.
(Allsport)
The Summer Olympics were held in October to escape the searing heat of a Mexico City summer, but it was political heat that marked these games. Martin Luther King Jr. and Bobby Kennedy had been assassinated in the previous months, and Mexican security forces had massacred hundreds of students that summer. In addition, several black athletes had threatened a boycott as a political statement. The 200-meter race was a classic, with Tommie Smith setting a world record. The medal ceremony could have been a mundane moment -- yet it was anything but, as Smith and bronze-medal winner John Carlos bowed their heads and standing barefooted, raised their black-gloved fists in salute as the national anthem played. "It was the sign that sports had evolved to where it could be a political and social phenomenon," said Sean McManus, the chairman of CBS Sports, who has also worked for the other two big network sports operations. "It catapulted the sports world right off the sports pages."
(AP)
The Soviet Union and 13 other Eastern Bloc nations gave payback for the American boycott of the 1980 Moscow Olympics by not showing up in Los Angeles in 1984. As if searching for another bogeyman opponent, NBC settled on South Africa, which was not allowed to compete because of its apartheid policy, so when South African distance runner Zola Budd moved to London to compete for England, the network settled on a "rivalry" with American distance runner Mary Decker. Never mind that a third woman, Romanian Maricica Puic, had a better time in their race, the 3,000 meters, than either of them. The race did not disappoint, at least in the personal-drama realm. Budd and Decker bumped three times, the last one making Decker slip and fall off the track and did not get back into the race. Budd later said that made her embarrassed, especially after the L.A. crowd started booing her. She came in seventh.
(Hiram Clawson / Los Angeles Times)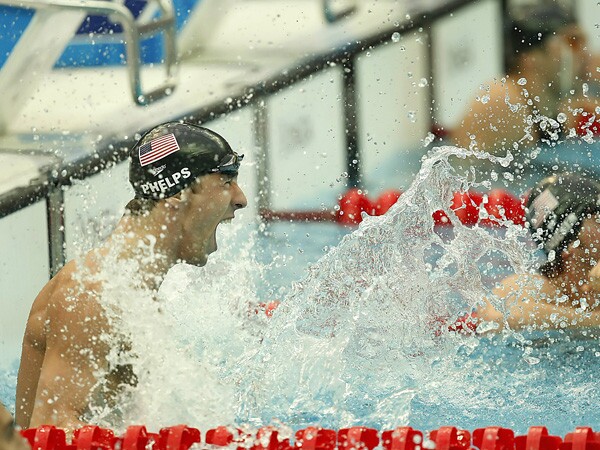 Michael Phelps was a built-in star coming into the Summer Games in Beijing, since he had won six gold medals in the 2004 Athens Games. But even then he surpassed expectations. In his first six events, Phelps not only won gold medals but set world records. It was a foregone conclusion that his eighth event, the 4-by-100 medley relay, would produce a gold and a probable world record, so all that was left was the 100 butterfly. "This was where TV would show its best, since a mere description would never have worked," said McManus. Phelps was behind the Serbian Milorad Cavic going into the final stretch, but he shortened one stroke while Cavic stayed in his longer form and touched the wall a mere one-one-hundredth of a second sooner. It was the only race in Beijing where Phelps did not set a world record, but his eight golds sealed him as a celebrity.
(Robert Gauthier / Los Angeles Times)