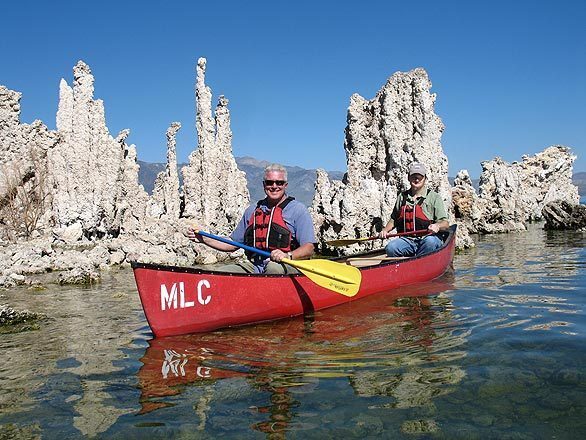 19 Images
Huell Howser: Career in pictures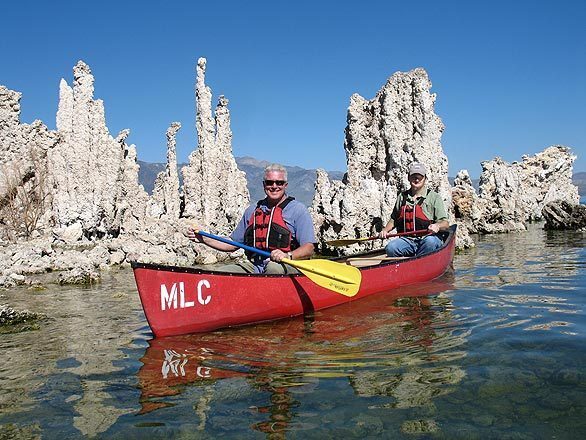 Huell Howser's "California's Gold" series about the treasures of the Golden State was a public television staple for two decades. Let's look back at some Howser moments: First, canoeing among the tufa towers on Mono Lake.
(Cameron Tucker)
Howser gets a tour of President Reagan's Santa Barbara ranch from a former Secret Service agent assigned to Reagan. Howser kept his shows simple and bare bones so his subjects felt more comfortable with him and, in turn, were more open and genuine. "It's basically me and a cameraman and an editor and a couple of guys in the office," Howser said.
(PBS)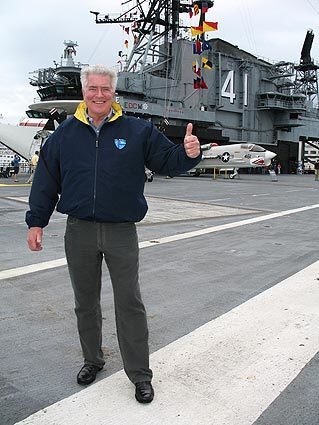 On board the restored aircraft carrier Midway in
San Diego
.
(Cameron Tucker)
Inside his Los Angeles apartment decorated with found objects.
(Ken Hively / Los Angeles Times)
Huell Howser with the Pear Lady at the annual Pear Fair in
Courtland
,
Calif
. "Every single person we meet potentially has a great story to tell," Howser said.
(Cameron Tucker)
Showing off his daredevil side by tandem sky-diving with
the U.S. Army
's Golden Knights.
(KCET)
Sampling peach cobbler at the Cobbler Factory in Pasadena. Howser peppered his speech with family-friendly exclamations such as "Wow!" and "Oh my gosh!" and "That's amazing!" proclaimed in his hearty Tennessee accent.
(KCET)
Flying with the Blue Angels in El Centro, Calif.
(KCET)
Getting in step with the Del Rubio Triplets in 1987.
(KCET)
Huell Howser interviews Armando Bonilla, a computer student at Evans Adult School at Figueroa Street and Sunset Boulevard in Los Angeles. "I want the viewer to see what you would see with your eyes if you were there," Howser said.
(Carolyn Cole / Los Angles Times)
Trying on a hat in
Santa Ana
.
(KCET)
Huell Howser and crew during a segment in a hair salon.
(KCET)
Howser shakes the hand of Comdr. John Biegel (ret.) at a Sunday brunch in the Officers' Club of the now-closed Long Beach Naval Shipyard in 1996.
(Lawrence K. Ho / Los Angeles Times)
On top of the Golden Gate Bridge in San Francisco.
(KCET)
With a construction crew underground in L.A.
(Cameron Tucker)
Running with the Olympic torch through Los Angeles for the 1996 Olympics.
(KCET)
Huell Howser had been doing basically the same job since the 1970s. "You could tell me that I couldn't go outside of a five-mile radius ... [and] there's enough right within five miles to keep me busy the rest of my life," he said. "Why are we looking so hard? It's right under our noses."
(Jay L. Clendenin / Los Angeles Times)