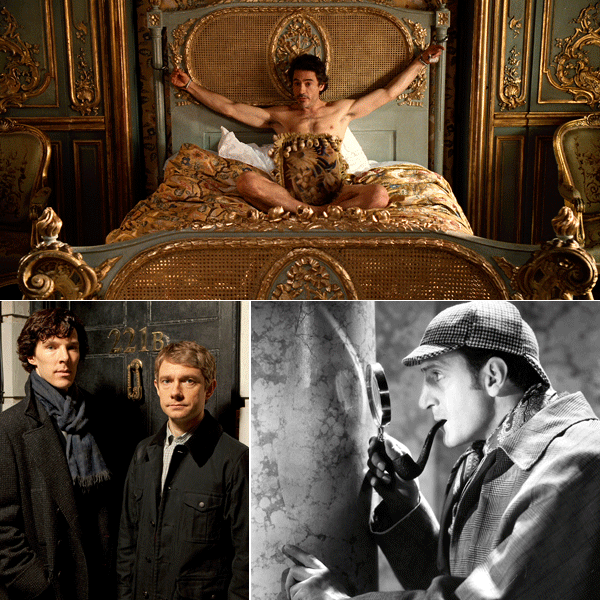 16 Images
Sherlock Holmes: Revealing the detective's place in pop culture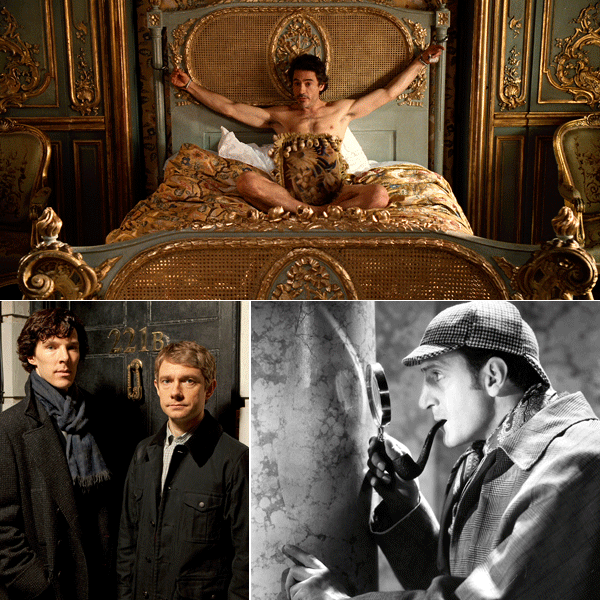 From books to .... just about anything!
Created by Sir Arthur Conan Doyle in the late 1880s, the brand that is Sherlock Holmes has proven to be a relatively timeless one. Sure, there's the big-budget action films with
Robert Downey Jr.
and
Jude Law
, but London's ace consulting detective has been the star of board games, video games and cartoon shows. Sometimes he's even been re-imagined as a dog.
Yet Holmes has even transcended his own brand. Click ahead and one will find Sherlock-branded games, as well as random Holmes references in places you least expect them. Remember when Batman met Sherlock? Do you know Meowrity? Can you name the experimental Los Angeles band that referenced the detective?
Wonders await.
Images, clockwise from top: Robert Downey Jr. as Sherlock Holmes, Basil Rathbone as Holmes in 1939 film "The Hound of the Baskervilles" and Benedict Cumberbatch as Holmes and Martin Freeman as Doctor Watson in the BBC series "Sherlock."
(Warner Bros. / BBC / 20th Century Fox)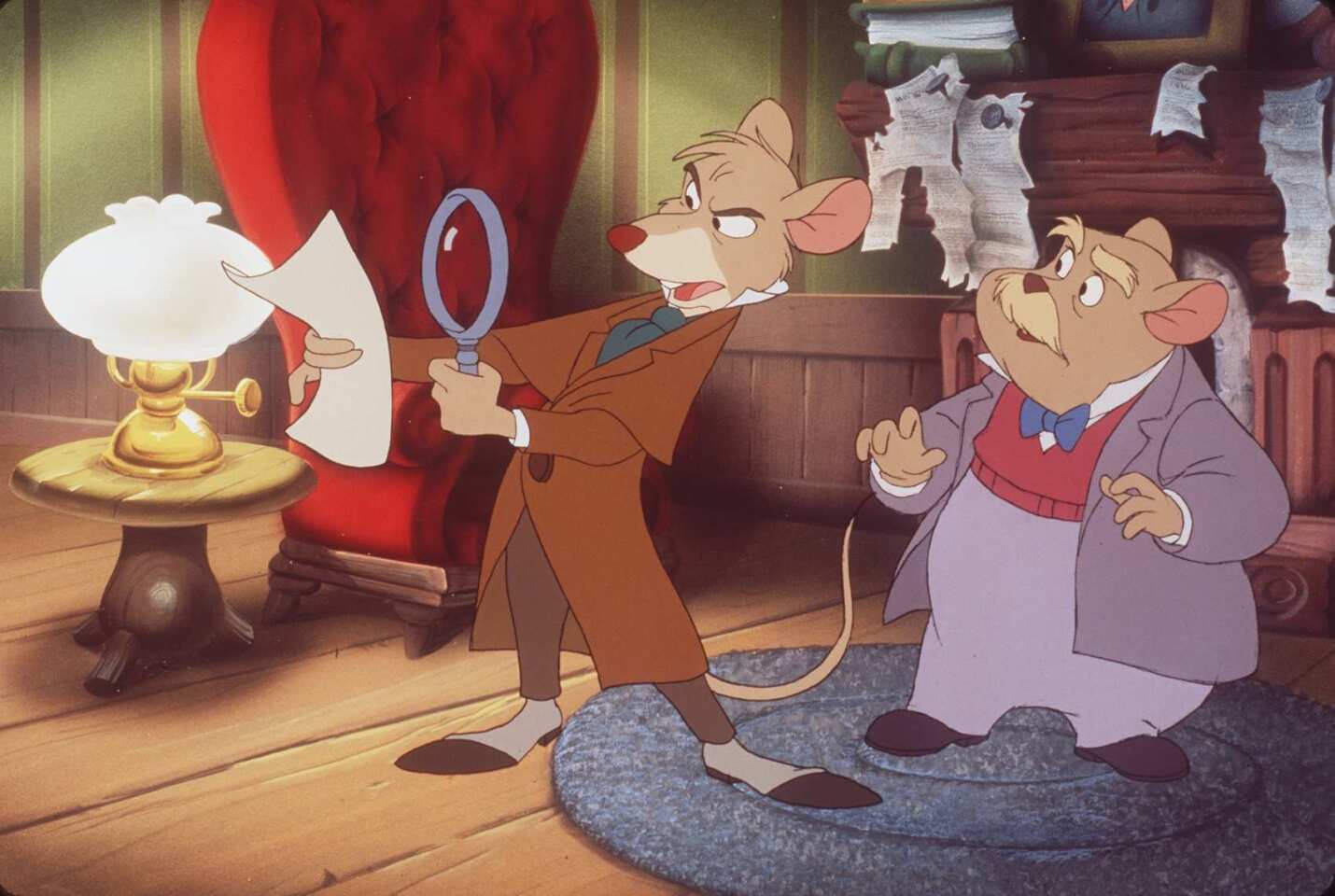 The scene:
Basil, a mouse detective who lives below Sherlock Holmes, is out to solve the kidnapping of a toymaker and to foil his nemesis Professor Ratigan's plot to overthrow the mouse monarchy. The film is based on the children's book series "Basil of Baker Street" by Eve Titus.
The Sherlock reference? It's elementary:
Basil, who dresses like his famous upstairs neighbor, is named for
Basil Rathbone
, one of the first actors to portray Holmes in film. The evil Professor Ratigan, voiced by
Vincent Price
, is based on Professor James Moriarty from the Holmes stories. Other characters are based on Queen Victoria and Holmes characters Dr. Watson and Mrs. Hudson. And Sherlock Holmes' faithful basset hound, Toby, lends the mice a hand in their investigation.
(Walt Disney Pictures)
The scene:
One board, depicting London as well as 20 case files, and dice, tokens, cut-out keys to Scotland Yard and plenty of clues to be overlooked.
The Sherlock reference? It's elementary:
No mystery here, because this board game has been around for more than two decades — it comes in and goes out of print pretty regularly. Up to six players can pretend to be the Sherlock Holmes of their choice, and the fastest to solve the case wins.
(John Hansen Company)
The scene:
The English synth-pop duo waits until the last verse of its song about the traps and pitfalls of lust to make reference to Sherlock with the line "It's elementary, my dear Watson, free me or the Baskervilles will hunt you down tonight." The song appears on the 1991 single "Am I right?"
The reference? It's elementary
: That line in the song references the novel by Sir Arthur Conan Doyle in which Sherlock Homes and his sidekick, Watson, investigate the legend of a supernatural hound, a beast that may be stalking a young heir on the fog-covered moorland that makes up his estate.
(EPA)
The scene:
The Dark Knight actually meets Sherlock Holmes when he's brought back in time through a mystical vortex.
The Sherlock reference? It's elementary:
Batman has always been called the greatest detective, as has Holmes. So what happened when they met? Holmes sized up Batman's costume and deducted exactly who he was and even his childhood trauma. Batman identified Holmes from his hat.
(Cartoon Network)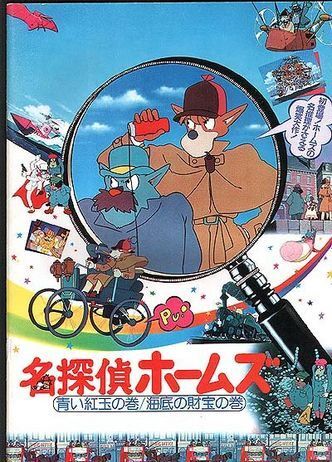 The scene:
Between 1984 and 1985, Sherlock Hound was the main character of a Japanese anime television series based on Sir Arthur Conan Doyle's Sherlock Holmes series -- where almost all the characters (even the good guys) are depicted as walking, talking
dogs
.
The Sherlock reference? It's elementary:
Creating a canine character with all the crime-solving ability and multifaceted expertise of the real Sherlock gave this pooch license to sport the classic detective cap, trench coat, tobacco pipe and magnifying glass. He even had his own Watson sidekick, a Scottish Terrier with an English accent. Go figure.
(Tokyo Movie Shinsha)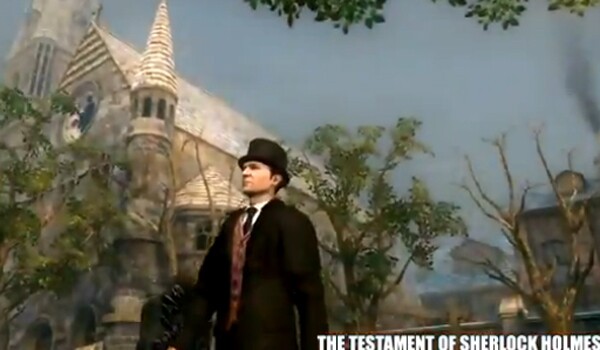 The scene:
Sherlock Holmes is under investigation in the latest installment of the Frogwares video game franchise. Due in stores in early 2012 for PC, XBOX360 and PS3, "The Testament of Sherlock Holmes" will reveal a darker inspector, who isn't afraid to use blackmail, forgery or burglary to solve a case. At the same time, these new methods might be his demise. He's accused of being involved in the very cases he's cracked in the past.
The Sherlock reference? It's elementary:
"Testament" will mark Frogwares' sixth in the Adventures of Sherlock Holmes series, which once gave fans the chance to control the Sir Arthur Conan Doyle character.
(Image from trailer for "The Testament of Sherlock Holmes" / Frogwares)
The scene:
No. 5, a sophisticated military robot invented by Newton Crosby (
Steve Guttenberg
) in Part 1 of the series, comes to life and returns to offer his robot services. As he does, he picks up a book to get "input" into his system and speed-reads it to show off his skills.
The Sherlock reference? It's elementary:
The book picked up by the robot is "The Hound of Baskervilles" by Sir Arthur Conan Doyle, and it takes him only seconds to figure out who the murderer is halfway through the book. But no spoilers. The robot is wrong.
(Tri-Star Pictures)
The scene:
When cousin Will (Will Smith) is upset with Hillary (Karyn Parsons) for getting his car privileges taken away, he sneaks around to gather intel for his revenge.
The Sherlock reference? It's elementary:
Will eavesdrops on a conversation between Hillary and her friend and overhears that she has dropped out of college but hasn't told her parents — nor does she plan to. Popping out of his hiding place, Will pulls out one of many iconic Sherlock Holmes accessories: the magnifying glass and says: "This is a job for Sherlock Homeboy."
(Chris Haston / NBC)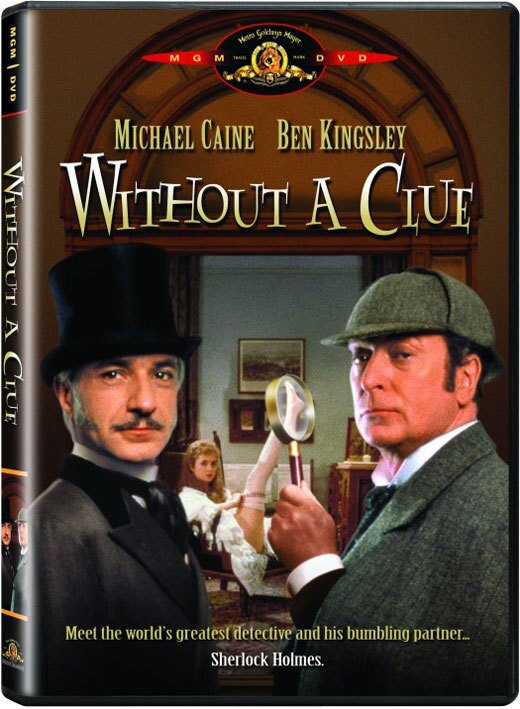 The scene:
Michael Caine
and
Ben Kingsley
play Sherlock Holmes and Dr. Watson, respectively, in this 1988 film, but the plot in this film turns the detective paradigm on its ear by making Holmes a bumbling gambler, womanizer and a drunkard. His real identity, an actor-for-hire named Reginald Kincaid, has been covered up by the brilliant Dr. Watson, who uses the foolhardy Holmes as a front. In actuality, the doctor is the real sleuth.
The Sherlock reference? It's elementary:
It doesn't take a genius detective to figure out that the film is a spoof that reverses the roles of the genius detective and the bumbling sidekick.
(MGM)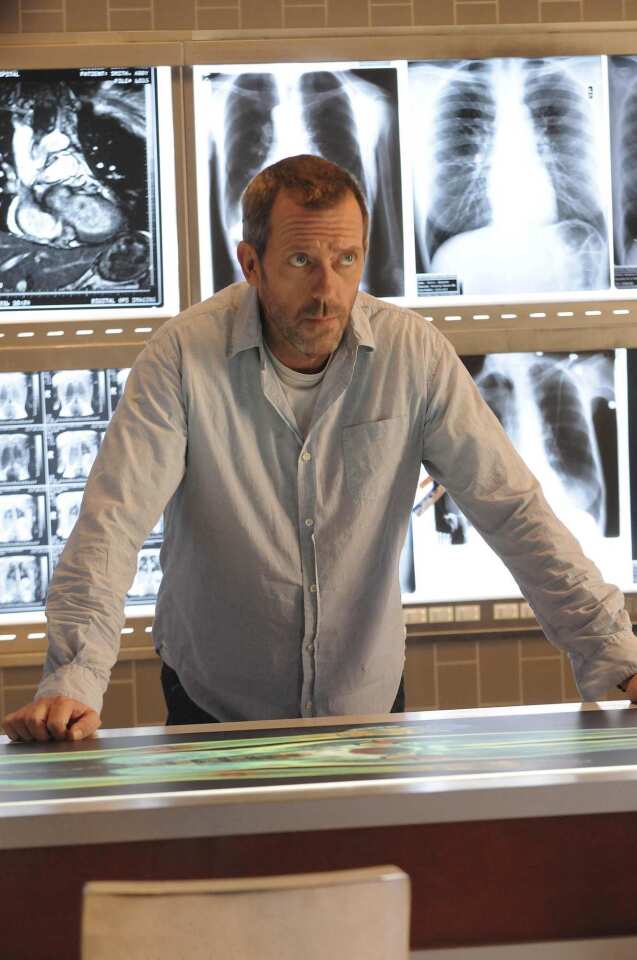 The scene:
Dr. Gregory House is an antisocial medical genius who leads a team of diagnosticians to solve puzzling cases at a teaching hospital.
The Sherlock reference? It's elementary:
House, played by
Hugh Laurie
, shares many characteristics with Sherlock Holmes, on whom his character is partly based. While using logic to solve medical mysteries, House shares Holmes' indifference toward clients, his addiction to drugs (Holmes enjoyed cocaine and
morphine
), and a close relationship with a doctor who serves as a confidant. House is shown with Sir Arthur Conan Doyle's books, and several minor characters in the show are named for characters in the Sherlock stories.
(Richard Foreman / Fox)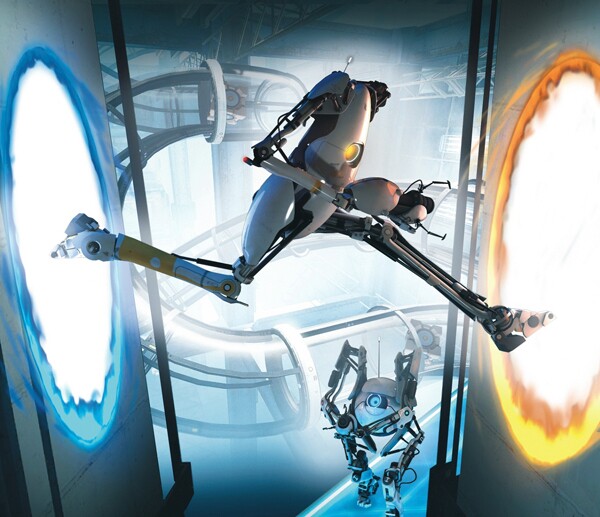 The scene:
In this sequel to the popular 2007 video game, players teleport their avatar — a protagonist named Chell — and other simple objects using a gun that creates inter-spacial portals to progress through a series of test chambers and solve puzzles with life-or-death consequences.
The Sherlock reference? It's elementary:
As Chell, players must employ Holmesian puzzle-solving skills to survive the test chambers. An artificially intelligent bot named Wheatley becomes the game's villain through his incompetence. He compares his relationship with Chell to that of the famous detective and his nemesis. Wheatley sets up a trap for Chell, aiming to crush her with a spiked steel plate, taunting, "Holmes versus Moriarty. Aristotle versus Mashy-spike-plate!"
(Valve Corporation)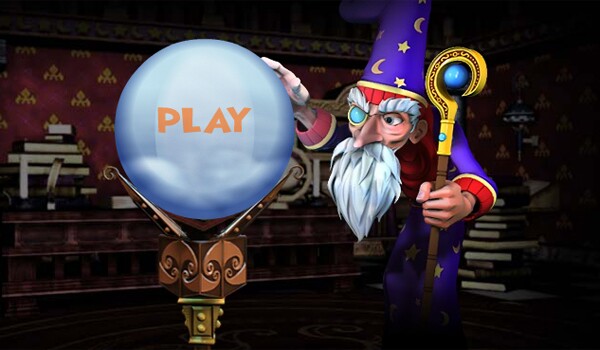 The scene:
Players of the online game Wizard 101 are transported to Marleybone, a fictional world of cats, dogs and proper manners, set to the backdrop of Marylebone, London. Gang leader and prison escapee Meowiarty is among the chief troublemakers.
The Sherlock reference? It's elementary:
Meowiarty is based on Sherlock Holmes' archenemy Moriarty, a criminal ringleader and mastermind.
(Screenshot of Wizard 101, www.wizard101.com KingsIsle Entertainment)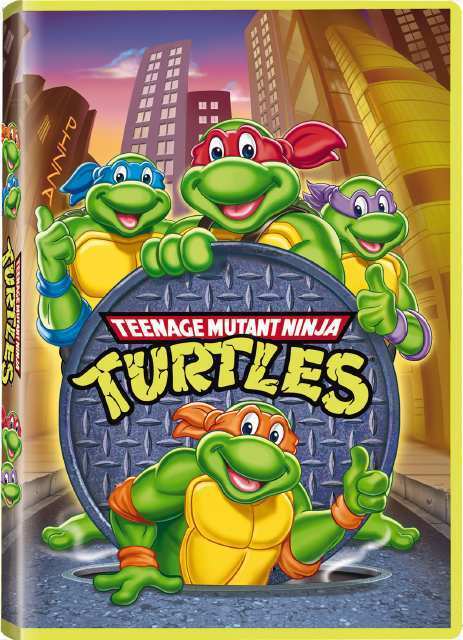 The scene:
The Turtles are in England, when they are taken back to the past by an experimental atomic clock and must team with Sherlock Holmes and Doctor Watson to get the clock back and return to the present. You might recall this premise leaked its way into the epic Super
Nintendo
video game "Turtles in Time."
The Sherlock reference? It's elementary:
One could probably start with the title of this episode ("Elementary, My Dear Turtle"). And of course, there's the fact that the "heroes in a half shell" are depending on the world's greatest detective to get them back to their own time as they battle evil foes along the way.
(Lion's Gate Home Entertainment)
The scene:
Holmes is featured only in flashbacks (in the comic) and not at all in the movie. It was Allan Quartermain who apparently deduced that "M," who had brought the team together, was actually Professor James Moriarty, Holmes' nemesis.
The Sherlock reference? It's elementary:
An extraordinary adventure was all set up by Professor Moriarty, who once again demostrated his propensity for evil and chaos.
(20th Century Fox)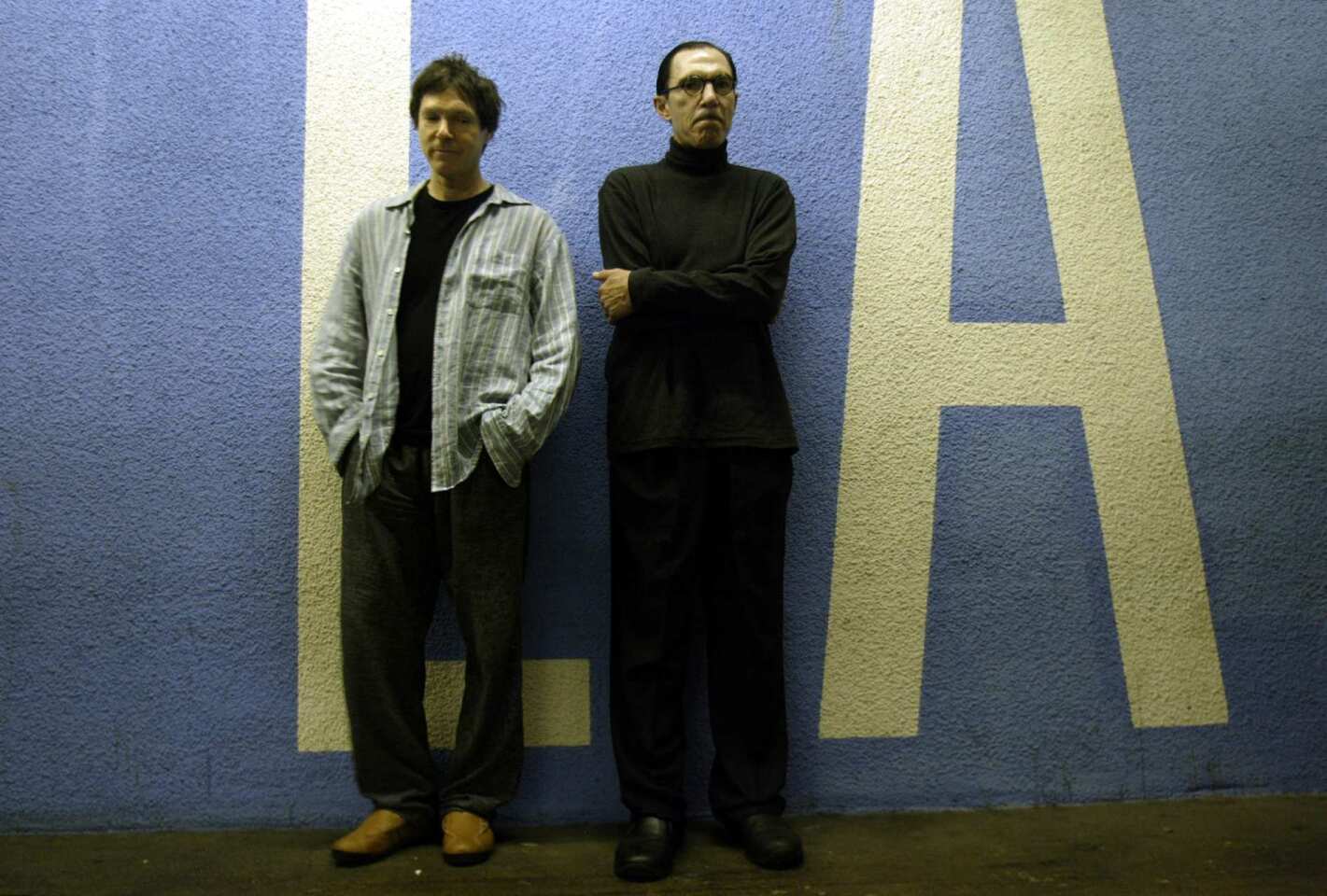 The scene:
Sparks are a veteran L.A. duo who have specialized in the marriage between oddness and melodic songcraft. Lots of synthpop in the band's catalog as well as theatrical takes on orchestral pop.
The Sherlock reference? It's elementary:
Head straight to 1982 album "Angst in My Pants" and it should be obvious, Track 4 is called "Sherlock Holmes," and it's alternately creepy and dorky, with the narrator wishing he were more like Holmes but then promising to call the detective if his lady friend leaves.
(Annie Wells, Los Angeles Times)