'American Idol' recap: The Top 10 whittled down to the Top 8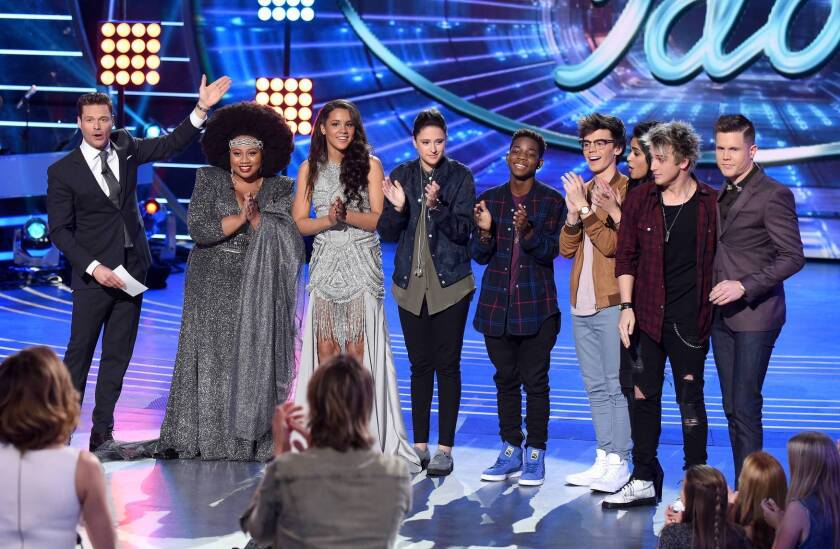 With five weeks to go before closing up shop for good, "American Idol" continued its valedictory march on Thursday, picking its very last Top 8. All Top 10 singers performed this week (as did Demi Lovato and Harry Connick Jr.— she compellingly; he quirkily): seven who made it safely through to the next round, thanks to last week's audience vote, and three who had collected the fewest votes from viewers, landing in the bottom heap.
One by one, in no particular order, the seven contestants who had been voted through heard their names called and then took the stage to sing. That left three others to compete for the eighth spot. Each of those singers then performed, leaving judges Connick, Jennifer Lopez and Keith Urban to decide — by majority vote, although Lopez said they preferred to make such decisions unanimously — which one to keep and which two to send home in a "double dramatic elimination," as the show put it, which ultimately wasn't that dramatic at all.
COMPLETE COVERAGE: Saying farewell to the competition show that changed television
Oh, and there was a theme: the Grammys, which provided "Idol" an opportunity to note that its contestants had been nominated for and won quite a few of the prestigious music awards.
Here's how this week's performances went down:
Dalton Rapattoni worked the foggy stage with Imagine Dragons' "Radioactive," but the judges didn't think he had quite lived up to his usual imaginative style. Urban said he hadn't taken a song and done his "own little mojo thing" to it, as he had in the past. Connick thought the performance lacked presence and "electricity."
Lee Jean set out to prove he could move beyond Ed Sheeran songs, tackling Kings of Leon's "Use Somebody" and accompanying himself on electric guitar. Connick deemed the performance "really smart" and "strong," but Urban, while he admired Jean's attempt to try something new and different, didn't think the song itself had suited the teen's voice. Lopez urged Jean to stretch more outside his "comfort zone."
Sonika Vaid, who, we learned, has conjured an ultra-confident alter ego, sang solidly and strutted admirably but failed to recapture last week's magic with this week's take on Kelly Clarkson's "Since U Been Gone," on which she attempted to tap into the "angry girlfriend" locked somewhere within her. Connick said he'd missed the lyrical connection and "lift." Urban said he'd been craving "more attitude," "more fire," and "more angry girlfriend."
MacKenzie Bourg took pains to show growth and range with Whitney Houston's "I Wanna Dance With Somebody (Who Loves Me)," hoping for a "wow moment." At times, his voice was overpowered by that of an unseen background singer with powerful pipes, but the judges were adequately wowed, nevertheless. Urban thought the song had been a "good" choice, marveling that he had "never heard a guy sing that song before." Lopez thought he'd "pulled it off very nicely," musing the "switch-up really worked." Connick, though, was thirsting for the old, acoustic Bourg to have done an arrangement that was "more inventive."
La'Porsha Renae changed up her hair, which was apparently somewhat traumatic, and then slayed it as always, this time taking wing with Beyonce's "Halo." Lopez told Renae she loved watching her "come into your own" and "become a star in front of our eyes" and called her "the one to beat." Connick said that, every time Renae sang, he felt "urged to consider the song from a different perspective" and called her a "master at arcing a song," giving it a beginning, middle and end.
Trent Harmon had worked "real hard" to get control of those strange faces he makes when he sings and had come away looking like a completely different singer, almost a different person, with "When a Man Loves a Woman." Connick expressed relief that Harmon had ceased to sing with an "exaggerated jaw vibrato," which he said would have eventually robbed him of his voice. But Lopez missed it. "I love it," she said, repeatedly — and breathlessly. She said she'd had a vision of Harmon and Renae as the last two artists standing. Urban warned, though, that Harmon shouldn't let "the facial expression awareness thing" keep him from "emoting."
Tristan McIntosh, the last to snag a spot outside the bottom three, earned a standing ovation from Urban and Lopez after switching up her song choice and performing Vince Gill's "Go Rest High on That Mountain," accompanying herself on piano. Urban told McIntosh the tune had been "such a good song" for her. "I believe that is the Tristan that America fell in love with," Lopez declared.
That left Avalon Young, Olivia Rox and Gianna Isabella in the bottom three, with only one seat to vie for and everything riding on this week's performance.
Young easily claimed the win with The Weeknd's "Earned It (Fifty Shades of Grey)." Connick told her she had "needed a performance that was really, really fantastic" and said "that was the performance," adding that Young "couldn't have sung a better song at a better time."
Rox, who ably tackled Pink's "Trouble," and Isabella, who seemed out of her depth with Alicia Keys' "If I Ain't Got You," didn't stand a chance.
Before welcoming Young into the Top 8, Lopez said the decision had been "probably one of the most painful decisions" the judges had "had to make." "I don't think we've ever seen a bottom three with this kind of vocal ability ever," she said.
But Young's gain was Rox and Isabella's loss. So long, girls. As Ryan Seacrest said, "So sad to see you go."
MORE:
And the best 'American Idol' is ...
'American Idol' recap: Top 14 compete in tame 'Wildcard' round
'American Idol' recap: Kelly Clarkson returns to cheer on the top 10
---
Inside the business of entertainment
The Wide Shot brings you news, analysis and insights on everything from streaming wars to production — and what it all means for the future.
You may occasionally receive promotional content from the Los Angeles Times.