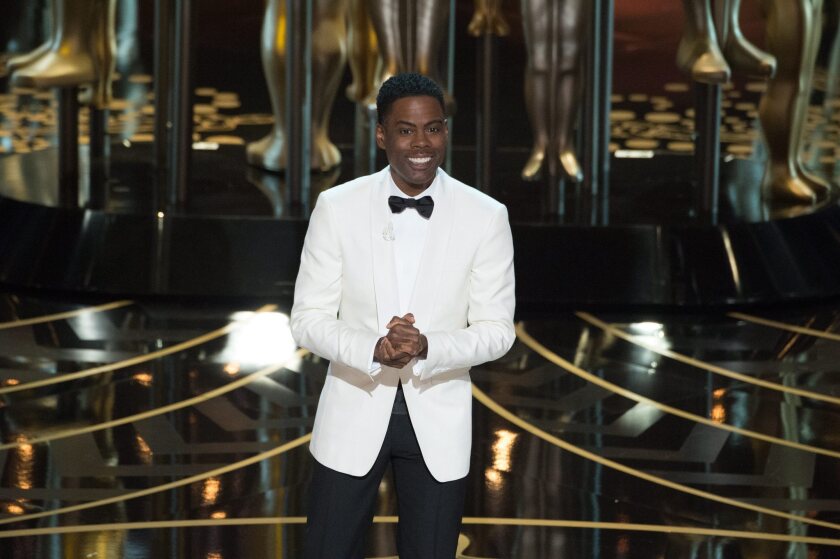 Was all the diversity talk at Sunday's Academy Awards lacking in, well, diversity?
While Chris Rock earned high marks from many critics for his performance as host, some observers are unhappy with the comedian for focusing on Hollywood's black-white divide at the expense of other underrepresented minority groups, particularly Asians, Latinos and Native Americans.
As many predicted, Rock was fearless in addressing racism within Hollywood and American culture at large. He opened the ceremony with a 10-minute monologue that included references to rape and lynching in the Jim Crow era, police brutality against black people and the dearth of opportunities for top-tier African American actors like Jamie Foxx.
And he returned to the theme of black-white relations throughout the night, including a field piece where he interviewed African American patrons of a movie theater in Compton (or maybe not) and a send-off, in which he gave a shoutout to the Black Lives Matter movement.
Things Rock didn't mention? Hollywood's exclusion of other people of color, including Asians, Latinos and Native Americans. He also didn't really acknowledge the issue of industry sexism, except to dismiss objections to questions about red carpet fashion directed at actresses.
The comedian has also taken heat for a gag in which Asian children were introduced as "accountants as from Pricewaterhoursecoopers," which some saw as evidence of his singular focus on the black versus white divide. And the only time Native Americans were referenced was in Leonardo DiCaprio's acceptance graceful (and clearly well-rehearsed) speech.
Latinos, Native Americans, women, foreigners – Hollywood screws them all. #Oscarshttps://t.co/YJrr4CNHCv

— AJ+ (@ajplus) February 29, 2016
#OscarsSoWhite is not just about White and Black, but also about lack of Latinos, Asians, Native Americans in film @TheAcademy #OscarsFail

— NHMC (@NHMC) February 29, 2016
Disappointed that #theoscars missed the point on diversity. Didn't bring Latinos and Asians into the conversation. #BrownRibbonCampaign

— Nancy De Los Santos (@NancyDLS) February 29, 2016
Okay, I'm annoyed. Diversity doesn't just mean African Americans! What about Latinos, Asians or Native Americans?! WE'RE left out. #Oscars

— Stephanie Golisch (@StephGolisch) February 29, 2016
"It was very African American-centric," said Alex Nogales, president and CEO of the National Hispanic Media Coalition, of Rock's performance. "We understand that they deserve their place. So do Latinos, Asian Pacific Americans, Muslim Americans, Native Americans and women. If we're going to talk about inclusion, let's talk about inclusion for all the groups that are not represented."
Similar sentiments reverberated across social media Sunday night. "Disappointed that #theoscars missed the point on diversity. Didn't bring Latinos and Asians into the conversation," said writer-producer Nancy De Los Santos on Twitter.
Nogales and other advocates were particularly let down because in the past, Rock has been outspoken about the industry's problematic attitude toward Latinos.
"Forget whether Hollywood is black enough. A better question is: Is Hollywood Mexican enough?" he wrote in a widely circulated essay for the Hollywood Reporter in 2014. "You're in L.A, you've got to try not to hire Mexicans."
Like Nogales, actress and filmmaker Fanny Veliz was frustrated by Rock's set. "This fight is not just about black and white. When you only include African Americans, it's a disservice to everybody," she said. "Latinos are the most underrepresented group in the industry and it's never talked about."
According to a study of 600 popular films by the USC Annenberg School for Communication and Journalism, Latinos make up 17% of the population but account for just 4.9% of speaking roles.
That's one of the reasons actress Eva Longoria threw her support behind the Brown Ribbon Campaign, asking Oscar attendees to wear brown ribbons to the ceremony and encouraging supporters to tweet using the hashtags #HollywoodBrownout and #BrownRibbonCampaign.
How about #onlyonepercent to reflect the fact that Asians have received only 1% of Oscar noms in its history?

— Jaya Sundaresh (@jayaist) February 29, 2016
Courtesy of @ajplus the hashtag #OnlyOnePercent is a response to the lack of diversity in the Media for Asians. pic.twitter.com/V1HPF0NdYz

— The Asian Activists (@Asian_Activist) February 29, 2016
Aside from the accountant joke, Asians were also left out of the conversation Sunday, a fact which "exposed one of the failings of how we talk about race in America: race relations are not a black-white binary," said Mee Moua, president and executive director of Asian Americans Advancing Justice, in a statement Monday to the Associated Press.
"It is to all of our detriment to look at race narrowly. We need to work together to dismantle the systems that devalue the experiences of minority groups so we can see the tales of the diversity that have shaped our nation reflected accurately."
Inspired by the social conversation surrounding the telecast, writer and activist Jaya Sundaresh started a new hashtag #onlyonepercent, to draw attention to the Hollywood's exclusion of Asians, who constitute just 1% of Oscar acting nominations since 2000.
"This is a problem of representation that affects our communities too," said Sundaresh, who like many others, was disappointed by Rock's Asian jokes. "I don't think he has an obligation to give [Asian Americans] a shoutout, but he has the obligation to not resort to offensive stereotypes."
Still, it could be that viewers were expecting too much of Rock, who is, first and foremost, an entertainer and not a representative of any particular movement.
"Chris Rock hosted the awards last night knowing full well the hornet's nest he was stepping into," said April Reign, activist and creator of #OscarsSoWhite. "I think while we can critique his performance, he does not speak for #OscarsSoWhite. I am concerned that people are assuming that because he is black he is a spokesperson for #OscarsSoWhite and that our objectives are completely intertwined."
Follow @MeredithBlake on Twitter.
Times writer Tre'vell Anderson contributed to this report
ALSO:
Chris Rock's hot mess of an Oscars show: powerful, confounding, possibly revolutionary
Read Chris Rock's 2016 Oscars opening monologue
Joe Biden wasn't as funny at the Oscars as Chris Rock, but at least he didn't make an Asian joke
---