13 Images
Dave Chappelle: Career in pictures
Chappelle, the eldest of three children, grew up in Washington, D.C., and Ohio, where his father was a professor at Antioch College. At 14, Chappelle first tried standup in Washington comedy clubs, with his mother, a Unitarian minister, serving as a chaperon. Chappelle soon made a name for himself on the New York comedy circuit, which he parlayed into TV and film roles.
Chappelle became a household name when "Chappelle's Show" premiered on Comedy Central in 2003, and two years later, he became a tabloid fixture when he abruptly quit the sketch show and went to South Africa.
Chappelle has since avoided the limelight, but he recently hinted at a
comedy comeback
. Here, we recap his up-and-down career.
(Los Angeles Times)
Chappelle landed his first major role in Mel Brooks' 1993 Robin Hood spoof, playing Ahchoo, one of Robin's men in tights, when he was only 19. The movie was met with mixed reviews but has since developed a cult following. At the end of the film, Robin (Cary Elwes) appoints Achchoo the new Sheriff of Rottingham.
"A black sheriff?" the disbelieving crowd asks.
"And why not?" Chappelle's character responds. "It worked in 'Blazing Saddles.' "
(20th Century Fox)
Following an extremely popular 1995 guest appearance on "Home Improvement," real-life comedian friends Chappelle and Jim Breuer were given their own ABC sitcom, "Buddies," in which they were to play a pair of unlikely best friends (also named Dave and Jim) who work together in Detroit. However, Breuer, right, was replaced with Christopher Gartin, and the new Dave and "John" pairing didn't share the same chemistry as Dave and Jim. The show was canceled after only five of the 13 produced episodes aired.
"ABC's new 'Buddies' is not close to being comedy friendly, its interracial cloddishness teetering on the cutting edge of warmed-over Norman Lear," the Los Angeles Times wrote in a
1996 review
of the show. "Dave is rarely funny. John is never funny, proving that, at least in this series, white men can't joke."
Read more
(ABC / Business Wire)
Following "Buddies," Chappelle continued developing sitcoms. But after Fox insisted he add more white cast members to a planned series, Chappelle accused the network of racism in a public blowup.
During this time, he took small parts in a handful of films, including Eddie Murphy's "The Nutty Professor" and the Nicolas Cage action flick "Con Air." He also acted in several shorts, among them "Bowl of Pork," in which he played "Black Forrest Gump."
Above, Chappelle walks the red carpet during the world premiere of "Con Air" in Las Vegas on June 2, 1997.
(Lennox McLendon / Associated Press)
Chappelle continued working in film, taking on roles as Tom Hanks' best friend in "You've Got Mail," an eccentric cabdriver in the 1999 comedy "200 Cigarettes," a jewel thief in Martin Lawrence's "Blue Streak" and a chicken restaurant owner in "Screwed" alongside Norm MacDonald, above, and Danny DeVito.
(Joseph Lederer / Universal Studios)
Chappelle recorded his first hourlong comedy special in Washington, D.C., in 2000. In the HBO special, Chappelle riffed on politics, race, drugs, the police and even "Sesame Street."
Read more
(Hassan Kinney / HBO)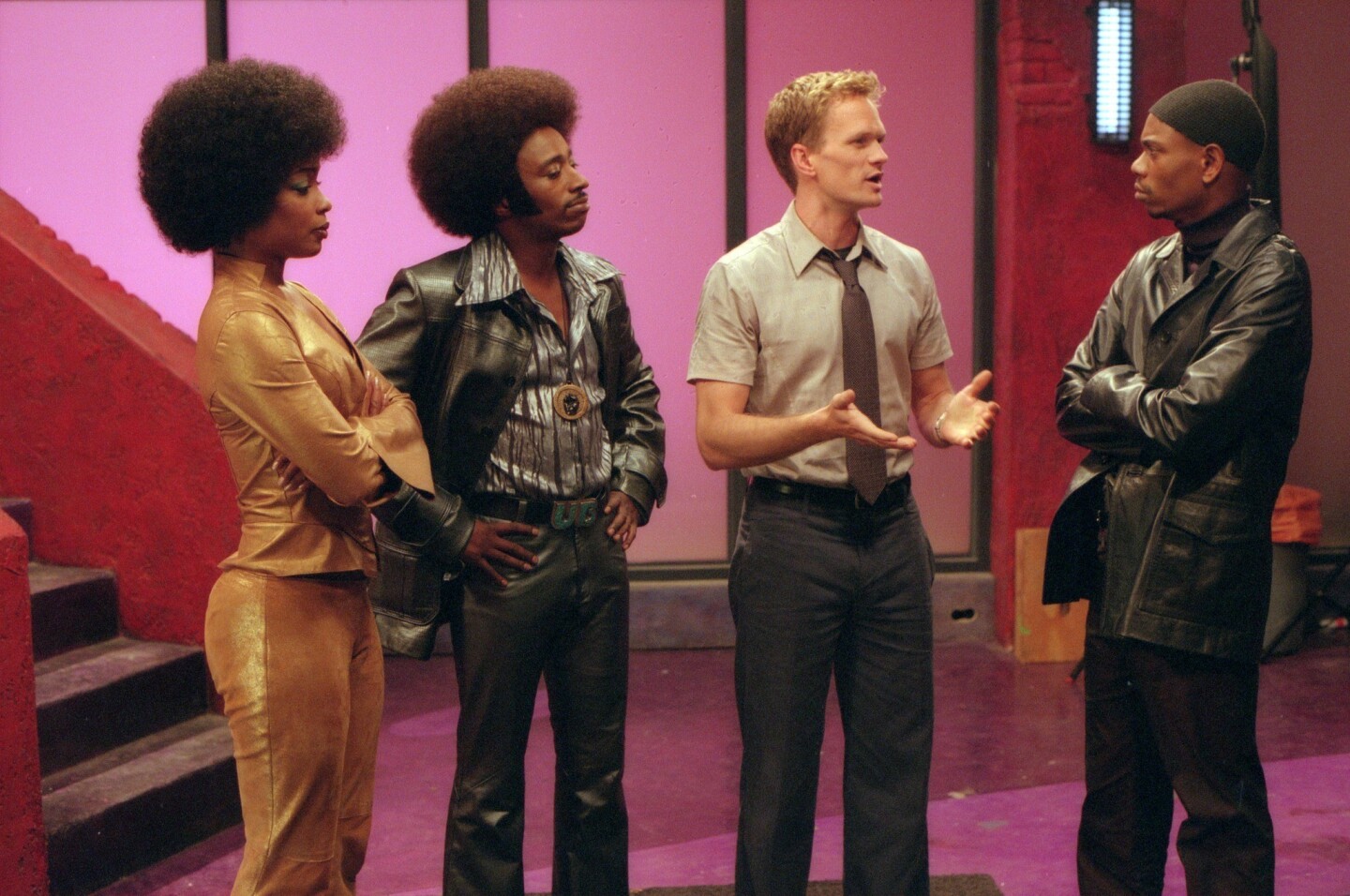 Chappelle, above right, played secret agent Conspiracy Brother in the 2002 blaxploitation spoof "Undercover Brother." The film also starred Aunjanue Ellis, left, as Sistah Girl, Eddie Griffin as Undercover Brother and Neil Patrick Harris as Lance, as well as Denise Richards, Chris Kattan, Billy Dee Williams and a cameo appearance by James Brown. The film was well received by critics and earned more than $41 million in worldwide box office.
"'Undercover Brother' has such a cheerfully zingy energy that you keep rooting for it even when its jokes turn flatter than a jump shot at a YMCA pickup game," reads the
Los Angeles Times review
of the film. "Sending up the blaxploitation films of the 1970s would seem an easy and pointless exercise, but this is a spoof comedy that, for once, has an actual point of view. ... No one is going to mistake 'Undercover Brother' for high-end cinema. Yet the movie does primarily what it sets out to do. It's breezily entertaining and culturally specific without resorting to gross-out jokes or cruelty. As Undercover Brother himself would say, 'Solid!' "
(Kerry Hayes / Universal Studios)
Chappelle's sketch comedy television series, "Chappelle's Show," written by Chappelle and his "Half-Baked" costar Neal Brennan, premiered on Comedy Central and soon became the network's No. 2 show. The Emmy-nominated series parodied racial stereotypes, politics and pop culture, and turned Chappelle into a household name.
"His show is kind of like a salon, a raunchy salon with Chappelle as host, usually dressed in floppy hats and baggy street clothes, introducing comedic ideas that are then illustrated by filmed sketches that star Chappelle," reads a 2004
Los Angeles Times review.
"Chappelle's host persona somehow channels both the emcee qualities of Bob Hope and the languid gait of Snoop Dogg."
(Jennifer S. Altman / Los Angeles Times)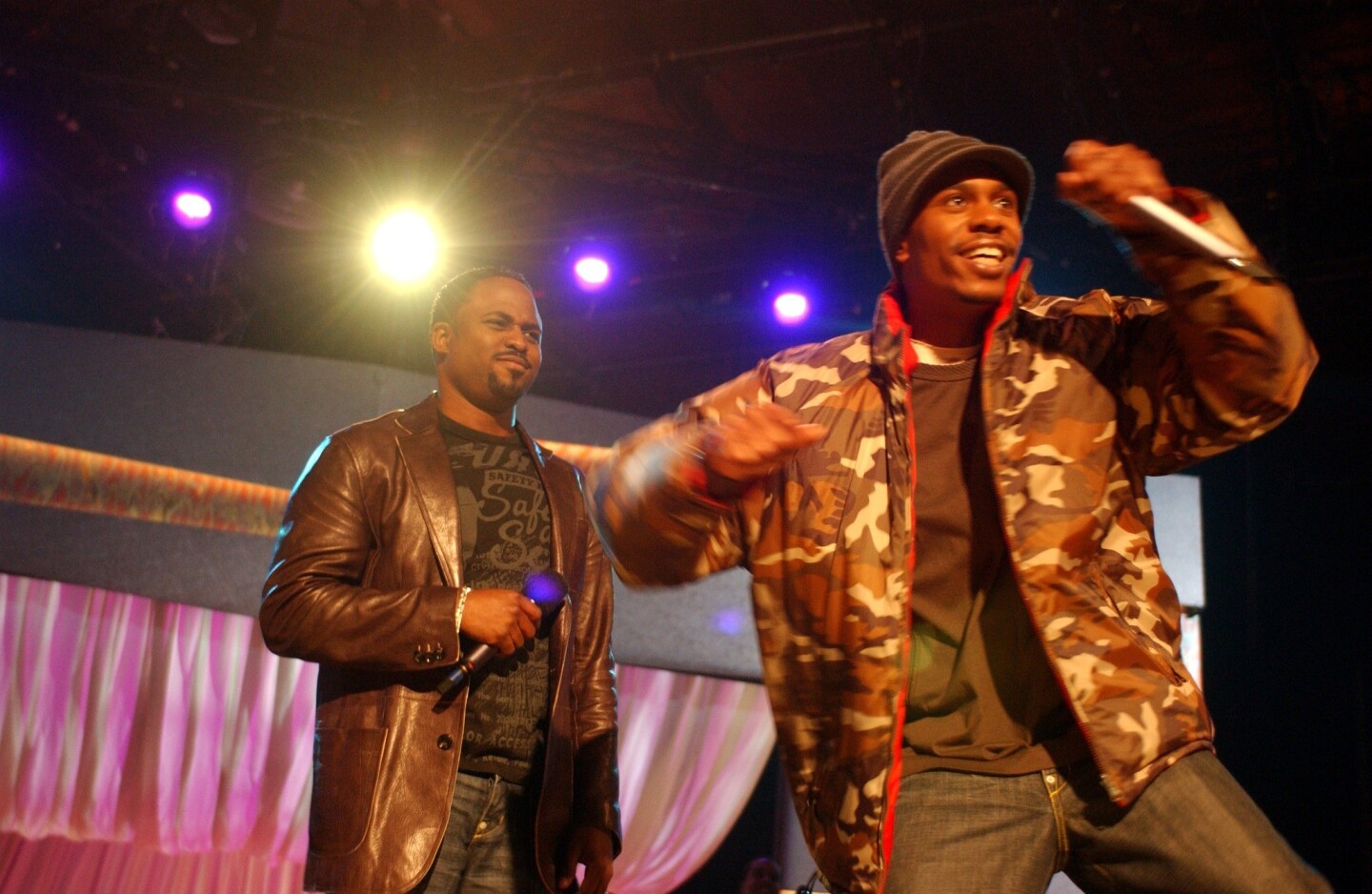 In spring of 2005, Chappelle stunned fans — and Comedy Central — by abruptly quitting his popular sketch series on the heels of signing a $50-million contract with the network.
For reasons that still remain unclear, Chappelle went to South Africa during production of the show's third season and reportedly cut off contact with some family members and close advisors.
Comedy Central scrambled to fill the time slot and announced it was indefinitely postponing the third-season premiere of its No. 2 show after "South Park."
"It's crushing on a lot of levels," network President Doug Herzog told
The Times in 2005.
"There's no question about it, he was the hottest thing on the network.... It's tough to lose your big power hitter like that."
(Jennifer S. Altman / For the Los Angeles Times)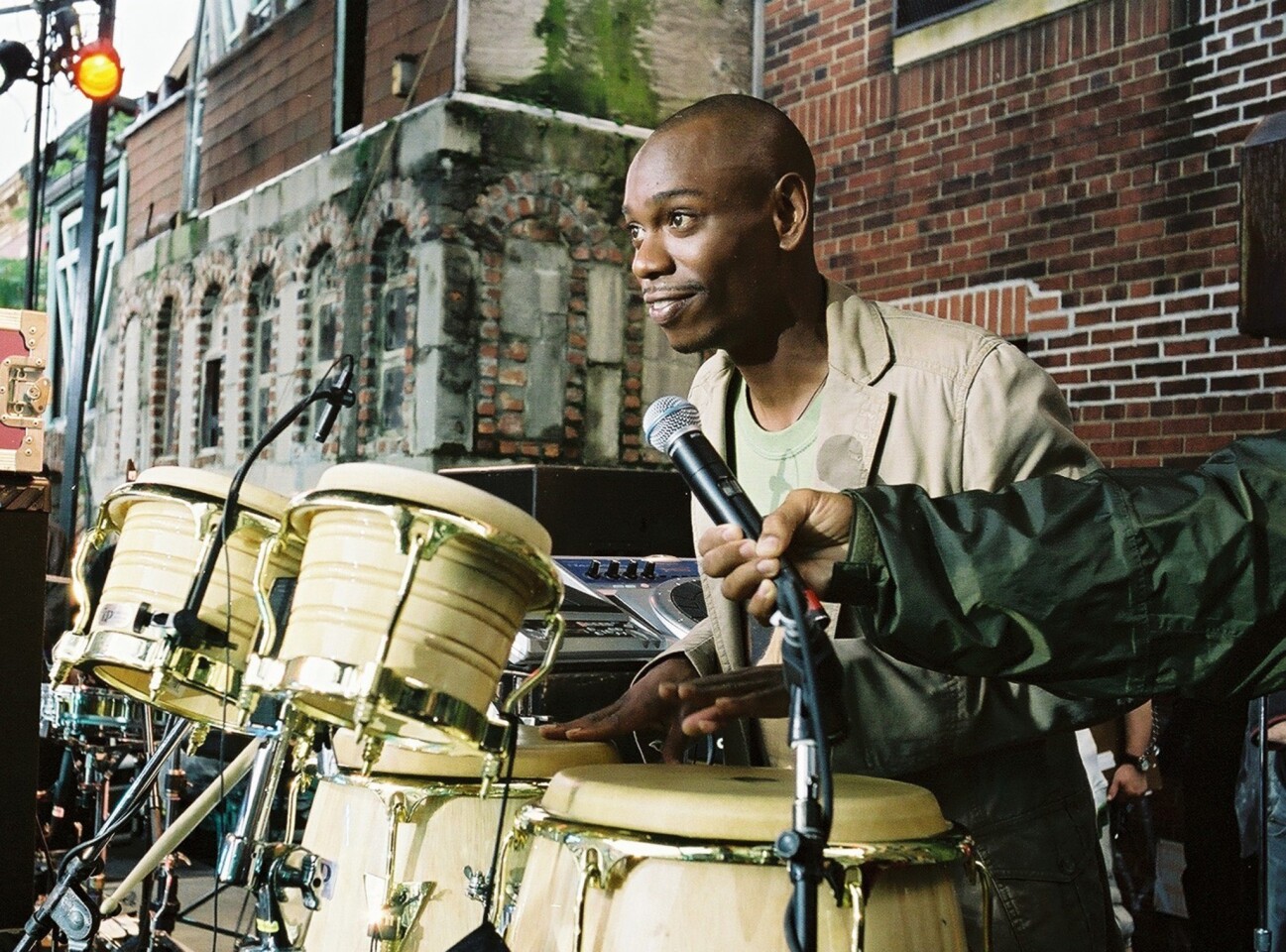 "Dave Chappelle's Block Party" is a 2005 documentary film about — well, people who Chappelle meets on his travels and as he's preparing to host a block party in the Clinton Hill neighborhood of Brooklyn in New York City. As he goes home to Ohio, the star hands out "golden tickets" to unsuspecting members of the community, as well as to the entire Central State University marching band.
Modeled after "Wattstax," a 1973 documentary recounting a momentous black music festival held in the wake of the Watts riots, "Block Party" was also directed by Michel Gondry, who suggested having the party in the small New York neighborhood instead of in Central Park. Despite rain, hip-hop and neo-soul stars including Kanye West, Mos Def, Jill Scott, Erykah Badu and the Roots performed at the free concert. Lauryn Hill also made a surprise appearance, singing a few songs with her Fugees bandmates because she was not allowed to sing any from her own album.
The film was produced before Chappelle's decision to walk away from a $50-million deal to continue his "Chappelle's Show." It grossed $12 million (on a $3-million budget) and was dedicated to the memory of music producer J Dilla (James Dewitt Yancey), who died of lupus one month before the film's release.
(Associated Press)
Two years after Chappelle bailed on Comedy Central, the network aired "Chappelle's Show: The Lost Episodes," compiled from unfinished skits left in the wake of the comedian's vanishing act.
Critics panned the three-episode revival of the show. The Chicago Tribune's Kyra Kyles
wrote
that the "bad and over-the-top exploitative" material "should have stayed lost ... forever."
Seeing the direction of the show (and its increasingly offensive racial comedy), she also sympathized with the comedian's sudden departure.
"If I were Chappelle, an escape to Africa wouldn't be far enough," Kyles wrote. "We're talking space shuttle voyage."
(Erin Patrice O'Brien / Associated Press)