Live
Everything Emmy: The nominees, reactions, snubs and analysis as HBO leads, Beyoncé scores and streaming makes inroads
The nominations for the 68th Primetime Emmy Awards are out. And the reactions from those deemed worthy are in. "Game of Thrones" has the most chances to win big on Emmy night with a staggering 23 nominations, a major reason that HBO leads the competition with 94 nominations. "The People v. O.J. Simpson" is a close second to "Game of Thrones" with a total of 22 nods, and drama series "Fargo" is in third with 18 noms. Together they helped FX set a record for an ad-supported basic cable network with 56 nominations, up from 38 last year, "Veep" continues to be a large presence at the Emmys with 17 nominations.
And proving that there is truly no limit to Beyoncé's reach, her film "Lemonade" is up for four Emmy awards. Sadly, the new addition to the late-night talk show boys club, Samantha Bee, was snubbed. But other categories were more open, as some were saying, this year it's #EmmysSoDiverse.
Take a detailed look at the nominees by the numbers, read first hand nominee reactions, and see how the internet is celebrating or cursing their favorites.
Emmy nominations: Tracee Elis Ross of 'black-ish' remembered to call her mother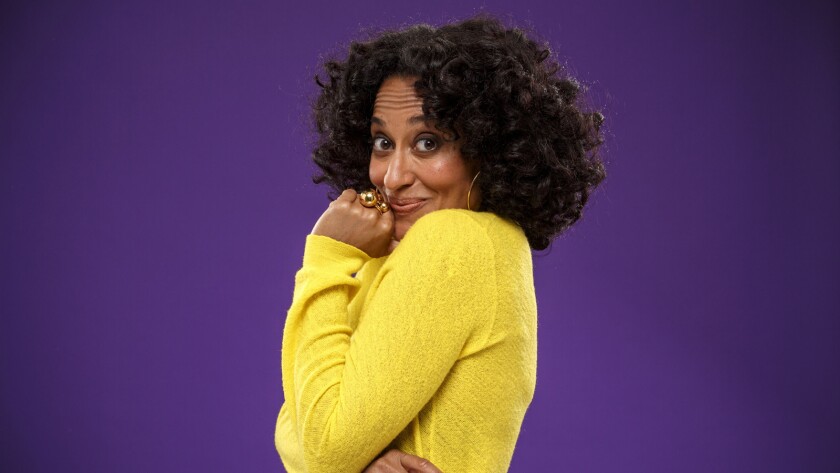 I assume you were up to watch your co-star Anthony Anderson announce the nominations?
Yes, I was watching Anthony this morning. I did my best last night—I let a couple of girlfriends know the nominations were happening but I didn't let my family know because depending on what happened, I wanted to feel like I could go about my day. I clapped like a crazy person when Anthony's name was said and screamed like a crazy person. And the fact that he got to say my name was so special. I danced around my coffee table and opened my front door and walked outside. Then I realized I didn't know where I was going, so I walked back inside. And I called my mom.
And? What did Ms. Ross say?
She was sleeping. Of course, she picked up the phone and was like, 'Baby I'm sleeping. Can I call you back?" And I was like, "No, wake up!" And given that she has kids and grandkids, she went into, 'What's happening?" She was ready for anything. I was like, "I just got nominated!" She said, "I can't go back to sleep!" We screamed for a little.
Then I realized I hadn't listened to hear what other women were nominated so I went to play it back. The other women in this category are ridiculous. Julia Louis-Dreyfus defies all odds. She's had three hit shows? Utterly insane. Amy Schumer is someone that I'm friendly with and absolutely love. Laurie Metcalf -- beyond and end all in life. Lily Tomlin -- why don't you just shut every front door. Are you freaking kidding me, right now? Shut up. And then Ellie Kemper, I mean, stop it
But nothing had me as excited as the show being nominated. It is so deserved. And I'm grateful that there is new blood. I like seeing a reflection of what is happening on television.
There's a lot of attention on well-liked shows once they enter their second season. It's like—can you keep this going? You guys kept it going.
It's like day-old chili. It gets better. There was a sense of confidence in who we were and an ease that happens when you've developed a flow. The subject matter we were able to tackle came with a sense of courage. And I know our show is called "black-ish" and race is one of the places we explore deeply, but, from my perspective, the way we talk about being a woman and a wife and all of that is equally extraordinary.