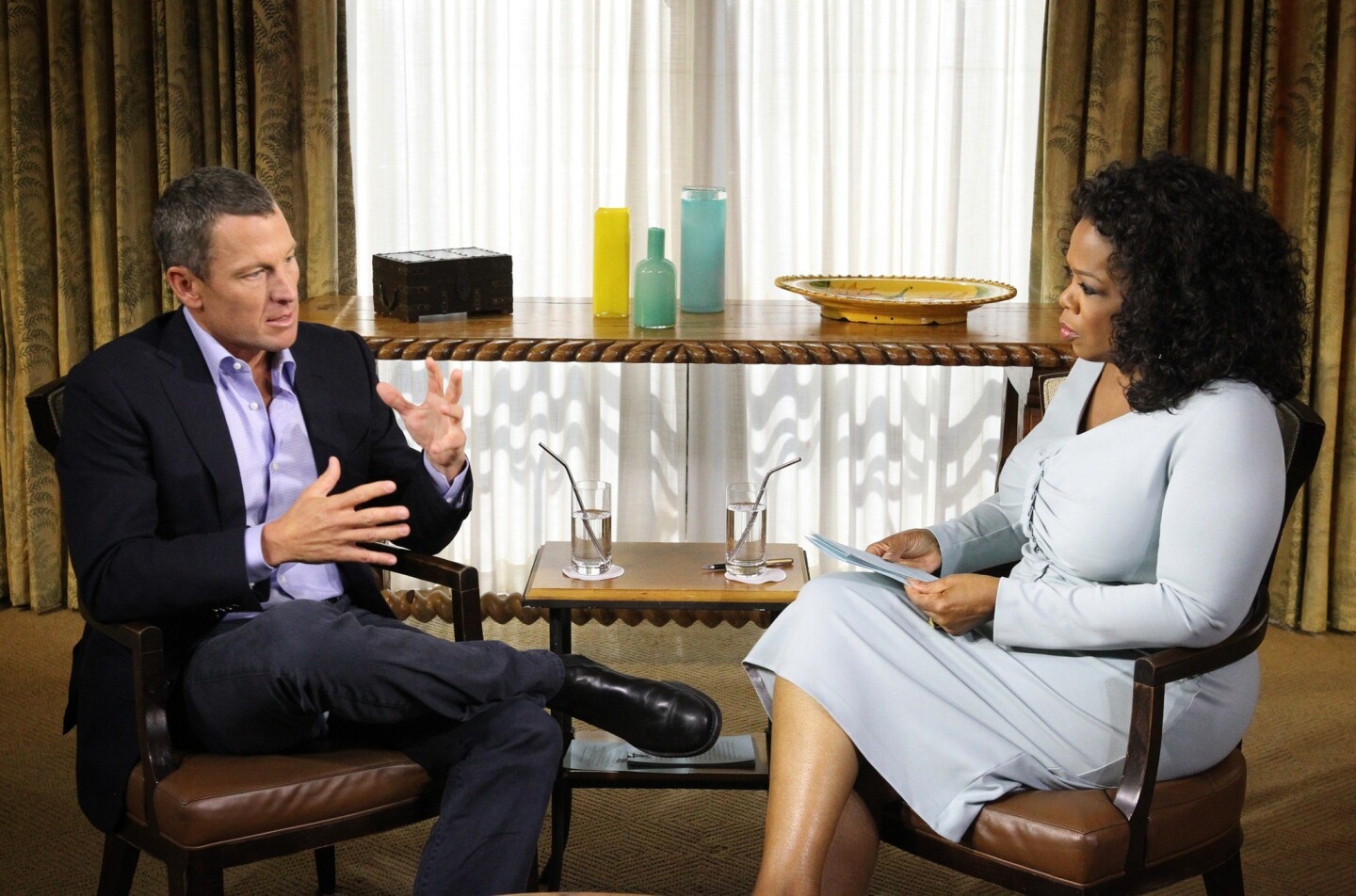 14 Images
Lance Armstrong, Oprah and recent TV apologies and confessions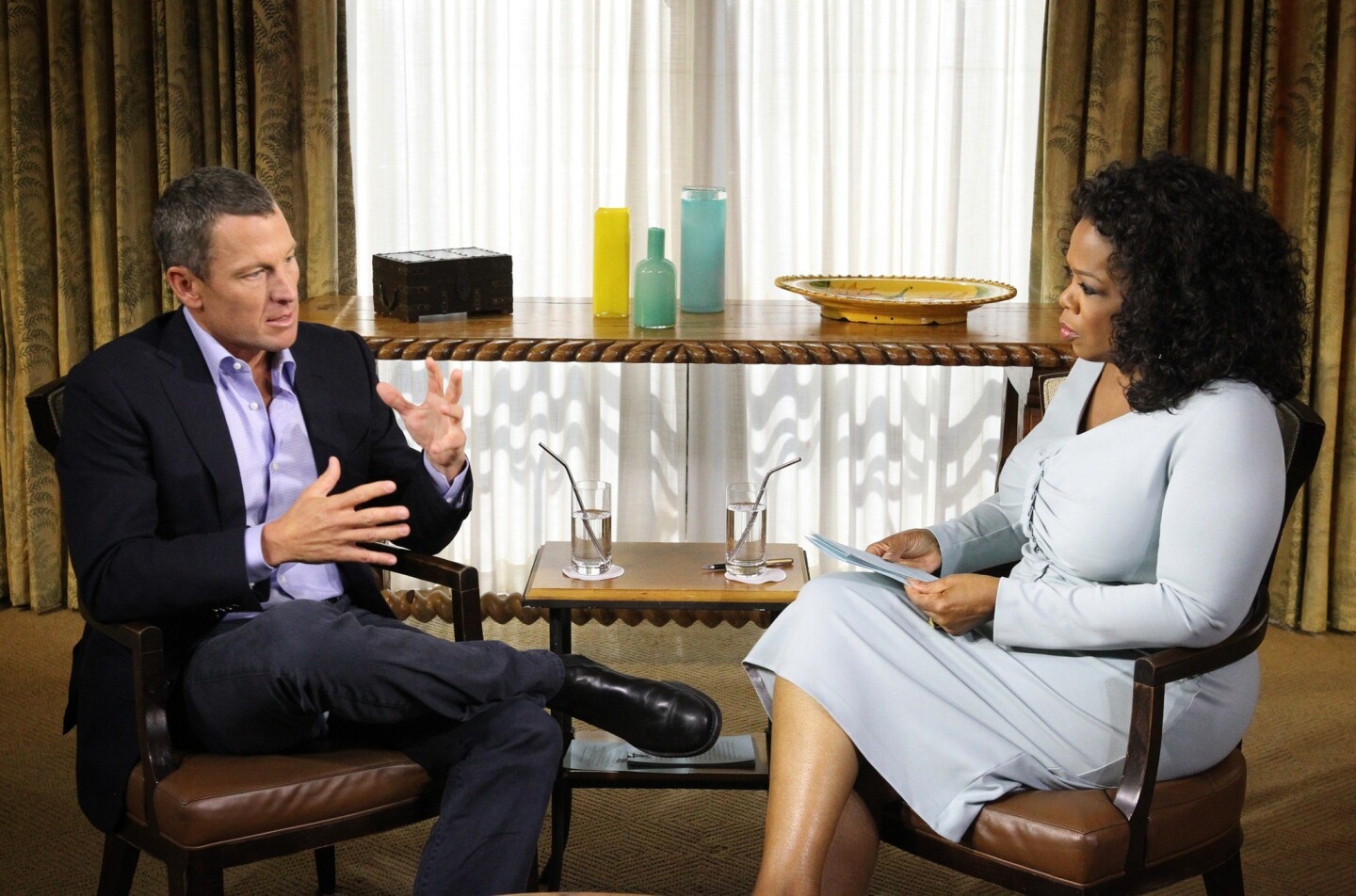 Lance Armstrong's two-night Oprah Winfrey interview media extravaganza may be grabbing attention this week, but despite the heightened media awareness, this is far from the first time a celebrity has gone on TV to make a confession or come clean. Here's a quick look back over how similar events have played out.
(George Burns / AFP Getty Images)
Hugh Grant was arrested in 1995 for receiving oral sex from a prostitute near Sunset Boulevard in Hollywood, just a few weeks before the premiere of his film "Nine Weeks." This was convenient because it allowed the charming actor to hit the promotional circuit and apology circuit in one fell swoop. Jay Leno famously asked, "What the hell were you thinking?"
"I did a bad thing, and there you have it," Grant told Leno, and after some nervous conversation and appropriate contrition, Grant promoted the film.
(Margaret Norton / NBC)
Amid rumors of a drug addiction and a shocking drop in weight, singer Whitney Houston sat down with Diane Sawyer of ABC News at her Atlanta home to confront the charges. Did she smoke crack? "Crack is whack," she said by way of denial. But she did fess up to using drugs, alcohol, cocaine and pills "at times." In February 2012, she died in a tub at the Beverly Hilton Hotel, which an autopsy showed was from the effects of cocaine use and heart disease.
(ABC)
After James Frey admitted to fabrications in his bestselling memoir "A Million Little Pieces," Oprah Winfrey apologized to viewers for her defense of the embattled author and then grilled him and the publisher on national television. Frey did not apologize to Winfrey or to readers but admitted lying about the book's accuracy and making mistakes in its handling. "It certainly hasn't been a great couple of weeks for me," he said, "but I think I come out of it better." In an extraordinary live broadcast of "The Oprah Winfrey Show," the top-rated talk show host admitted that she "made a mistake" in backing Frey, whose harrowing account of his drug addiction and rehabilitation had been questioned by the Smoking Gun website and others.
(George Burns / Harpo Productions)
After being picked up for drunk driving and unleashing a whole string of anti-Semitic comments to the arresting officer and anyone else within earshot, Mel Gibson released two statements of apology and went on "Good Morning America" with Diane Sawyer to further apologize. In the interview that was aired over two mornings, he told Sawyer he was ashamed of what he had said, saying it was "the stupid ramblings of a drunkard."
(Rick Rowel/ABC via Getty Images)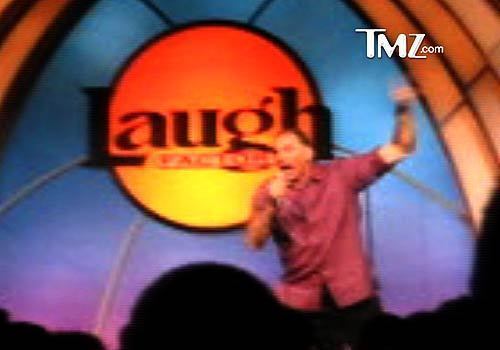 During a stand-up set at the Laugh Factory in Hollywood, comedian Michael Richards responded to a couple of hecklers with a barrage of racial slurs. When video of the outburst went viral, Richards made a satellite appearance on "Late Show" during his friend (and former "Seinfeld" co-star) Jerry Seinfeld's guest spot. Richards began to apologize -- "To flip out and say this crap, I'm deeply, deeply sorry" -- but some of the audience was not aware of what had happened and started giggling, assuming the heartfelt apology was another crazy stunt from the kooky comedian. Seinfeld admonished the audience, "It's not funny."
(TMZ.com Handout)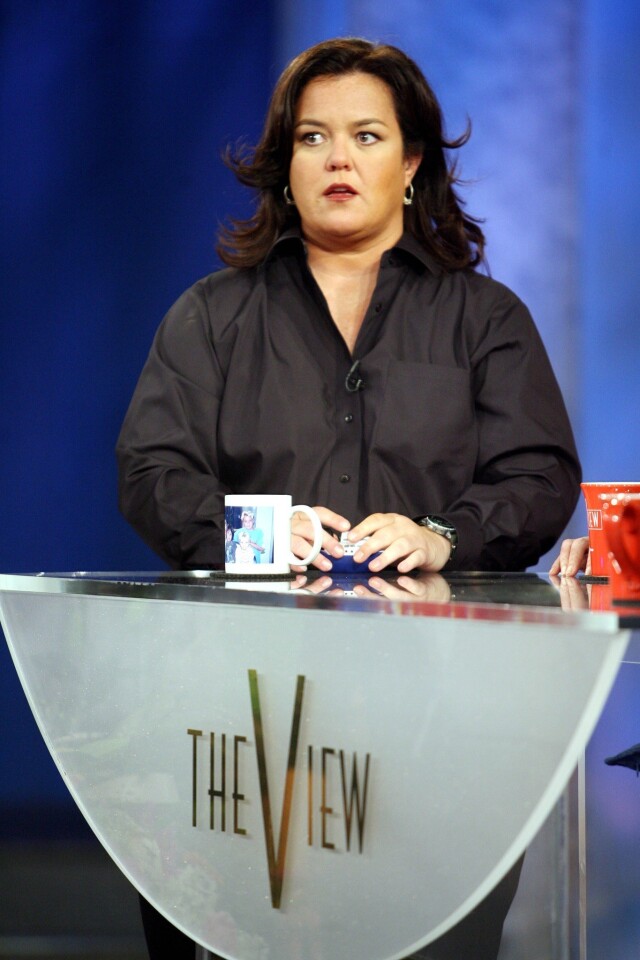 While discussing Danny DeVito's intoxicated appearance on "The View," co-host Rosie O'Donnell joked that the incident was so heavily talked about, they were even speaking of it in China. "You know, you can imagine in China it's like, 'Ching-chong, ching-chong. Danny DeVito. Ching-chong, ching-chong-chong. Drunk. The View. Ching-chong.'" Nine days and a heap of controversy later, O'Donnell apologized on "The View," stating: "To anyone who was offended at my Chinese, Asian, pseudo-Japanese, sounded-a-little-Yiddish accent that I was doing, you know, it was never [my] intent to mock, and I'm sorry for those who felt hurt or were teased on the playground."
(Mary Altaffer / Associated Press)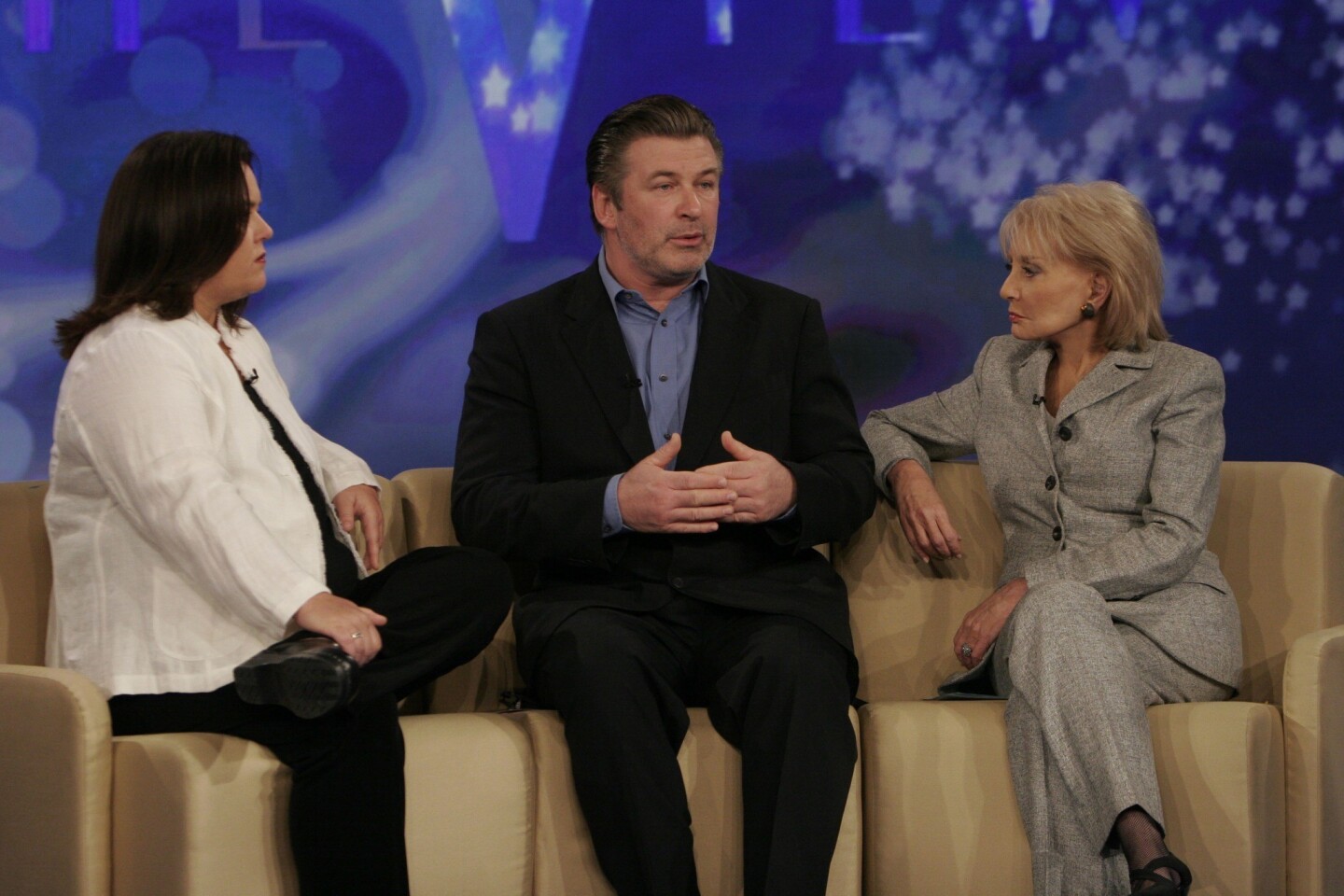 "30 Rock" star Alec Baldwin, center, appeared on "The View" to set the record straight about a volatile voicemail he left for his 11-year-old daughter that became public. In the pre-taped appearance, which aired April 27, 2007, Baldwin apologized to his daughter.
"Obviously calling your child a pig or anything else is improper and inappropriate, and I apologize to my daughter for that," he said. "There's nothing wrong with being frustrated or angry about the situation.... It's the way you do it, and as people often do in this world, I took it out on the wrong person."
(Heidi Gutman / ABC / Associated Press)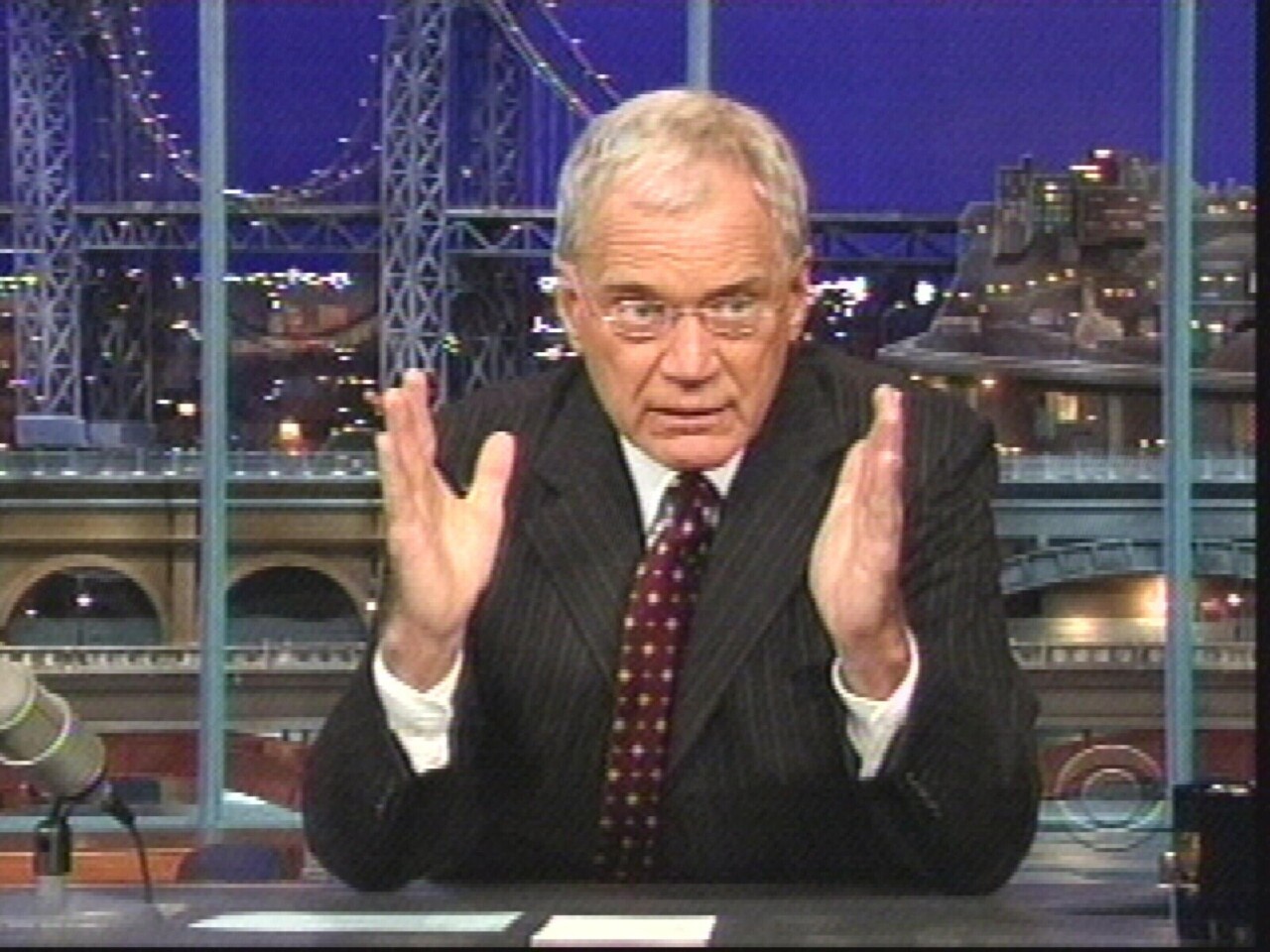 On Oct. 1, 2009, David Letterman devoted a 10-minute-long "Late Show" monologue to the revelation that he had sexual relationships with female employees and that someone tried to extort $2 million from him over the affairs.
While saying that he felt "menaced" by extortion suspect Robert Joel Halderman, a former CBS producer who planned to write a screenplay about the affairs, the comic did not express any contrition for cheating on his wife, Regina Lasko, whom he dated for 23 years before their marriage in March 2009. Letterman said Haldermen sent him a note saying, "'I know that you do some terrible terrible things and I can prove that you do these terrible things'... and sure enough what was contained in the package was proof that I do terrible, terrible things."
"I have had sex with women who worked on this show," Letterman told the audience matter-of-factly. "And would it be embarrassing if it were made public? Perhaps it would. Especially for the women."
(CBS / Associated Press)
It's not often a Fox News personality like Sean Hannity admits he screwed up on the air. But that's exactly what happened in November 2009, when Hannity publicly apologized to "Daily Show" host Jon Stewart after Stewart showed how Hannity had aired misleading footage of a tea party rally in order to give the impression it was bigger than it actually was. In addressing Stewart, Hannity said, "By the way, I want to thank you and all your writers for watching." Daily Show segment: http://www.thedailyshow.com/watch/thu-november-12-2009/sean-hannity-apologizes-to-jon
(Associated Press)
Kanye West is known for his hot temper, but he shocked even his biggest fans when he jumped on stage at the MTV Video Music Awards in 2009. West couldn't believe that Taylor Swift had won the female video award over Beyonce, and he wanted to make sure the world knew it. Swift was mid-acceptance speech when he grabbed the mike and went on a rant.
The backlash started immediately, and West appeared the next day on the premiere episode of "The Jay Leno Show" and
called his actions
"rude period."
(NBC)
After weeks of "winning" in a media frenzy following his firing from "Two and a Half Men," Charlie Sheen publicly apologized for his "warlock" ways -- which included lashing out at the sitcom's creator Chuck Lorre and costar Jon Cryer; alleged substance abuse; shacking up with a pair of "goddesses"; launching a tour called "My Violent Torpedo of Truth/Defeat Is Not An Option" and
a slew of questionable statements
that suggested a meltdown.
During the 2011 Emmy Awards, Sheen made an effort to mend his fences with his former colleagues Lorre and Cryer.
"From the bottom of my heart, I wish you nothing but the best for this upcoming season," Sheen said before presenting an award.
Sheen also talked about his "manic period" with Matt Lauer on the "Today Show," saying he was "a lot calmer and a lot mellower." He also made an appearance on the "Tonight Show with Jay Leno."
"[The media frenzy] was like a runaway train that I was kind of the reluctant conductor of and it just kept going,"
he said
.
(Mark Boster / Los Angeles Times)
During a May appearance on "Today" to promote his voice work in "Madagascar 3," Martin Short was his usual jovial self, answering all questions from co-hosts Kathie Lee Gifford and Hoda Kotb with aplomb. But then Gifford began asking about Short's wife, Nancy, unaware that she had passed away a year and a half earlier. After a commercial break, Gifford immediately apologized to Short (who was no longer there) and the at-home audience.
(Peter Kramer / NBC)