Sharon Tate-Megan Draper 'Mad Men' theory lights up the Internet
Elisabeth Moss sits in the bedroom of her character, Peggy Olson, on the set of the AMC television series, "Mad Men." "She takes her hard knocks, but she's definitely not one to make the same mistake twice," said Moss.
(Genaro Molina / Los Angeles Times)
Christina Hendricks stands in an office on the set of the AMC television series "Mad Men." Hendricks plays Joan, the head secretary with a voluptuous Marilyn Monroe body and persona.
(Genaro Molina / Los Angeles Times)
January Jones stands in the kitchen of her character Betty Draper on the set of the AMC television series "Mad Men." "When you take the girdle off at the end of the day, everything sort of falls," Jones said.
(Genaro Molina / Los Angeles Times)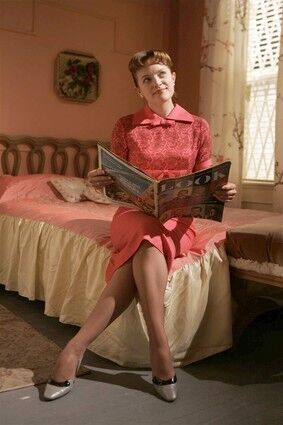 "Mad Men's" Elisabeth Moss. "Everyone has new or the same struggles, but everything is a bit more intense," she said of the second season.
(Genaro Molina / Los Angeles Times)
The women of "Mad Men": Elisabeth Moss, January Jones and Christina Hendricks.
(Genaro Molina / Los Angeles Times)
January Jones stands in the kitchen of her character Betty Draper on "Mad Men." "She has the ultimate realization of luxury," show creator Matt Weiner said.
(Genaro Molina / Los Angeles Times)
The women of "Mad Men": Elisabeth Moss, January Jones and Christina Hendricks.
(Genaro Molina / Los Angeles Times)
Is Megan Draper morphing into Sharon Tate?
That's the conspiracy theory currently lighting up the Internet, thanks mostly to a T-shirt worn by Don Draper's lovely second wife in Sunday's episode, "The Better Half."
"Mad Men" viewers are nothing if not an obsessive bunch, known for parsing the show's many oblique references for any hint of what's to come. Series creator Matthew Weiner is also notoriously secretive, which only encourages even more rampant speculation and frenzied over-analysis.
PHOTOS: How to survive life without 'Mad Men'
Over 6 seasons, the "Mad Men" conspiracy theories have become almost as numerous as Don's conquests. The latest morbid idea to captivate "Mad Men" fans is the possibility that Megan, Don's lovely second wife, is somehow modeled on Sharon Tate, the actress married to filmmaker Roman Polanski who was brutally killed by members of the Manson family in 1969. Proponents of the theory believe that given the similarities between the women, not to mention the overwhelming specter of violence looming over the series, the young Mrs. Draper is likely to meet a similarly awful demise.
Is this theory ghoulish? Definitely! But is it totally crackpot? Well, you be the judge.
Like seemingly all conspiracy theories these days, the Megan-as-Sharon-Tate concept originated at Reddit. Uproxx expanded on the idea, which was eventually aggregated in full at Buzzfeed. So what's the evidence? Exhibit A is the red star T-shirt Megan in a scene near the end of "The Better Half." "Mad Men" costume designer Janie Bryant acknowledged via Twitter that it was modeled on one worn by Tate in a risqué photo shoot for Esquire Magazine.
Though Bryant later insisted to the Daily Beast that Megan's T-shirt, with its Vietnamese star, was meant more as a political statement than a clue to her fate, that didn't stop fans from looking for hints.
PHOTOS: 50 most beautiful female celebrities
First, there are the obvious similarities between the two women. Like Tate, Megan is an actress whose career is beginning to gain traction, and is married to an older, philandering husband. She also recently suffered a miscarriage and may once again be trying to conceive; Tate was, sadly, pregnant at the time of her death. Aesthetically speaking, they also share a similar fondness for big hair and vibrant patterns.
And, because we're tallying the evidence, both Roman Polanski and Don Draper lost their mothers at an early age and clashed with their stepmothers. So there's that.
Perhaps more convincingly, there's also the overall atmosphere of violence that's permeated the series for much of the last two seasons, and is now encroaching on the lives of "Mad Men's" characters in a very real, very frightening way.
In last Sunday's polarizing episode "The Crash," there was the by-now-infamous "Grandma Ida" invasion (which just so happened to take place as Sally was reading "Rosemary's Baby," the novel adapted by Polanski in 1968). And elsewhere in "The Better Half," Peggy, fearful of a break-in, accidentally stabs her boyfriend Abe, who'd already been stabbed earlier in the episode. In the scene in which Megan wears the infamous shirt, police sirens nearly drown out her conversation with Don. If that's not foreboding, then what is? (The swarm of policemen featured in this season's "Mad Men" poster, for one.)
The show has made numerous allusions to the kind of terrifying, random acts of violence that rattled the public consciousness in the 1960s. Last season, there were references to Richard Speck's slaying of eight Chicago nurses, and to the University of Texas clock tower shooting. As Weiner told The Times this year, "That one-two punch would make you feel very, very agitated and insecure about the organization of society." Similarly, in this Sunday's episode, Megan was shocked her friend Arlene crossed Central Park so soon after a gunman on the roof of a public restroom shot and killed a 24-year-old woman.
If Megan were to die, and if her death were to be a take on Tate's killing -- yes, those are both very big "ifs" -- it would make sense thematically. "Mad Men" opened at the dawn of the 1960s and, with just over one season left, is likely to end right about 1970. At least according to conventional wisdom, the Manson family murders are, along with Altamont, the moment when the dream of the '60s turned into a nightmare.
So while it's all compelling, we probably shouldn't get too ahead of ourselves, especially given that Weiner seems to like misdirecting viewers (remember when everyone thought Pete was going to kill himself last season?).
Besides, the guy we're really concerned about is Bob Benson. Those fish shorts were positively disturbing.
ALSO:
As 'Mad Men' moves into 1968, Matt Weiner talks history

'Mad Men' recap: 'Always something there to remind me'
'Mad Men' recap: I'm so excited! I'm so scared!
---
Get our L.A. Goes Out newsletter, with the week's best events, to help you explore and experience our city.
You may occasionally receive promotional content from the Los Angeles Times.