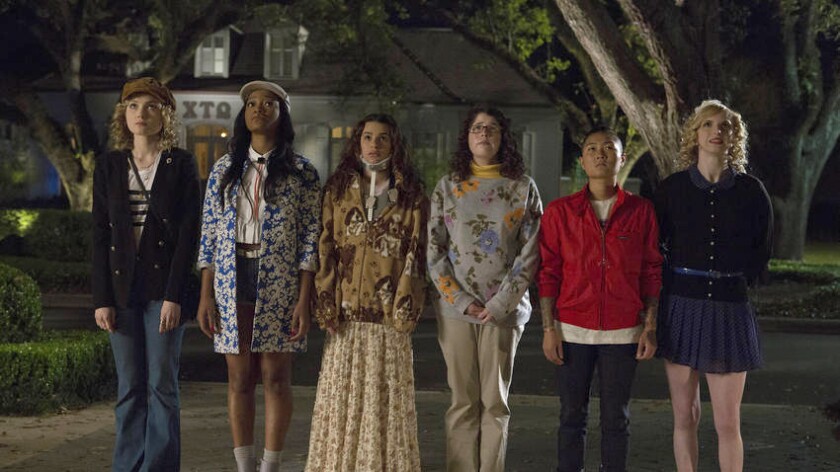 Fox Television was hailed this year for developing "Empire," about the power struggle of an African American family fighting over control of a massive music empire. With its racially mixed cast of memorable characters and outrageous storylines, the show became TV's hottest series.
But while critics and viewers applauded "Empire" as a major step in honoring cultural differences, those who tuned in to Tuesday night's launch of Ryan Murphy's horror-comedy "Scream Queens" may question Fox's progress on the diversity front.
Fox TV heads Dana Walden and Gary Newman showered Murphy ("American Horror Story," "Glee") and the series with glowing accolades at the show's premiere Monday at the Wilshire Ebell Theatre, but some reviewers had already blasted "Scream Queens," saying the series' attempts at humor, particularly when it comes to race and stereotypes, are misguided — and even offensive.
SIGN UP for the free Indie Focus movies newsletter >>
"Scream Queens," which mocks slasher movies, centers on murders at a fictional university that hosts a chapter of Kappa Kappa Tau, an elite sorority run by the rich and entitled mean girl Chanel Oberlin (Emma Roberts). Oberlin prides herself on excluding "undesirables," which includes pledges who are minorities.
In the opening minutes of the two-hour pilot, written by Murphy, who is white, and his white partners, Brad Falchuk and Ian Brennan, Chanel berates the maid of the sorority (Jan Hoag), who is shown scrubbing a floor.
"That obese specimen of human filth scrubbing bulimia vomit out of the carpet is Ms. Bean," Roberts sneers. "I call her 'white mammy' because she's essentially a house slave."
Chanel later forces the maid to recite the "I don't know nothin' about birthin' no babies" line from "Gone With the Wind" — which, as Times critic Mary McNamara pointed out in her review, was actually said not by Mammy (Hattie McDaniel) but by another slave, Prissy (Butterfly McQueen).
Murphy, in pointing out that "Scream Queens" is a comedy, has said that the dialogue is meant to illustrate Chanel's racist and distasteful nature. However, some reviewers have said the "white mammy" and "Gone With the Wind" references were off-base, indicating that slavery and the subservient black images from that film were not a laughing matter.
"There's nothing fun about watching Roberts call her housekeeper "White Mammy" and making her quote Butterfly McQueen's lines from Gone With the Wind, and nothing that creates a greater understanding of her character," wrote Daniel D'Addario of Time. "We can tell she's a monster without being goosed to think her race-tinged bullying is a little funny."
Melissa Maerz of Entertainment Weekly said that the "white mammy" sequence "pushes easy shock value for its own sake." Jamison Cox of "The Verge" wrote "there's a very good chance that 'Scream Queens' is going to lose a chunk of its viewers" after that exchange."
In a review headlined, "Ryan Murphy, Racist?" Kerensa Cadenas of "The Complex" wrote, "The racism in 'Scream Queens' is blatant and gross — that "white mammy" moment left me uncomfortably squirming for days after."
As for "Scream Queens'" references pulled from "Gone With the Wind," The Times' McNamara pointed out that Chanel and other college students were unlikely to use a 1939 film as a touchstone: "Lines from 'Mean Girls'? Yes. 'Gone With the Wind'? No."
Also, there are only two black female characters in the cast, both variations of the sassy black female personas Murphy has presented before in "Glee" and the short-lived NBC comedy "The New Normal."
Keke Palmer plays a pledge who wants to join the sorority, though no explanation is given why an African American girl would want to join a white sorority run by a racist. Niecy Nash plays a bumbling security guard.
In the past, Murphy has been praised for his diverse casting and anti-bullying campaigns, especially on "Glee." But the "white mammy" issue has caused some to take a second look at his older work.
"There's always a wink, a hair flip, a smirk to acknowledge the tongue-in-cheek nature of his jokes," Cadenas wrote, "but that doesn't lessen the vileness of these moments on his shows."
Cox added, "There's something sinister about Murphy and friends' insistence that it's okay to dive into the reprehensible because we're all supposed to know they don't mean it."
Future "Scream Queens" episodes may reveal a reason behind Murphy's broad-stroke caricatures. Meanwhile, it could be taken as a sign of progress that diversity on television is no longer just about minority casting. It's about presenting a range of roles for diverse casts — the good, the bad and the mean, plus all the shades in between.
MORE: Original 'Scream Queen' Jamie Lee Curtis reanimates her horror roots on Fox's new slasher series
Fox's 'Scream Queens' sorority-slasher is a howler in more ways than one
'Scream Queens'' Emma Roberts on Chanel pastels, Blake Lively's style and appearing almost nude in Aerie ads
---