11 Images
Nobel fashion hits and misses
By Patrick Day and Todd Martens, Los Angeles Times Staff Writers
Co-winner of the Nobel Peace Prize with the U.N. Intergovernmental Panel on Climate Change.
HIT
It's getting hot in here, and we're not talking global warming! The former vice president has always looked best in his White House duds, and this combo of dark suit, blue shirt and red tie exudes power and confidence.
(Paul Sakuma / AP)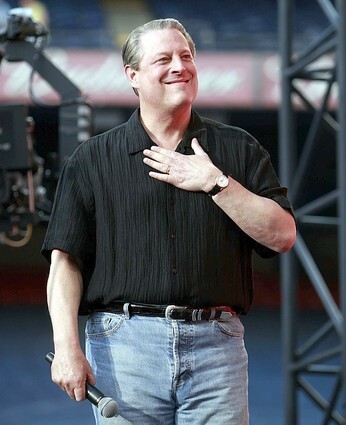 MISS
And here is Gore trying to dress down for his appearance at the Live Earth concert in New Jersey last summer. We know that Gore has long preached the virtues of recycling, but it appears that Mr. Environment took his old vinyl records and melted them down to make this shirt. At the very least, he could have pulled out the tails and spared us the sight of that belt, which looks as if it was stolen from Bret Michaels' closet.
(Stan Honda AFP / Getty Images)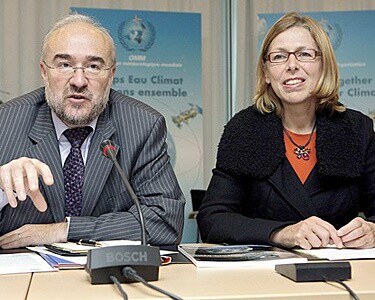 From the U.N.'s Intergovernmental Panel on Climate Change.
HIT and MISS
The fashion industry may descend on Paris and Milan every year to ogle the new fashions, but one of these two Europeans no doubt had more important things to do. Pity. Although black and orange may be appropriate fall colors, the fuzzy shoulder pads make Austrian Christ look like a renegade from a girly football league. Her French colleague Jarraud, however, looks sharp in a pinstripe suit and purple shirt.
(Martial Trezzini / EPA)
Chairman of the U.N.'s Intergovernmental Panel on Climate Change, which shared the Nobel Peace Prize with former Vice President Al Gore.
MISS
Careful -- that two-toned tie will surely kill any buzz provided by that Champagne. We applaud the dash of red, a surefire attempt to bring some spice to the boardroom (er, boredroom?) sport coat. But the tie is ruined by the medical-scrub blue, which disappears straight into his shirt.
(AFP / Getty Images)
HIT
Rock 'n' roll, Rajendra! We're told this picture was taken outside his New Delhi office, but he looks ready for a Live Earth after-party in that slick black suit. And that goatee! The way it's perfectly spiked downward is Pure. Punk. Rock.
(AFP / Getty Images)
Winner of the Nobel Prize for literature.
HIT
Surprise! Lessing had just returned home from a shopping trip when she was ambushed by a pack of media wolves looking to get her reaction to the Nobel announcement. The spry 87-year-old may not have been expecting to be photographed, but she looks great in a simple skirt, an oversize vest and a curving highlight of red scarf to set the whole ensemble off.
(Lefteris Pitarakis / AP)
HIT
It's a double win for the always stylish Miss Lessing. Even back in the big-hair, big-shoulder decade of fashion atrocities known as the 1980s, this Persian-born English writer was thinking ahead. Check out those Mary Janes and that sack dress. She could have walked out of a Marc Jacobs store yesterday. And cats never go out of style.
(Jan Delden / Scanpix Sweden)
Co-winner of the Nobel Prize for physics.
HIT
This German scientist knows when to tone down his look and let the environment do the talking. His modest gray sport coat and powder-blue work shirt take all the attention off of him and put it on that crazy-looking mad scientist contraption to his immediate right. Here's a guy who knows cool.
(Volker Hartmann AFP / Getty Images)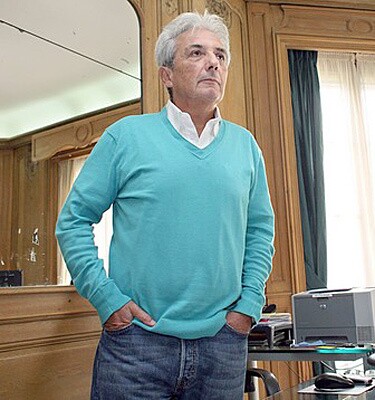 Co-laureate for the 2007 Nobel Prize for physics. The 69-year-old Frenchman and Peter Gruenberg of Germany shared the prize for discovering a phenomenon called giant magnetoresistance.
WASH
Loving that stern pose, and Fert is coolly confident with his hands in his pockets. We're even willing to forgive the baby-blanket blue of that sweater because it's tastefully paired with a white shirt, and it does – we admit – look comfy. But then why ruin it with some lying-around-the house jeans? Juice that up with some black slacks, Al! Way too casual for someone who discovered giant magnetoresistance.
(AFP / Getty Images)
Professor of pathology and laboratory medicine at the University of North Carolina at Chapel Hill and co-recipient of this year's Nobel Prize in physiology or medicine.
MISS
We know that professors work long hours, but that security blanket has GOT TO GO, Mr. Linus Van Pelt.
And wait, is that a rubber-banded Casio on his wrist? Not even fashionistas can persuade us that those are vintage cool. And don't give us that nonsense about your watch having a calculator.
(Jeffrey A. Camarati / Getty Images)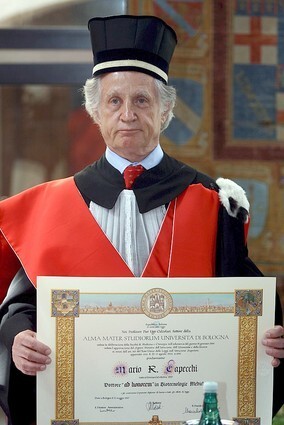 Co-winner of the Nobel Prize for medicine or physiology
MISS
We understand that winning such a prestigious award, especially for work on stem cells, is enough to buy anyone some leeway when it comes to respect, but even that has its limits. Here, Capecchi, an Italian-born U.S. citizen, accepts the
honoris causa
degree in medical biotechnologies from the University of Bologna. We understand that college ceremonies require the gown, so there's the leeway. But what's with the hat? He looks like Chef Boyardee's evil cousin.
(Giorgio Benvenuti / EPA)