3 Images
Vive le Revolucion!
Nicky Hilton's butt looks as wide as a city block in this Just Cavalli bubble dress on the Milan runway. Tell her to haul ass and it would take her three trips.
(Daniele Venturelli / WireImage)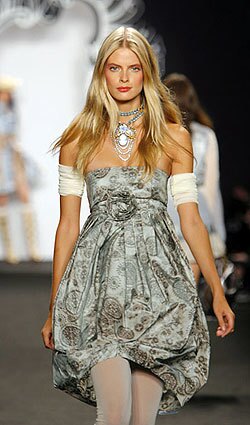 Blame it on naughty Marie. Anna Sui's sweet Spring 07 strapless bubble dress has a distinct saucy French court flavor.
(JP Yim / WireImage)
Anna Sui's New York Spring 07 runways were loose interpretations of 18th French fashions with a punky modern feel. Not too sure how many women will buy that triangle hat..
(JP Yim/WireImage)