73 Images
125th - Culture
Scene on Western Avenue, south of Sunset Boulevard, in 1906. "California has been the most risk-taking economy and society in the nation. Maybe in the world," one historian says. Since the days of the Gold Rush, the Golden State has been just that to hordes of newcomers who came to find their fortune or simply to start over.
()
"Rush hour" is a misnomer on most of California's freeways, yet the state still has a strong hold on our imagination.
(Damian Dovarganes / AP)
Oil discoveries in Huntington Beach, Long Beach and Santa Fe Springs in 1920 and 1921 drove local residents, in the words of one observer, "stark, staring, oil mad." Suddenly, oil wells were viewed as lucrative investments. "Speculation is in the air," stated one banker, "because people think of [this] as the land of easy money." In 1940, Huntington Beach was lined with the derricks pictured above.
(File photo)
In 1923, Julian tried to woo new investors with advertisements in the Los Angeles Times.
()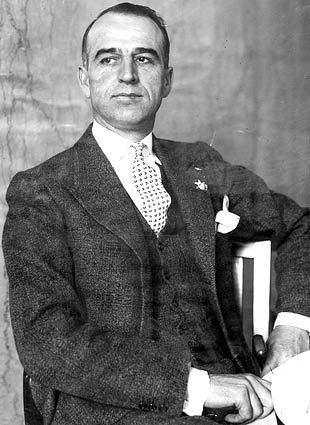 C.C. Julian arrived at the oil boom's peak in 1922 and began seeking investors. He's seen here in about 1930.
()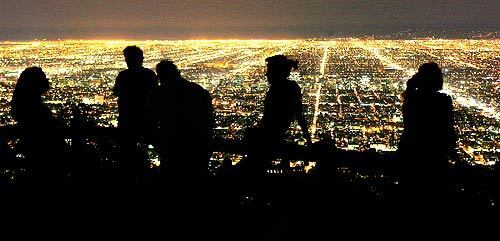 Sprawl in Southern California has been more than a geographical reality; it has been a state of mind. As seen from the top of Griffith Park, the region unfolds into viewscapes that have become trademark.
(Ken Hively / LAT)
In L.A.'s postwar era, modest single-family houses, such as these under construction in Lakewood circa 1950, popped up all over the region.
(William A. Garnett)
The suburban ideal espoused in Lakewood and the rest of Southern California spread across the country and the globe. Throughout the developing world, the most forward-looking officials have looked closely at the mistakes of Los Angeles, and some are now trying to minimize the environmental consequences.
(Courtesy of D.J. Waldie)
The 101 connects with the 134 and 170 in the Cahuenga Pass, but if you're a driver in Los Angeles, you probably already know that. The first L.A. freeway was opened in 1940.
(Brian Vander Brug / LAT)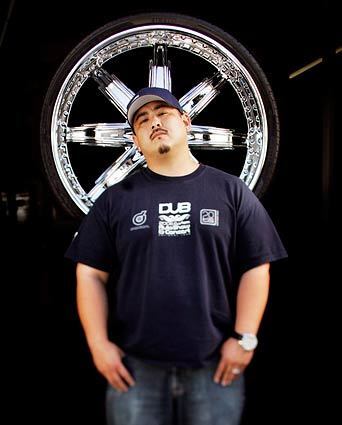 Myles Kovacs is co-founder and publisher of Dub Magazine.
(Damon Winter / LAT)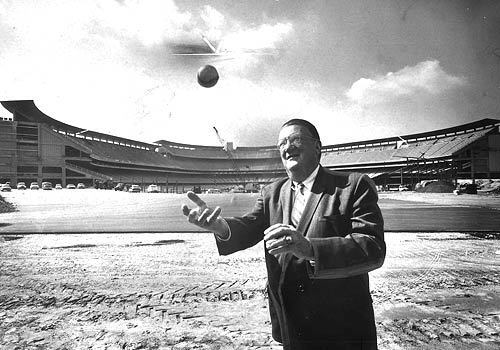 In 1962 Walter O'Malley stands at a nearly completed Dodger Stadium. The Dodgers moved to Los Angeles after O'Malley failed to obtain a new stadium for the team in Brooklyn. The stadium became a destination for L.A. sports fans.
(Los Angeles Public Library)
A parade through downtown is held for the Dodgers on April 18, 1958, the day of their first game in Los Angeles. The Dodgers beat the San Francisco Giants in a battle of eastern transplants.
(USC Special Collections)
Jackie Robinson, as a junior college baseball player in Pasadena, before he transferred to UCLA, scene of his stardom in various sports.
(California Historical Society Press / Heyday Books)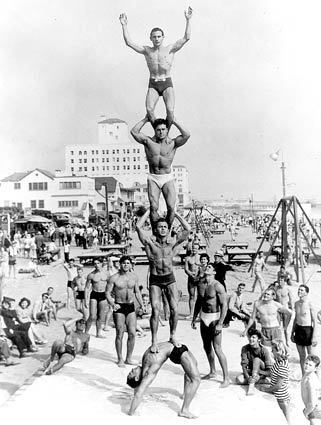 Local bodybuilder Harold Zinkin poses at the bottom of a human tower of musclemen that includes, in ascending order: Deforrest "Moe" Most, Jack LaLanne and Gene Miller, in this undated photo. Muscle Beach was an international magnet for bodybuilders.
(Angel City Press)
Tony Hawk's exploits on a skateboard have made him a superstar in a sport that was unknown just decades earlier.
(Gina Ferazzi / LAT)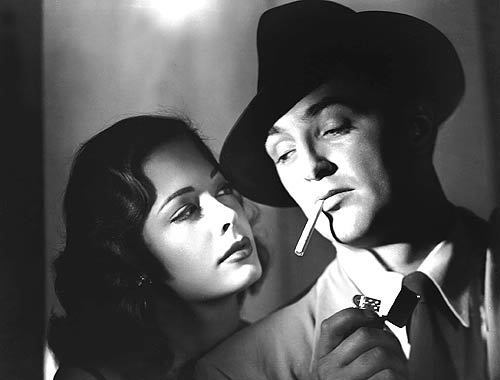 Jane Greer and Robert Mitchum, stars of 1947's "Out of the Past," brought a romance to noir films that began as World War II subsided. "Never before had films dared to take such a harsh, uncomplimentary look at American life," filmmaker Paul Schrader wrote.
(Warner Home Video)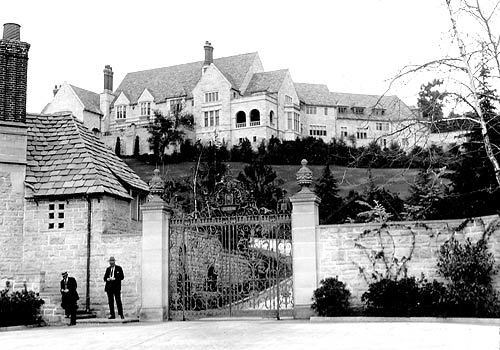 The mansion where Ned Doheny's body and that of a family chauffeur were found in 1929, both with bullet wounds in the head. A full investigation was promised by the new district attorney, but none came.
(File photo)
Ned Doheny, left, poses with his mother and father, oilman Edward L. Doheny, in the 1920s. Ned was found dead at one of the family's mansions amid a probe in connection with the Teapot Dome scandal.
(File photo)
The site of a murder (what is now Avenue 37) where vaudeville dancer Clara Phillips beat a rival to death. In that decade, L.A. papers vied to report on a city that was bursting apart at the seams, and tabloid culture was born.
(File photo)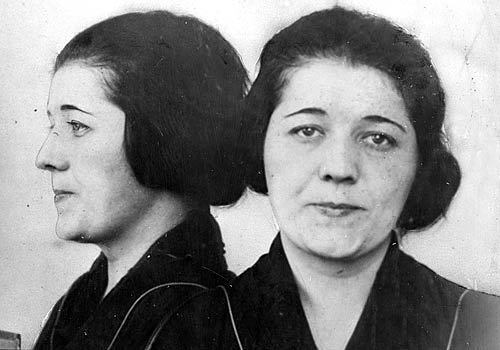 "Tiger Woman" was the nickname of dancer Clara Phillips, who beat a rival to death and escaped, with an admirer's help, to Honduras only to be tracked down by a reporter.
(File photo)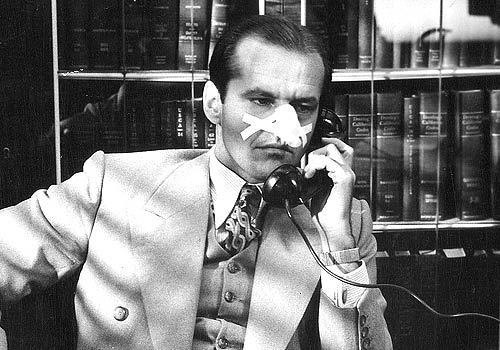 Sniffing out corruption: Jack Nicholson gets a slice of "Chinatown."
(Paramount Pictures)
Members of the Girls' Dare Club of 1934 helped build up the image of Venice Beach as a magnet for bathing beauties.
(LAT)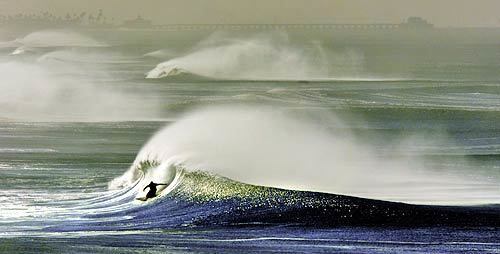 It all started when Sandra Dee got on her board in the 1959 film "Gidget." Soon after, surf-themed films and music flooded the market, and kids across America wanted to hop on a board and ride the waves, like this surfer at Huntington Beach.
(Allen J. Schaben / LAT)
Images of California's seductive coast, such as this one of Laguna Beach circa 1938, made the region an irresistible combination of beautiful people and beautiful beaches. They came by the thousands, from points east, all to get a taste of the good life.
(File photo)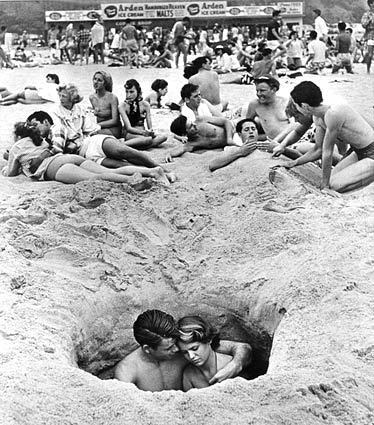 This photograph of a bustling 1950s Santa Monica beach during a July 4 weekend was included in a 1986 exhibit called "Life, the Second Decade," celebrating the magazine.
(Ralph Crane)
Katharine Hepburn initially shocked the studio chiefs with her menswear, but the idea, and the glamorous possibilities of it, caught on.
()
Fashion designer Rudi Gernreich introduced knit separates and unisex clothing that showed sporty and sophisticated could coexist. His legacy continues today with unstructured lines such as pull-on skirts and tie-front tops.
(Patricia Faure)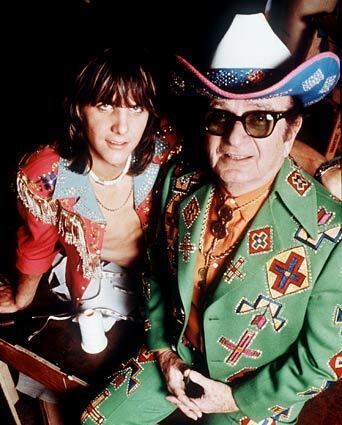 Cowboy couturier Nudie Cohn circa 1969, with singer Gram Parsons, who wore his designs.
()
Fergie of the Black-Eyed Peas in a tracksuit, which goes from the gym to the Ivy for lunch.
(Devan/INFGoff.com)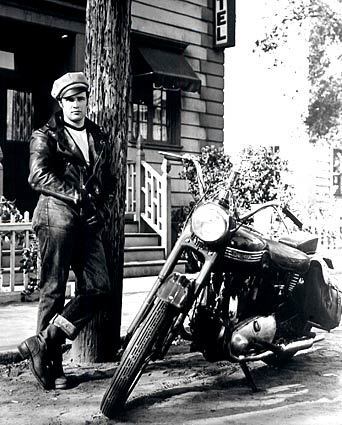 Some actors just have "the look." Marlon Brando, here on the set of 1953's "The Wild One," overshadowed couture with his T-shirt, leather jacket and rolled-up jeans.
(Warner Bros.)
What says L.A. better than a pair of hemp flip-flops? The surf culture has brought a wave of ocean-influenced styles, including the skimpy sandal.
(LAT)
Sharon Stone, with Quincy Jones at the 1996 Oscars, raised eyebrows by sporting a turtleneck shirt from the Gap at the glitzy event.
(Robert Gauthier / LAT)
David Hockney
ARTIST
In many ways, David Hockney is a quintessential Angeleno, someone who arrived from another country and made this place his own. An English painter born in the industrial northern city of Bradford, he is most renowned for his paintings of light and swimming pools; an accomplished draftsman, he has deliberately used broad shapes and color palettes, as well as collages composed of hundreds of Polaroids, to comment on the glittery veneer of California life.

Much of Hockney's art is deceptively simple, almost childlike in its execution, yet emotionally nuanced and complex. Neither a realist nor an experimentalist, he occupies a middle territory, particularly in his portraits, which often convey a longing or a tension just below the surface of the painting, representing something the subject might prefer us not to see. Likewise his California images, which although still are far from quiet, as if evoking the moment before or after something important has occurred.
(Mark Boster / LAT)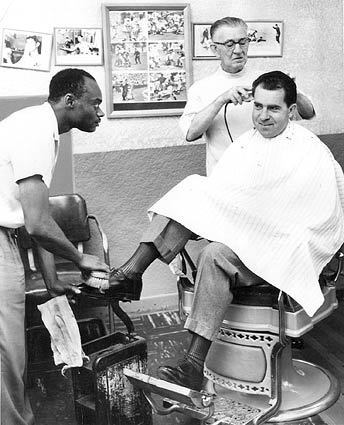 Richard M. Nixon
PRESIDENT
If Richard Nixon had never been born we would have had to invent him, the dark prince of the American dream. A Yorba Linda boy, he raised himself up from nothing and then couldn't keep from throwing it away.

In 1950, as a two-term congressman, he helped usher in the age of red-baiting when he ran for the U.S. Senate (and won) against Helen Gahagan Douglas, whom he derided as the "Pink Lady." Dirty tricks were a staple of Nixon's political life, from the Checkers speech to Watergate, although even in the face of his most devastating setbacks — losing the California gubernatorial race in 1962, being forced to resign the presidency — he somehow managed to keep coming back.

Complicated and self-destructive, he could be exceedingly insightful as well. "Always give your best, never get discouraged, never be petty," he told his staff on Aug. 9, 1974, as he left the White House for the final time. "Always remember others may hate you, but those who hate you don't win unless you hate them, and then you destroy yourself."
(LAT)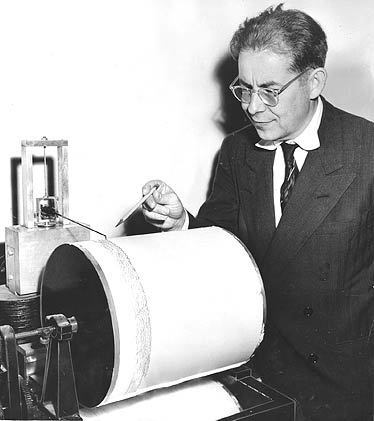 Charles F. Richter
SEISMOLOGIST
Twenty-one years after his death, Charles Richter remains a mythic presence, the developer (with Beno Gutenberg) of the Richter scale.

Although it may no longer be the industry standard — since the early 1990s, seismologists have preferred the moment magnitude scale to measure earthquakes — Richter remains the yardstick all Californians know. How big? we ask when the ground starts shaking, which is what Richter sought to understand. In the process, he created a way to measure our psyches as much as the movements of the earth.
(LAT)
Charles Mingus
BASSIST, COMPOSER
Charles Mingus didn't spend all that long living in Los Angeles, but it was as a boy growing up in Watts that the seeds of his incredibly complex musical heritage took root.

Trained from an early age in formal bass and composition, he also picked up more vernacular forms of music from the church and from the jazz he listened to on the radio. An early advocate of artists' rights, Mingus settled in New York in the 1950s, where he established his own record and publishing companies and founded the Jazz Workshop, dedicated to helping young composers perform and record their work.

Widely considered to be among the most innovative of jazz composers, he recorded more than 100 albums and also wrote concert pieces and ballet scores before his death of Lou Gehrig's disease in 1979 at age 56.
(United Press International)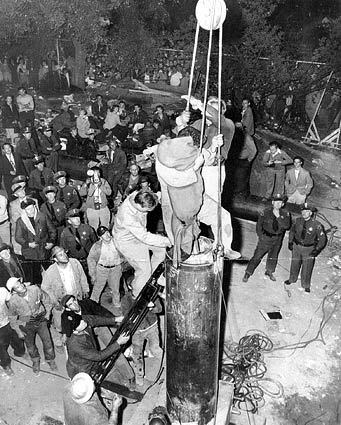 Kathy Fiscus
CITIZEN, MEDIA EVENT
She was 3 1/2 years old, from San Marino, playing with her sister and a cousin when she fell through a 14-inch hole and became trapped in an abandoned water pipe 94 feet below the surface of the ground.

In another time, perhaps, it would have been a source of private grief, but Kathy Fiscus disappeared in April 1949, at the dawn of the television era, and for 27 hours, KTLA preempted its regular programming to report live from the scene.

It took more than two days for rescuers to retrieve Kathy's body, above, but even before her fate was determined, she had become a kind of legend, as the TV cameras kept vigil at the well site, informing viewers of every development, no matter how small. KTLA wasn't the only news organization to cover the story; newspapers held up deadlines waiting for information, and radio announcers also reported from the scene. By the time the dead girl was recovered, the entire nature of news — and the way we interact with it — had been irrevocably altered.
(File photo)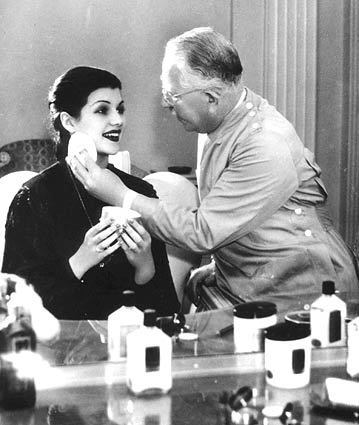 Max Factor
COSMETOLOGIST
Max Factor came to Southern California to reinvent himself. Little did he know that he'd invent an industry as well.

He arrived in L.A. in 1909, and by 1914, he was doing makeup in Hollywood, where he created the eyebrow pencil, lip gloss and pancake makeup to make actresses look more natural on screen. Once these stars saw what he could do for them on camera, they wanted to wear makeup in their private lives.

In 1925, Factor, above with a young Rita Hayworth, introduced his products to the public, giving beauty a brand-new face.
()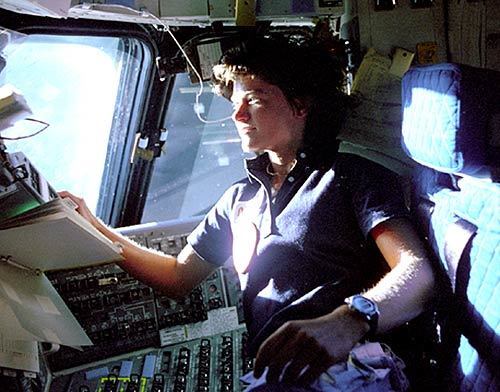 Sally Ride
ASTRONAUT
Sally Ride was not quite a decade out of what was then Westlake School for Girls when NASA chose her to be an astronaut candidate in 1978. Five and a half years later, she became the first American woman to go into space as a crew member on the space shuttle Columbia.

Ride went up again in 1984, but her third space mission was cut short after the Challenger disaster and she left NASA in 1987.

A longtime professor at UC San Diego, she founded Sally Ride Science, a company that encourages girls to get involved in science and technology.
(NASA)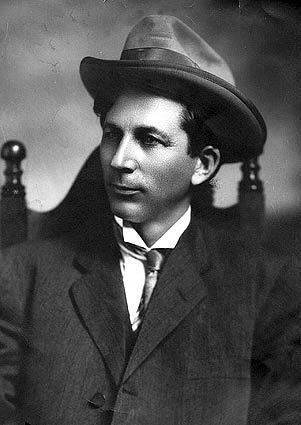 Job Harriman
LAWYER, SOCIALIST
The election was supposed to be a shoo-in. Job Harriman, socialist candidate for mayor of Los Angeles, had won the 1911 primary, beating incumbent George Alexander by 4,000 votes. Yet four days before the election, the McNamara brothers — whom Harriman had served as defense attorney — confessed to bombing the Los Angeles Times. Harriman lost. He would later found the Llano Colony, and help set the stage for L.A.'s tradition of progressive politics.
(Herald Examiner Collection L.A. Public Library)
Leonard Kleinrock
SCIENTIST
We take the ease of e-mail for granted now. But in 1969, when UCLA professor Leonard Kleinrock sent the first electronic message to Northern California's Stanford Research Institute, he was literally initiating a brand-new world.

Kleinrock developed the principles of "packet switching" — the basic technology of the Internet — while a graduate student at MIT.

It was at UCLA, though, that he helped create the ARPANET, the network from which the Internet evolved.
(LAT)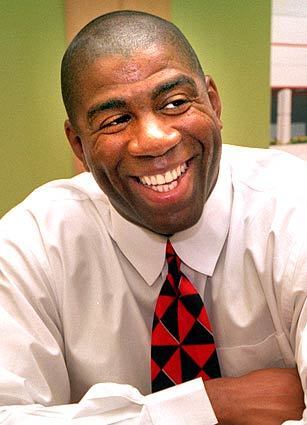 Magic Johnson
BASKETBALL PLAYER, ENTREPRENEUR
He was a star for the Showtime Lakers that won five NBA titles in the 1980s. Yet it was only after he revealed, on Nov. 7, 1991, that he was HIV-positive that Magic Johnson transcended his celebrity.

In the years since, he has become a role model, developing the Magic Johnson Theatres and investing in the urban core. His Magic Johnson Foundation helps inner-city kids succeed.
(LAT)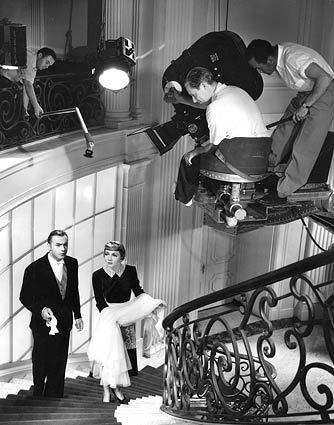 Charles Boyer and Claudette Colbert, early actors who gained celebrity status, play a royal Russian couple who take domestic jobs in 1937's "Tonight's Our Night."
(File photo)
Ava Gardner turns into an A-lister in "The Barefoot Contessa."
(UCLA Film and Television Archive)
Carole Lombard pretends she's dying to get a shot at being a celebrity.
(Kino on Video)
She starred in "She" with Randolph Scott and later was elected to the House of Representatives before losing a bitter Senate race to Richard Nixon.
(File photo)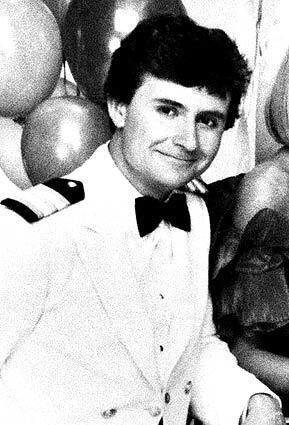 He had a goofy role in "The Love Boat" but became a four-term congressman from Iowa.
(AP)
The B actor made films, which included "Bedtime for Bonzo," and then became president in 1980.
()
The late singer, shown here with his famed sidekick and former wife Cher, represented Palm Springs in the House.
(Marianna Diamos)
Rapper Ice Cube was the chief lyricist for N.W.A, a group that channeled anger about police treatment and other issues into the album "Straight Outta Compton." "A police car always put you on the alert because you heard so many horror stories," Ice Cube once said.
(Genaro Molina / LAT)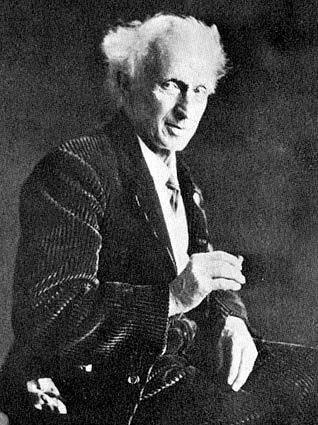 Charles Fletcher Lummis, Times city editor in the 1880s, called L.A. the "new Eden of the Saxon home-seeker."
(Title Insurance and Trust Co.)
In the late 19th century, blacks started coming to California in search of opportunities, only to find many of the same injustices that had plagued them in the South. A group of people circa 1920 stand outside their home in Watts, which would erupt in riots in 1965.
(Los Angeles Public Library)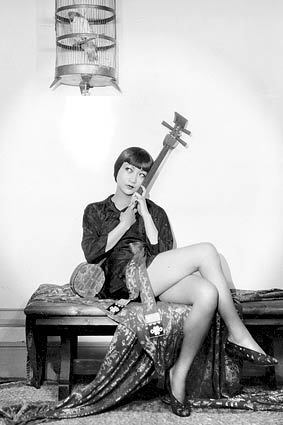 The actress was one of Hollywood's first Asian stars. L.A. County has the largest percentage of Asian Americans in the state — more than a million people, according to the U.S. Census.
(UCLA Film and Television Archive)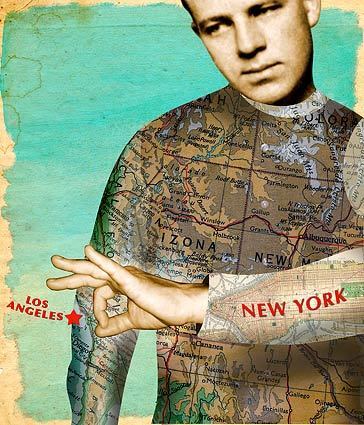 Everyone needs someone to despise
(Ellen Weinstein / For The Times)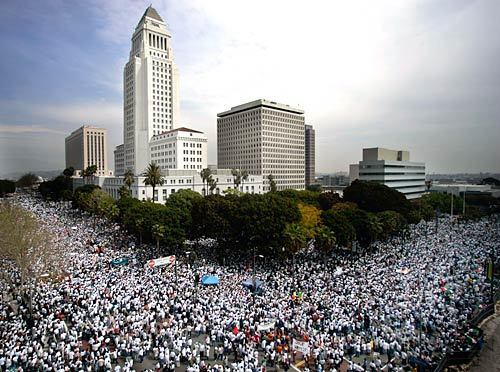 Thousands flood downtown streets near City Hall in March 2006 to protest immigration legislation. More demonstrations followed, in L.A. and around the country, as Latinos flexed their muscle.
(Gina Ferazzi / LAT)
Chavez Ravine once was a thriving community.
(Don Normark ITVS)
Two young men — one badly beaten, the other stripped of his clothes — draw a crowd during the Zoot Suit Riots in 1943.
(AP)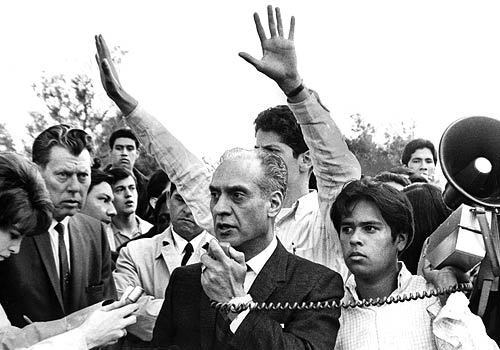 Edward R. Roybal won a seat on the Los Angeles City Council and then went on to Congress.
(LAT)
In 1968, Chicano students rally for better schools in L.A.
(LAT)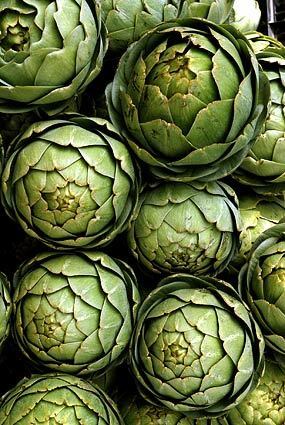 Sure, local chefs love to brag about their just-picked ingredients. And with ingredients at hand from farmers markets, going green has never been simpler — or more satisfying.
(Spencer Weiner / LAT)
In this multiethnic city, fusion cuisine just comes naturally. Chef and restaurateur Nobu Matsuhisa's riffs on sushi thrilled Angelenos and then went global.
(Lawrence K. Ho / LAT)
In the beginning, drive-in restaurants offered all sorts of food - including chili, tamales and spaghetti - served by carhops. Eventually, the menu turned to hamburgers. Bob's Big Boy, like this one in Burbank, invented the double-decker.
(Bob Carey / LAT)
The opening of Universal CityWalk in 1993 ushered in the concept of "scripted spaces," sites that eclipse the line between public and private and are designed to resemble organic urban settings, which are actually elaborately planned.
(LAT)
An old-fashioned trolley car rumbles through the Grove in Los Angeles' Fairfax district — an area that represents the new wave of city planning.
(Spencer Weiner / LAT)
Walt Disney, right, looks over a model of Disneyland's Main Street with John Hench, a longtime Disney artist and designer, in 1954. The Disney concept of "theming" has spread to resorts, restaurants, spas, condos and shopping malls.
(Disney)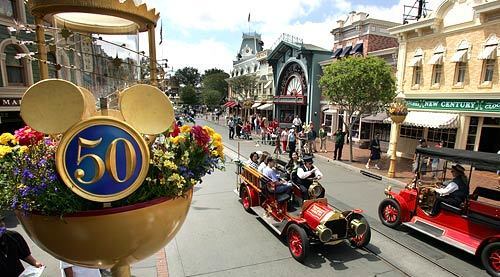 Disneyland celebrated its 50th birthday in 2005. Walt Disney understood that he needed to eradicate even the merest hint of complexity or danger to make the park the "Happiest Place on Earth."
(LAT)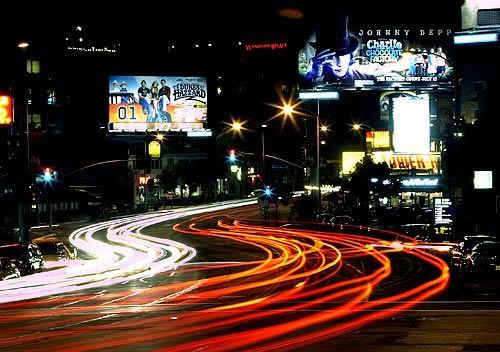 Vegas named its strip after L.A.'s more famous real estate. Though Tower Records faces bankruptcy and the hot spots constantly change, the Sunset Strip continues to hold a fascination for Los Angeles and the world.
(Mel Melcon / LAT)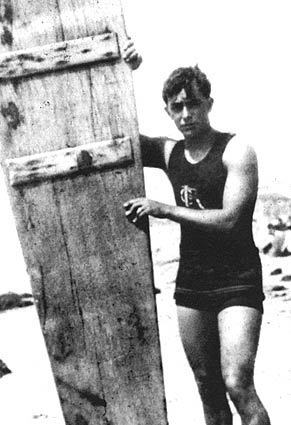 George Freeth, an Anglo-Hawaiian, introduced surfing to California at Redondo Beach.
(L.A. County Lifeguard Trust Fund)
Inside of a packing house for oranges at a grove near Tustin in 1892. Southern California's citrus industry took off after Edwin T. Earl invented a refrigerated railcar that could easily ship oranges to the East Coast.
(Mushet Photography)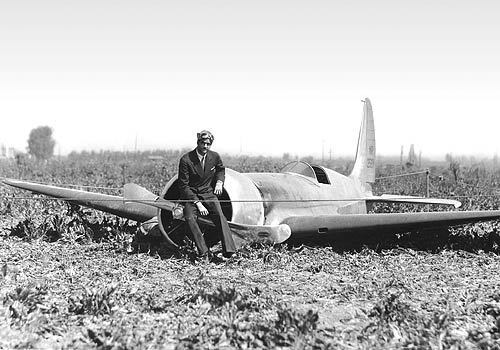 Howard Hughes atop his plane Winged Bullet in 1935. One of the pioneers in the aviation industry, he founded Hughes Aircraft.
(File photo)
Scene from the 1895 Rose Parade in Pasadena, before horses gave way to horsepower.
(File photo)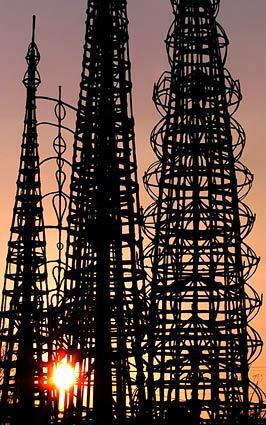 Simon Rodia completed the Watts Tower project in 1954 after three decades of work.
(Luis Sinco / LAT)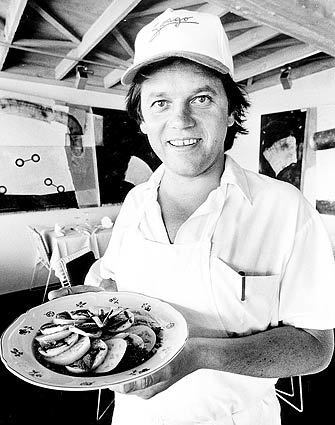 Wolfgang Puck opened Spago in West Hollywood in 1982.
(LAT)