11 Images
A look at the legend behind Santa Claus
Saint Nicholas
Saint Nicholas, 4th Century Bishop of Myra, circa 320 AD.
(Hulton Archive / Getty Images)
lat-la-ig-st-iwjnz9kn20111222150039
San Nicola basilica in Bari, Italy, where St. Nicholas' remains are enshrined. In 1807 Italian sailors or merchants are believed to have stolen his remains from Myra. They brought them to Bari, Italy.
(Susan Spano / Los Angeles Times.)
St Nicholas
Engraving of St Nicholas from the mid 19th century.
(Hulton Archive / Getty Images)
St. Nicholas
The cover of Clement C. Moore's "A visit from St. Nicholas."
(The Huntington Library)
Santa Claus
Thomas Nast's 1880s interpretation of Santa Claus.
(Hulton Archive / Getty Images)
Die-Cut Santa Claus Card
Image of Santa Claus on an illustrated card from the 19th century. The card is stamped with the name of the S. Sliberman shoe store in Cohoes, New York. Here, Santa smokes a pipe and holds a Christmas tree in one hand, a fistful of toys in the other, and wears a backpack that holds more toys (there are also toys stuffed into his boots).
(Transcendental Graphics / Getty Images)
Advertising Santa Loaded Die Cut
A large die cut lithographic Santa Claus comes from a Philadelphia lithographer in the mid-1880s. The die cut advertises a store with trimmings and fancy goods.
(Transcendental Graphics / Getty Images)
Salvation Army Santas Try to Keep Warm Standing on Sidewalk Grating
In the early 1890s The Salvation Army began dressing up unemployed men in Santa suits to solicit donations. Pictured is a Christmas illustration from 1900 showing Santas trying to keep warm.
(Buyenlarge / Getty Images)
Santa Caught
An illustration by W. Bengough shows Santa Claus (or Father Christmas) as he is caught by two young girls in the act of delivering toys, late 1800s.
(Transcendental Graphics / Getty Images)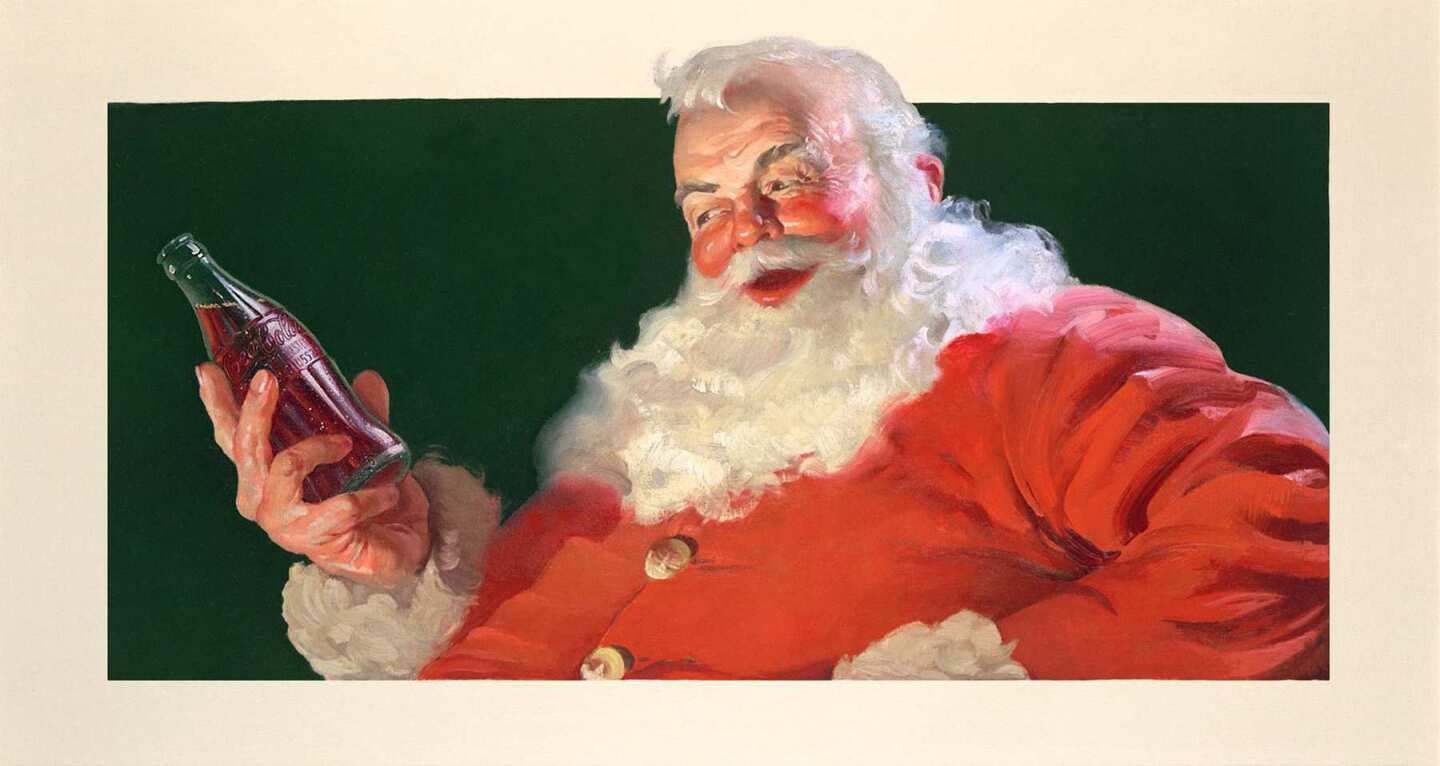 THE COCA-COLA COMPANY SANTA
By 1940, artist Haddon Sundblom had created the image of the Coca-Cola Santa for nearly a decade. This original piece, called "Somebody Knew I Was Coming," was the basis for posters and other advertising. The magazine ad created from this work was published in Collier's Weekly, Liberty and National Geographic in December 1940.
(The Coca-Cola Company)
President Clinton, right, reads Clement Clark
US President Bill Clinton (R) reads Clement Clark's poem.
(Stephen Jaffe / AFP / Getty Images)