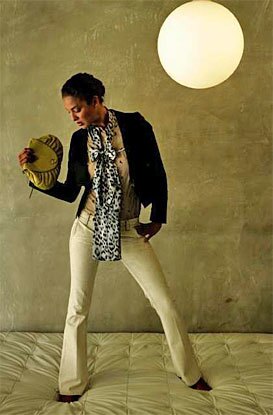 6 Images
Different looks with the trouser jean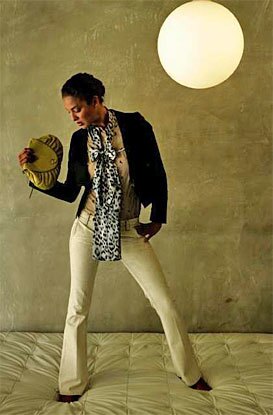 GALLERY OPENING
Raven Tailored's washed-out white trouser jean looks crisp and dressed up paired with a button-down blouse from Alice Roi and a slick Dondup blazer with a tuxedo detail - another hot trend for spring. And there's nothing quite as graphic as black and white. By adding bold accessories like patent leather and animal prints, also very now, you can achieve an artsy but elegant look. Echo's animal print scarf, Belle by Sigerson Morrison's red patent leather shoes, Madley necklace (worn as a bracelet) and a yellow Goldenbleu bag.
(Genaro Molina / LAT)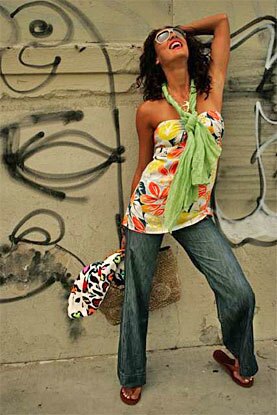 TROPICAL GETAWAY
With a more relaxed leg, these lightweight denim trousers by Level 99 jeans are perfect for warm weather, especially paired with a citrus-splashed halter top by Roxy. A wispy lime scarf from Madewell adds a whimsical accent without weighing you down. Throw it around your neck or through the handles of your beach bag. Trina Turk bag, Missoni towel, Moss Mills necklaces, Pono bracelets, Odyssey sunglasses, Roxy sandals.
(Genaro Molina / LAT)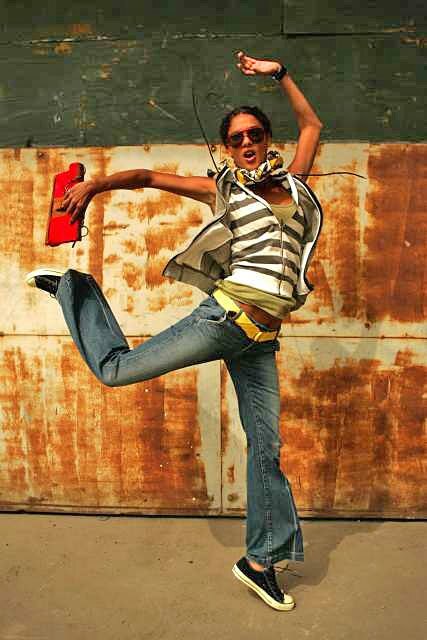 SUNDAY MATINEE AT ARCLIGHT
Denim trousers with a more relaxed wash like these from Paige Premium Denim will make even a lazy Sunday chic. A gray hoodie with playful stripes from Converse by John Varvatos and bright accessories keep things casual and fun. Echo scarf, Madewell belt, Nixon watch, Andrea Brueckner bag, Odyssey sunglasses. Sir Alistair Rai tank top, Converse by John Varvatos sneakers.
(Genaro Molina / LAT)
MEETING IN THE OFFICE
True Religion trouser jeans pass for proper business attire when paired with a classic trench coat in a springtime metallic tan from Julie Haus. Offset the casualness of the jeans with a dressy top underneath, like this dusty pink blouse from Geren Ford. The feminine hue brings a little cheer to serious neutrals, taking you from a day in the office to an after-work cocktail. Geren Ford belt, Mulberry bag, Aldo shoes, Nixon watch, Lulu Frost earrings and necklace.
(Genaro Molina / LAT)
LATE-NIGHT DRINKS AT PARC
Goldsign's more exaggerated wide-leg trouser jeans make a serious fashion statement. Wear them with a smoking hot fedora from San Diego Hat Co. to channel the garçon look of Katharine Hepburn. A flirty lace camisole from Corey-Lynn Calter under a more structured vest such as this one from Kova & T keeps this menswear-inspired ensemble sexy. BCBG bag, Aldo shoes, Lulu Frost bracelet and necklaces.
(Genaro Molina / LAT)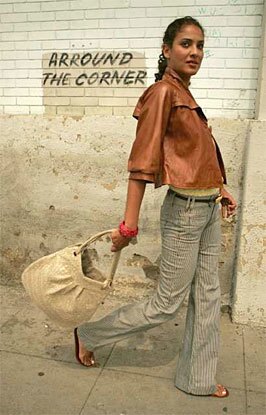 SHOPPING ON MELROSE
The railroad stripes on Deener's trouser jeans are a trend themselves and have the added benefit of elongating the leg and emphasizing the lean shape of the pants. A rich brown cropped leather jacket from Mike & Chris and sexy yellow silk halter from Ya Ya take this outfit from shopping to dinner at Sushi Roku, and flat leather sandals from Belle by Sigerson Morrison will keep your feet from giving out. Lauren Merkin bag, Moss Mills necklace and belt, Pono bracelet.
(Genaro Molina / LAT)