Four fashion tips straight from Hollywood's red carpets
The rarefied world of red-carpet style is about as far from the way mere mortals dress as Matt Damon was away from home in "The Martian." But that doesn't mean there aren't some real fashion lessons to be learned by watching a constellation of well-dressed stars crowd past E!'s Ryan Seacrest dress by dress and tuxedo by tuxedo.
Here are four nuggets of wardrobe wisdom that will help make your next formal look a winner — no nomination required — courtesy of the 2016 awards show red carpets.
The statement leg
Is the leg slit the new plunging neckline? It sure seems headed in that direction. Ever since Angelina Jolie threw righty out into the flashbulb glare of the Academy Awards red carpet in 2012, the leg-baring, thigh-high slit has been an increasingly popular way to flash a little skin without it being (literally and figuratively) in your face — or requiring a roll of double-sided tape. Those with a leg up on their red carpet sistren this season included Kerry Washington's fierce Atelier Versace black leather bustier and white skirt look at the Oscars, Laverne Cox in Prabal Gurung at the Screen Actors Guild Awards and Jennifer Lopez's Giambattista Valli number from the Golden Globes. In the don't-try-this-at-home department? Taylor Swift's magenta Atelier Versace Grammy Awards skirt whose smack-up-the-middle split ended above the belly button.
Taking the plunge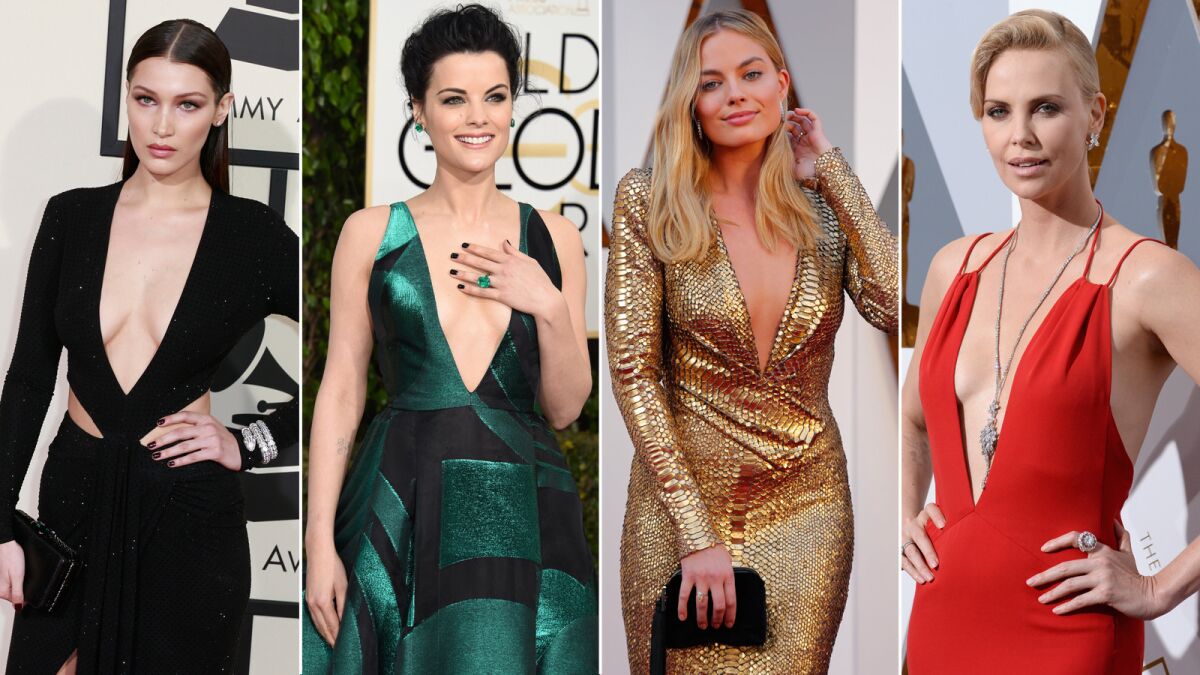 Women on this season's red carpets seemed to be doubling down on the deep-V décolletage. Jaimie Alexander (in Genny at the Golden Globes) and Bella Hadid (in Alexandre Vauthier at the Grammys) were among the ladies going deep. Can you carry off a stark-naked sternum? The answer lies more in confidence than curves, but the key to taking the plunge without looking overexposed lies in the strategic use of focus-pullers like the Loree Rodkin jewelry Demi Lovato wore to the Grammy Awards to offset the neckline of her Norisol Ferrari blazer, the $3.7 million worth of Harry Winston jewelry Charlize Theron wore with her red silk Christian Dior Haute Couture gown (including a dangling necklace using 48.8 carats of diamonds) or the golden leather appliqué Tom Ford dress worn by Margot Robbie at the Academy Awards.
Cuckoo for cutouts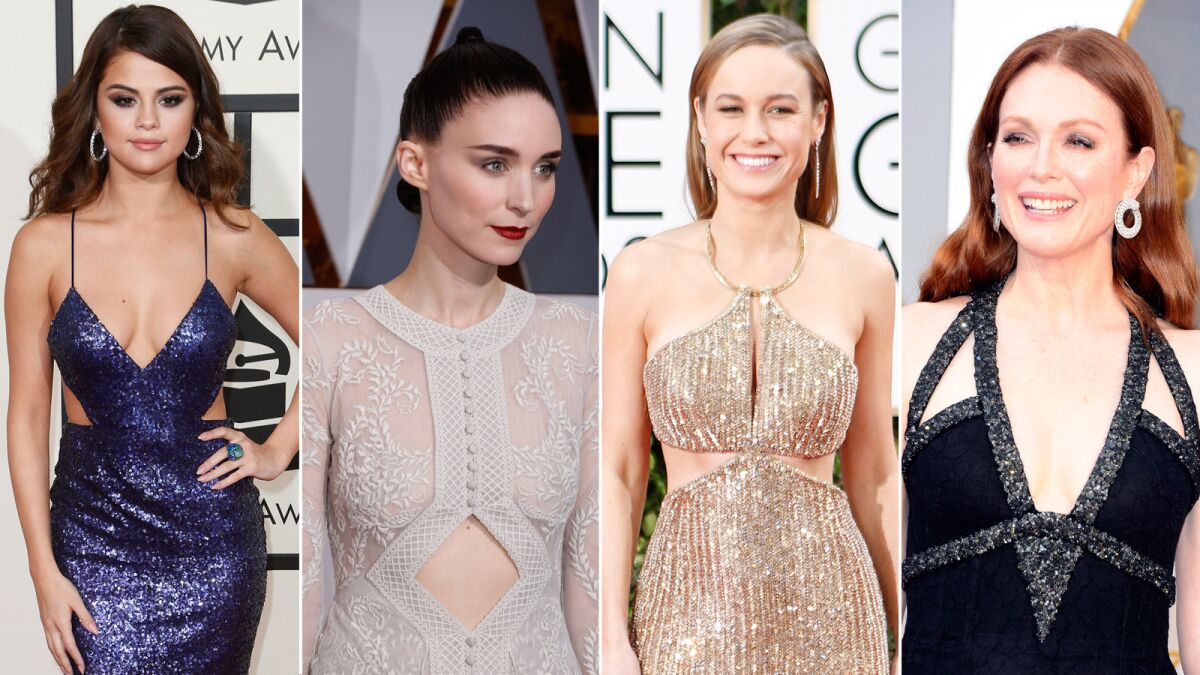 It seems like anyone who wasn't baring a leg or a breastbone this season was serving up peekaboo patches of bare skin via cutouts. Some were subtle (like Adele's Grammys dress), some more visible from the side (Selena Gomez at the Grammys and Brie Larson at the Golden Globes, both in Calvin Klein Collection), while others bared the belly-button area (Rooney Mara in Givenchy at the Oscars and Kaley Cuoco in Naeem Khan at the Grammys). In considering cutouts, sometimes less is more — as illustrated by Julianne Moore, whose embellished black Chanel gown at the Oscars had two tasteful, triangular cutouts that balanced the neckline and pulled everything into harmony.
Green is good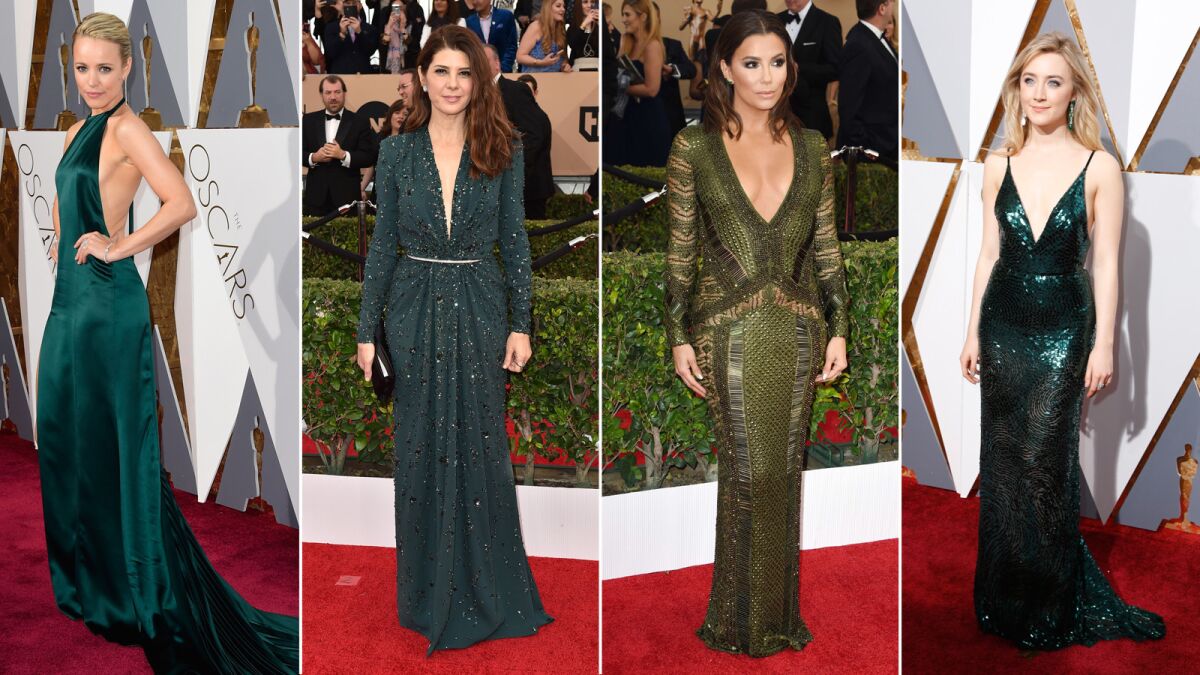 If there was a single color unifying this season's looks, it was green, a hue usually underrepresented on the red carpet. And not just a single hue either, but a sea of green that stretched from the Golden Globes to the Oscars and ranged in shade from dark forest green (Marisa Tomei in Zuhair Murad, Kate Winslet in Armani and Eva Longoria in Julien Macdonald, all at the SAG Awards) to emerald (Saoirse Ronan in Calvin Klein Collection at the Oscars) and jade (Rachel McAdams in August Getty also at the Oscars) to pale seafoam (Cate Blanchett's Academy Awards Armani Prive gown). The trickle-down effect of this variegated verdancy? When it comes to co-opting the season's overarching trend without blending in, green means go.
MORE:
Oscars 2016: Best and worst red-carpet looks
Grammys 2016: Best and worst dressed
Golden Globes red carpet trends: Sparkle, wow and deep décolletage