Roy Choi's mom, 'Mommy Choi,' teaches us how to make <i>tteokbokki</i> (spicy Korean rice cakes)
Mommy Choi shows how to make the spicy Korean rice cake dish tteokbokki.
"Roy's never been here?" Jai Nam Choi asks, surprised, as she walks into the L.A. Times Test Kitchen. "Oh, I have to look around." She breaks into the widest smile.
By Roy, she means Roy Choi, her son, the Los Angeles chef and restaurateur whose restaurants include A-Frame, Chego, Pot at the Line Hotel in Koreatown and, with chef Daniel Patterson, Locol — a conscientious fast food chain, with chef Daniel Patterson — as well as the Kogi BBQ trucks.
Jai, who prefers to be called Mommy Choi or simply Mommy, is no stranger to cooking. She spent most of her life working in the jewelry industry, but she's found a second career selling Mommy Sauce, a line of Korean-inspired sauces that includes kimchi, bulgogi, spicy bulgogi and "magic," an all-purpose sweetened soy sauce blend with notes of garlic, onion, ginger and black pepper. "It's good on everything," she says.
Mommy walks into the kitchen, followed by her husband, Soo Myung Choi, and daughter, Julie Choi Hawkinson. Making herself at home, she takes in the kitchen, opening up cabinets and drawers and taking stock of what's in the refrigerator.
Getting everything ready for today's demonstration is a family affair. Soo unpacks ingredients and helps Mommy set up for cooking, while Hawkinson touches up her mother's hair and makeup, and helps her put on her Mommy Sauce-branded apron.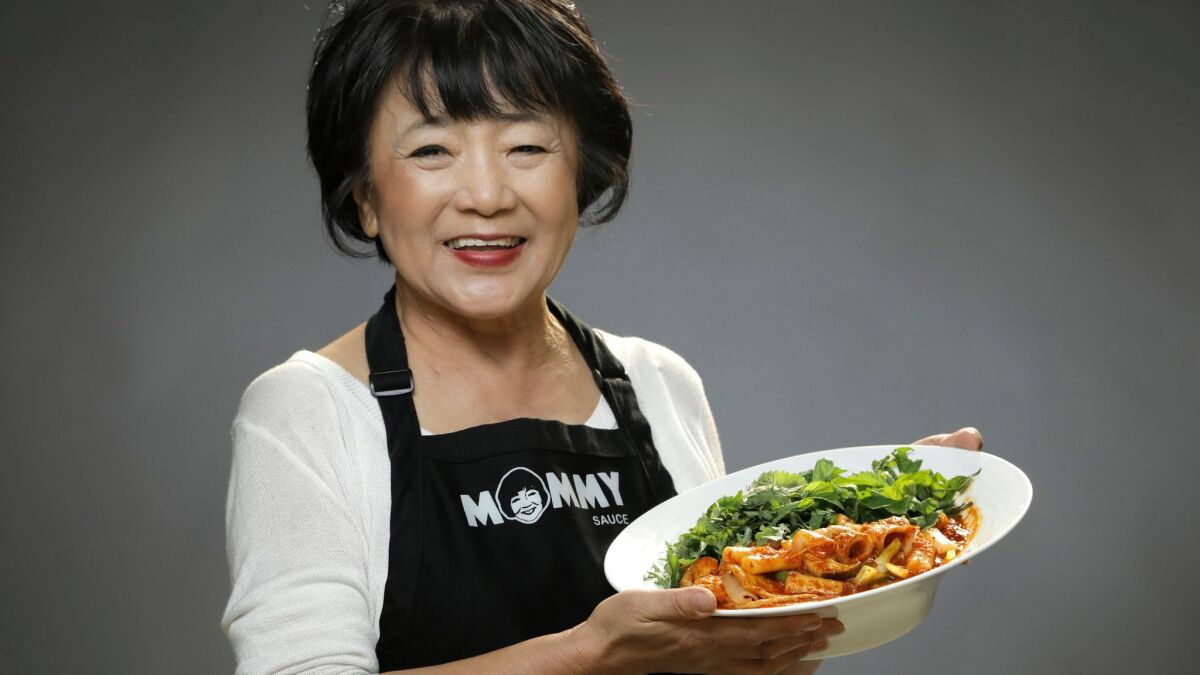 "Today, I'm going to make tteokbokki. Tteok means rice cake. And bokki means stir-fry," Mommy says. "When I was a child, we made it at home for the holidays, but now it's a popular dish in restaurants, and even on the street."
Mommy carefully arranges some beef broth, soy sauce, fragrant sesame oil, spices and other ingredients to make the sauces she will use before assembling the final tteokbokki dish.
"I'm giving you the recipes. I didn't give them yet to Julie," she says. "Julie, pay attention."
Unlike her mother and brother, Hawkinson, a lawyer, admits she's more of a "by the book" cook, meaning she is more the type to follow recipes out of cookbooks than create original dishes. Married and with her own children, she wants her mother's recipes so she can pass them on to her kids one day.
The ultimate guide to Koreatown: Restaurants, bars, shopping and more »
"My mom loves making sauces. I guess it started with her 'magic' sauce," Hawkinson says. "It's her own sort of mix of go-to sauce. It's sweet, spicy, salty and you can use it as a base for anything you want." Her mother would put it in little tubs and give it to her sisters and friends — anybody. "She's been making them as long as I've been alive."
Her line, which has been on the market in Korean grocery stores and similar markets, as well as online, for just a couple of years, is currently being retooled. "She's working with a new formulation of organic, natural sauces, which she'll be releasing soon," says Hawkinson.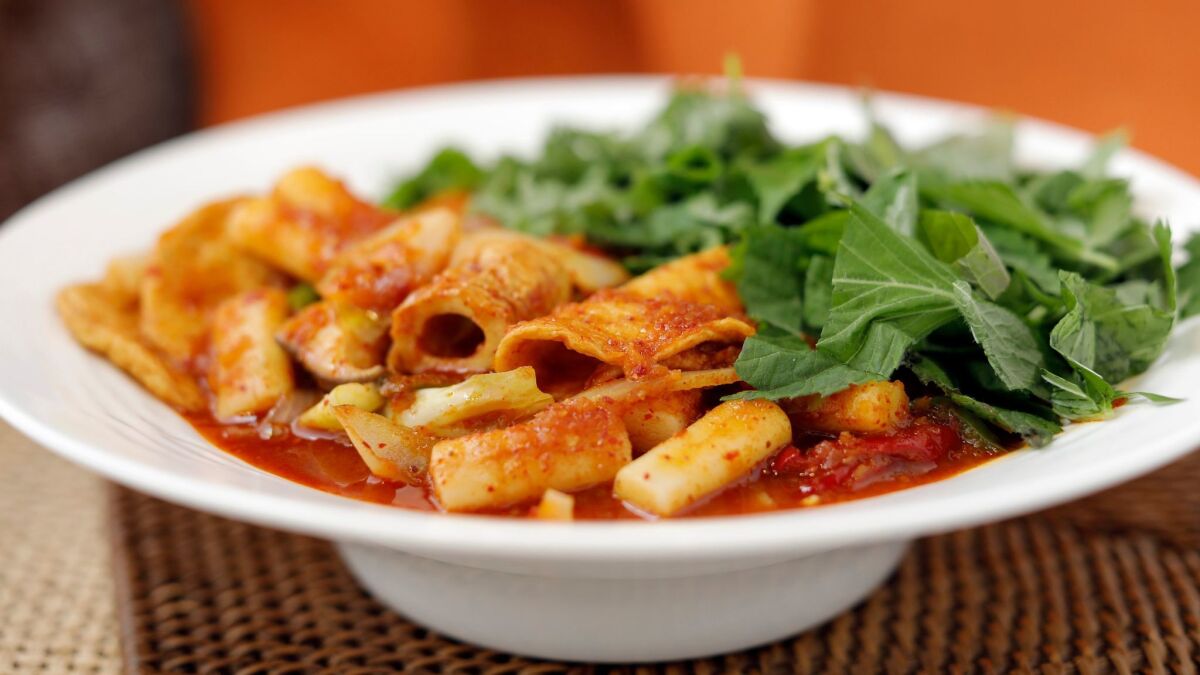 As she starts cooking, Mommy demonstrates a homemade bulgogi sauce base (bulgogi sauce is a rich marinade often used with grilled or stir-fried meats). It's a fragrant blend of soy sauce and fish sauce, fresh ginger and garlic, toasted sesame seeds and a touch of sugar. Bringing everything to a boil, Mommy stirs in beef broth, pineapple juice and cooking wine.
"Oooohhhh! So good!" Mommy exclaims, taking a taste.
To make spicy bulgogi sauce, she adds a dollop of gochujang, Korean chile paste, and a hefty scoop of gochugaru, Korean ground chile powder. She stirs, bringing the mixture to a boil. The spice penetrates the air, filling the room.
"This is done," says Mommy. "You can use the spicy sauce with pork or chicken or even with noodles."
"Now for the tteokbokki sauce," says Mommy. Soo prepares the wok and cleans the cooking station as Mommy chops onion and kabocha squash.
"My parents do everything together," Hawkinson says. "From the moment they wake up until they go to bed. They even worked at the jewelry store together. It's so sweet. I remember coming home and they'd be upstairs laughing."
"When did you get married again?" Hawkinson asks her mother.
"1968," Mommy says. After thinking for a moment, she adds, "this year is our 50th anniversary. You should remember that. It's very, very important."
I was around 70 when I found out that cooking is my hobby
— Mommy Choi
After she stir-fries the onion, she blends it with the raw squash before adding it to the spicy bulgogi sauce, bringing the thick sauce to a boil. This is the sauce she will use for the tteokbokki.
"I've never seen the squash before," says Julie.
"I know," Mommy responds. "But I had it and thought it might be good, adding some sweetness." She has everyone take a taste.
Ready to assemble the final dish, Mommy begins chopping more onion, some trumpet mushrooms, broccoli and cabbage. "Use whatever you have in the fridge," she says. She unthreads fish cakes from wooden skewers, chopping them as well. "I hope you're hungry," she says to the audience in the Test Kitchen.
She stir-fries the ingredients, ladling in enough sauce to coat. "You can add more sauce if you like soupy tteokbokki," she says. Satisfied with the dish, she arranges it in a wide bowl. As she garnishes the rice cakes with fresh herbs — cilantro, shiso, mint and sesame leaves — she explains her love of cooking.
"I grew up with nine sisters and two brothers. My mother had a dress shop, and we lived on the fifth floor of the building in Myeong-dong in Seoul. We had a big kitchen and many cooks. I always played in the kitchen, and talked with the cooks."
After moving to the United States, she met her husband and was married at 25. Together they ran a jewelry business, but she loved to cook and throw parties. It wasn't until she retired that she realized her real passion was cooking.
"I was around 70 when I found out that cooking is my hobby," she says. "Some people die never knowing what they really like. I'm lucky."
After her kids moved out and she left the jewelry business, it wasn't long before she grew tired with retirement. "Every day it was killing time watching TV and going to shopping centers. It's so boring."
Mommy had already been making and giving away her sauces to friends and family, so she decided to turn it into a business.
"I have a son, a famous chef. I have a daughter, who is a lawyer. My husband is a business major. I have everybody I need," says Mommy. "And I'm a business lady. " She's been running her Mommy Sauce brand for about two years now.
After Mommy and her dish are shot in the photo studio, Mommy returns to the kitchen. "I have to make more food," she says, pointing out the Test Kitchen window that looks onto the newsroom. "I want to feed everybody!"
Soon, reporters and Times staff have formed a line for the food. As she serves them, Mommy's beaming. "I'm having so much fun. This is like a party!"
---
Get our L.A. Goes Out newsletter, with the week's best events, to help you explore and experience our city.
You may occasionally receive promotional content from the Los Angeles Times.