The Fair Oaks Pharmacy in South Pasadena will have a new menu coming soon, adding to its decadent desserts.
Craving a chocolate phosphate? Unless you keep the proper acid in your pantry, you might have to get your fix at Fair Oaks Pharmacy in South Pasadena. One of the few old-fashioned soda fountains near Los Angeles, it's the kind of place where you can drink a hand-dipped milkshake at a marble counter and reflect on your fondest childhood memories to a soundtrack of Elvis Presley.
The business, which offers giant sundaes, vintage toys and candies and a compounding pharmacy, has served the community for 103 years. It's now owned and operated by pharmacist Zahra Shahniani and her two sons, Ash and Brandon, who took over from Michael and Meredith Miller in 2005.
With a huge menu and hundreds of retail items, Fair Oaks Pharmacy is a bigger business today than it was in 1915, when it began as a pharmacy selling cool drinks along Route 66. It still feels like a trip back in time.
Here are a few of the numbers that best define the nostalgic soda fountain at Fair Oaks Pharmacy.
By the gallon
Ash estimates that the soda jerks go through about 74 to 80 gallons of Thrifty ice cream each week. That's partly because they make a lot of banana splits (more than 1,000 each year), but it's also because their portions are generally gargantuan.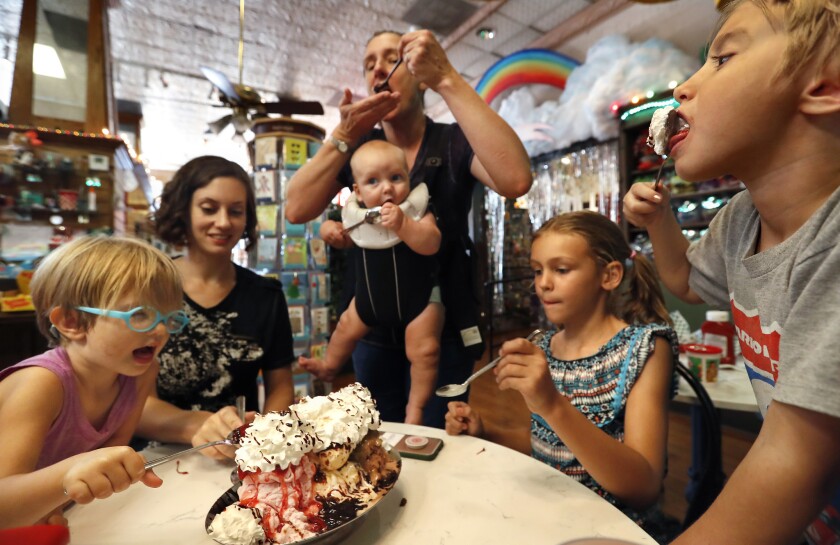 In the dish
Speaking of gargantuan portions, the Kitchen Sink has eight scoops of ice cream and eight toppings, plus brownie, banana and a mountain of whipped cream and cherries, for a total of 12 pounds of dessert. It feeds at least four, though Brandon said it's usually conquered by entire children's birthday parties or soccer teams.
Behind the counter
Summer is the soda fountain's busiest season, so it's fully staffed in August, Ash explained. Nearly all of the soda jerks — 14 in total — are in high school, and for most of them, this is their first job.
"My favorite part is probably the staff," said 18-year-old Ryan Hutchinson, his uniform splattered with chocolate ice cream from a recent milkshake explosion. He's been working at Fair Oaks Pharmacy for the last year and a half. "It's really like a family here."
The menu
There are 138 items on the menu, including sandwiches, burgers, hot dogs, salads and breakfast items. On the sweet side, there are shakes, malts, sundaes, pancakes, waffles and old-fashioned libations, such as egg creams, phosphates and ice cream sodas.
Ash said the menu will have new items in September. The staff tests new recipes by offering samples to customers; they recently gauged a positive reaction to French toast, and now they're working on crepes.
The decor
A five-person crafting crew transforms the building with three redecorating sessions a year for Halloween, Christmas and summertime. Right now, the theme is "Wizard of Oz." A yellow-brick road winds above the seating area, a Styrofoam Emerald City gleams in a corner and several red slippers peek out from various locations in the restaurant.
Come Halloween, Brandon said to expect Frankenstein's creature, Dracula and other monsters. After Thanksgiving, no fewer than 30 Christmas trees will populate the building.
Sugar rush
When employee Gigi Goode isn't decorating the store (she's also an artist), she's working the retail section of the pharmacy, which has more than 200 types of nostalgic candy. According to Goode, older customers get excited about the Necco Wafers, Chuckles jelly candies and sour Zotz they ate as children. Kids tend to beg their parents for Pop Rocks and gummies shaped like animals, often when they've just devoured a candy-topped sundae.
Playtime
The business works with six different companies to supply its retro toy collection, which includes Schylling Spud Guns and Uncle Milton's Fascinating Ant Farms. The toys stir precious memories for older customers, but they also serve as a history lesson for kids.
"I'll be sitting in the office and hear, 'Who's that, Mommy?' 'Oh, that's Marilyn Monroe,'" Ash said, referring to conversations he overhears between families near the store's Monroe merchandise. "What an impact that has."
Toys are also a welcome distraction for hungry kids. On a recent Friday, Josh Reynolds, 8, ran off to play with toy cars while his dad and older brother waited for his strawberry milkshake. Reynolds quickly returned to watch in awe as his glass was filled with heaps of pink ice cream.
"It's really tasty," said Reynolds, who recently moved with his family to Ohio. They were on vacation, revisiting their favorite spots in South Pasadena.
The essence
Ash said Fair Oaks' 150,000 yearly customers come in all forms. Middle-schoolers share fries after school. Couples split sundaes before concerts at the Rose Bowl. Nursing homes take senior residents on field trips.
"People don't come here for our burgers," Ash said. "It's 30 minutes of happiness, and we get to deliver whatever we can to you with the environment, the music, the food, the conversation.
"Our commitment is to transport people back in time."
1526 Mission St., South Pasadena, (626) 799-1414, fairoakspharmacy.net.
---