Yoga guru Prince Puja: a vortex of spirituality, imagination and music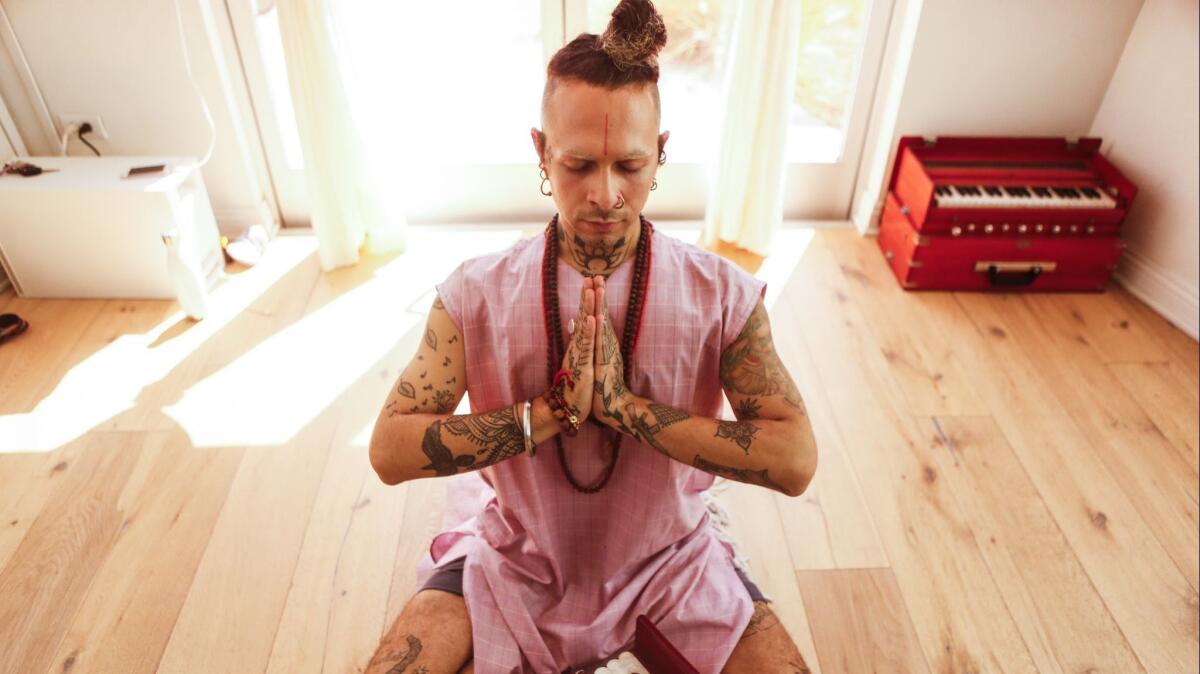 A self-portrait on Instagram features yoga teacher and stick-and-poke tattoo artist Prince Puja wearing thickly drawn Cleopatra-style eyeliner, brows tinted emerald green and a giant red sphere on his forehand.
"Sometimes this is what my practice looks like," he captioned the image, going on to confess that a bout of mild depression had inspired this latest look. "My creativity is my savior. … So here I am."
It's this kind of creative expression, and vulnerable reflection, that have captivated a swelling band of yogi devotees who drive from near and far for classes that include Puja's live-music performance in studios that dot the Eastside, along with the occasional cameo in the San Fernando Valley.
But first, his students need to find where Puja's free spirit has led him.
Most yoga classes have set schedules and instructors who conduct sessions with a rhythm and flow that students have come to expect and even demand. (Try telling a bunch of yoga students that their favorite teacher is canceling class for a few weeks.)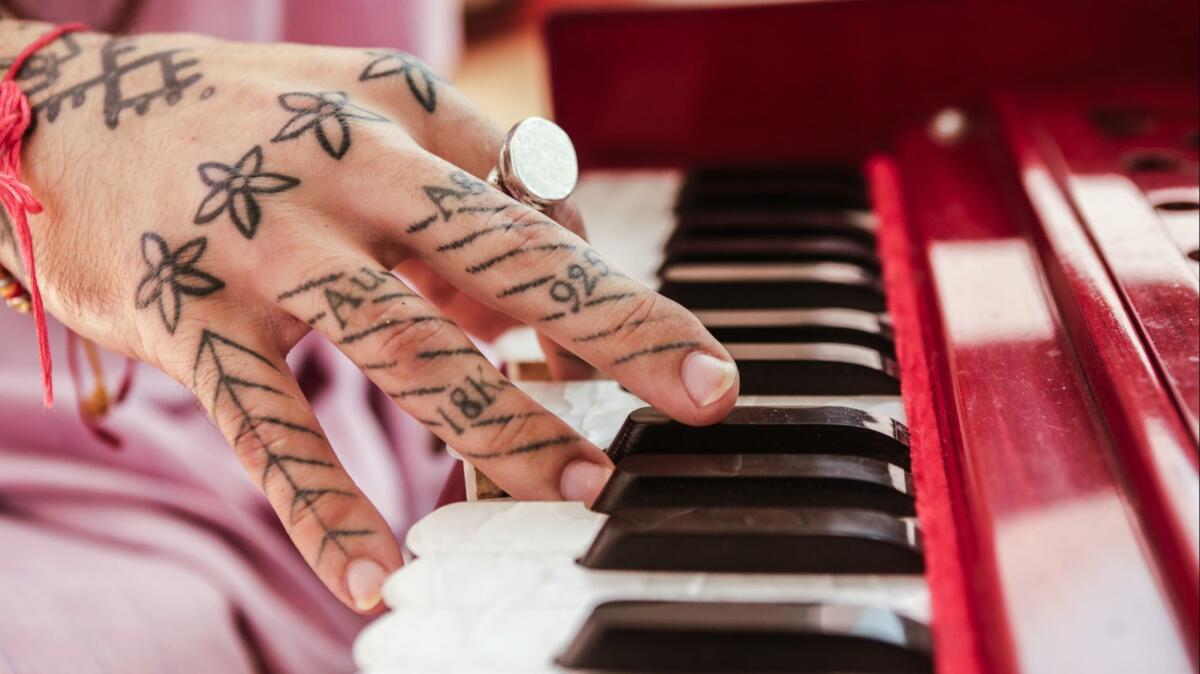 Puja does too. But it's not unlikely for Puja — named Prince Puja by his students, real name Puja Singh Titchkosky — to leave for weeks at a time to travel to India or other far-away retreats. That leaves his followers tracking him down via his website or Instagram, where a trail of hashtags like #princepuja and #yogaxpuja reveal where he's teaching next.
>>>>>
Your turn: Do you have a wellness teacher in the L.A. area who's worth traveling far and wide for? Tell us who and why at latimes.com/Health and the instructor may be featured in an upcoming Saturday section.
>>>>>
A friend introduced me to Puja classes after finding him on Instagram and declaring him a "magical creature." She was especially struck by his hand-poke tattoo art portfolio, which includes an image of a yurt, portraits of palm trees, lunar shapes, mandala symbols and decorative finger markings. "I try and create the same environment when I do a tattoo that I do when I teach a yoga class. I want it to be a really free and healing and safe space," Puja, 30, said.
His pop-up classes are often like concerts that show up now and then — and you just have catch them when you can. Many, like his scheduled classes, are cash donation only, leaving it up to students to decide how much to pay, just one of the many ways his sessions are set apart from the pricey, boutique classes that seem to dominate Los Angeles' yoga scene. His teaching style is gentle yet energetic with a focus on slow, meditative poses — a welcome respite from classes where showy Type A students compete with over-the-top headstands.
I caught one of Puja's quiet Friday afternoon classes at Roam Yoga Studio in Silver Lake. ( I slipped an $11 donation in a basket.)
AURA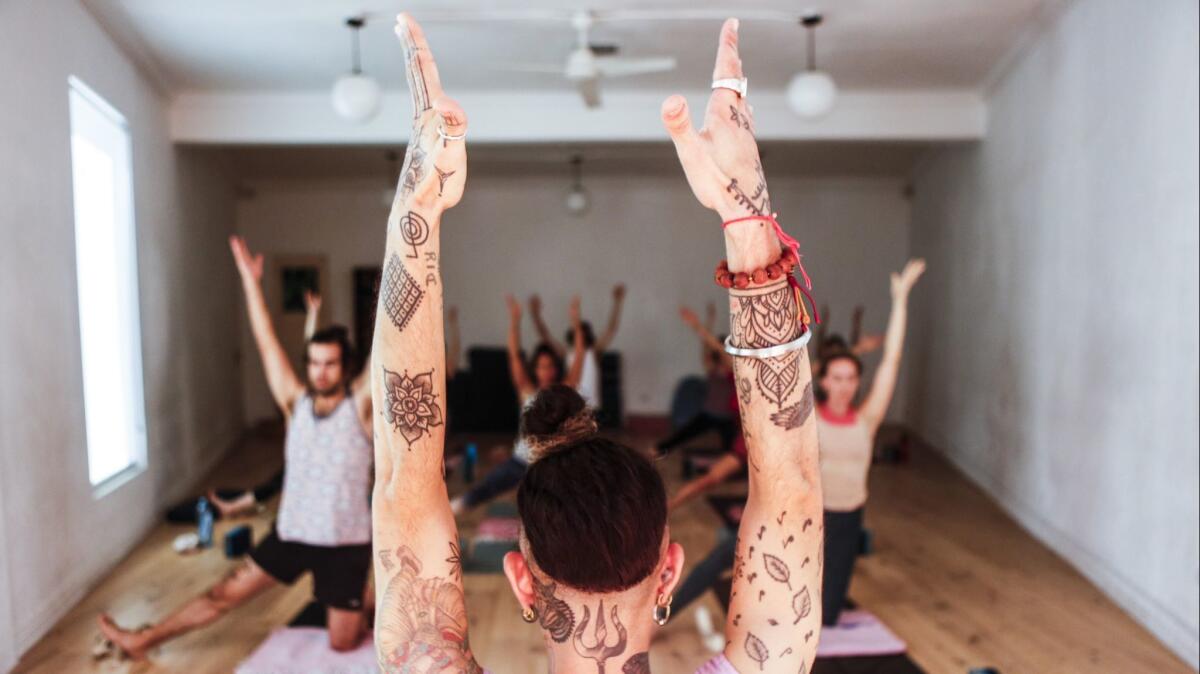 To be in one of Puja's yoga classes is to feel as if you are caught in the vortex of his spirituality and fanciful imagination.
We stretched out in the stylish, sun-soaked Roam yoga studio, which has tall bare, white walls with a single portrait of a blue-skinned Indian deity hanging on the wall. I was between one student with purple varnish on his nails, which matched his shorts, and a bendy woman wearing Lululemon who let out loud liberating breaths with every movement.
The relaxing setting primed the class for Puja's guiding philosophy: Yoga is meant to prepare the body for meditation.
"Especially in L.A., there is so much going on all the time, and we are all trying to do so much, so it's really, really important to have that moment where you start moving to stop moving," Puja told me later.
EFFORT
"I like to start with some kind of grounding meditation so people can have a moment to 'drop in,' " Puja said. We warmed up with cat-cows and did a series of sun salutations to warm up the body before moving into more challenging warrior and chair poses.
The slow and steady asana yoga movements were eclipsed by his one-man-band concert, in which he sang Sanskrit words with a melodious, spellbinding voice while he struck the keys of a harmonium, a hand-pumped piano popular in India, as he transported the room while we lay in savasana — corpse pose.
In other classes, Puja has been known to pick up a flute or other instruments.
"I think one of the biggest benefits of yoga, and something that really differentiates it from other forms of movement and exercise, is that the resting part is just as important as the working and moving part," he said. His classes are designed to be accessible to anyone — whether you are a new or experienced yogi, less able-bodied or simply seeking stillness within.
STYLE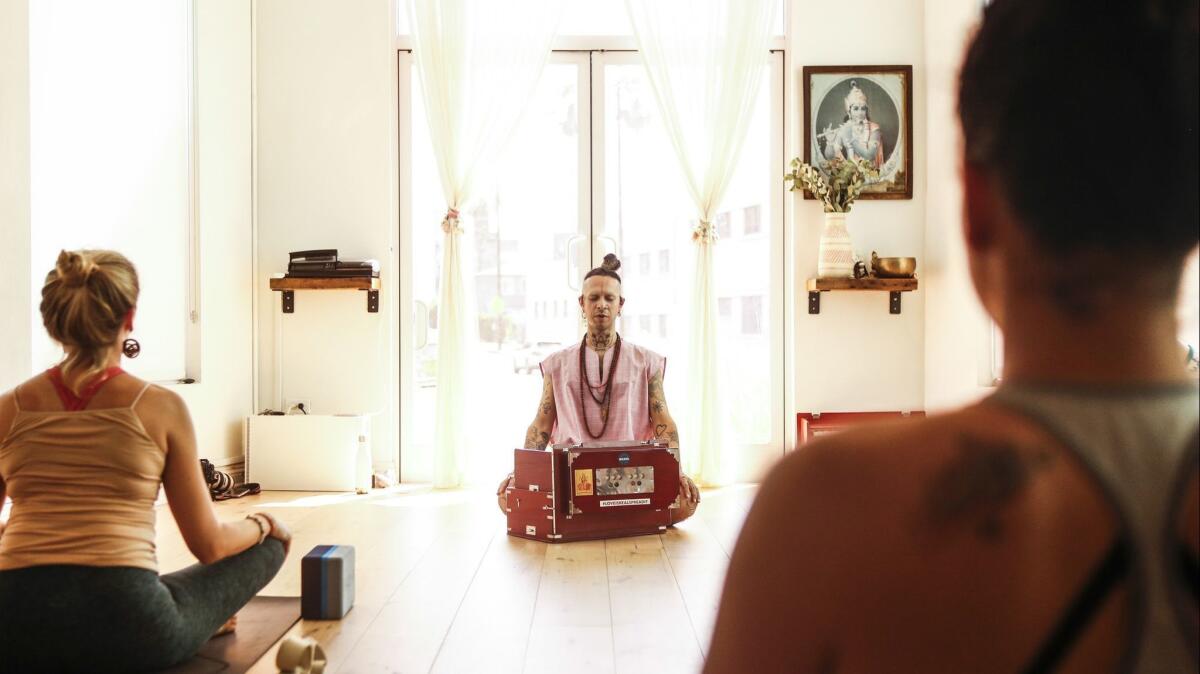 Puja said his inspiration for his practice comes from his Indian culture; his mother grew up in Delhi and always encouraged his interest in music. "When I first started chanting. I would play the harmonium and sing these mantras of different Indian deities, and I would just bawl because it unlocked something in me."
In his classes, this emotive search for self and healing is contagious. In the closing resting pose, Puja's calming and warm vocals washed over the room. He paused to urge us to slow down and take time for ourselves. Afterward, my relaxed classmates and I — still in awe of his vocal performance — pulsated with positive energy as we drifted out the door.
Roam
650 N. Hoover St., Los Angeles
Cost: Donation only. Bring cash.
When: 2 to 3:15 p.m. Fridays, but check the Roam schedule before you go.
Info: princepuja.net/yoga and on Instagram @princepuja
Get our L.A. Goes Out newsletter, with the week's best events, to help you explore and experience our city.
You may occasionally receive promotional content from the Los Angeles Times.