No green thumb needed: 6 drought-tolerant herbs that are almost impossible to kill
If you have dutifully swapped out your lawn and flower gardens for water-miserly cactus and succulents, you can be excused for feeling a tad nostalgic for the lush, the scented, the flowering.
"When I just see succulents, it can feel a bit sparse or stark," admits Kelly Fernandez. But she has a solution:
"Herbs," suggests Fernandez, the herb gardener for the Huntington Library, Art Collections, and Botanical Gardens. "They have so many beautiful flowers, they can definitely soften the landscape, bring in pollinators and make the landscape useful again."
Some herbs, though, can be as thirsty as the thirstiest impatiens. However, there is a group of herbs that provide everything Fernandez has mentioned and fit in perfectly with a water-wise gardening scheme. Some are native to California, most need little, if any, care, and just about all of them would be right at home on a rocky Mediterranean hillside.
And yes, you can cook with them if you are so inclined or just enjoy their fragrant beauty.
"Rosemary, lavender, sage, thyme, oregano, lemon verbena." Author and blogger Linda Ly, who writes about gardening and cooking in her "Garden Betty" website, ticks off a quick list of herbs that work in a drought-tolerant garden. Ly's favorite is the perennial African blue basil, a sizable multi-limbed bush that sends up scores of purple-flowered spires that draw bees like a magnet. "It loves the Southern California climate, doesn't seed and is an attractive design element in the garden."
These herbs need full sun and a bit of regular watering until they are established and show growth, "then you can back away," Fernandez says. Sages in particular are averse to over- watering, which will quickly rot them.
The inexpensive, easy-to-find perennials adapt well to California soil that has been loosened for good drainage. They need no fertilizer, happily fitting in, and filling in, a cactus or succulent garden or even a garden of their own. Some, such as thymes and oreganos, make soft and showy low ground covers while upright rosemary is tall enough to be trimmed as a hedge.
"People think of herbs as windowsill plants — they use them for one season, and then they are down," Ly says. "But they are wonderful landscaping plants. They are beautiful and fragrant. They attract local birds and bees and beneficial insects. It's a much better choice than putting in rocks and plants that don't have much to give to the ecosystem."
Here is a sampling of herb standouts for water-sipping landscaping:
African blue basil
The bird and bee magnet seen above grows on woody stems to 2 feet and taller, continuously sending up scads of fragrant soft lavender flower spires that make great cut flowers as well. Leaves start out purple, turning green with purple veins. Can be used in cooking, although its slightly camphor aftertaste may not appeal to some.
Golden oregano
This golden yellow oregano, which sends up clusters of mauve flowers in summer, grows in low, creeping mounds and makes a striking edging for flower or vegetable beds or a ground cover. Drought tolerant once established, it needs almost no maintenance except for the occasional clipping to maintain shape. Good for cooking.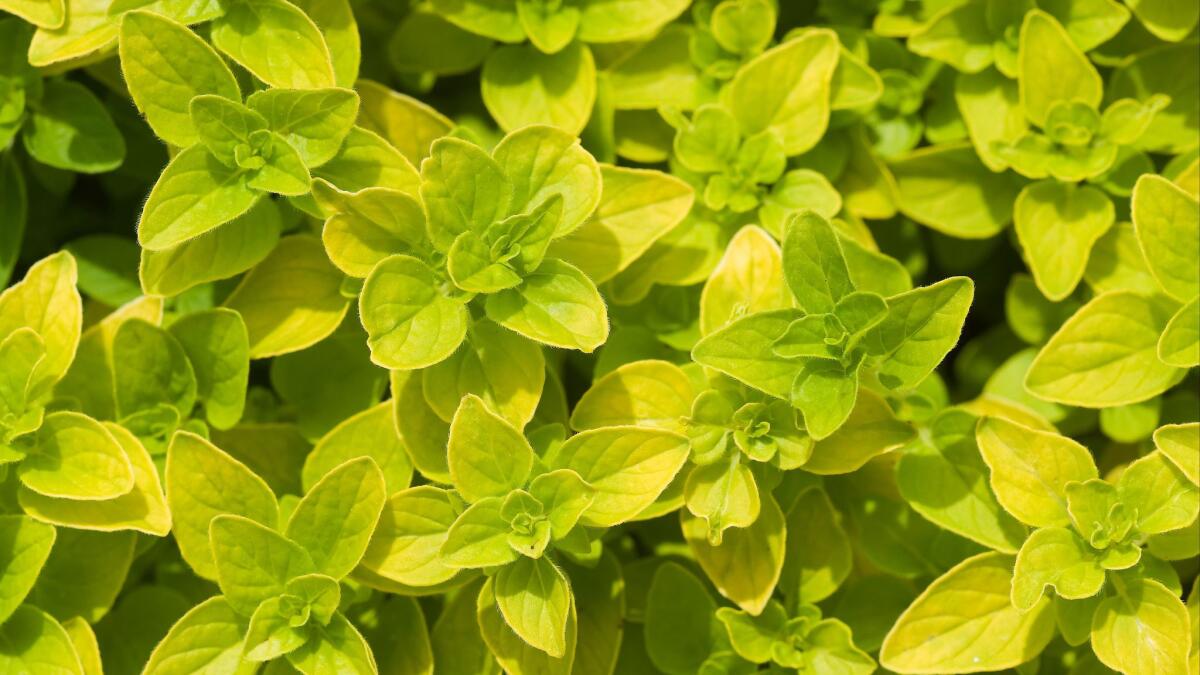 Silver edge thyme
There are so many thymes — estimates are in the hundreds, all drought-tolerant, in mounds ranging from 2 to 12 inches, depending on the variety. Silver edge thyme is particularly elegant, with lemon-scented leaves edged in silver and a profusion of lilac flowers in late spring. The foot-tall herb blends beautifully with blue-gray succulents and works well as an edging or ground cover. Good for cooking.
Huntington carpet rosemary and Tuscan blue rosemary
Rosemary is the workhorse of the herb garden, needing little water and maintenance. Easy to establish, hard to kill, they provide structure, fragrance, flowers and a nice texture foil for succulents. With its thick growth and brilliant blue flowers, Huntington carpet is an exceptional spreading ground cover or cascade that can provide erosion control. The Tuscan blue can grow 6-feet tall and makes a great hedge or screen.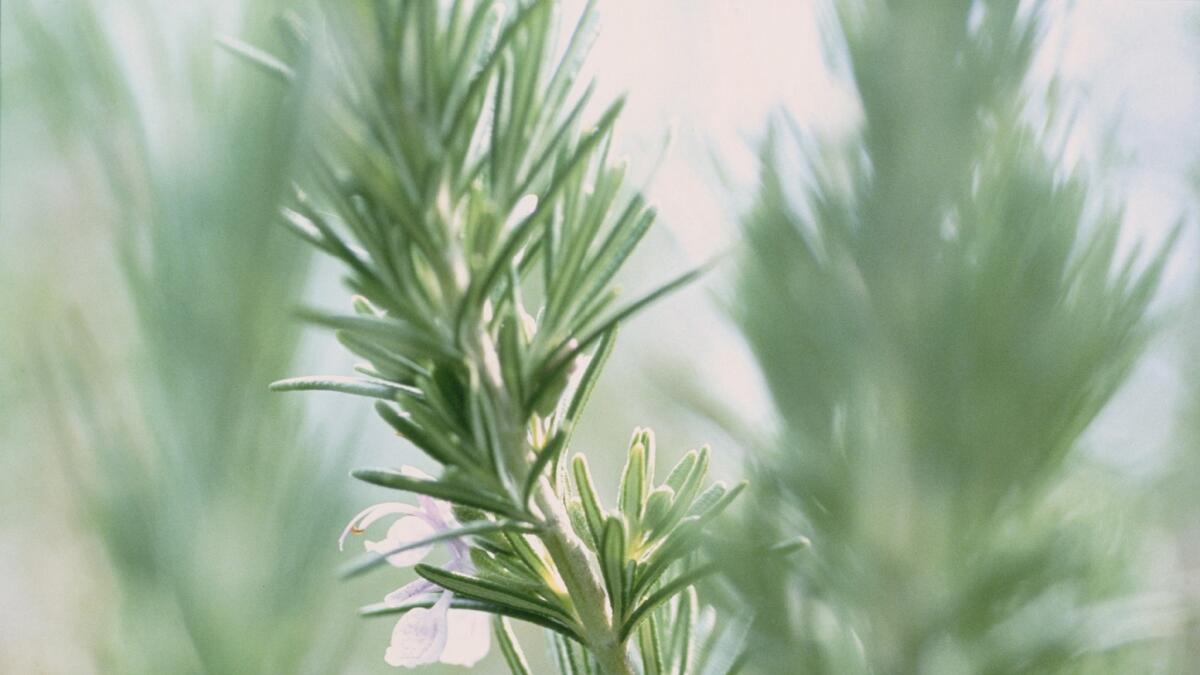 Berggarten sage
Many sages, such as the lush Cleveland sage, are native to California. The plush, woolly leaves of Berggarten sage are a cook's dream and add a unique softness to the landscape. Water is the one thing that can quickly kill a sage, so make sure the soil drains well and keep a light hand on the hose. Grows to 2 feet tall. Needs pruning in spring to promote new leaves.