10 Images
American Institute of Architects' annual housing awards
The
American Institute of Architects
has announced the recipients of its
annual awards
for excellence in housing design. The eight AIA winners in the one- or two-family housing category included the Streeter House in Deep Haven, Minn., by Duluth-based
Salmela Architect
. The house is constructed of simple elements such as Glulam beams, glass and structural insulated panels, better known as SIPs. Black fly-ash concrete block and pipe were left exposed inside, eliminating the need for wall finishes.
(Peter Bastianelli Kerze)
Two white boxes at one end of the Salmela design hold bedrooms for the owner and his son; shared public space lies below.
(Peter Bastianelli Kerze)
A winning entry by
Lake/Flato Architects
reimagines the classic Lake Tahoe cabin as a construction of weathered wood, exposed concrete and rusted Cor-Ten steel.
(Jeff Dow Photography)
South-facing glass brings in sunshine and warmth, and low-lying reading rooms play off the three-story structure's soaring ceilings. "This 'house compound' recalls earlier rustic 'camps' in the region but is a thoroughly modern building," judges said.
(Jeff Dow Photography)
Voorsanger Architects
of New York created the award-winning Wildcat Ridge Residence, which overlooks the Snowmass Ski Resort in Colorado. A massive moss rock wall runs like a spine through the house, and expanses of glass make the mountains and snow feel like an extension of the interior.
(Thomas Damgaard/Voorsanger Architects)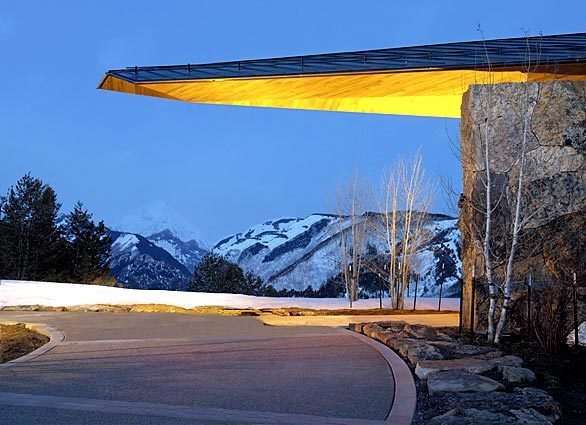 The roof of the Wildcat Ridge house forms a 40-foot cantilever over the entrance. Judges called the design a masterpiece. "This house was designed to respect the mountains and its surrounding environment," they said.
(Thomas Damgaard/Voorsanger Architects)
Randy Brown Architects'
project titled "Laboratory" was cited for its "exploration of the refined and the raw." The architect built the space himself with the help of architecture students on summer break. Elements include this bedroom and loft work space; the headboard rises to form the drafting desk above.
(Assassi Productions/Randy Brown Architects)
Habitat 825,
Lorcan O'Herlihy Architects
19-unit condo project in West Hollywood, was cited for "a community informed design that is sensitive to its connectivity to [Rudolph] Schindler's adjacent Kings Road house while making its own place." The facade, judges said, opens to a courtyard that embraces the bamboo scrim of the landmark next door.
(Lawrence Anderson/Lorcan O'Herlihy Architects)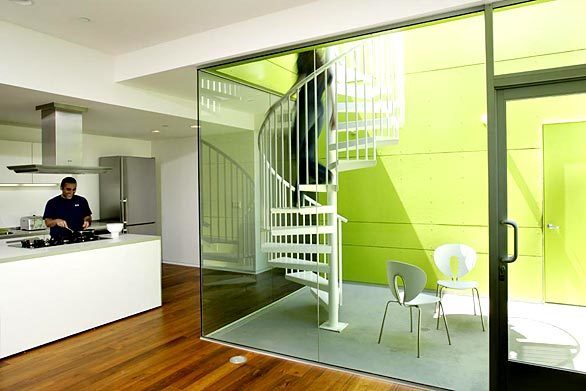 The architecture of Habitat 825 "incises natural light into living spaces in unexpected moments," the judges said.
(Lawrence Anderson/Lorcan O'Herlihy Architects)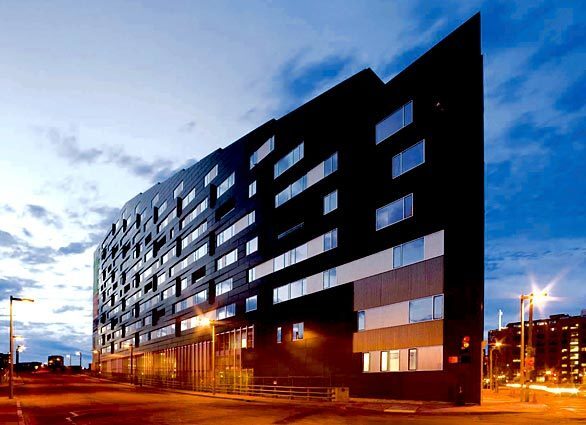 The seven award recipients in the multifamily housing category also included
Office dA's
Macallen condominiums in Boston. A graceful, curved facade is paneled in bronzed aluminum, reflecting the industrial neighborhood. Private balconies are cut into a wedge-shaped roof planted with sedum, one of the building's many green features.
(John Horner / Office dA)