Designer to the Kardashians shares 10 looks from his new WeHo showroom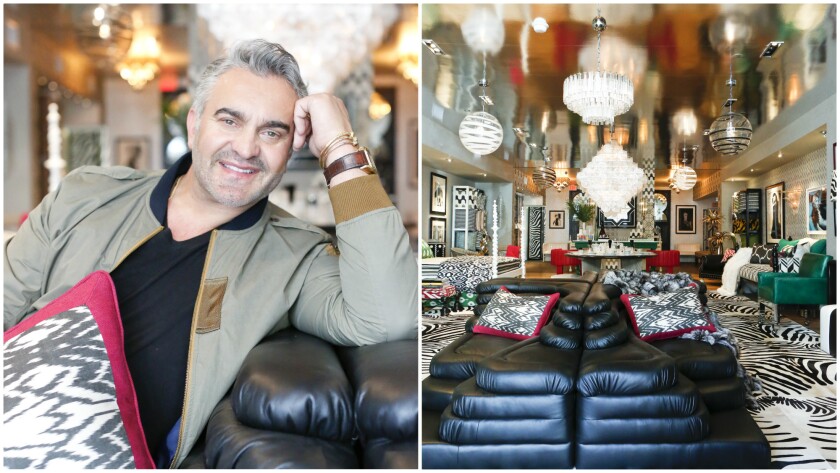 Interior designer Martyn Lawrence Bullard is one busy guy. In addition to designing homes for Cher, Kris Jenner, Tommy Hilfiger and Elton John, to name a few, he has 11 licenses spanning Ann Sacks tile to porcelain place settings for Haviland. You might recognize him from Bravo's "Million Dollar Decorators" or the time he graciously shopped at Marshalls at our invitation. Bullard recently opened his first showroom on Melrose Avenue.
"It's a high-glam explosion," Bullard said with a grin on a recent tour.
He's not kidding.
The showroom is the epitome of over-the-top glamour with its crystal chandeliers, gold-lined ceilings and luxurious furnishings. You can purchase inexpensive gift items too — pillows, books and candles — as well as borrow textiles on memo. It will be staffed by a design team and Bullard says he hopes to redecorate every few months. "It's filled with all the different things that I love," he added.
Here is a preview of 10 things we loved, with commentary from Bullard himself:
1. Handblown Italian glass chandeliers
"The chandeliers are made exclusively for me on the island of Murano, Italy, and are handblown Italian glass. The pieces are available off the floor as well as can be custom-ordered and sized to a client's own requirements and color palette." Starting at $2,025.
2. The 'Cher' sofa
"The 'Cher' sofa was originally designed for Cher's Malibu home and we loved it so much I added it to my line. The piece has a distinctly Indian vibe, yet can be finished in a variety of colors that can take it from exotic to modern. The upholstery fabrics can be the client's own choice and we even can make this as an outdoor piece in teak." Starting at $7,500.
3. Kris Jenner console
"The black-and-white lacquer console is a piece that I designed to use in Kris Jenner's entry. The classic waterfall shape is updated with the fun lacquer stripes and has a very elegant form." Starting at $5,900.
4. Porcelain collection
"My porcelain collection for Haviland Limoges called 'Hollywood' is inspired by a cross between 1960s David Hicks geometrical vibes and the tribal designs of Morocco. This glamorous pattern is edged in platinum and comes as a complete service incorporating all serving pieces as well as dinnerware." Starting at $59.
5. Lisbon bed
"The 'Lisbon' bed was inspired by an 18th century one I found at auction a decade ago. To keep it fresh, it is now offered in a variety of lacquer shades. Shown here the crisp white lacquer makes the piece fun whilst retaining an exotic appearance." Queen starts at $14,700.
6. Green suede swivel chairs
"The green ultra-suede swivel chairs are designed for pure comfort. The memory foam and down-filled chairs are the ultimate curl-up experience and perfect for TV viewing. The design is inspired by the rounded forms of Serge Roche and the '70s morphic shapes of Pierre Cardin's South of France home of the Palais des Boules." Starting at $3,800.
7. Terrace sofas
"The terrace sofas have become a design classic and are multifunctional. The pieces can be purchased separately or as a suite and can be reconfigured in many different forms. From a sculptural central design as I display it, to single chaises, they can be placed back to back, opposite or side by side for a plethora of looks and feelings." Starting at $6,400.
8. Gold ceilings
"One of my favorite decorating tricks is to wallpaper the ceilings in silver or gold foil paper as I have on the ceiling in the showroom. Not only does this add instant glamour and drama, it also fools the eye and raises the look of ceiling heights. In a low space this works wonders as the ceiling heights become almost infinite." $95 per 5 yard roll.
9. Textiles
"Tropicana is one of the newest fabric additions to my line and captures the spirit of tropical '40s that is so fashionable currently. The fabric was hand-painted and is a totally original interpretation, including beautiful toucans and birds of paradise frolicking in a wild, jungle-like setting." $170 per yard.
10. Photography
"I love photography and use it extensively in my work. The store has a curated collection of pieces from some of my favorite artists including Ruven Afanador, Miles Aldridge and Ellen von Unwerth. I have exclusive representation of Cheyenne Randall's wonderful photography where he takes iconic images like James Dean or Elizabeth Taylor and adds tattoos to the imagery, instantly updating these icons and giving an unexpected edge to the pieces. They are so cool and really add a brilliant edge to the store." Starting at $800 for 18-by-24-inch print.
Martyn Lawrence Bullard showroom
Where: 8550 Melrose Ave., West Hollywood
When: 10 a.m. to 6 p.m. Mondays through Fridays.
Contact: (323) 655-5080; martynlawrencebullard.com
Already a subscriber? Thank you for your support. If you are not, please consider subscribing today. Get full access to our signature journalism for just 99 cents for the first four weeks.
Twitter: @lisaboone19
For an easy way to follow the L.A. scene, bookmark L.A. at Home and join us on our Facebook page for home design, Twitter and Pinterest.
ALSO:
Kreiss, the store credited with creating the 'California casual' look, continues its legacy
Vintage, modern and more on display at new deKor showroom in Atwater Village
Southern California home tours
---