10 Images
A look at the work of Edible Gardens LA's Lauri Kranz
Lauri Kranz, owner of the gardening business Edible Gardens LA, wrote "A Garden Can Be Anywhere."
(Yoshihiro Makino)
Broad sweeps of landscaping don't have to be ground cover and shrubs. Landscape designer Christine London designed this tiered hillside in Santa Monica Canyon for a client. There, Lauri Kranz grows herbs such as lemon verbena, sage, chives and lush mounds of parsley.
(Brian W. Ferry)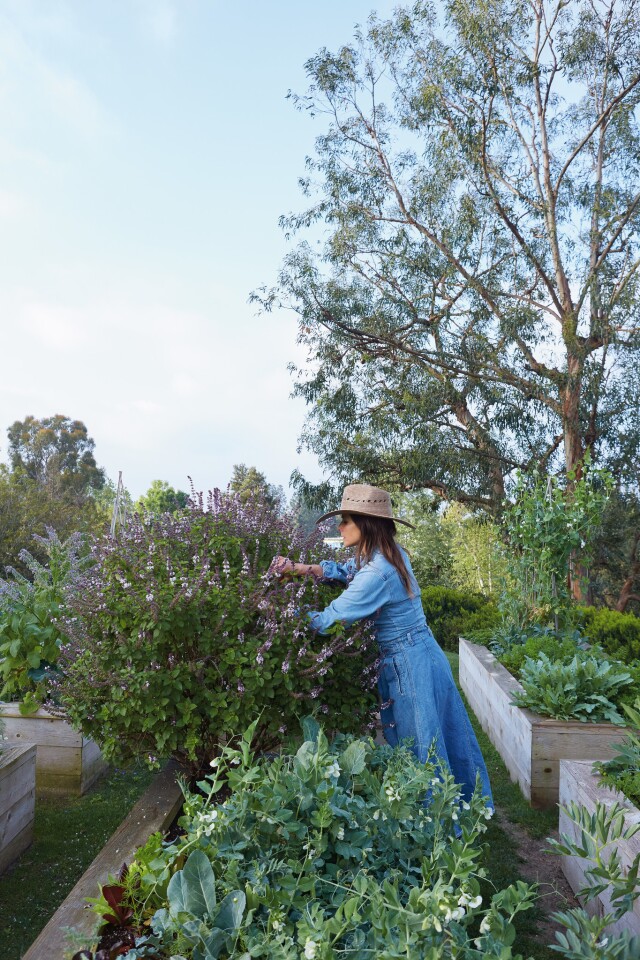 Once you get a garden going, Lauri Kranz says you can keep it maintained with just three to four hours a week. You'll likely want to be in your garden a lot more often than that, however, if it's planted with the things you love. Here, Kranz tends a large stand of African basil.
(Yoshihiro Makino)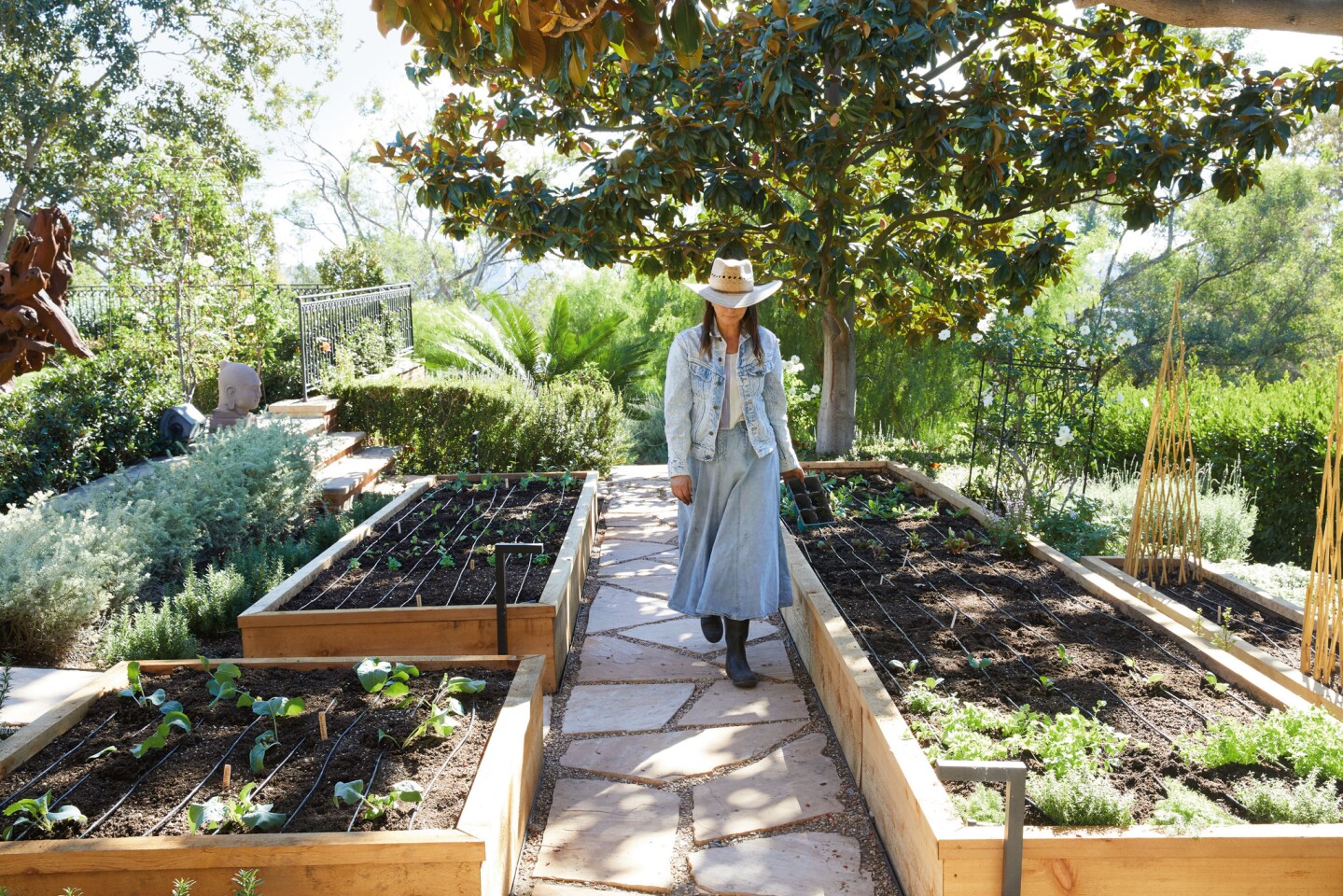 Lauri Kranz strolls through some newly planted raised beds of vegetables and flowers. Raised beds can be long, she said, but no wider than 4 feet, so you can easily reach the middle. Note her drip irrigation lines spaced six inches apart. Kranz often gardens in long skirts, she says, because they protect her legs better than shorts and still keep her cool.
(Yoshihiro Makino)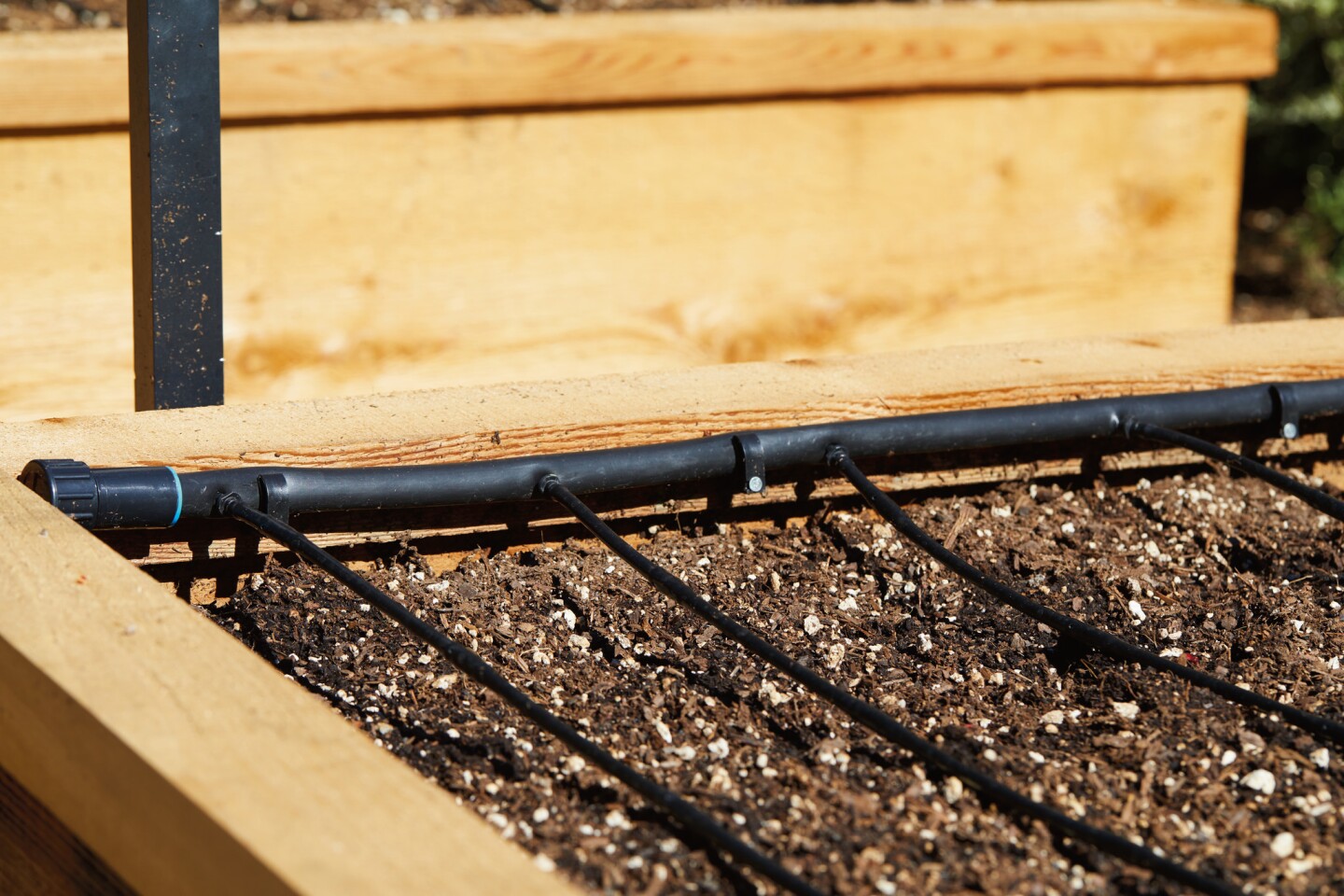 Kranz prefers using drip irrigation lines in her raised beds, spacing the perforated lines every six inches across the bed.
(Yoshihiro Makino)
Lauri Kranz believes that creating good soil is a critical component to a healthy garden. It can take years to get friable, nutrient-rich soil like this, but to start, she recommends digging a healthy slug of compost into the garden bed and then fertilizing with liquid seaweed.
(Yoshihiro Makino)
Lauri Kranz doesn't plant in neat little rows; she packs her beds thickly with a variety of vegetables and flowers, such as the African basil at her left, that will draw in bees and other pollinators. The dense planting also helps keep the soil cool and moist.
(Yoshihiro Makino)
Lauri Kranz has several clients where critters compete to harvest their garden. Her book includes instructions for building a simple sructure that humanely keeps out nibblers and grazers while letting sun, rain and beneficials, like bees and butterflies, inside.
(Yoshihiro Makino)
Listada de Gandia, a variety of Italian eggplant, is one of Lauri Kranz's favorites, not just for its flavor but because of its beauty in the garden.
(Yoshihiro Makino)
Lauri Kranz calls African basil "the heart of my gardens," because the fragrant, beautiful flowers are so attractive to bees. Vegetables and fruit require pollinators like bees and butterflies to survive, and they add both color and a delicious spicy aroma to the garden.
(Yoshihiro Makino)