Makers: Ceramist Pawena Thimaporn goes bold and big with her pieces
It's a hectic time of year for ceramist Pawena Thimaporn, who is busy throwing planters, mugs and pitchers for the holidays in her Woodland Hills garage.
From the driveway, there is no question a ceramist lives here. Clay pots dry upside down on a card table while her graphic hand-painted ceramics line the shelves of the bookshelves she has moved into her garage-studio.
Child-like clay formations left by young visitors hint at her role as a full-time working ceramist and mother of two boys, 7 and 11.
The 48-year-old artist was born and raised in Thailand and came to the United States when she was 24. After graduating from Art Center College of Design with a degree in graphic design, Thimaporn worked as an art director at Nokia. When the office closed, she took a pottery class at XIEM Clay Center in Pasadena and decided to pursue ceramics full time.
"It made me feel like a kid again," she says of starting Pawena Studio in 2015. "I could be free to create and be creative."
She throws each piece on an electric pottery wheel and paints each one by hand. Her distinctive style — colorful lines, stripes and simple black geometric shapes — are inspired by her background in graphic design. "I like type and big, bold icons," she says.
Sometimes the color is not right. Other times, pieces crack. "It's so labor intensive," she says of the mugs that take hours and hours to finish. "My left hand side is always hurting."
Play our gift guide game and find the perfect presents »
She works daily, in between school drop offs and homework. "It's good for my children to see me trying," she says. Often, she works late into the night after her sons have gone to sleep.
She works alone and rents a kiln at the Atwater Village studio of ceramist Heather Levine, often packaging the pieces in her bedroom. Living in Woodland Hills, she admits feeling a bit disconnected from Los Angeles but cherishes the neighbors who walk up her driveway to greet her as she works.
Her ceramics have earned her a following on Instagram, she says, because she is a good photographer.
"The graphics really attracted me to her work," says Potted's Mary Gray who noticed Thimaporn's work at Xiem. "She's like a midcentury modern painter who applies her knowledge of design to pottery. Her pieces are like canvases."
Now in holiday mode, Thimaporn is busy creating work for the West Coast Craft Fair, Potted and in-studio sales.
Next year, she hopes to try something new. "I want to stay excited," she says while glancing at the empty canvas she has mounted on the wall behind her. "It feels so good when someone tells me how happy my objects make them. It means a lot to me. As artists, we spend a lot of time making these objects. When they purchase my work, I become a part of their life."
Craft: Pawena Studio Ceramics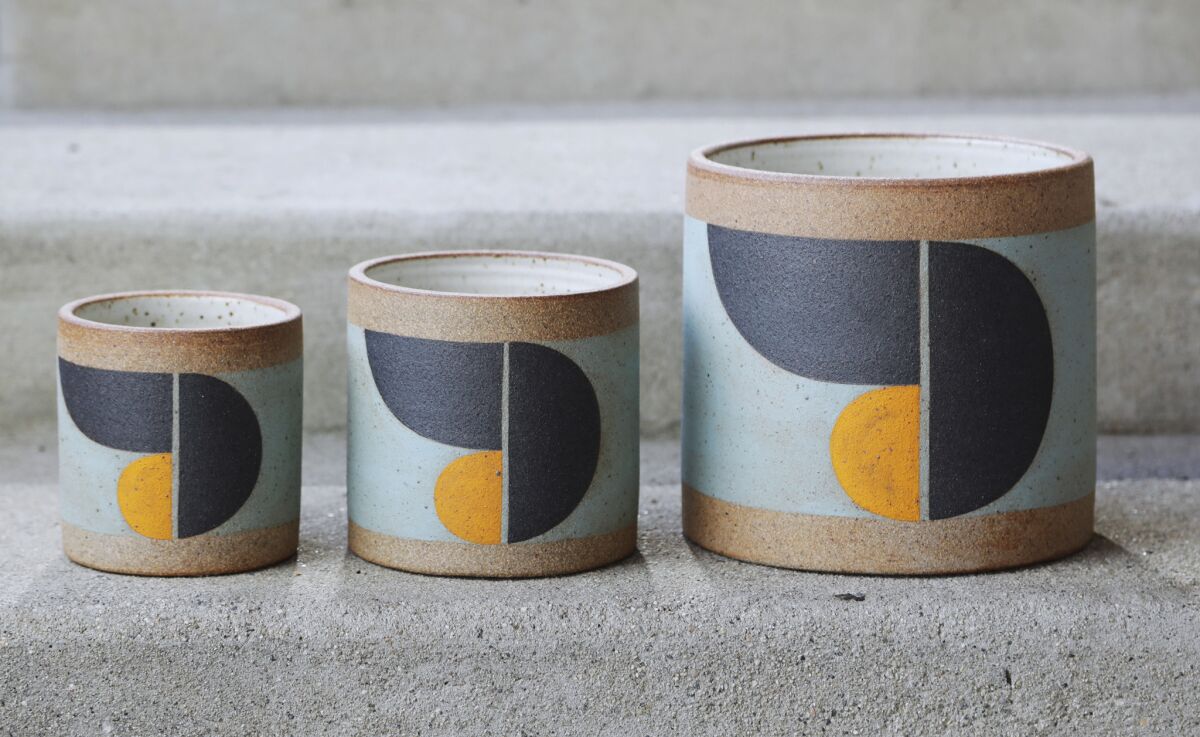 Studio playlist: "The Moth," "Ted Radio Hour," "This American Life," "Revisionist History" on KPCC and KCRW. Thai Buddhist teachings by Phra Paisal Visalo on YouTube.
Why handmade things matter: "When people buy handmade items, they know where the product comes from, who makes them and how it was made. It helps support small business owners, local makers and artists so that they can continue to stay creative and make new, inspiring works."
---