Hot Property: Jodie Foster lists Beverly Hills estate for $9,975,000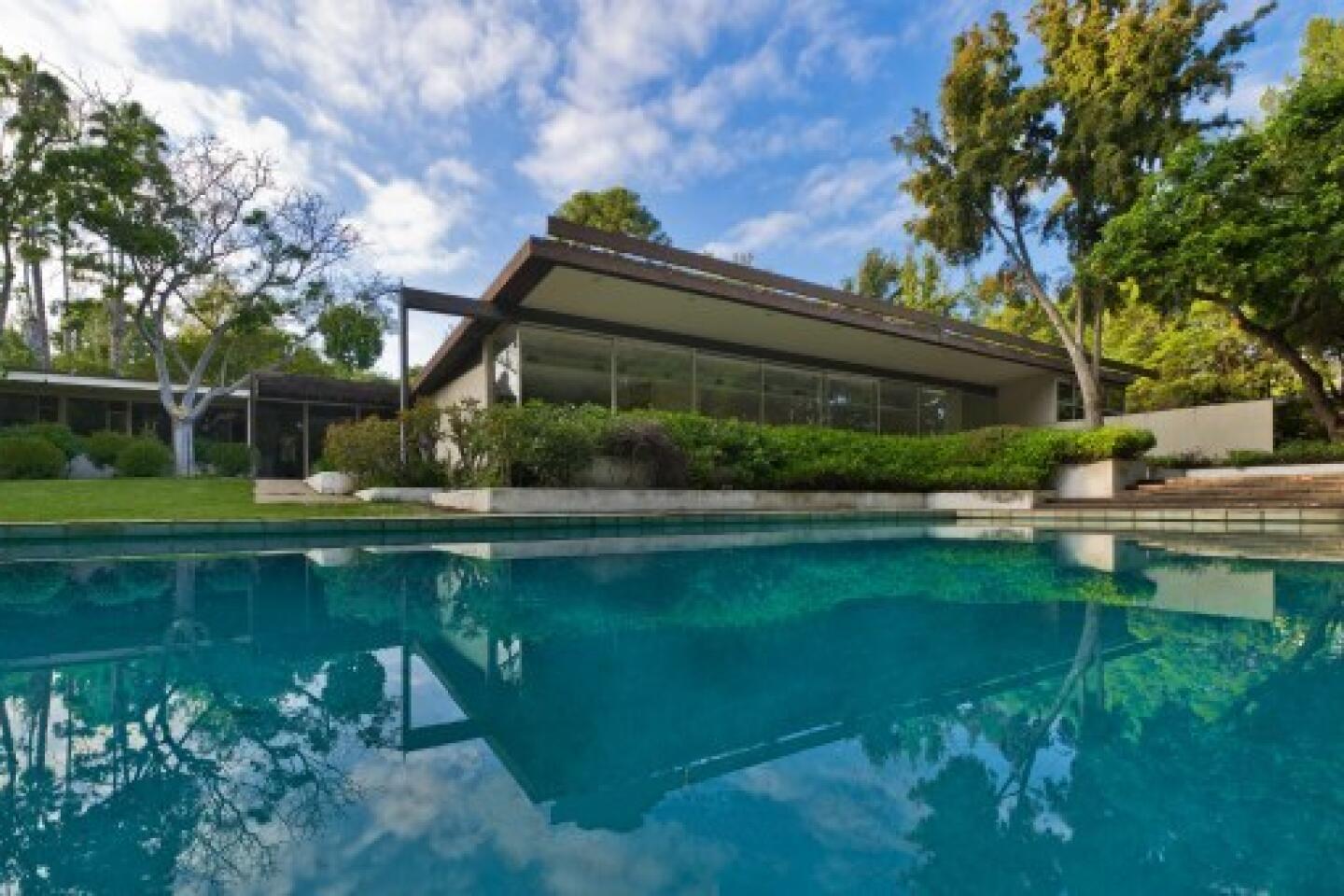 At 7,000 square feet, the Kronish House in Beverly Hills is large for Southern California Neutras.
(Marc Angeles / Unlimited Style Photography)
Actress-producer Jodie Foster has listed her Beverly Hills estate for sale at $9,975,000, the Multiple Listing Service shows.
Climbing vines and red brick accents give the seven-bedroom, eight-bathroom compound an East Coast vibe. Encompassing nearly an acre of land, the compound includes a 1949 main house, a tennis court, a swimming pool and a guesthouse.
Foster, 48, won her Oscars for roles in "The Accused" (1988) and "The Silence of the Lambs" (1991). She stars in and directs "The Beaver," released Friday, and will star in the upcoming "God of Carnage."
The property previously sold in 2005. It was listed then for $10.5 million.
Foster was not available for comment.
The listing agents are Jeffrey Hyland and David Kramer of Hilton & Hyland, Beverly Hills, according to the MLS.
'Glee' creator sells in Sunset Strip area
"Glee" mastermind Ryan Murphy has sold a Sunset Strip-area home for $2,775,000.
The Carl Maston-designed Midcentury Modern was built in 1947 and restored. Wood-framed glass walls open to a swimming pool, lawn and outdoor entertaining space, which includes a barbecue and fire pit. The 3,210-square-foot gated house has a library-office, an eat-in kitchen, three bedrooms and three bathrooms.
Murphy, 45, is the creator of such hit shows as "Glee" (2009-present) and "Nip/Tuck" (2003-10). He wrote and directed the movie "Eat Pray Love" (2010).
Public records show he purchased the property in 2001 for $2.5 million.
Ann Eysenring of Partners Trust, Beverly Hills, was the listing agent, and Joshua Myler of Coldwell Banker, Beverly Hills South, represented the buyer, according to the MLS.
Neutra, elbow room in Beverly Hills
The Richard Neutra-designed Kronish house in Beverly Hills has come on the market for the first time in more than 30 years at $13,995,000.
Named for its original owner, Herbert Kronish, and built in 1954, the one-story house sits at the end of a 250-foot-long driveway on a 2-acre, flag-shaped lot with mature trees and a swimming pool. With 6,891 square feet of living space, six bedrooms and 51/2 bathrooms, the contemporary home is the Modernist architect's largest in Southern California, according to his son, Dion Neutra. Walls of glass open to a terrace that steps down to the pool.
Neutra, considered one of the most influential Midcentury architects, died in 1970 at 78.
Susan Smith of Hilton & Hyland, Beverly Hills, is the listing agent.
Making tracks out of Bel-Air?
Singer and record producer John Feldmann has listed his Bel-Air-area house for sale for close to $2.8 million.
The contemporary Mediterranean, built in 2002, features iron front doors, a marble entry and an open floor plan of 4,700 square feet. A recording studio in the home has a live room, two control rooms and a vocal booth. Including a master suite with a private patio, there are five bedrooms and six bathrooms. At more than a third of an acre, the grounds include a saltwater pool with spa and a remote-controlled waterfall.
Feldmann, 43, is the lead singer and guitarist for Goldfinger. He scouts talent and oversees the development of recording artists as an A&R executive at Warner Bros. Records and has worked as a producer for Hilary Duff and Ashlee Simpson, among others.
David Kramer of Hilton & Hyland, Beverly Hills, has the listing.
A retreat for storied gossip columnist
A Northridge home originally built as a ranch and retreat by renowned Hollywood gossip columnist Louella Parsons has come on the market at $798,500.
The two-story French Colonial, part of a 28-acre farm when it was constructed in 1937, sits on slightly more than half an acre today. A sun porch-family room looks out on the backyard lawn, rose garden and swimming pool.
The four-bedroom, 31/2 -bathroom main house has built-in cabinetry in the dining room, a wet bar opening to a den, a kitchen breakfast area and a butler's pantry. One of the two master suites has a fireplace. The guest quarters have a separate entrance and another bathroom for a total of 4,465 square feet of living space.
Parsons, who died in 1972 at 91, started out writing social notes and then a film column. After a bout with tuberculosis in the mid-1920s, she moved to Los Angeles and became a syndicated columnist for William Randolph Hearst. "She held an undisputed position of power in the motion picture industry for 40 years," according to Times archives, opening "the doors on the private lives of movie people, reporting their scandals, romances, feuds and break-ups."
Public records show the property last sold in 1981 for $280,000.
Stephanie Vitacco of Coldwell Banker, Woodland Hills, is the listing agent.
'Motivated' seller to auction Maui estate
Writer Jack Canfield, who co-created the "Chicken Soup for the Soul" series, is among investors selling an oceanfront estate in West Maui, Hawaii, by auction May 12. The suggested opening bid is $7.5 million.
Called the Jewel of Kahana, the half-acre property has 250 feet of ocean frontage and has been listed at $15.9 million. The main house and two-story detached guest quarters include eight bedroom suites. The suites have sliding glass doors accessing lanai or terrace space, wet bars and flat-screen televisions.
Designed for entertaining, the 9,700-square-foot house has two kitchens and a sports bar. A second-floor billiards lounge and game area opens to the main living room below.
Canfield, 66, makes his primary residence in Santa Barbara. He is also a motivational speaker and life coach.
Mary Anne Fitch of Maui Estates International is the listing agent. Concierge Auctions will conduct the event. The auction will be absolute, meaning it will sell to the highest bidder that day regardless of the price.