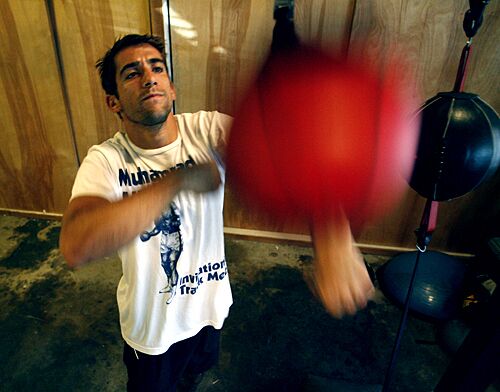 10 Images
PHOTOS: Take a virtual tour of 'CSI: Miami' actor Jonathan Togo's house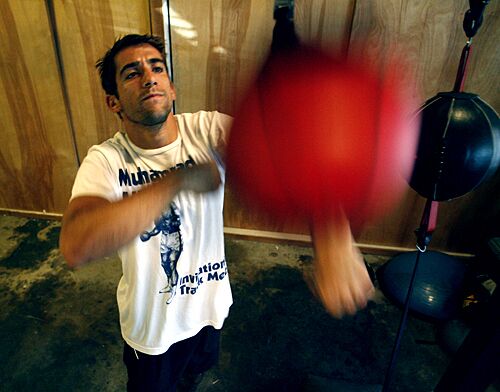 Jonathan Togo, the 33-year-old actor who plays investigator Ryan Wolfe in "CSI: Miami," is bemused by the celebrity real estate racket. Instead of buying into the hype that he needs more house, more furnishings he won't use and more security in the form of a gated neighborhood, Togo is happy with something smaller and more personal, he says. Two years ago he purchased his first home, a 1,800-square-foot Midcentury pad in the Hollywood Hills, and he asked himself: "What if I got a tiny house and filled it with the best things I love?" Dressed in gym shorts and a T-shirt with a stylized image of Muhammad Ali, Togo leads a tour through his house, where the garage has been converted into a personal boxing gym. (Lawrence K. Ho / Los Angeles Times)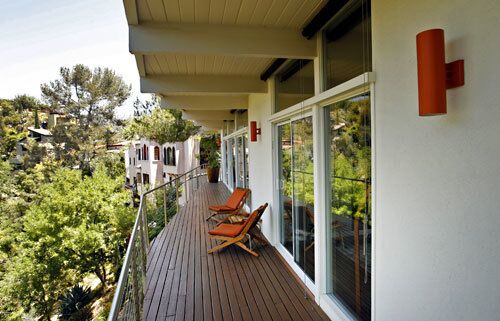 In 2008, when Togo found the 1958 post-and-beam house in the Hollywood Hills, it had been partially renovated. It contains just a few main rooms, including a combined living-dining-kitchen area that occupies more than half the home.

Togo's agent tried to discourage the purchase by labeling the property too small. But the actor was captivated by the canyon, live oaks and eucalyptus trees outside the ceiling-to-floor sliding doors. "This is like a little tree house, and oddly, it fits me," Togo says. "The view is everything — it's like a giant piece of art." (Lawrence K. Ho / Los Angeles Times)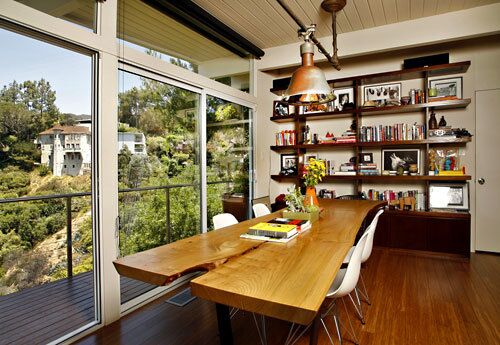 Togo's business manager introduced him to interior designer Lory Johansson, but instead of handing over a check and waiting for the results, the actor has involved himself in the look of every room. His father, Michael Togo, worked at the Boston Globe as a commercial artist and graphic designer; his mother, Sheila, a former visual merchandiser for national retailers, now runs Simply Sheila, a custom workshop that sells pillows and textiles at SoWa, an open market in Boston. "My mom is a fan of Midcentury pottery," says Togo, gesturing to vases that grace his dining table, just a few of the "mom" touches that have shown up during her visits.

"When he was little, I'd drag him with me," Sheila Togo recalls in a telephone interview from her home in Massachusetts. "Now, when I come to Los Angeles, Jonathan rents me a car, and I hit the thrift shops."

The 9-foot-long, vertical-grain trestle dining table is a custom piece fabricated by combining an Urban Hardwoods slab with a forged-steel base. It's surrounded by Eames chairs in white. Togo and Johansson spent $350 on the chrome-and-steel industrial light fixture and mounted it like a pendant from a bracket of pipe-and-elbow plumbing pieces. Rickety aluminum-framed sliding doors were swapped for new custom dual-glaze glass. The balcony, accessed by every room and spanning the length of the house, was upgraded with steel cable railings that don't compete with the canyon view. The ceiling's tongue-and-groove boards extend over the balcony, blending indoors with outdoors.
(Lawrence K. Ho / Los Angeles Times)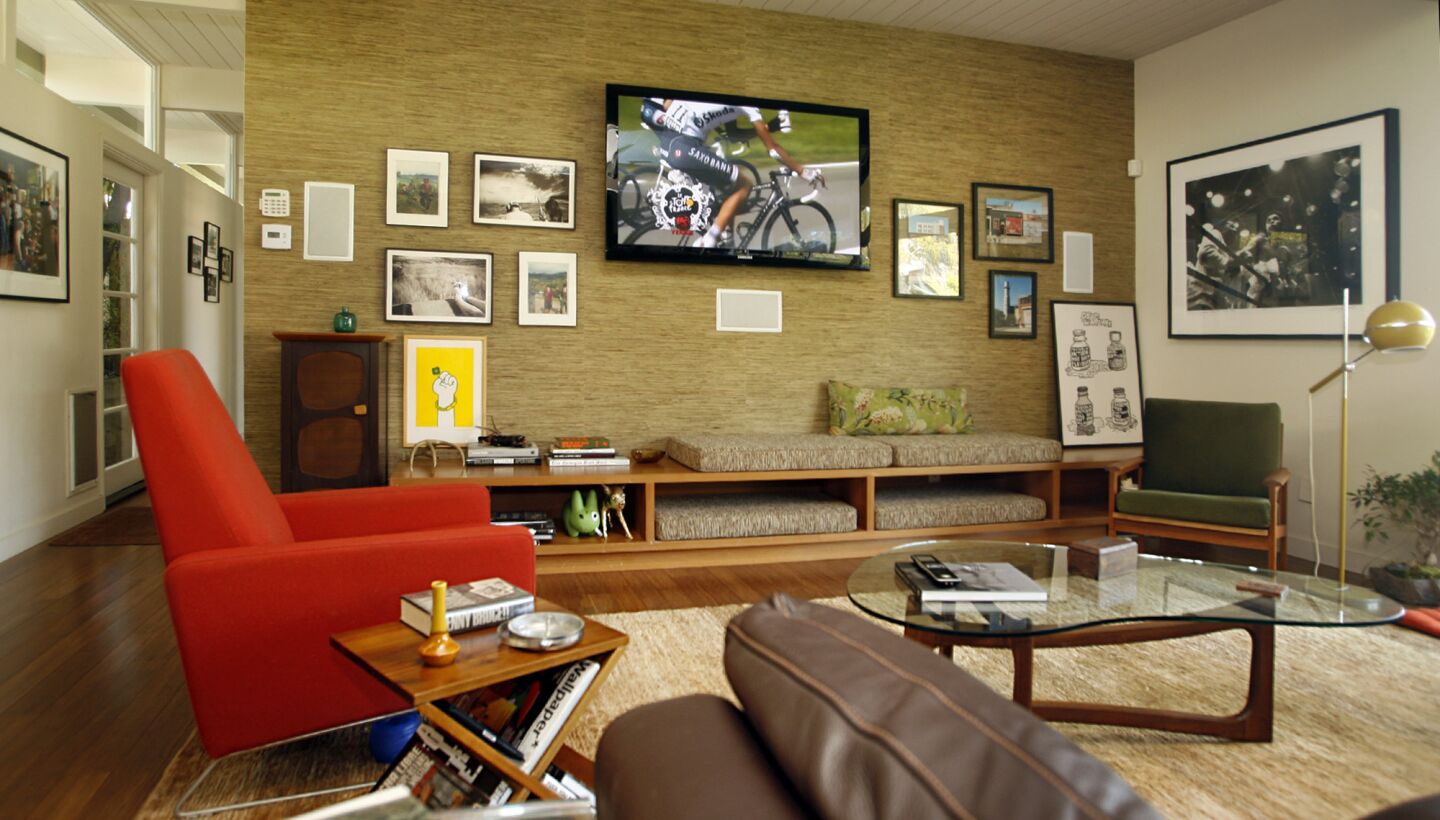 Walnut-stained bamboo flooring replaced vinyl. An inherited fireplace dominated the main living room wall, so it was removed. Johansson recommended covering the surface with a nubby wool-and-hemp cloth. Its mossy tones complement the plush chenille area rug and "bring indoors the natural feeling of bark and texture that's going on outside," Johansson says.

A 14-foot-long banquette serves as a bookcase and provides additional seating. While a slender television screen now hangs above, its presence is balanced with a montage of framed prints and photographs that Togo has acquired. He picks up vintage hot rod photos at local flea markets and collects moody black-and-white compositions by photographer Kramer O'Neill. Other artworks feature handguns in tweaked journalistic and pop-art scenes, a wink to Togo's fictional role as a crime scene investigator. (Lawrence K. Ho / Los Angeles Times)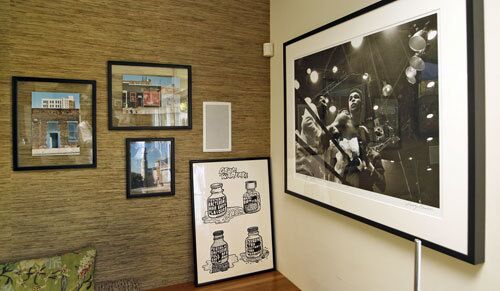 "Ali Wins," a 1964 Harry Benson photograph of Muhammad Ali after he defeated Sonny Liston, is on an adjacent wall. Togo is close to Benson's daughter, Wendy Benson-Landes, and her husband, Michael Landes, fellow actors who gave him the photograph and asked him to be their son Dominic's godfather. ("I like having art from people I know," Togo says.) (Lawrence K. Ho / Los Angeles Times)
Original transom windows tucked under the roofline on the east and west walls of the house "allow the light to flow through from both sides," says Johansson, who runs the Los Angeles design studio Just Joh with her architect-husband, Mats Johansson. (Lawrence K. Ho / Los Angeles Times)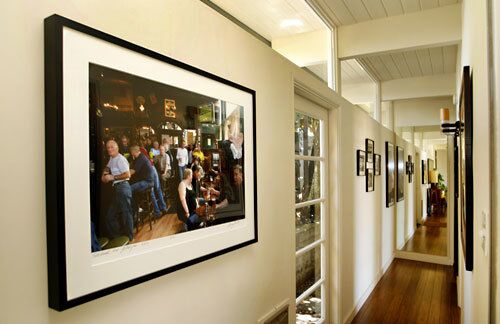 A long hallway leads to the rest of the house. Abundant windows and new creamy paint on once-dark ceilings keep the entire space bright. (Lawrence K. Ho / Los Angeles Times)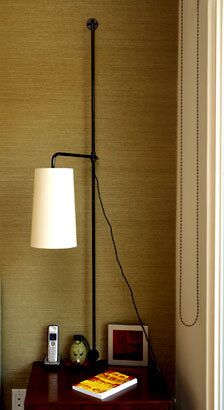 Factory parts with uncertain origin appear as design solutions throughout the house. Johansson conjured a pair of reading lamps for Togo's bedroom. The pieces move up or down on steel brackets that hang above cantilevered side tables. (Lawrence K. Ho / Los Angeles Times)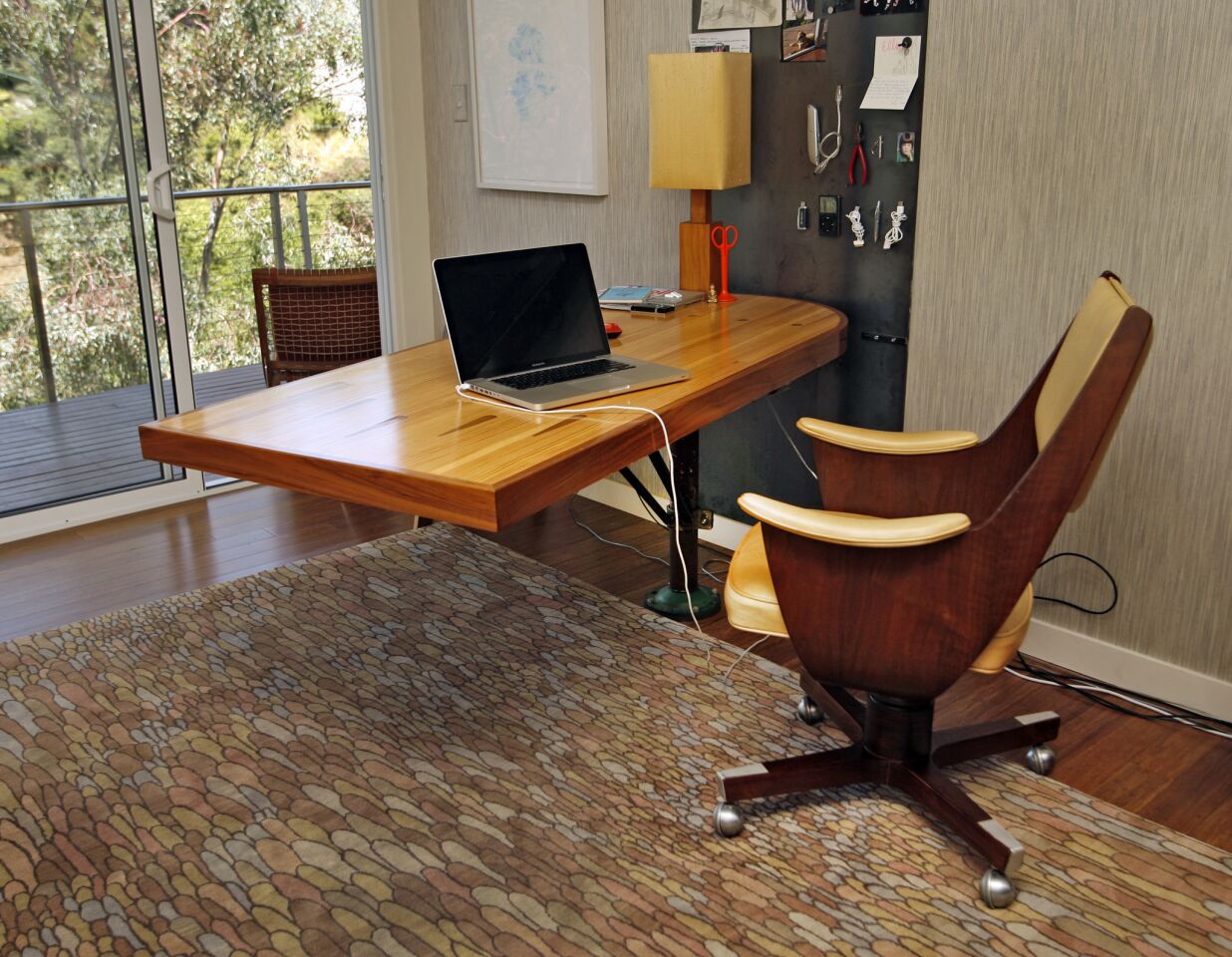 Togo told Johansson he wanted a desk that could be moved when the office had to double as a guest bedroom. The designer foraged a North Hollywood airplane parts warehouse for pieces to fabricate a rotating desk. The contraption swivels on a steel axle and floor-mounted post; the desk top, a section of bowling lane, can swing closer to the wall or extend out for a view of the canyon. "You learn about L.A. when you work with Lory," Togo says of their forays to offbeat destinations. "It's like having the best design Sherpa." (Lawrence K. Ho / Los Angeles Times)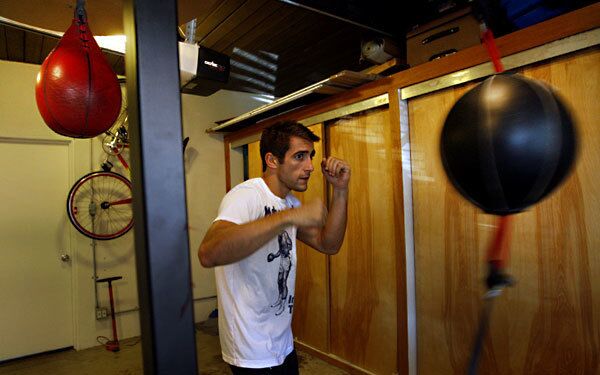 As cool as his bedroom looks, Togo gravitates to his boxing gym or, even better, the espresso-leather sectional in the living room where he relaxes with "Duke, the wonder mutt." Johansson has been after him to get a different piece of furniture, but Togo can't part with the sofa, which he likens to a well-worn baseball mitt. "This is like my cave," he says. "I've got my stuff, my house, and my dog." (Lawrence K. Ho / Los Angeles Times)