A vision of his own: Prefab-ulous homes that are also affordable
The low-slung prefab house built for Tim Disney by Blu Homes sits in the otherworldly landscape of Joshua Tree. The indoor-outdoor design, pictured here from the rear, includes generous shaded decks and a detached guest house, out of view here. Its prefab modules were built in less than eight weeks in a factory, then transported by truck and craned into place.
(Allen J. Schaben / Los Angeles Times)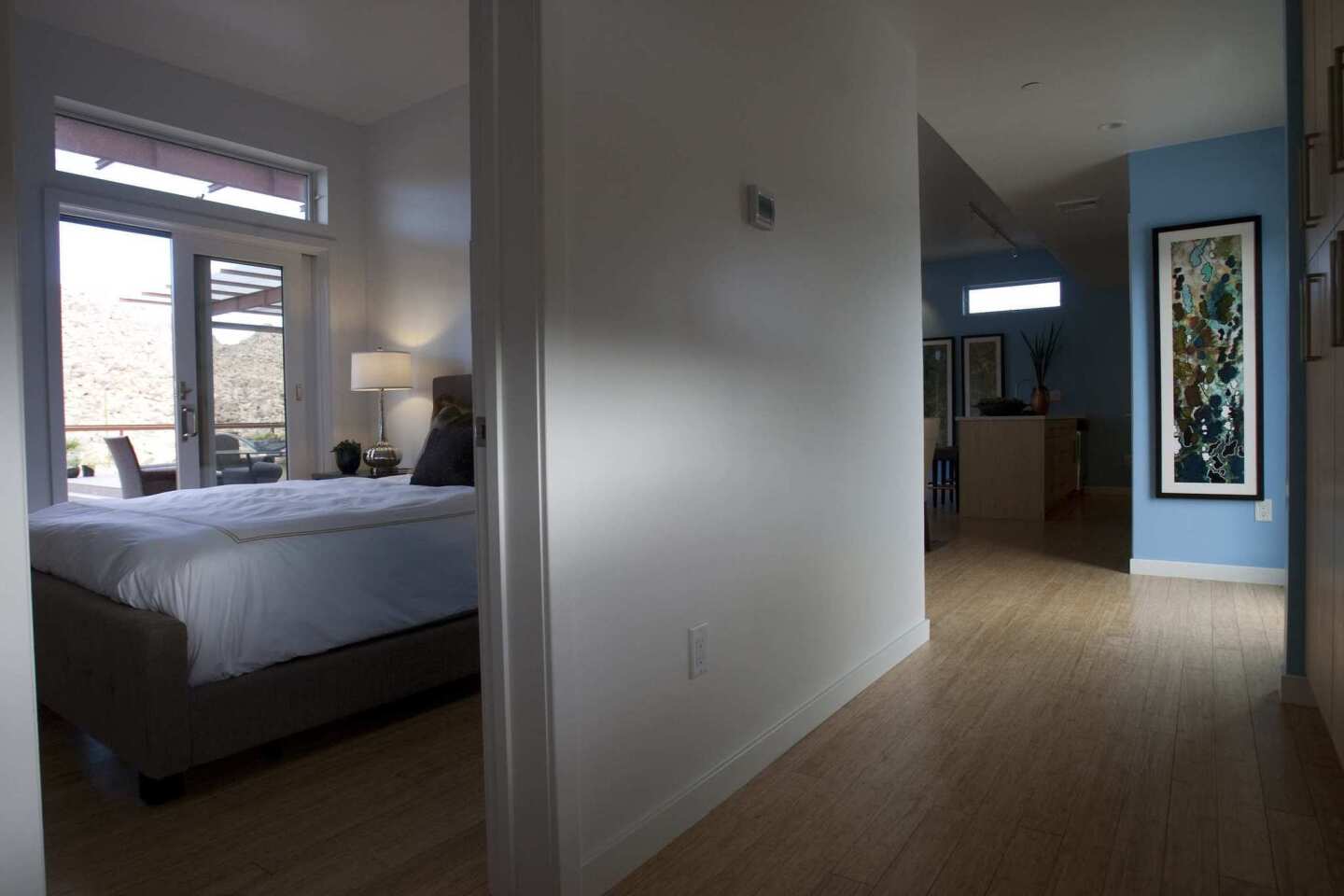 Light streams through the glass front door, with the kitchen and dining area off in the distance and one of three bedrooms in the main house in the foreground. Glass doors open onto the rear deck.
(Allen J. Schaben / Los Angeles Times)
From the same vantage point, you see abundant cabinetry -- ash in this particular unit -- that was installed in the factory.
(Allen J. Schaben / Los Angeles Times)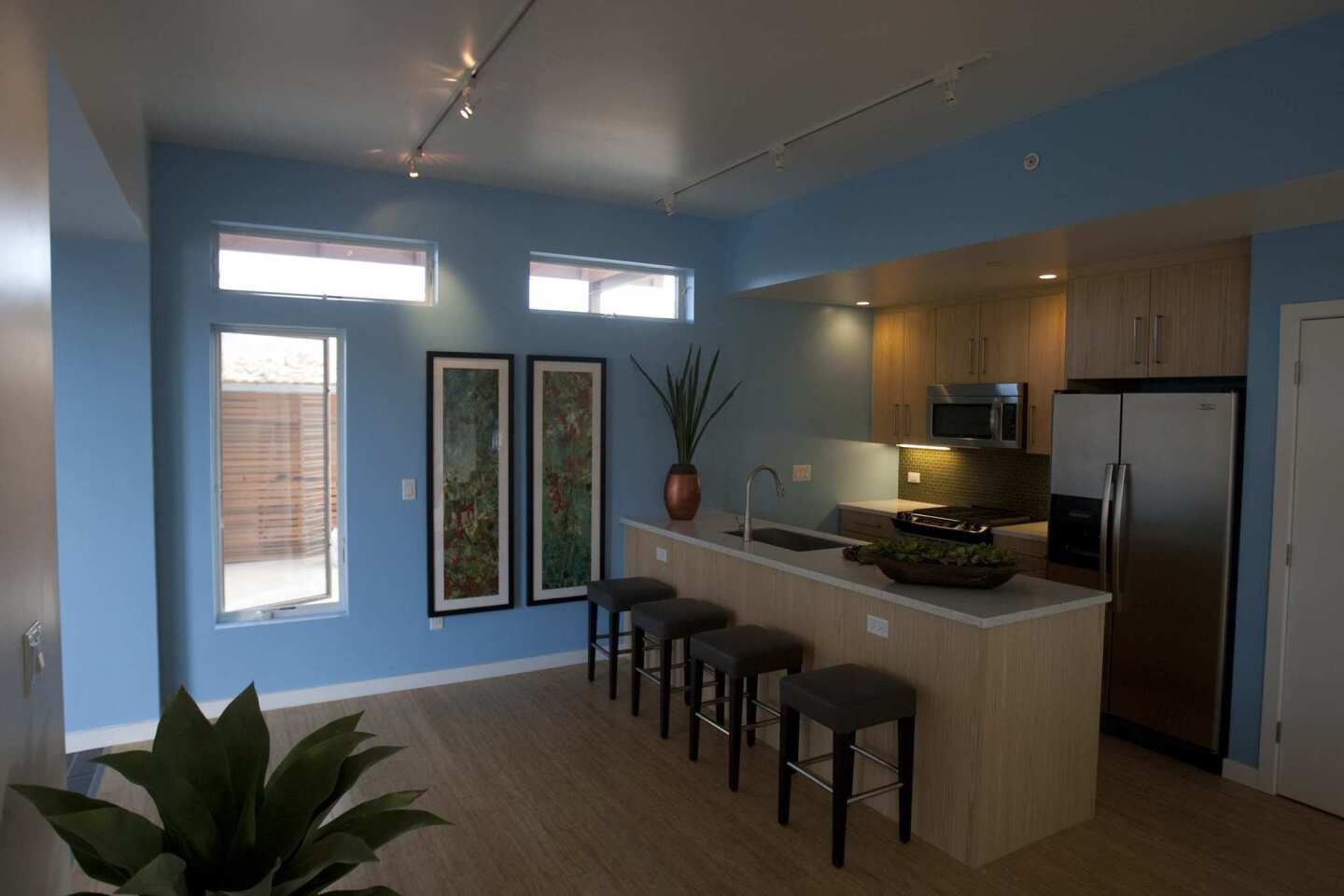 The kitchen also was installed in the factory and transported to Joshua tree largely as you see it here, with cabinets and appliances already in place. In this particular unit, the counters are Caesarstone. The floor is radiant-heat bamboo.
(Allen J. Schaben / Los Angeles Times)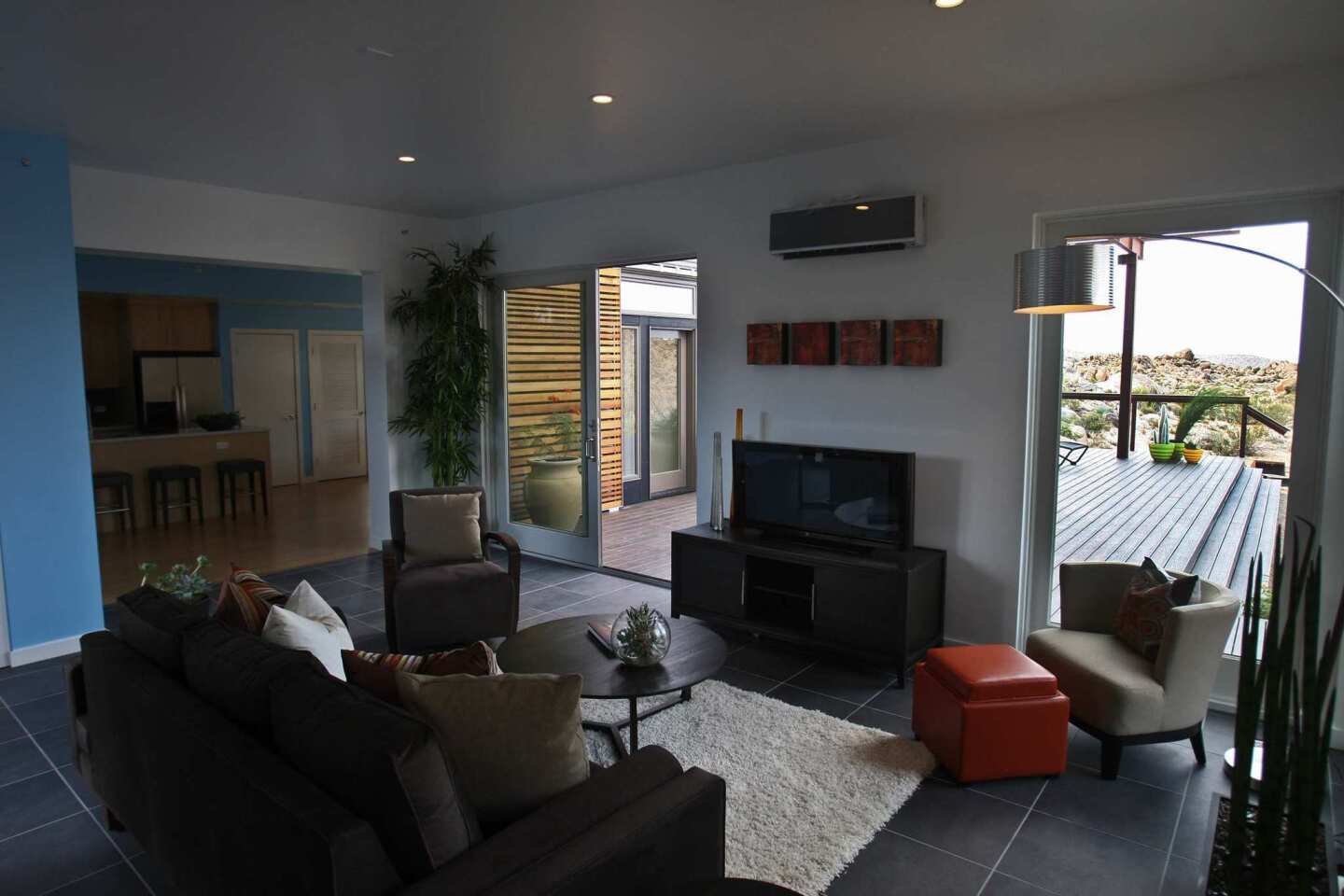 Disney's plan calls for two prefab modules set at a right angle and connected by this conventionally constructed living room. Because the Blu Homes modules use standard Anderson glass products, matching windows and doors could be used in this part of the house too.
(Allen J. Schaben / Los Angeles Times)
Maximizing connections to the outdoors …
(Allen J. Schaben / Los Angeles Times)
From room to room.
(Allen J. Schaben / Los Angeles Times)
The Joshua Tree house has abundant shading overhead as well as cedar-slat panels set on rolling tracks in front of sliding glass doors.
(Allen J. Schaben / Los Angeles Times)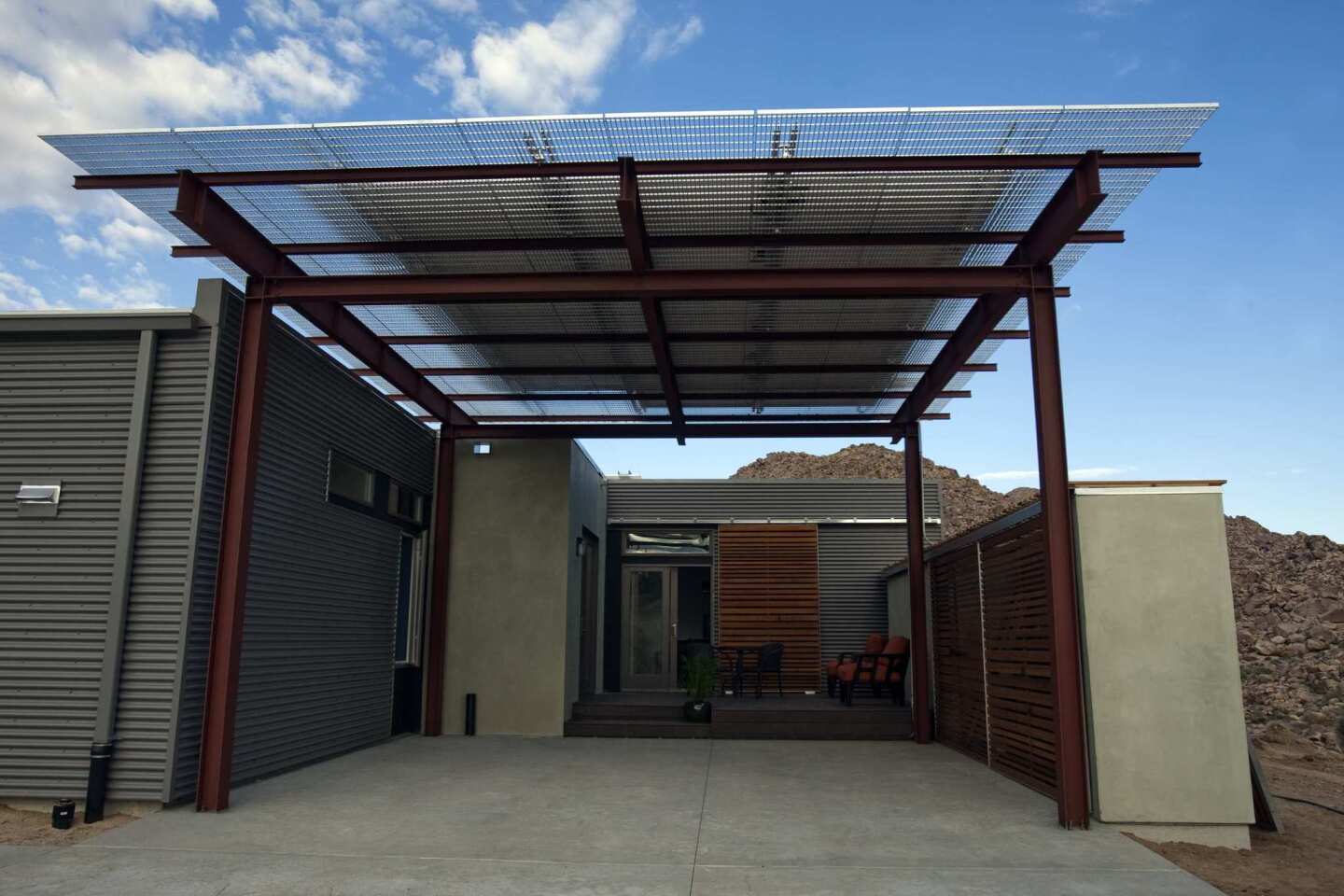 On one side of the house, a carport in front is topped with solar panels. A small deck is tucked by a door to the kitchen. Mechanical systems are hidden behind more cedar-slat panels on the right.
(Allen J. Schaben / Los Angeles Times)
The rear of the house, with its composite deck overlooking the landscape. Note the rolling cedar-slat panels on the prefab modules.
(Allen J. Schaben / Los Angeles Times)
Disney's property has a detached guest house that's also prefab — Blu Homes' smallest model, an 18-by-24-foot Origin model.
(Allen J. Schaben / Los Angeles Times)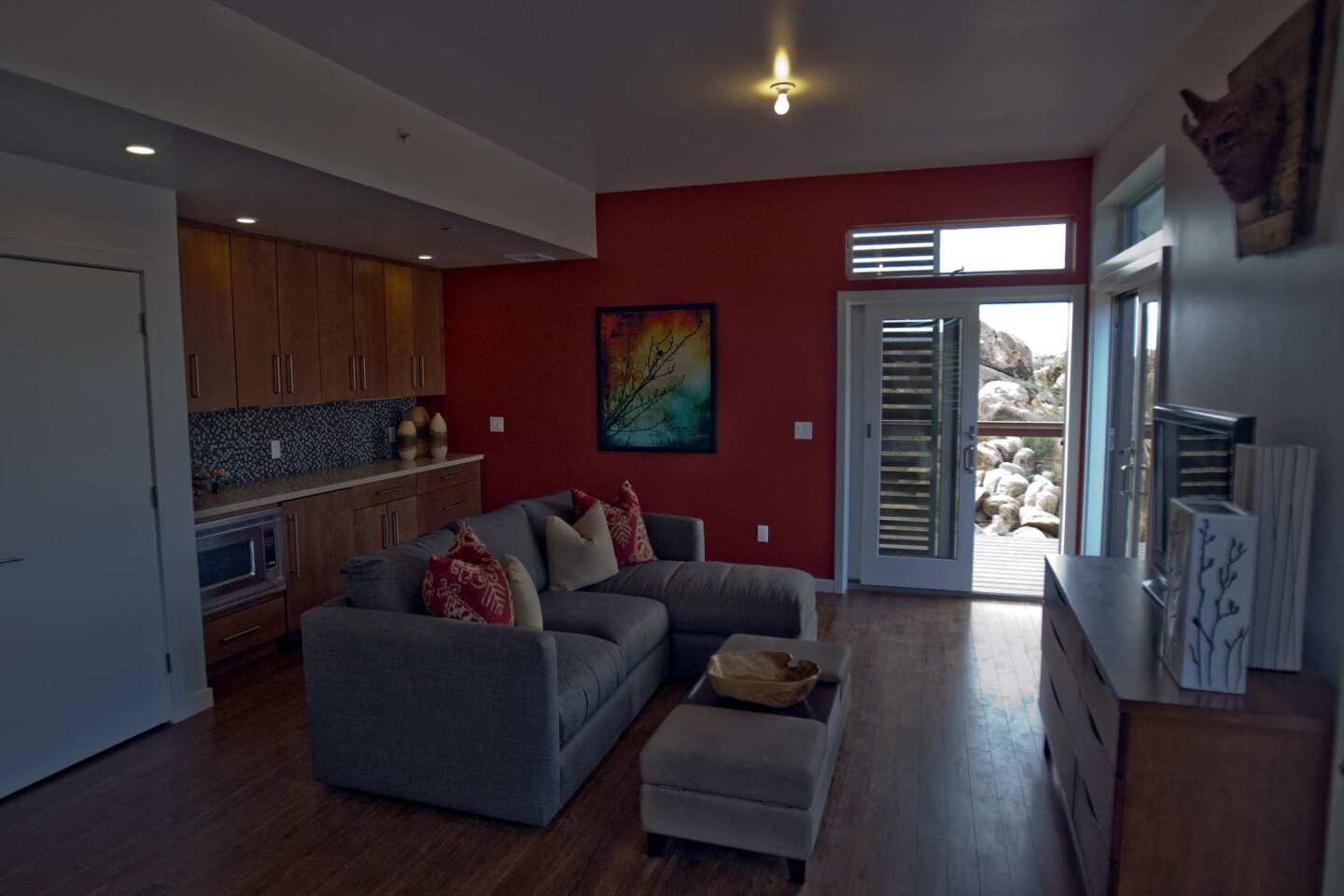 The guest house is its own vision of efficient living, with a living area and kitchen cabinetry at one end and space for a bed at the other. The cedar-slat panels can be slid away for open sightlines to the high desert or rolled closed to create shade and privacy but still allow breezes to blow through.
(Allen J. Schaben / Los Angeles Times)
The view of the main house from the guest house.
(Allen J. Schaben / Los Angeles Times)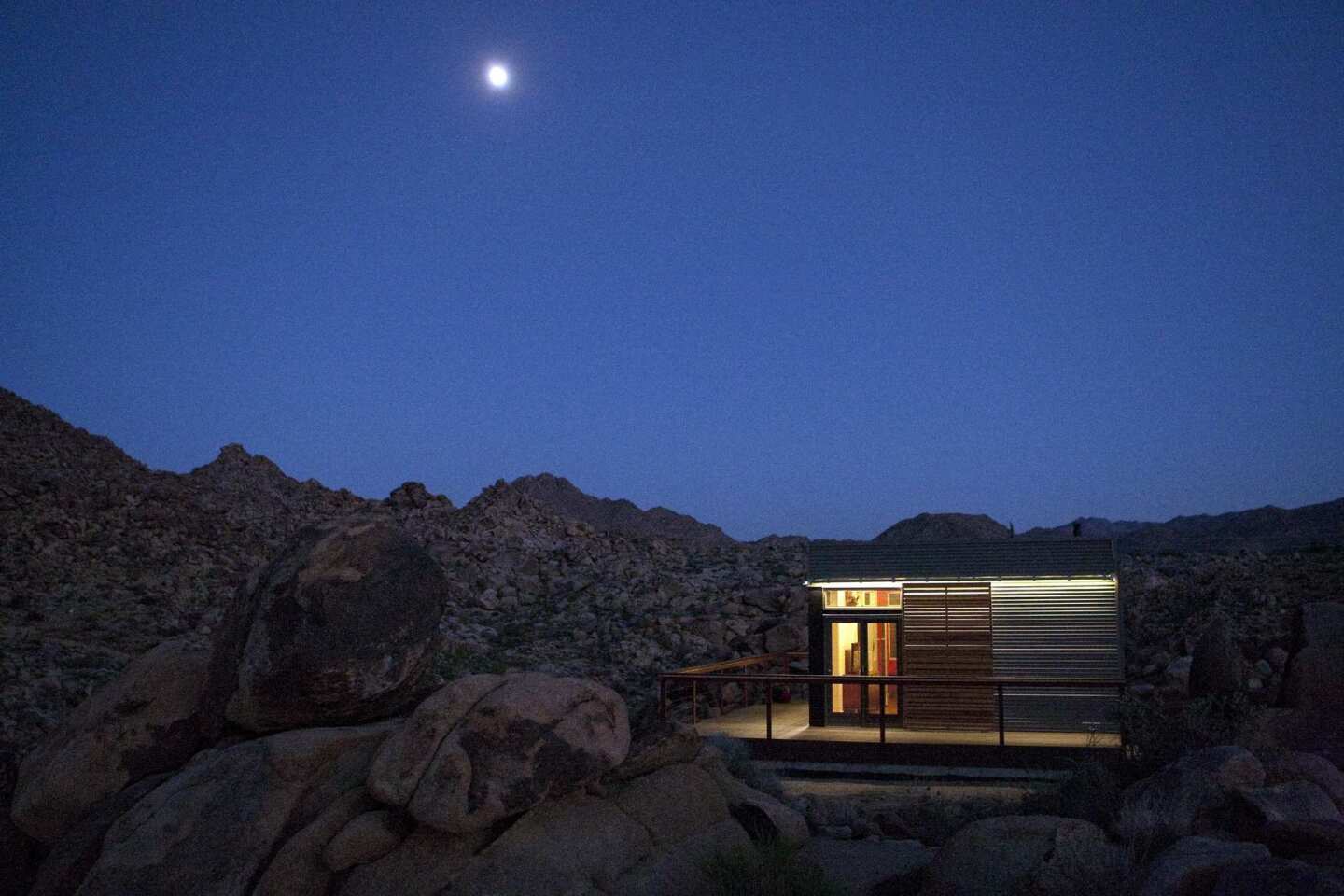 The Disney guest house in the high desert moonlight. You can learn more about this house in the
related article
. You also can check out the
Blu Homes website
.

Follow our coverage of the L.A. scene by bookmarking L.A. at Home or get lost in our photo galleries of L.A. homes and gardens.
(Allen J. Schaben / Los Angeles Times)
The low-slung structure tucked among the unearthly boulders of Joshua Tree looks vaguely like many other modern prefab homes from the last decade — streamlined silhouette, eco-chic materials, indoor-outdoor appeal — but with one key difference. It has Mickey Mouse in its corner.
A globe-eared, white-gloved figurine sitting in the front window is the first — and during a recent sneak peek, the only — hint the owner is Tim Disney, great-nephew of Walt and a prefab believer. Disney is a board member and investor in prefab builder Blu Homes, and the Joshua Tree house, to be opened to the public for the first time next weekend, is Blu's first in Southern California. It's also part of the company's national push to fulfill prefab's decades-long promise of modern, efficient, affordable houses for the masses.
Many have tried before. A line of prefab houses branded with the Dwell name and promoted in the popular magazine stopped production in 2008. Michelle Kaufmann, a well-regarded Bay Area architect whose smart designs have been used as Sunset magazine show houses, shut down her prefab business in 2009. Others who have stayed in the prefab game have been largely focused on the high end of the market — prefab houses that are so large and so highly customized, they cost as much as architect-designed dream homes.
"It's a great idea that's been around for a long time, but no one has really cracked it," Disney said.
But with the housing market showing inklings of a recovery, earlier this year The Times reported on another prefab design: the C6, touted as an affordable modern offering from the Santa Monica company LivingHomes. For its part, Blu Homes has moved its manufacturing facility from Massachusetts to Vallejo, Calif., and raised $37.5 million in capital investment to continue preaching the prefab gospel.
Houses constructed in a factory, transported by truck, craned into place and bolted together have long promised reduced construction waste, faster completion time, better quality control and limited exposure to the elements (and thus less threat of mold and weather-weakened materials). What has changed to make Disney believe that Blu can succeed in a way that others have not?
First, timing.
"The downturn in the market created opportunity," Disney said, adding that a backlash against overly large, inefficient and costly McMansions has spurred many people to consider the merits of more modest, scaled-down, efficient homes.
"There are all sorts of sociological studies that show people don't feel comfortable in big open spaces," he said, laughing. "Seriously, it's more rational to live in manageable spaces — less distance to walk from room to room, less cleaning, less energy. It just makes more sense."
The Joshua Tree house also stands apart in that it's built of steel-framed modules that can fold for transport and unfold on site. The proprietary design means the company can expand the envelope of the building, allowing for wider and taller rooms to be transported on standard shipping-container trucks.
"The ceiling height is substantially higher, and there are a lot of windows, so it feels large, bright and airy," Disney said. "The Blu homes are relatively small, but the ceiling height changes one's perception of space."
Blu has seven architectural models, each available in different sizes and configurations, with a palette of fixtures and finishes. Prices for design consultation, construction and installation start at $125,000 for a 450-square-foot studio with fully equipped kitchen and bathroom, and rise to more than $500,000 for a 2,700-square-foot house with four bedrooms and three bathrooms — fixtures and appliances included.
The Joshua Tree house won't be for everyone. It uses Blu Homes' most modest modules, 18-foot-wide boxes with tight bedrooms and even tighter bathrooms.
But during a walk-through last week, Blu Homes West Coast Project Manager Jeffrey Morter pointed out features that might appeal to the modern home buyer: abundant windows connecting to the landscape, glass doors equipped with sliding cedar-slat shades, radiant-heat bamboo flooring, ash kitchen cabinetry.
What may finally sell prospective buyers, a Blu spokeswoman said, is fixed pricing. Whereas traditional construction takes three times as long and costs twice as much as originally expected, the adage goes, Blu prefab buyers are quoted a number that won't change. Construction cost overruns, she said, are extremely rare when building in a controlled environment with set materials and work crew.
Those who head out to the high desert for a peek may be intrigued not only by the house but also by its site in Joshua Tree. "It's this amazing combination of extremely remote and yet accessible," Disney said — a seemingly unattainable combination that echoes the challenges of prefab itself.
FOR THE RECORD: As the story states, a line of prefab houses branded with the Dwell name stopped production in 2008. That line was the Dwell Homes by Empyrean. Dwell has since established partnerships that include licensing agreements with four other firms: Lindal Cedar Homes, Turkel Design, Marmol Radziner and Proto Homes. Specific designs from those firms have been approved by Dwell to be marketed as the Dwell Homes Collection.

---