5 Hidden Gems: 'Queer Eye' designer Bobby Berk takes us shopping
The binge-worthy and Emmy-nominated Netflix series "Queer Eye" features a five-man team that facilitates life-changing makeovers for the style-challenged and includes Los Angeles-based interior designer Bobby Berk who channels his super power for transforming lives and living spaces from ugh! to OMG! in every episode.
Recently, on a rare break from filming and promotional tours, Berk (a former retailer himself) took us on a shopping safari to five of his favorite hidden gems — the go-to Los Angeles stores he counts on for inspiration, personality and design:
Quirky, outrageous
First stop, the quirky, South La Brea landmark Nick Metropolis Collectibles. From the street, a jumbled, outrageous assortment of giant marquee letters, oversize puppets, mannequins, mirrors, found fixtures and furnishings beckons intrepid shoppers. Merchandise is for sale or rent. Set designers are regulars. Vibe: Instagram catnip.
Berk likes to browse before brunch Sundays. "The great thing about this place is you never really come here for anything but you always find amazing things."
His advice: "Approach shopping here with an open mind, with curiosity, almost as if you are coming on a treasure hunt.
"To me, when you decorate your home with just one store it looks like that — it looks like a catalog … so I love coming to places like this and getting unique pieces that literally nobody else has … it makes it personal — and makes it more you."
Nick Metropolis Collectibles, 100 S. La Brea Ave., Los Angeles. (323) 934-3700.
Elegantly edited
A few blocks away and a world apart, we enter Galerie Half, an elegantly edited, loft-like space that showcases an assortment of vintage art and furnishings from around the world. The vibe is cool, quiet, tasteful — and high-end. A perfectly paint spattered work bench, midcentury ceramics, Arne Jacobsen Egg chair, unframed oils on canvas, and a rustic, wooden table plucked from a farmhouse three hours outside of Paris are on display during our visit. A-listers with an entourage in tow would not look out of place.
"What I love about this place is it's very much my personal style," Berk said. "It's very masculine, it's a mixture of iconic midcentury pieces, plus very eclectic, global pieces… things that are clearly handmade and probably one of a kind.
"All the art here is unique. It's not mass produced art; it's either one of a kind or limited edition photography. … There's nothing wrong with [mass-market] stores, there's a time and a place for them, but if you really want to elevate your space … this is the type of place I like to come to."
Galerie Half, 6911 Melrose Ave., Los Angeles. (323) 424-3866. galeriehalf.com
Playfully chic
Across the street from Galerie Half, Consort offers upscale, contemporary home furnishing and design that co-founder and development director Brandon Quattrone describes as playfully chic: "We love funky and modern, but we also like to be classic and cool. We're trying to be timeless but also a little bit irreverent and fun."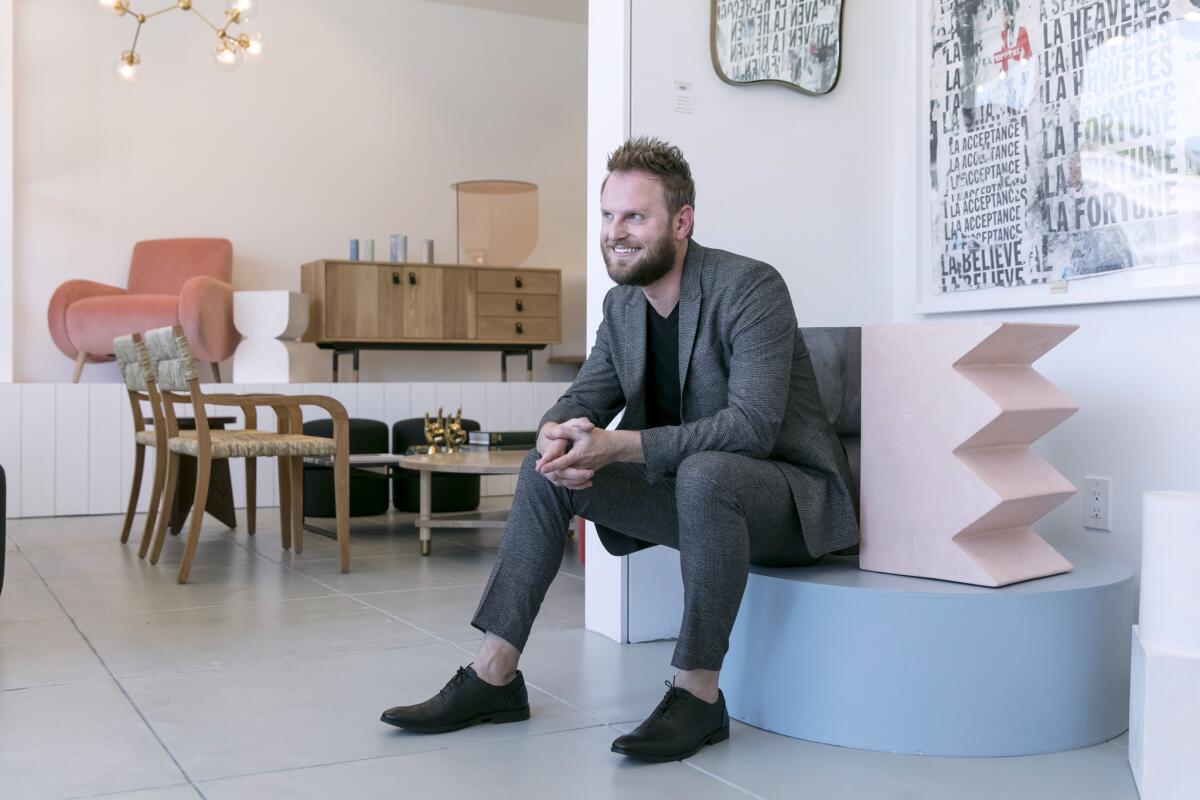 Berk comes to Consort when he is working with a higher budget. "I know I can come here and get really unique furniture … so if clients have the budget for really high-quality, custom furniture they're not going to find anywhere else, it's here. What I love about Consort is they carry other brands, but for the most part all their upholstery and case goods (think: furniture made from materials like wood, glass, metal) are their own in-house designs."
Should the designer bent intimidate an average shopper? "I don't think so," Berk said. "It's not crazy expensive; you're just paying for what you get. … They use really high-quality fabrics, materials, woods ... it's worth it."
No-frills shopping adventure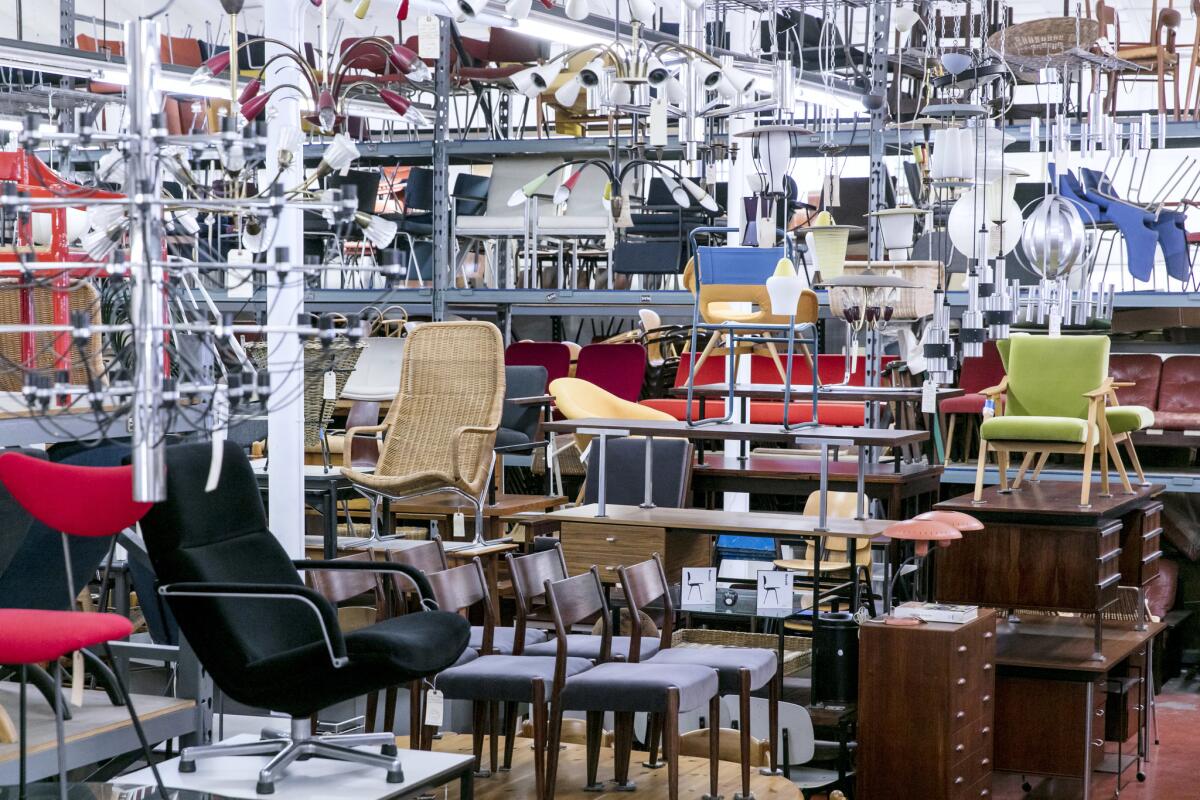 If you head downtown you'll find Amsterdam Modern, a 10,000-square foot shopping destination sandwiched between commercial warehouses that features authentic, Midcentury Modern furniture, decor and lighting found in Holland and shipped from Amsterdam. It's a no-frills shopping adventure with an insider feel, and although most of the store's business consists of set designers and trade professionals, the public is also welcome.
"I like going into places that you never know what you're going to find," Berk said, "because you can go in with no ideas and leave with thousands."
Berk said the merchandise that fills the cavernous, well-organized space is gently used and authentic, "they don't do a lot of replicas… I don't find that here often, if ever."
Cool, tasteful, masculine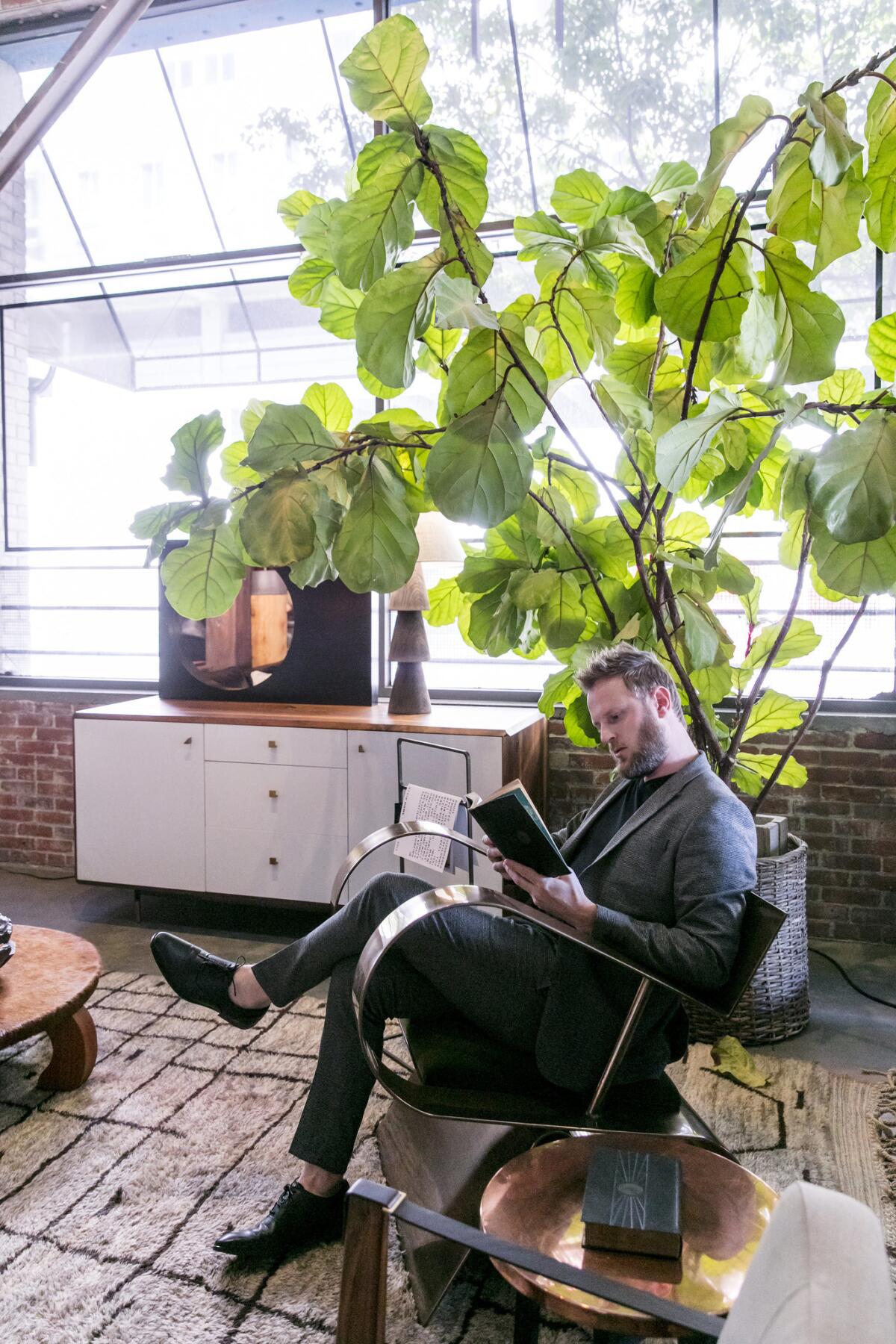 Located in a historic brick building in the downtown Los Angeles Arts District, the moody, sexy-chic interior of Hammer and Spear could easily be mistaken for a well-appointed hipster pub — and often is. "At least twice a day, somebody walks in and says, 'Oh, I thought you were a bar,'" said the store's owner, interior designer Kristan Cunningham. But it is contemporary designers, and specifically Arts District artists and craftspeople — not cocktails — the space serves so well.
"If you're looking for a descriptive word," said Cunningham of the store she and her co-owner, husband Scott Jarrell, have curated to include both new and vintage merchandise, "everybody's first word is masculine."
"I like this store because it's not just about coming to shop for your home necessarily," said Berk. "It's a great place to come and get gifts when you're walking around the Arts District…and they also have a great body care line, home accessories and kitchen accessories… it's a cool store. Everything was done very tastefully."
Bonnie McCarthy contributes to the Los Angeles Times as a home and lifestyle design writer. She enjoys scouting for directional trends and reporting on what's new and next. Follow her on Twitter @ThsAmericanHome
ALSO
How designer Nate Berkus blended old and new in his L.A. kitchen remodel
They found a real estate unicorn: A house with great 'bones,' ready for decorating
Get our L.A. Goes Out newsletter, with the week's best events, to help you explore and experience our city.
You may occasionally receive promotional content from the Los Angeles Times.