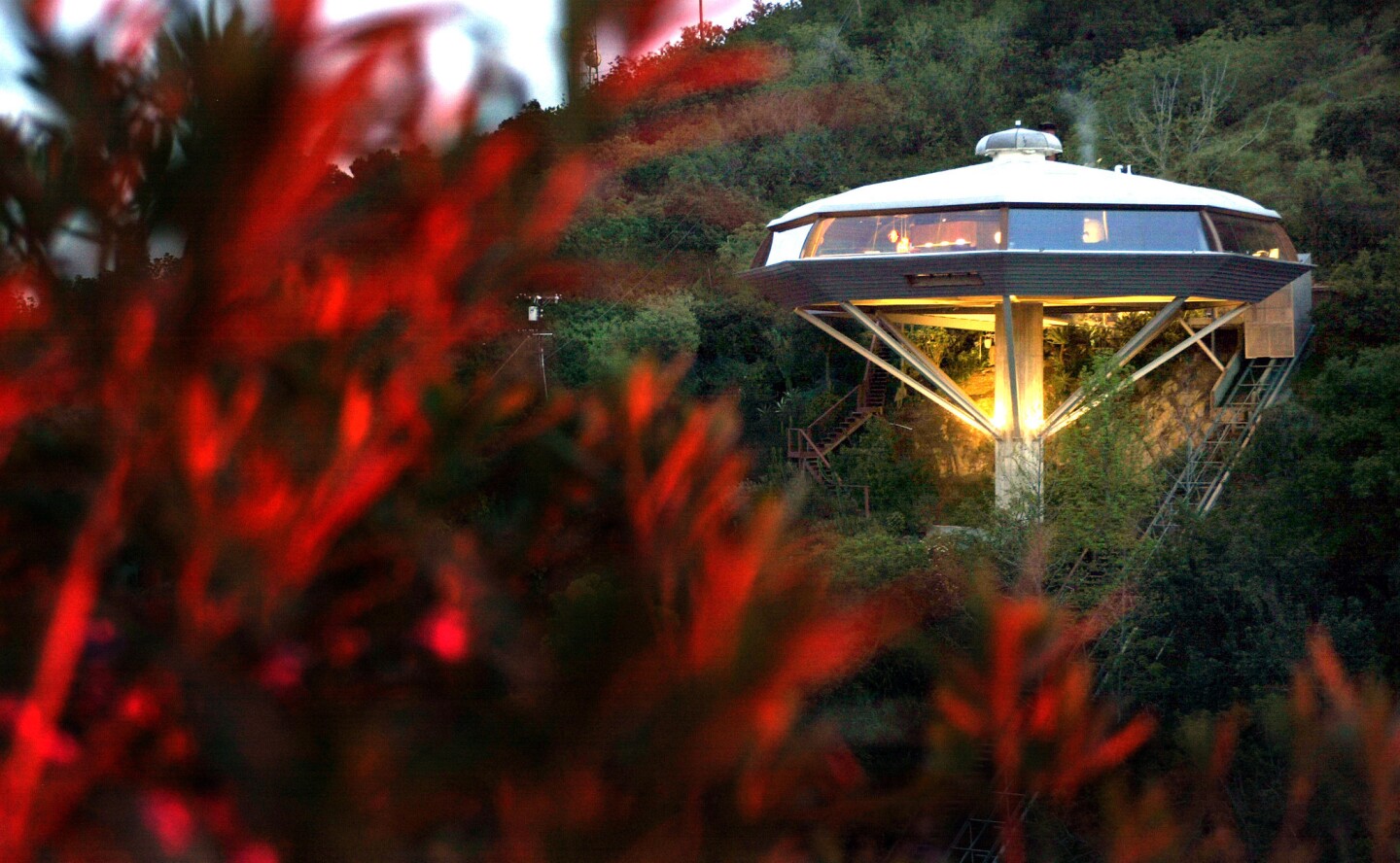 15 Images
The architecture of John Lautner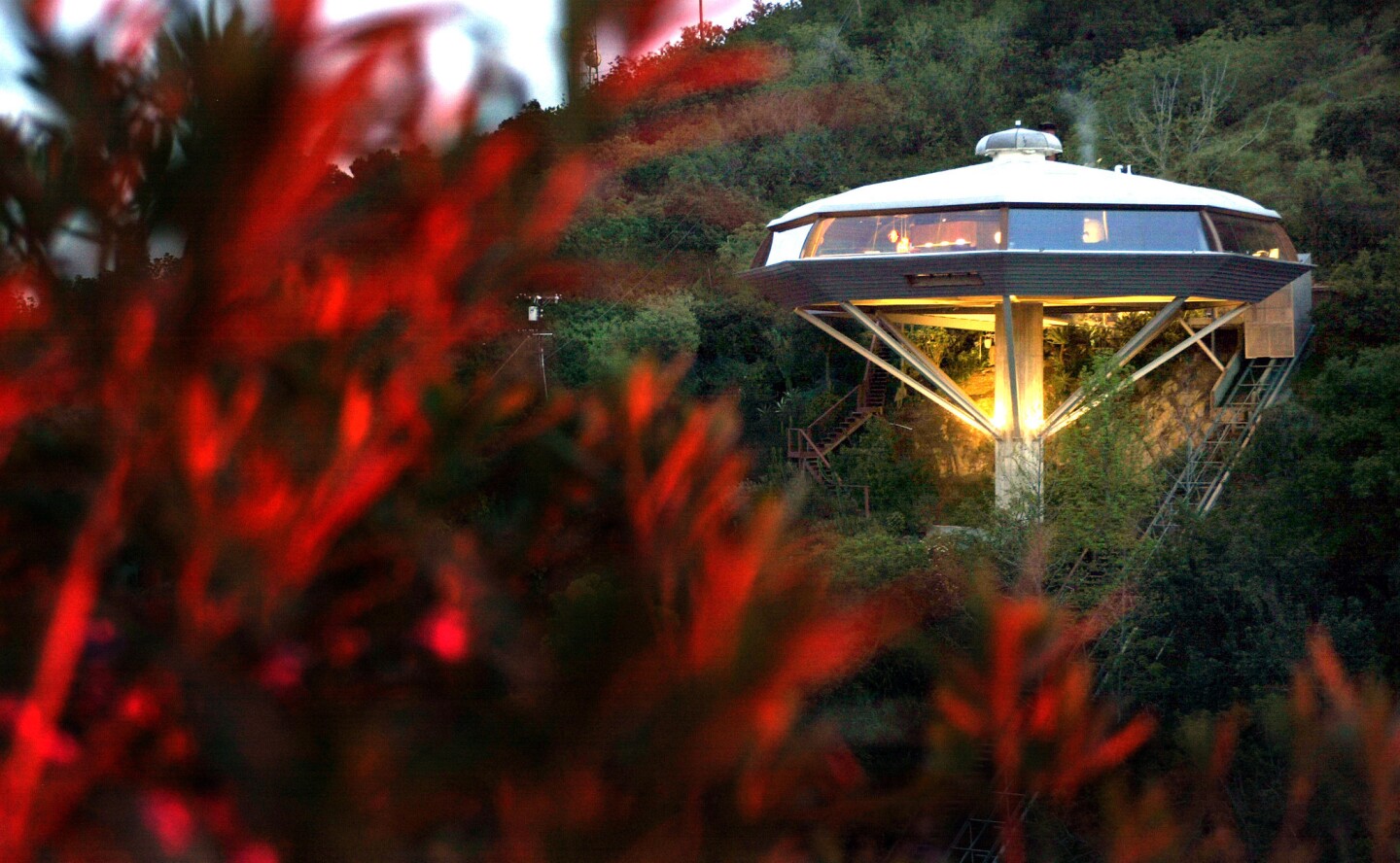 John Lautner's 1960 Chemosphere, shown here, originally derided by some critics as a silly fantasy.
(Ken Hively / Los Angeles Times)
The landmark Chemosphere home in the Hollywood Hills and its owner, publisher Benedikt Taschen, were profiled in a 2005 Home cover story. "What was great about Lautner is that he had this dualism about nature and the city," Taschen said at the time, noting that one side of the house was "pure nature," with skunks, bobcats, coyotes and deer, while the other side was "pure city," the vast San Fernando Valley.
(Ken Hively / Los Angeles Times)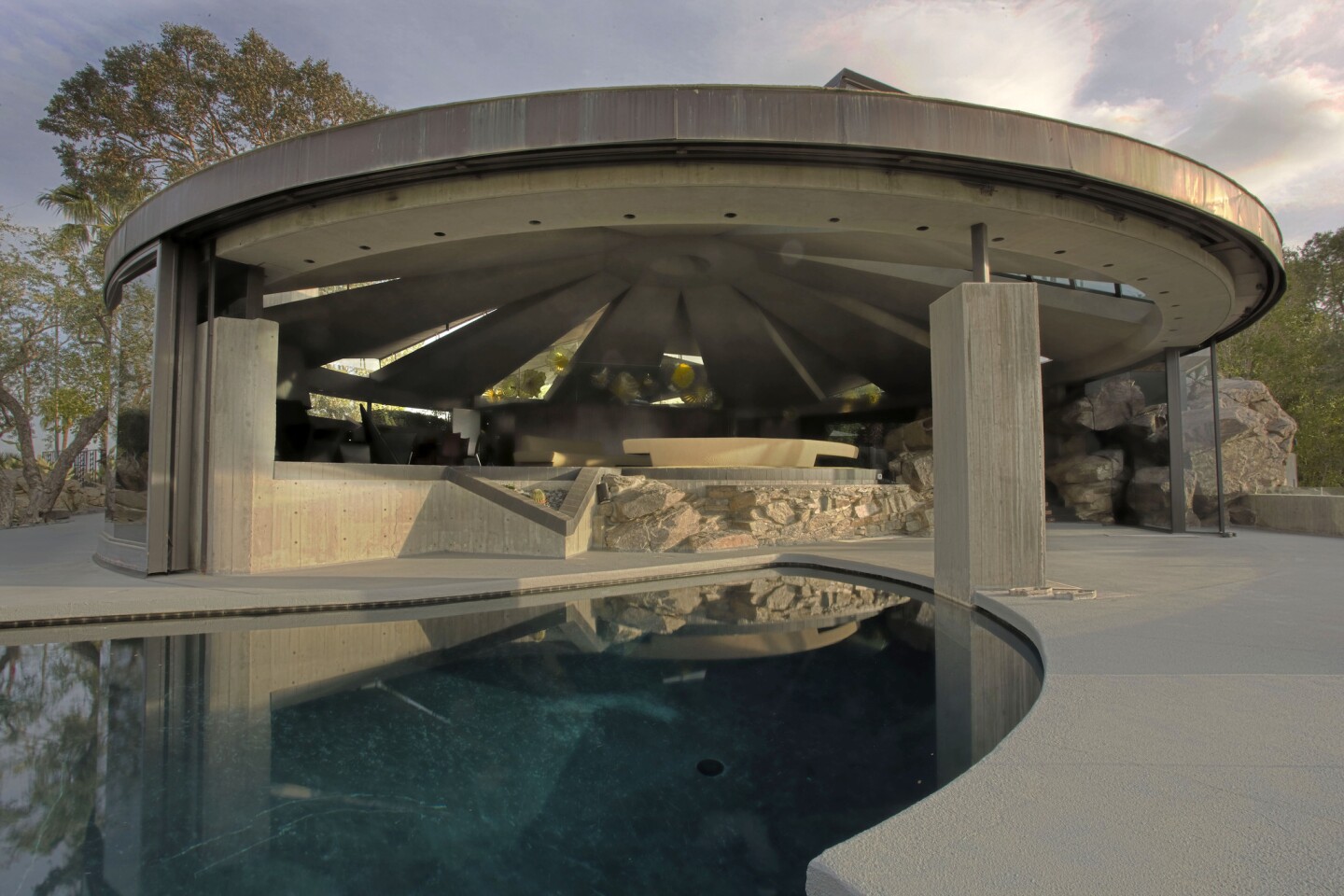 Exterior of the Elrod house in Palm Springs is one of John Lautner's most famed commissions, partly because of its appearance in the James Bond film "Diamonds Are Forever."
(Joshua White / Joshua White)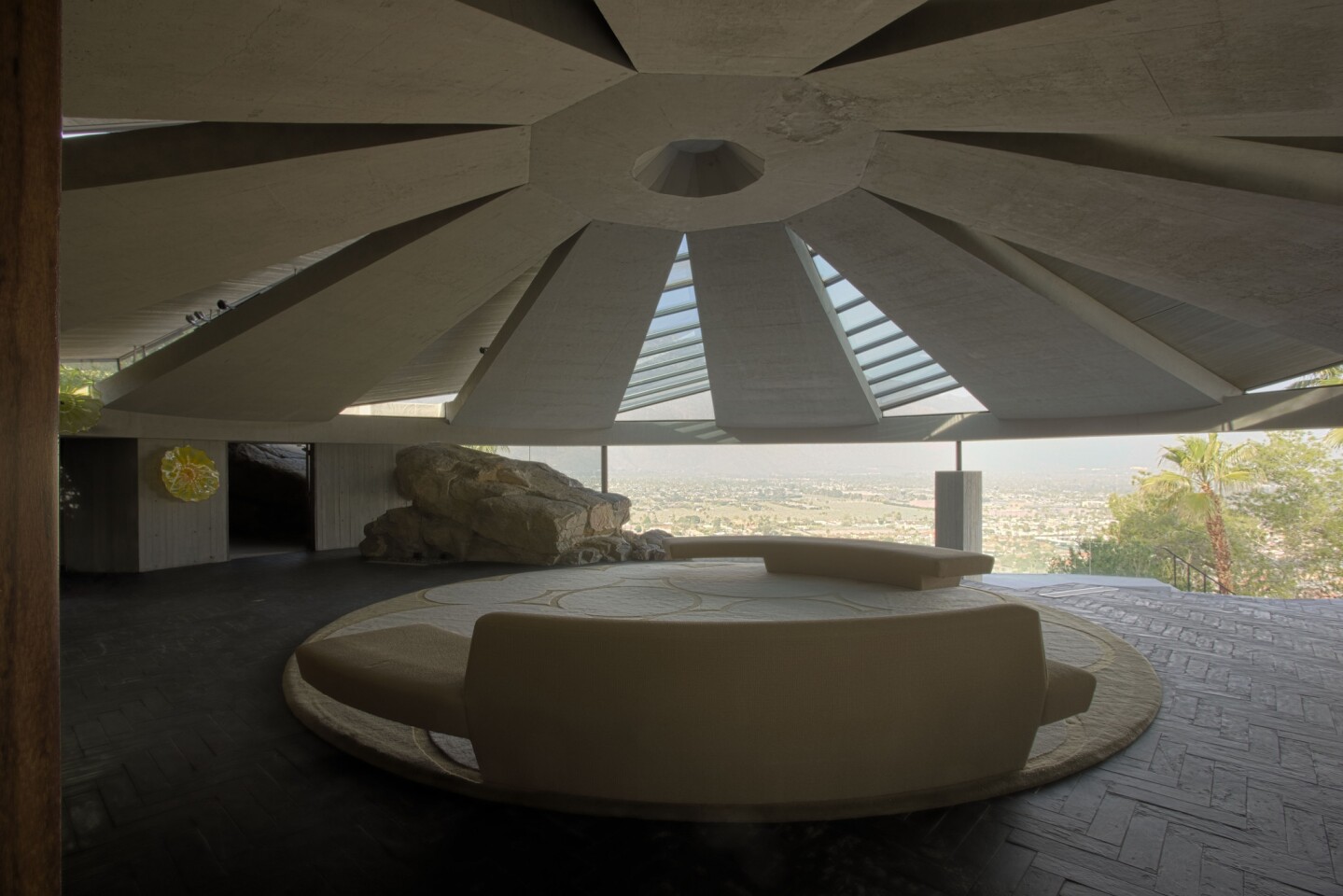 Glass fills the voids in the Elrod house's circular concrete roof, and boulders found on site were incorporated into the living room.
(Joshua White / Joshua White)
One of Lautner's grandest designs rose above Acapulco Bay in Mexico, where in 1973 the architect built a 25,000-square-foot home that seemed to float above the water. The Arango residence, also called Marbrisa, included an expansive open-air terrace with bedrooms on the level below.
(Sara Sackner / Sara Sackner)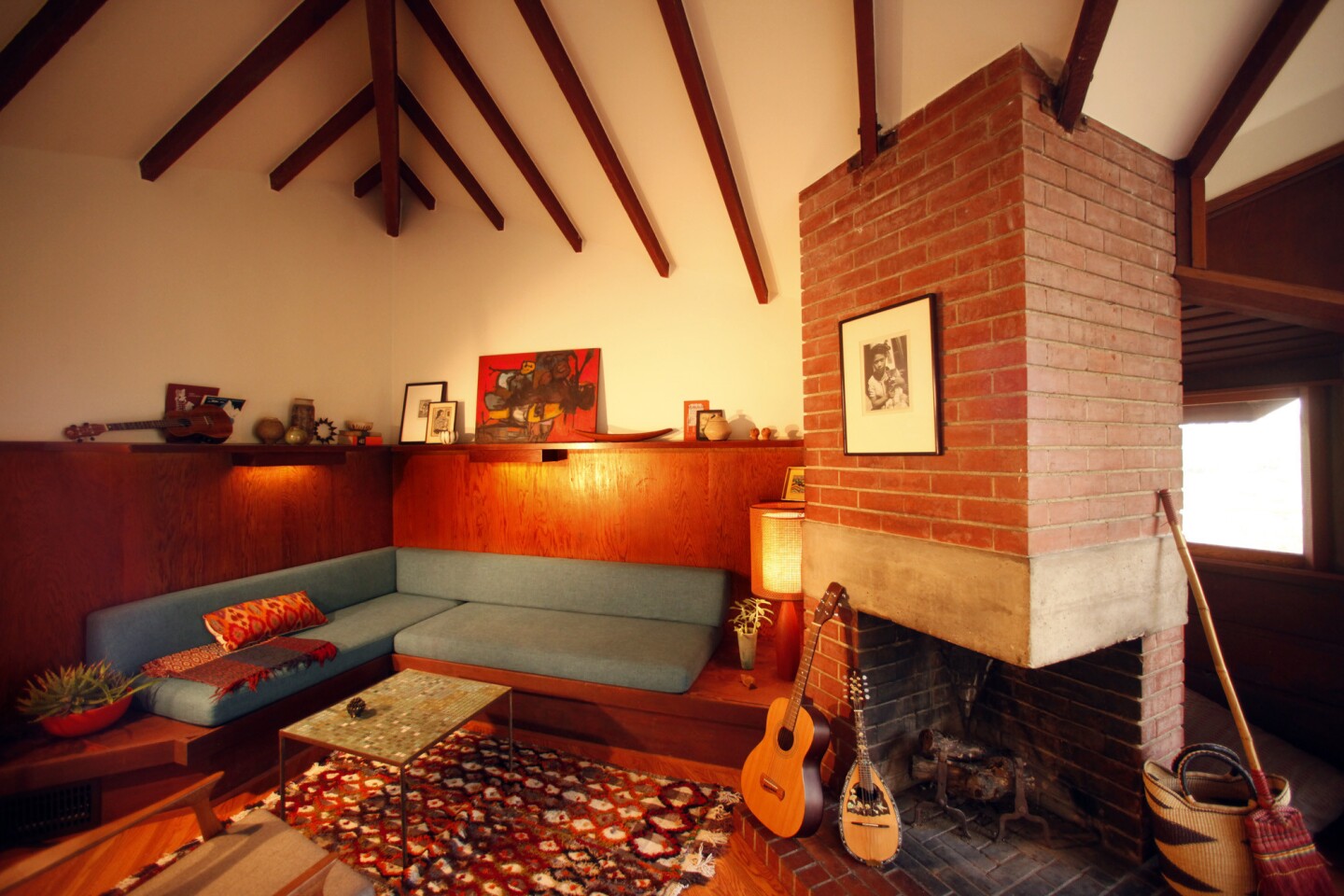 The living room of a 1938 guest house Lautner designed in Echo Park features a built-in sofa, fireplace and vaulted ceilings. Full story here.
(Genaro Molina / Los Angeles Times)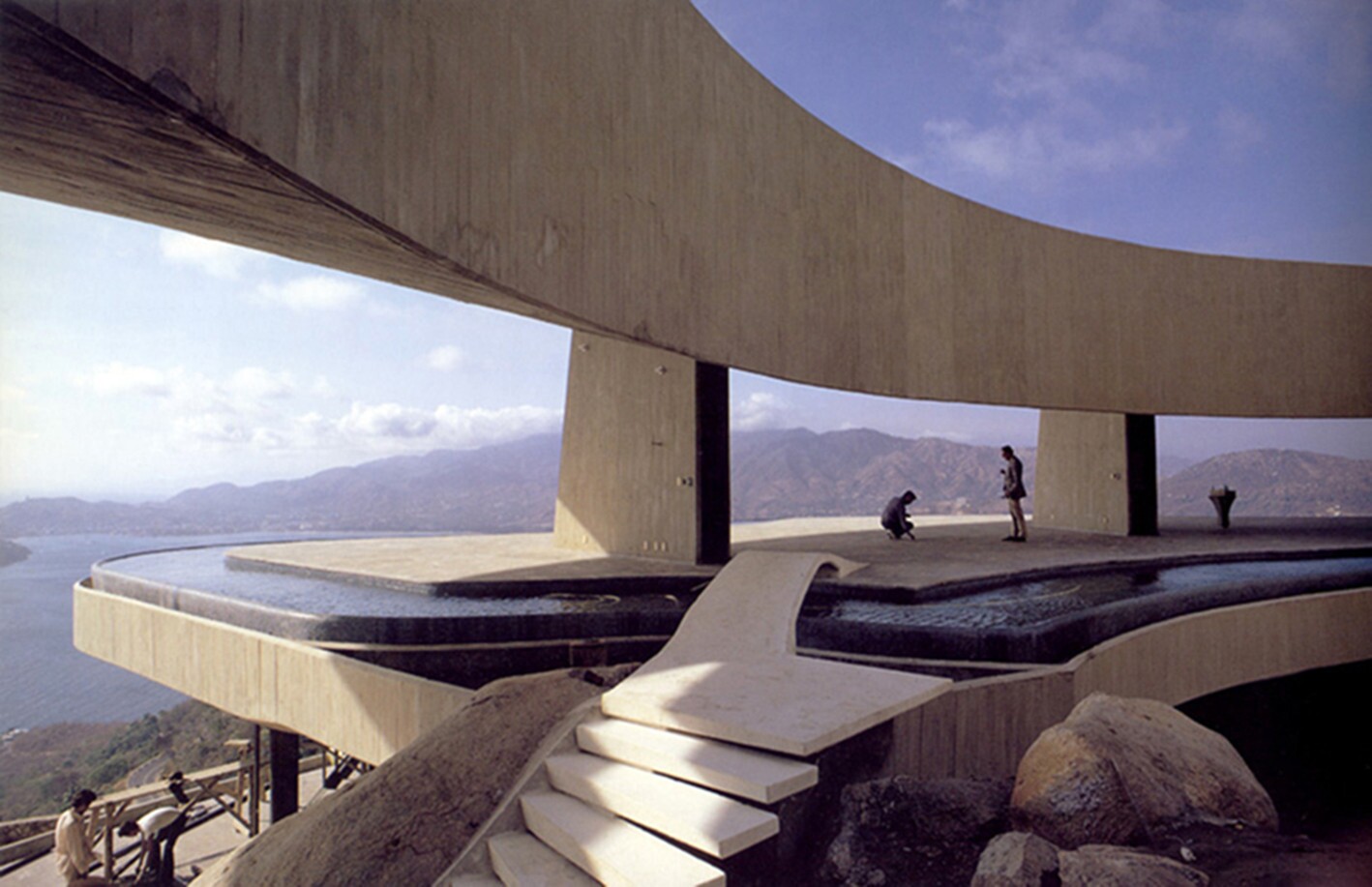 The Marbrisa design called for a swimmable moat in lieu of unsightly safety railings. Anyone who accidentally stepped beyond the terrace's edge, the architect reasoned, would simply fall into the channel.
()
In 1957, Lautner built the Pearlman Mountain Cabin using tree trunks as posts between panels of glass.
(Joshua White)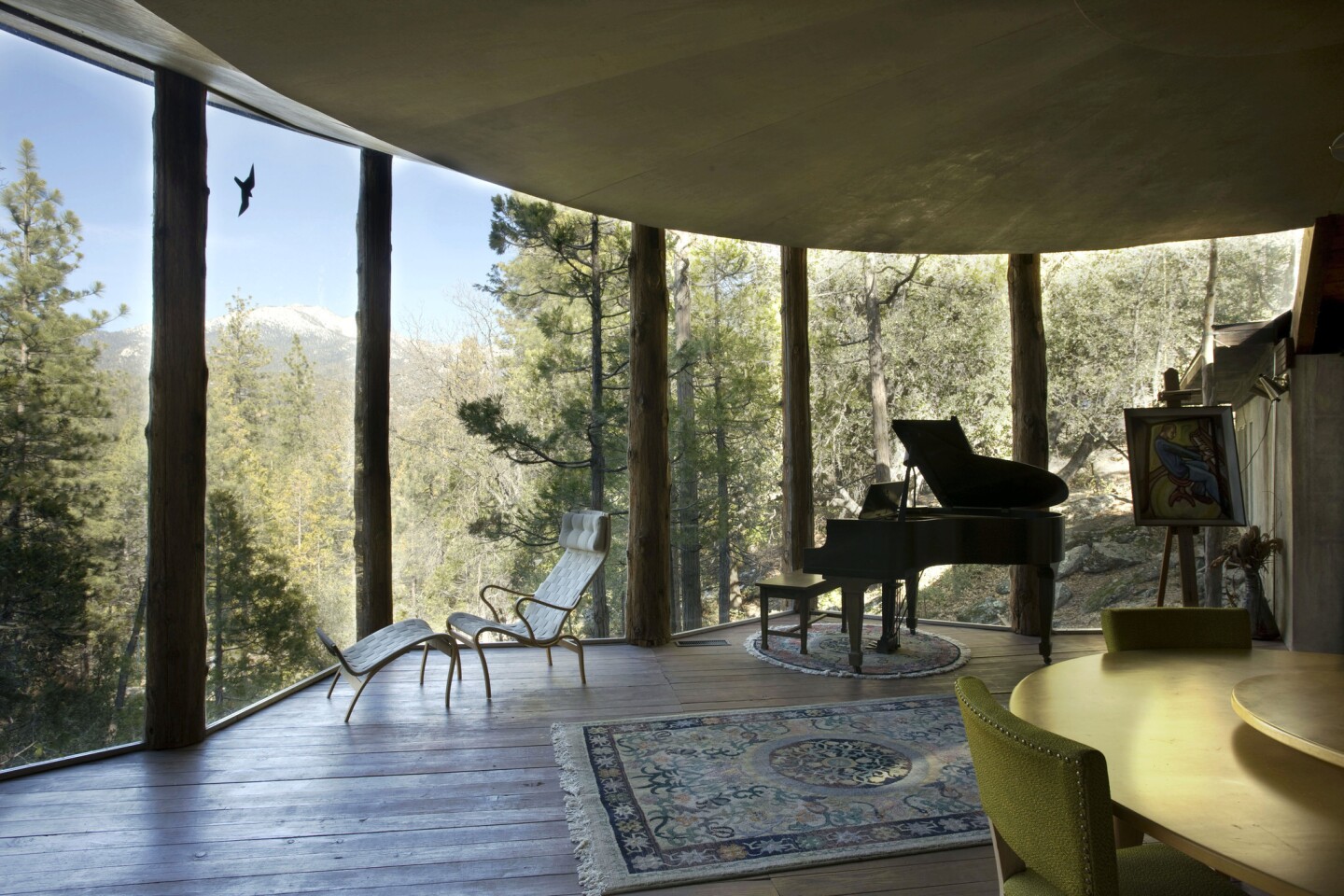 The view from the Pearlman living room: Tree trunks fade into the surrounding landscape. Historian Nicholas Olsberg says that Lautner did not initially focus on what a house would look like from the outside. Rather, he began with the spatial experience of the person living inside. "Lautner thought from the inside out — not just from the inside of the house, but from the inside of your head, to the world beyond."
(Joshua White)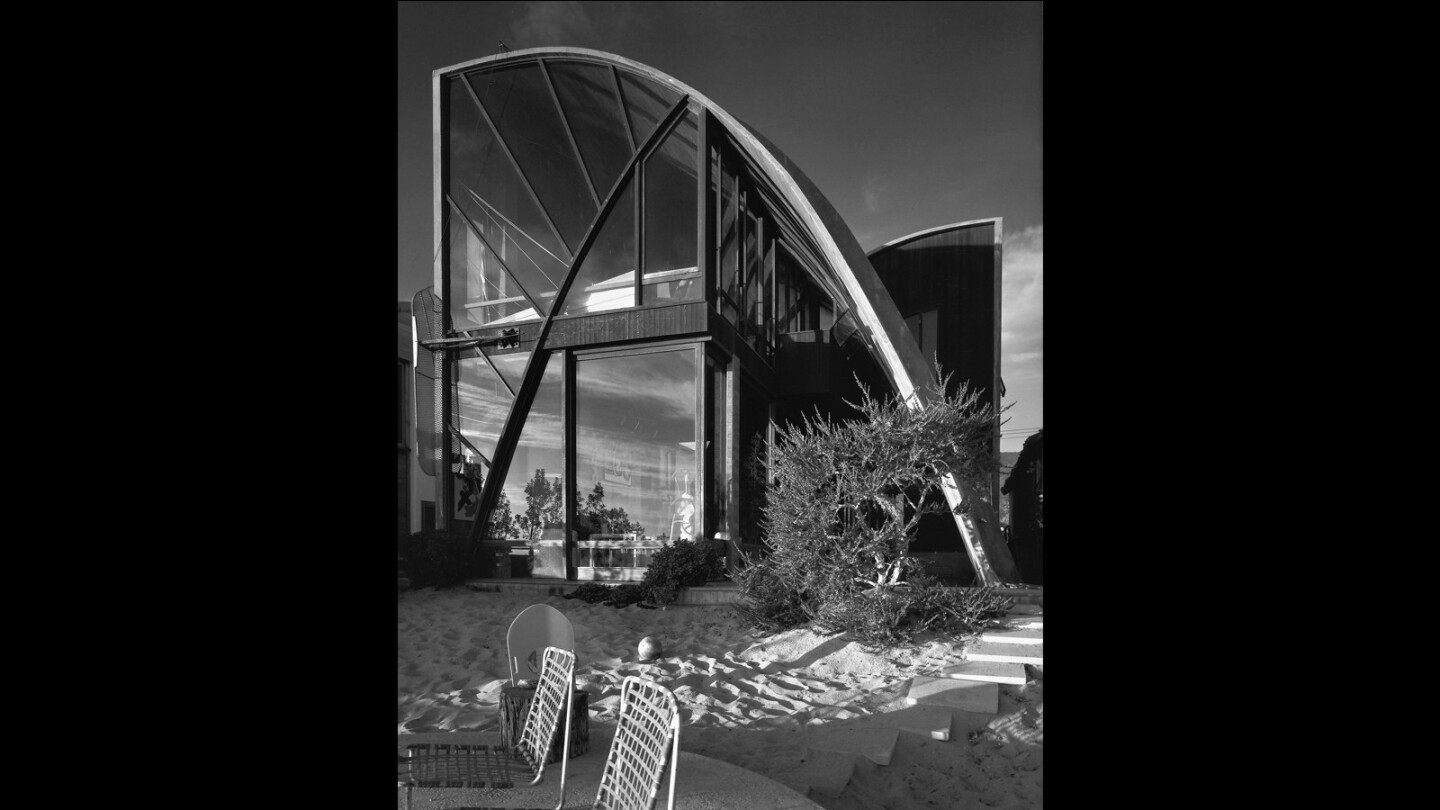 The Stevens house in Malibu is composed of complementary arcs intended to maximize light and air inside. Lautner's goal, Olsberg says, was "to give you a sense of the natural world that you couldn't have any other way than by living in this space every day."
(Julius Shulman / Getty Research Institute)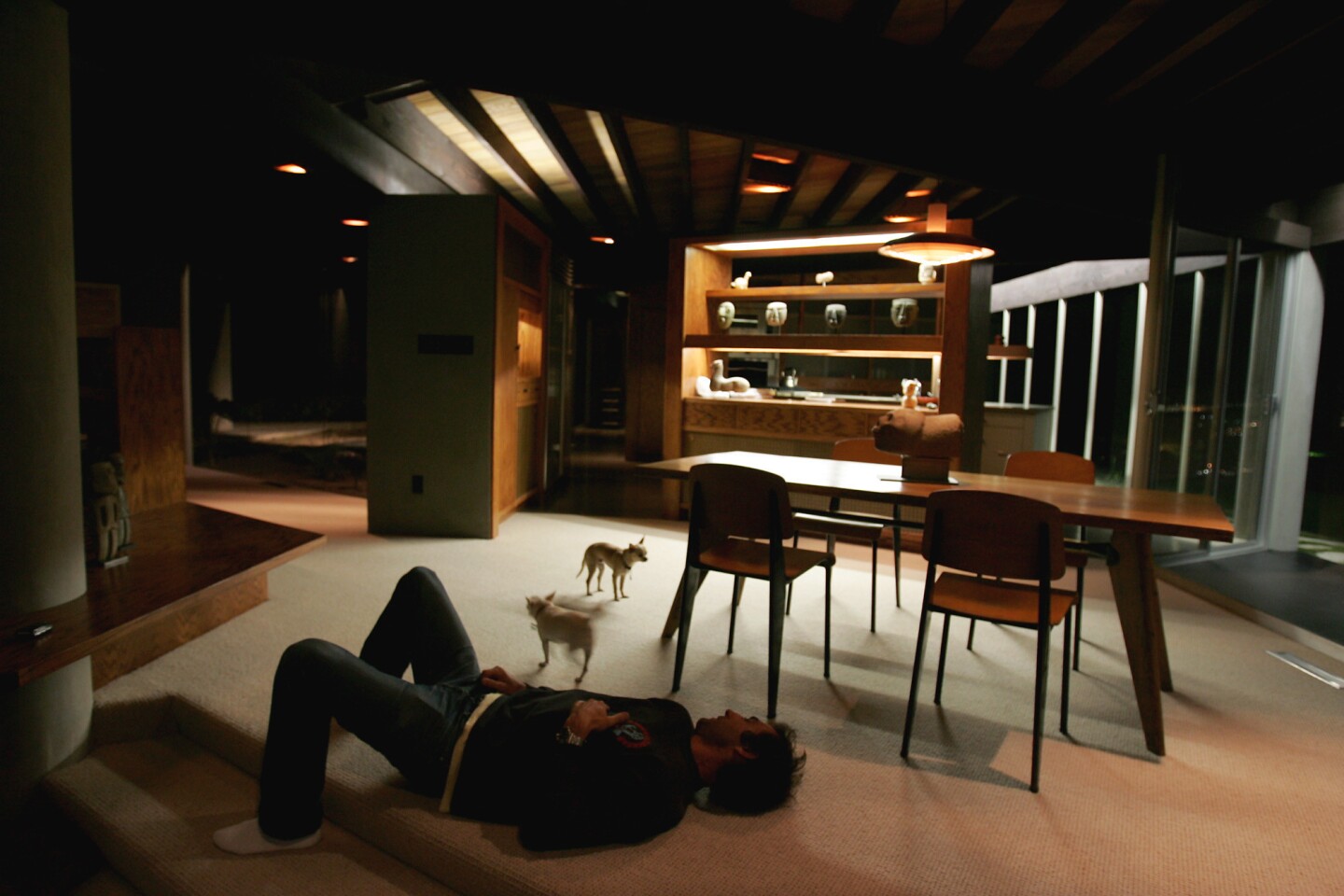 The dining area of John Lautner's Harpel house in the Hollywood Hills. Full gallery here.
(Gary Friedman / Los Angeles Times)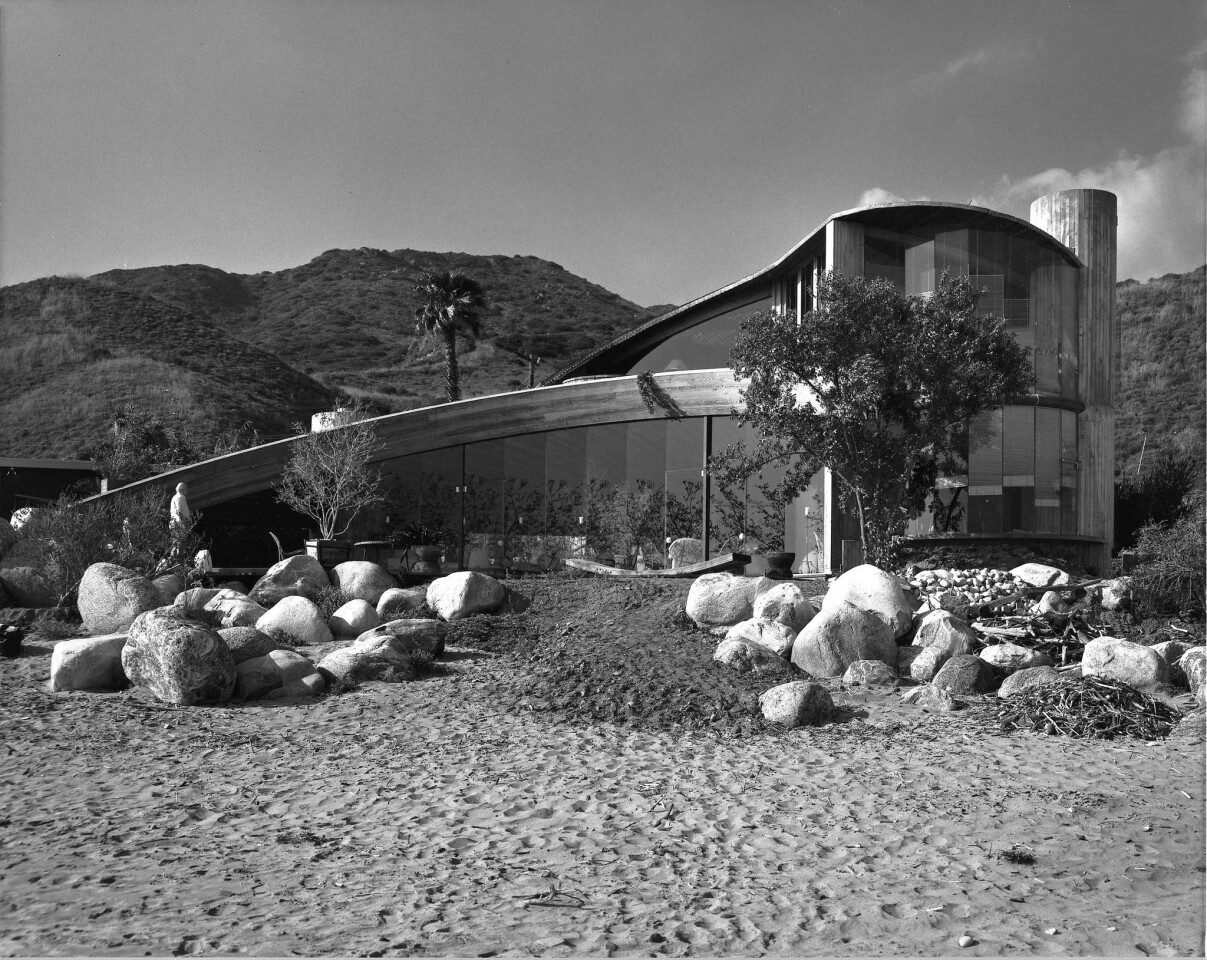 Lautner saw his Segel house in Malibu as a breakthrough — a space that felt safe and secure but that still opened up to the changing scenery outside. Owners have included Courteney Cox and David Arquette and, currently, Dodgers owner Frank McCourt and his wife, Jamie.
(Julius Shulman / Julius Shulman/Getty Research In)
Fixed arcs of concrete frame views that are ever-changing. Original owner Joann Segel, a dance therapist, likened the effect to staying on the ground and flying at the same time.
(Julius Shulman / Getty Research Institute)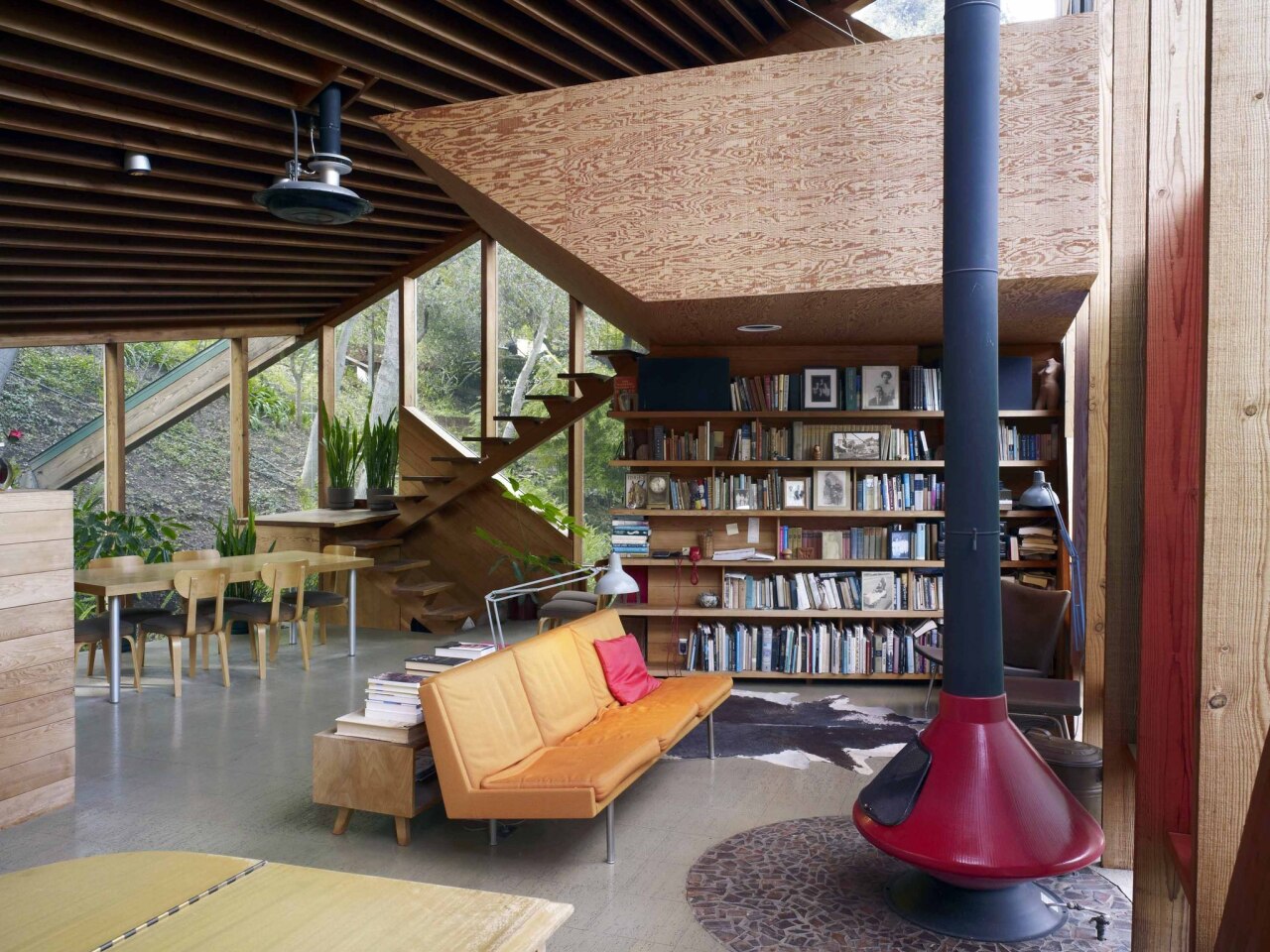 When asked to pick an L.A. house that most embodies Lautner's legacy today, historian Olsberg cites the 1969 Walstrom house, which lacks the grandeur of many Lautner commissions but is no less breathtaking. "Once you sit in a chair, you find so much to look at all day long that you might not want to leave it," Olsberg says. "It's a lovely house because it has not been glamorized, as some Lautners have become. The Walstrom still has the carefully made rough edges that Lautner was interested in. It still feels like the place he made."
(Joshua White / Joshua White)
A 1998 photo of James Goldstein in his Century City office designed by John Lautner.
(Perry C. Riddle / Los Angeles Times)