Must Reads: They ditched pricey home ownership for a small house on wheels — and they love it
The Living Vehicle, which is designed to be a permanent residence, on the go at Cabrillo Beach in Santa Barbara.
(Ricardo DeAratanha / Los Angeles Times)
Architect Matthew Hofmann, 34, inside the Living Vehicle he designed. The sleeperbed comes down from the ceiling to accommodate his wife, Joanna, 30. The couple travel and work remotely from the Living Vehicle.
(Ricardo DeAratanha / Los Angeles Times)
Joanna Hofmann prepares a cup of tea in the kitchen.
(Ricardo DeAratanha / Los Angeles Times)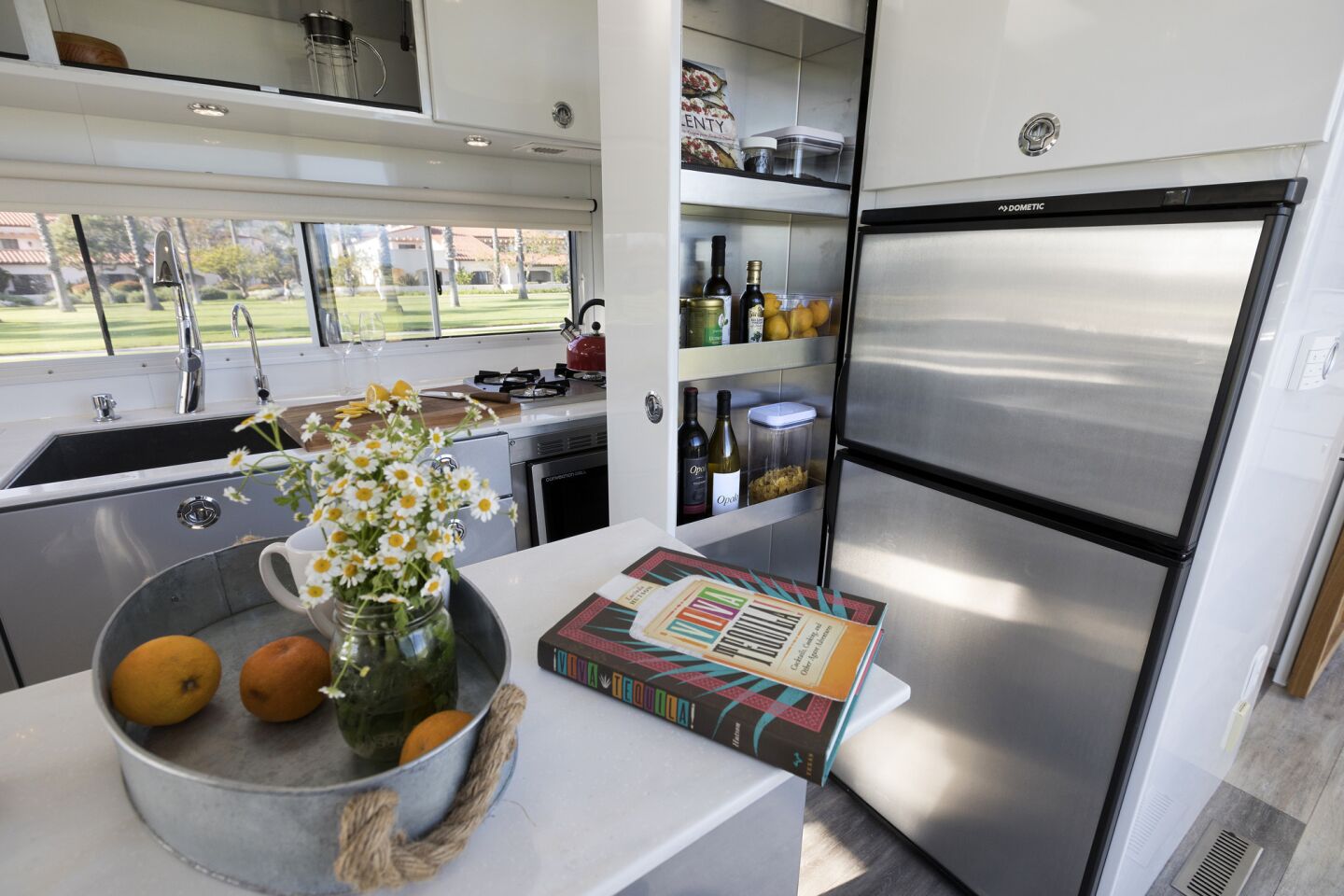 A view of the kitchen, with the pantry pulled out. The Living Vehicle, as shown, costs about $149,000 and can be hauled with a full-size pickup truck. The latest model, the LV Travel Series, starts at $90,000 and will be available beginning in the fall.
(Ricardo DeAratanha / Los Angeles Times)
Overhead storage in the kitchen.
(Ricardo DeAratanha / Los Angeles Times)
The interiors feature natural light, a full bathroom, high-end amenities and a washer and dryer.
(Ricardo DeAratanha / Los Angeles Times)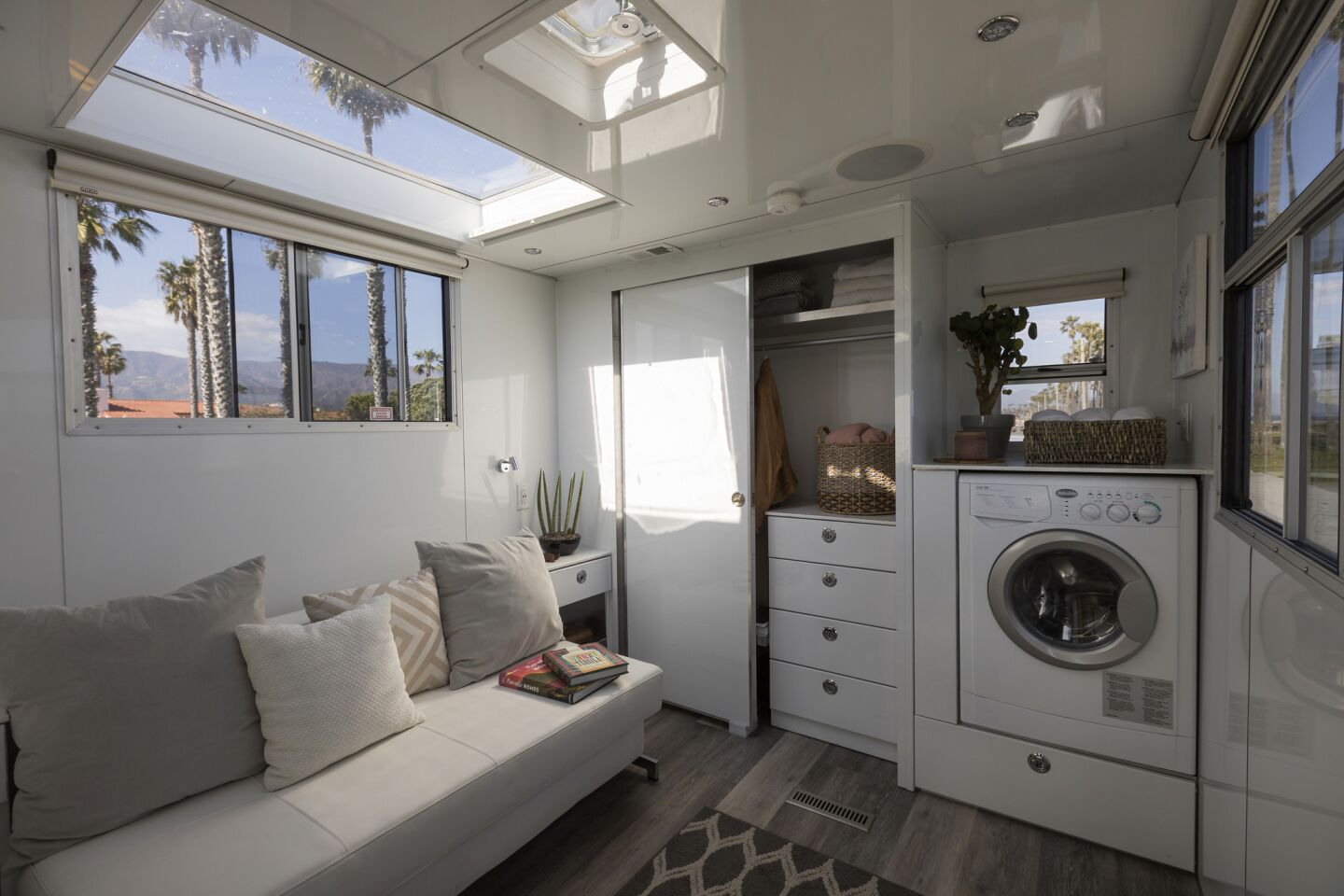 A washing machine, closet and a queen-sized sofa sleeper in the master bedroom.
(Ricardo DeAratanha / Los Angeles Times)
Matthew Hofmann and wife Joanna enjoy the retractable deck on the Living Vehicle at Cabrillo Beach. They divide their time between a boat in the harbor and the Living Vehicle.
(Ricardo DeAratanha / Los Angeles Times)
Architect Matthew Hofmann says he designed the Living Vehicle for people who want to live better, travel and don't want to be tied to the demands of a home.
(Ricardo DeAratanha / Los Angeles Times)
For Heidi Hansing, the last three years felt as if she were moving backward.
"Nothing in my life was what it seemed," Hansing says of her divorce after 22 years of marriage. "Everything had changed."
For 30 years, Hansing had served others, beginning in the Army when she was 17. Later, she raised a family and served as a city council member in League City, Texas.
She was on the verge of becoming an empty nester.
"I didn't want to rattle around my house like the half of a former whole," Hansing says. "I thought, 'What does Heidi want out of life?'"
Traveling was at the top of her list. She looked at where she wanted to be — traveling to the Blue Ridge Parkway, Crater Lake and Key West — and "backwards planned" from there: She sold her four-bedroom dream home, made a commitment to living small, put her memorabilia in storage and bought a Living Vehicle from Santa Barbara-based architect Matthew Hofmann.
Hofmann was a popular vendor at the annual Dwell on Design trade show held in April in downtown Los Angeles. Visitors were transfixed by the idea of sidestepping crippling real estate and rents in Los Angeles and elsewhere in California, others dreamed of opting for a simpler life, or satisfying their wanderlust. We chatted with three of Hofmann's customers about their decisions to do just that, as part of a new series about how the definition of "home" is changing in the increasingly expensive Golden State.
After updating more than 400 vintage Airstreams for clients and living in mobile spaces himself for a decade, Hofmann, 34, knew a lot about small-space living.
And in an age of housing shortages and skyrocketing home prices, Hofmann saw an opportunity to design a 21st century mobile home that was less about recreation and more about function.
"Every time people use an RV for a living space it's a compromise," Hofmann says. "I wanted to create something that resembles a home. The Living Vehicle is built from the ground up for full-time living."
Millennials tell us, 'I can be a homeowner.'
— --Santa Barbara-based architect Matthew Hofmann
Starting around $149,995, the Living Vehicle is made of steel and aluminum and can be towed with a full-size pickup truck. (The LV travel series, starting at $90,000, will debut in the fall). The custom vehicle can sleep six and comes equipped with modern amenities such as solar panels, Wi-Fi antenna, lithium batteries, an IOS operating system so it works with your iPhone, a spa-style shower and self-supporting deck.
The interiors are intentionally light and bright with white walls, skylights and windows to avoid what Hofmann calls "a tin can vibe." Looking ahead, he hopes to create a net-zero vehicle that requires no fuel or utilities to function.
One big consideration for all three buyers, or anyone else interested in hitching up a home: Where to stash it, especially when you're on the move?
Such vehicles are typically parked in an RV park or on personal property, but some municipalities may not be so welcoming. Such considerations need to be thought out in advance — and doublechecked with local authorities. Hofmann advises customers to consult with the Bureau of Land Management's website, which lists free campsites that can be used for up to 14 days.
Hofmann has sold 15 vehicles in three months and thinks the interest demonstrates a shift in how people want to live.
"People used to value a big house with two cars and two kids and those statistics required people to work all the time," says Hofmann, who splits his time between a boat in the Santa Barbara harbor and traveling in the Living Vehicle with wife Joanna, 30. "There is a major shift now, especially among millennials -- people are valuing experience and connection with other people over tangible things. Millenials tell us, 'I can be a homeowner.' "
For Lafayette, Calif.-based Jacqueline and Stewart Sweet, both 29, the Living Vehicle offers them the opportunity to work remotely while traveling throughout the country.
The couple is currently packing up their home to rent, and are preparing to drive their Living Vehicle to Washington state, where they have purchased a home.
"Our plans are to use Spokane as a jumping-off point," says Jacquelyn, a yoga instructor. "We like road trips and have always wanted to travel. In recognizing how easy it is to work remotely, we realized that downsizing may give us more opportunity."
The movable lifestyle clearly speaks to people, regardless of age. "It's about living simply with those you love," Hofmann says.
Petaluma residents Nicole and Yon Perullo, both 48, purchased their Living Vehicle while in the process of selling their home.
They had hoped to purchase another home, and use the Living Vehicle as an accessory dwelling unit, but couldn't find housing after the Sonoma County fires in October 2017.
The couple did an about-face and is now renting a 200-acre property in Oregon with plenty of room for their Living Vehicle, pets and daughter Eily, 8, and twins Wyatt and Nathaniel, 10.
"We don't know yet if we are staying," says Nicole, 48. "I love Sonoma. My heart is there. My friends and community are there. But the cost of living there is so high."
Nicole says they hope to use the Living Vehicle as an Airbnb in Oregon, and for family travel.
"I really want to travel with my children. I might take a year off and home school them," says Perullo. "We would like to go to Boulder. Or San Diego. Or to some of the state parks. I'm a stay-at-home mom. My husband is in finance. He can telecommute."
This kind of versatility in homeownership, however, is not without a learning curve.
"It's not easy being this free," says Hansing, who runs a skin care line from her phone and has lived in her Living Vehicle full time since December. "It's been humbling. I have to be knowledgeable about my trailer, which is super high tech. It is hard manual work. I joined a Cross Fit gym to prepare for traveling on the road. My body is bruised and sore, my hands hurt from setting up camp, loading, hitching. It's not glamorous. But when it's done, I'll pop a beer and think, 'I deserve this.' "
Her new life on the road — Hansing also spends a lot of time on her Harley-Davidson motorcycle — has taught her how to be flexible.
"I've been a planner all my life," Hansing says. "My plan now is to have no plan."
Twitter: @lisaboone19
For an easy way to follow the L.A. scene, bookmark L.A. at Home and join us on our Facebook page for home design, Instagram, Twitter and Pinterest.
ALSO:
Could granny flats help ease the state's housing crisis? Some advocates think so
An L.A. designer bought a trailer park home in Ojai and tricked it out. The results are stunning.
Architect Matthew Hofmann remodels Airstream into live-work space