A DTLA jewelry designer's studio and showroom get a shining makeover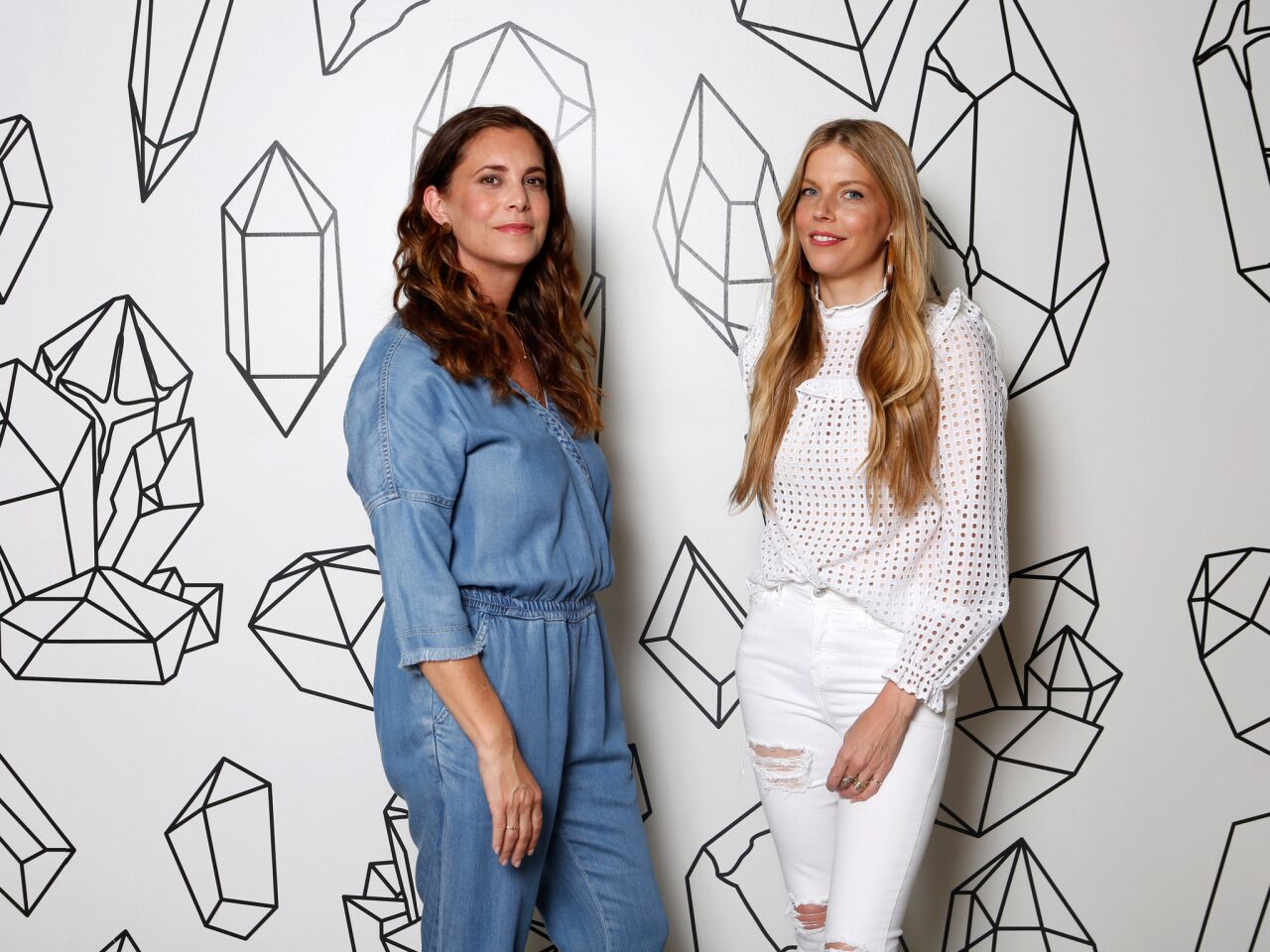 Jewelry designer Maya Brenner, left, and interior designer Sarah Sherman Samuel, in Brenner's Pershing Square studio and showroom, on which they collaborated.
(Katie Falkenberg / Los Angeles Times)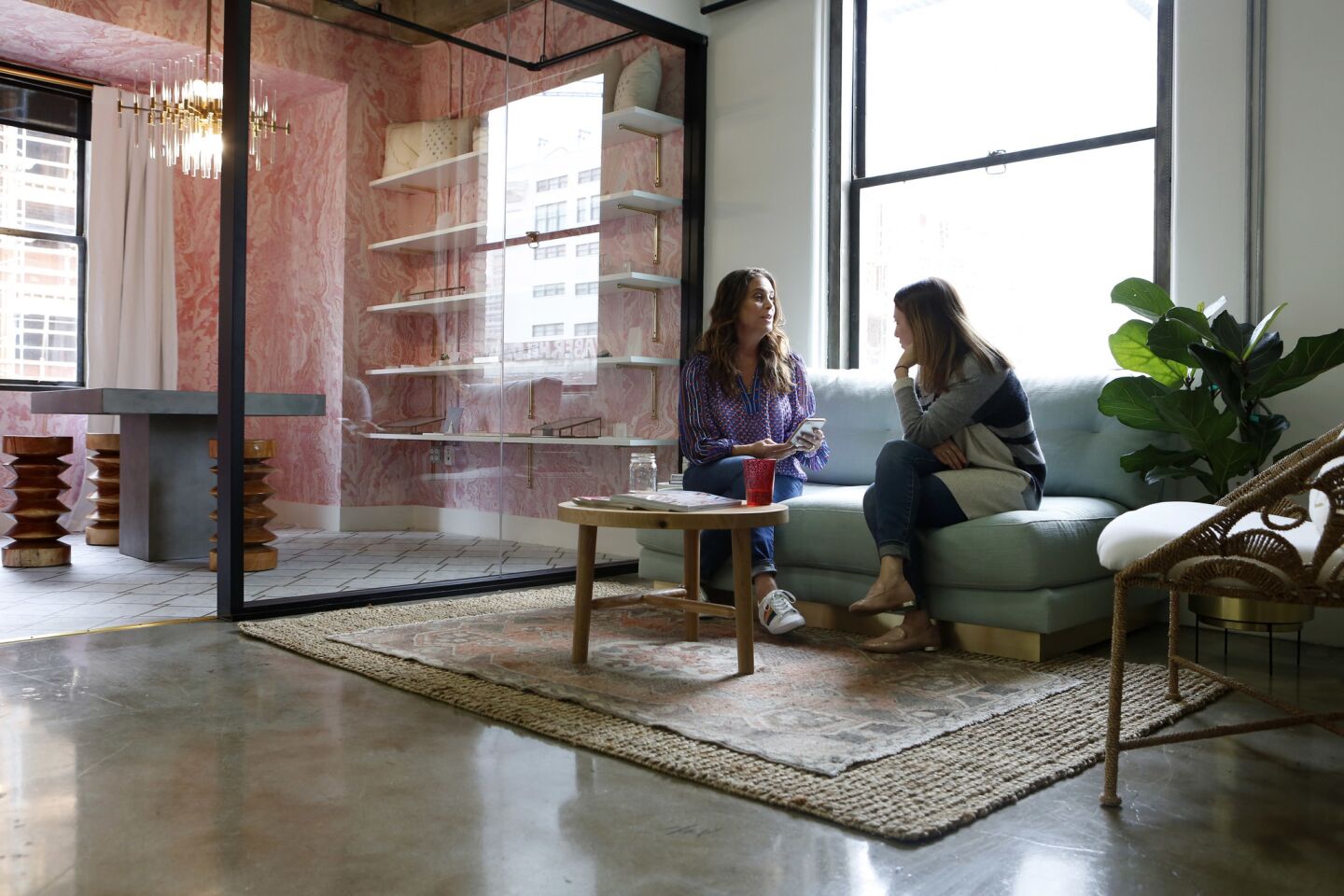 Jewelry designer Maya Brenner, left, talks with her publicist, Jennifer Cornwall Rojas, in Brenner's studio and showroom.
(Katie Falkenberg / Los Angeles Times)
Kristina Steelman works in Maya Brenner's office in downtown L.A.
(Katie Falkenberg / Los Angeles Times)
Maya Brenner's jewelry designs include state-charm pendants.
(Katie Falkenberg / Los Angeles Times )
Jewelry designer Maya Brenner, left, and interior designer Sarah Sherman Samuel, are photographed in Brenner's studio and showroom.
(Katie Falkenberg / Los Angeles Times)
Despite years of growing a successful jewelry business with a celebrity following, Maya Brenner had a personal design challenge to resolve.
"If I had meetings or stylists come in, I'd always apologize for the space," she said of her former workplace in a historic Art Deco tower on Pershing Square where she's been based for the past seven years. "I didn't feel like the office matched where my business was."
With a baby on the way in 2017 and this current year marking the 20th anniversary of her eponymous company, Brenner decided to move when a larger 1,600-square-foot suite became available in the same building.
And "instead of apologizing" for the state of her hybrid office/studio/showroom, it was time for an upgrade.
Given that Sherman Samuel was also pregnant and her due date was in November and Brenner's in December, the team had a hard deadline to create "one big, unified space that reflects the brand itself, which is elegant but also fun," Sherman Samuel said.
Brenner designs necklaces with custom letters and U.S. state charms (Meghan Markle was seen wearing an "M" and an "H" from her jewelry line.) Brenner's requirements for her new office started with the fact that "it's not my house and I'm not going to be in here forever. I don't want anything that's too expensive, too precious."
Stylistically, "I wanted it to be feminine but also a little bohemian," Brenner said.
Brenner said Sherman Samuel gave her everything she wanted — high quality yet affordable components that when combined are beautifully cohesive and polished."
"She takes Wayfair, Overstock and West Elm and makes it look like a million bucks," Brenner said, and leveraged the exisiting space for her eight employees to create a wow factor.
A preexisting small enclosed glass room proved perfect to transition into Brenner's "little jewel box" to showcase her collections, along with her line of embroidered linen throw pillows. Sherman Samuel selected accessible furniture and accessories throughout.
In the lounge area, a scarf by L.A. company Block Shop was repurposed into a wall hanging next to the seating area with layered rugs and an Anthropologie settee.
Sherman Samuel suggested a Pink Marble pattern from her Lulu & Georgia wallpaper collection for the more intimate glassed-in showroom, with flooring that's a vinyl decal from Atrafloor but looks like stone and brass inlay from a distance.
This approach also suits Brenner's own philosophy and personal aesthetic. "That's sort of who I am. I'm very high/low," she said with a laugh.
Storage consists of customized IKEA units, and Sherman Samuel sourced Prettypegs tapered desk legs to spruce up IKEA tables for Brenner's staff. (All Maya Brenner pieces are designed and orders processed in-house, while manufacturing takes place nearby in the Jewelry District.) Sherman Samuel's line for Semihandmade kitchen cabinet doors and hardware personalize the look of the office kitchen, where she chose a gold-flecked terrazzo wallpaper accent. Brenner brought a vintage pedestal table that Sherman Samuel paired with CB2 chairs, as well as art she's collected. "I really love that table, and it helps to tell her story," Sherman Samuel said.
Sherman Samuel's eye for small details made a huge difference, such as the black tape she suggested to use on the wall that holds Brenner's personal paperwork. Bold, graphic, gem-themed wallpaper enclosing a closet also provides contrast with the softer touches. Sherman Samuel said the three wallpaper patterns she picked "are spread around and it's not overwhelming, but they all go with each other."
The adjacent office hit the market a week after Brenner's son, Otis, was born in December, so Brenner jumped at the chance for more room that was already needed. "It's funny how quickly you grow out of the space," she said. A dining/conference table from Article and illuminated by Rejuvenation fixtures had unwittingly become the shipping station. The improved storage and overall better logistical flow means the central long surface can remain clear for meetings and Brenner's own needs. She doesn't have a fixed desk or private office and prefers "to float around."
"People are really happy to come in and work here," Brenner said. The new surroundings also boost her creativity and attitude toward welcoming visitors and clients. "It changes the mood. Now I'm super proud of it."
Interior designer Sarah Sherman Samuel's resourcefulness shows how improving your workspace doesn't mean breaking the bank. Here are her tips:
From West Elm to Article and Etsy, "she finds really great pieces from unexpected vendors," Brenner said of Sherman Samuel's shopping savvy.
Contrasts and juxtapositions
"I like to balance" the pink tones and colors "with natural wood accents and concrete, and juxtapose the natural elements with the masculine shapes, like the heavy concrete table and wood conference and coffee table," Sherman Samuel said.
Don't underestimate small details
Even the type of tape Sherman Samuel recommended for Brenner's evolving collage stands out.
Prettypegs, for instance, are among "tiny details" that bring a functional IKEA piece from "'This is nice' to 'This is so much better,'" Sherman Samuel said.
---