A messy home office gets a sleek, stunning makeover
It's safe to say that Kris Yenbamroong is more comfortable in a kitchen than an office. And it shows – his Night + Market restaurants made Jonathan Gold's 101 Best Restaurants last year and a new outpost is due in Venice this year.
But when it came to his home office, it was a different game.
A small room in the Silver Lake home he shares with his wife and restaurant manager, Sarah St. Lifer, serves as ground control for the business side of the restaurants, plus the writing of his first cookbook, on Northern Thai street food, coming out in fall 2017 from Clarkson Potter.
The state of the office was chaotic – and quite familiar to anyone who's tried to work from home without an initial investment of time, money and thought into what kind of environment will yield their best work.
"We have a lot of big projects in the works, and it was becoming clear that working in the same environment as before was just not working," says Yenbamroong. "And isn't that the definition of insanity, doing the same thing but expecting different results? I knew if I wanted to tackle bigger things I needed a space that was conducive to that."
The solution came from Laurel & Wolf, an interior design start-up in West Hollywood. They paired Yenbamroong with one of their designers, Jessica Ruiz Lee, and had him fill out a questionnaire about priorities and preferences; he was then served back three style board options to choose from. "It was pretty similar to how I work at the restaurant – I lay out my goals very clearly so there's no need to mince words or deal with any confusion," says Yenbamroong.
The "after" is an airy, creative space that Yenbamroong has been keeping tidy months after the redesign.
Here's how it came together, annotated with tips you can repurpose for your home office:
Keep the palette calm ...: While Night + Market is known for its eclectic and bright decor, Lee kept the office palette toned down – "productive" and "efficient" were two of her driving words, and while beaded curtains and floral oilcloth tablecloths lend the restaurant a dynamic vibe, they're not so helpful when it comes to sitting down and writing.
… but still reflect personality: That's not to say a home office has to mimic a beige cubicle: Ruiz Lee pulled in a tie-dye-inspired Feizy rug for flavor, as well as a contemporary, comfortable Dot & Bo chair that feels more like something you'd find in a lounge than an office. "Skipping a designated desk chair in favor of something more creative keeps an office more casual and stylized – and less rigid," she notes.
Go beyond one-size-fits-all: One of Yenbamroong's key tasks for the upcoming book is laying out his recipes, so Ruiz Lee brought in a console table nestled around a pair of rolling filing cabinets, giving him a designated spot for this. Similarly, a bookshelf was brought in to house his impressive collection of inspiring cookbooks – and save floor space that had previously gone to stacked books.
Consider going drawer-less: Notice how Yenbamroong's new Crate + Barrel desk is remarkably naked, with nothing but a clean-lined base underneath the walnut top? It's hardly just for aesthetic purposes. "More often than not, desk drawers end up being junk drawers," says Ruiz Lee. Abandon them and it's much easier to throw things away rather than stash them for "later."
Clear clutter daily: Pre-makeover, the clutter that had built up on Yenbamroong's desk was acting as a deterrent – both physically and mentally. "I would walk into my office and think 'Well, I can't even begin because that would mean cleaning for 45 minutes', so I would just leave the room altogether." Now, if it's not something meaningful or something he uses daily, he tosses it.
Include a nod to the outdoors: Who doesn't have some of their best ideas outside? Ruiz Lee channeled the great outdoors and their thought-provoking powers with a Zamioculcas Zamiifolia plant, also known as a ZZ plant.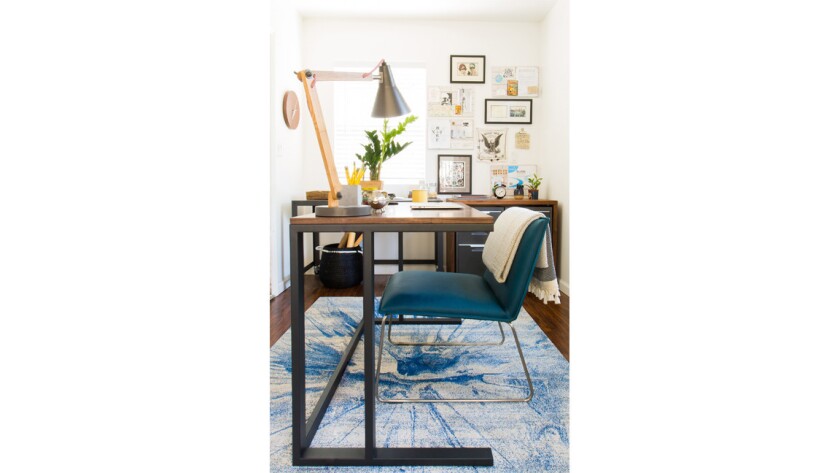 Know when to get help: "It's pretty obvious that having a better office makes you do better work, but I didn't really think of something that was attainable since I'm not great at coordinating these sorts of things," says Yenbamroong. "But working with someone took all the hard work out of it."
Twitter: @latimeshome
Follow us on Pinterest
ALSO:
More Southern California home tours
Designers give Lloyd Wright's Dorland house in Altadena a colorful, personal spin
Chefs Cimarusti and Echiverri cook up ideas for their home kitchen
---