Overheard LA — the Instagram account that has L.A. talking (and eavesdropping)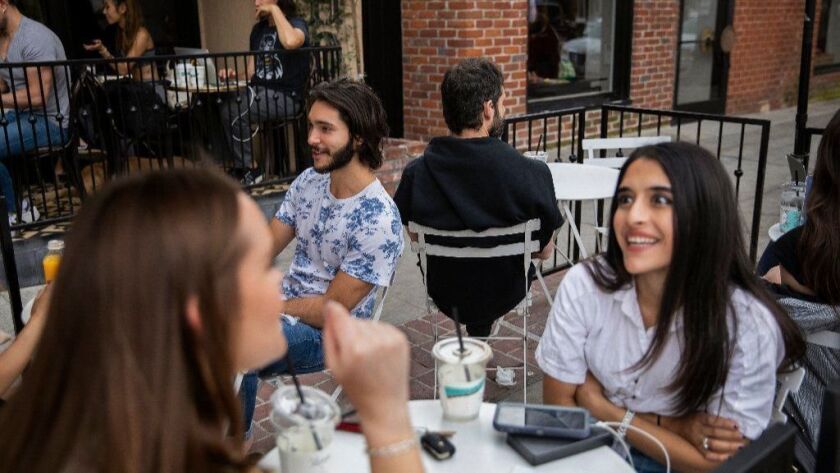 If you've spent time in any of Los Angeles' panoply of juice bars, coffee shops or yoga studios, chances are you've overheard something this:
"Lighting for selfies is so much better on the 5 Freeway than the 405."
Or:
"Can you move your tarot cards so I can put down the prosciutto board?"
Or perhaps:
"When is Passover?" "It's the second weekend of Coachella."
These fragments of actual eavesdropped conversations come courtesy of Overheard LA, an Instagram feed that makes light of the city's affectations by posting "overheard" submissions from ordinary Angelenos.
The account, which has more than 1 million followers, has become a kind of shorthand to describe the comically absurd exchanges you can't help but notice in trendy neighborhoods like Venice, Melrose and Silver Lake.
"That's always the thing, when you're out and you hear something and think, 'That's such an Overheard LA [post],'" Hollywood resident Ryan Ashley said as she sipped a vibrant green concoction at an organic juicery on Franklin Avenue.
Recently, the account decided to try to build upon that recognition with the launch of a free print newspaper called the Overheard Post. The four-page broadsheet — complete with horoscopes, comics, vegan food reviews and columns such as Crystal of the Month — is available at around 30 cafés and coffee shops throughout L.A.
The idea is to create "a physical manifestation of social media culture," Overheard LA founder Jesse Margolis said in a recent interview.
Margolis, who declined to give his age, started the account in 2015 after overhearing an especially outrageous conversation at the health food store Erewhon on Beverly Boulevard. He jotted down the back-and-forth and posted it to his personal Instagram account. A screenwriter friend saw the post and encouraged Margolis to create a separate feed. Within a few months, celebrities like Ireland Baldwin and Jennifer Morrison had posted about Overheard LA, and the account began gaining followers by the thousands.
"I wasn't part of the Instagram culture, and I didn't even really know what an influencer was," Margolis said. "But I knew this was a cool thing, a reflection of me making fun of the city I love."
Margolis, an L.A. native and former casting director for various documentary and reality television series, now runs Overheard LA as a full-time business. (The company makes money through sponsored Instagram posts, stories and branded Overhead accounts for Uber and Bumble.) He's launched spinoff Overheard accounts including Overheard New York, Overheard San Francisco and Overheard London, which are run by part-time city editors. There's also Overheard University for college students.
The entire network has more than 3.3 million followers, according to the company.
But if Overheard is instantly recognizable to its followers, Margolis is not. He refuses to be photographed, even for profiles like this one. "I think assigning an ego and a personality to the brand just diminishes it," Margolis said of his decision to keep his image off social media and other platforms. "It's just a much bigger idea if it's not about a person."
Actress and screenwriter Madelyn Deutch, who collaborated with Overheard LA on a sponsored Instagram story to promote her 2018 film "The Year of Spectacular Men," said what keeps her coming back to the account is the clever way it captures what it feels like to navigate your 20s and 30s.
"It actually gets to the heart of what everyone is going through, which is loneliness and finding connection," she said. "It makes you laugh, but it also makes you stop and think how everybody's dealing with that feeling of wanting to be seen or wanting to connect."
A recent post such as: "I just hope we stay together long enough to see this college payoff scandal become a Netflix documentary," reflects this quintessentially millennial brand of longing.
Still, Margolis is quick to admit that Overheard LA doesn't represent the multitude of Angelenos' experiences.
"One of the things that bothers me about the account is that it's satirizing a certain bubble and then sometimes finds itself in that bubble," he said. "It might have to be a different account we launch as we grow, but I would love it if it represented a more diverse part of the city."
Margolis plans to launch one or two additional accounts sometime next year, including potentially Overheard Texas, which would cover the state.
But for now, at least — through its account and newly launched newspaper — Overhead LA will stick to poking fun at the city's penchant for indulgence and excess.
"It's such an inflated idea of what it means to be here," said Deutch. "And that's what makes me laugh."
---