Going green: Home decor that celebrates the color of shamrocks and springtime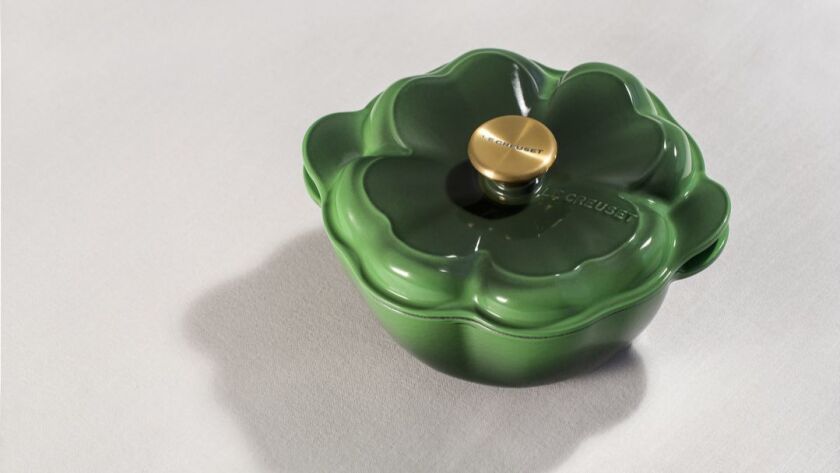 Green means go.
It is the color of four-leaf clovers and the first sign of spring — which, by the way, begins officially March 20. It's also sprouting up in seemingly every category of home furnishings and decor.
"Green, especially deep, forest green, is really popular right now in interiors," said West Hollywood-based interior designer and project manager Amalia Gal, "especially for cabinetry."
One sophisticated take on the hue — called Night Watch — was chosen after months spent researching trends in building materials, fashion direction (Meghan, the Duchess of Sussex, is said to be a fan), demographics and societal influences, according to Dee Schlotter, senior color marketing manager for PPG Paints. It's a luxurious shade of forest green with blue undertones and reflects the interior design and architectural world's push to incorporate "residential biophilia," or design that addresses our innate need to connect with nature, Schlotter said.
"We live in a kind of fake world with our phone," Schlotter added, "and there's an internal need to be in nature that Night Watch represents, not just a color pulled from nature, but the feeling you get when you're in nature."
The color of shamrocks and California canyons after an especially rainy season also looks right at home on everything from tufted velvet sofas and seat cushions to mailboxes, light fixtures, pottery, kitchen appliances and more.
Liza sofa in green velvet, $6,750, made in Southern California by Grace Home Furnishings
(Mike Lorrig / Grace Home Furnishings)
Pilea wreath, $58 at Magnolia.com
(Magnolia)
Dipping Light by Marset, from $295 at AplusRstore.com
(Alexis Taul / A + R)
A swatch of Night Watch, PPG's pick for 2019 color of the year
(PPG )
Creuset cast-iron clover cocotte, $200 at Williams-Sonoma Home
(Williams-Sonoma Home )
Bend Peacock Lounge in gold, $900, and forest green cushions, $240 at Bendgoods.com
(Bendgoods)
Monterey footed fruit bowl by Bauer Pottery, $95 at BauerPottery.com
(Christopher Focht / Bauer Pottery)
Spanish flowerpot by Bauer Pottery, starting at $36 at BauerPottery.com
(Christopher Focht / Bauer Pottery)
Big Chill 48-inch range in basil green, $5,595 at Mission Tile West
(Big Chill )
Classic steel mailbox, $78 at ShopTerrain.com
(Terrain )
How to put the color to work at home? Think buttery, golden hues when considering color palettes, Gal said. "Because there is yellow in green, the two go very nicely together, and a green, yellow and white room would feel like a garden."
Green and blue is another classic, calming combination, she said. Green used with orange is for the bold.
The color of envy is also well-matched to metallic gold finishes. "It goes really nicely with all of the gold accents that are happening right now," Gal said. "I would say the one thing to avoid would be using red and green together; it's like Christmas colors."
"Greenery in plants is also really popular," said Gal. "It feels very bohemian … very '70s."
Brown thumb? Home decor resources like Magnolia, Pottery Barn, Crate & Barrel and Restoration Hardware have introduced collections of faux plants that are so realistic your friends will think you've turned over a new leaf.
Interior designer and San Diego-based author Jennifer Adams uses plants as accessories to add color to a space. "I'll put them on books, on the ground; I'll group them with items in threes," said Adams, "I maybe over-use plants … but adding greenery is like magic. Your room just comes to life."
Springtime, here we come.
Bonnie McCarthy contributes to the Los Angeles Times as a home and lifestyle design writer. She enjoys scouting for directional trends and reporting on what's new and next. Follow her on Twitter @ThsAmericanHome
ALSO
How designer Nate Berkus blended old and new in his L.A. kitchen remodel
They found a real estate unicorn: A house with great 'bones,' ready for decorating
You've never seen a kitchen island sink like this
How online art galleries are serving up talent — and sales — without the 'tude
---