20 Images
Interior designer Kelly Wearstler discovers a new 'Hue'
By David A. Keeps
Los Angeles
-based
Kelly Wearstler
is perhaps best known for high-voltage interior designs for the Viceroy hotels in
California
and
Florida
and the restaurant at Bergdorf Goodman in
New York
, not to mention her ever-changing fashion ensembles and hair styles during her stint as a judge on Bravo TV's reality competition "Top Design."
In her new book "Hue" from
Ammo Books
,
Hollywood
glamour, neoclassical ornamentation, pattern and texture prove to be Wearstler signatures, but color, she writes, "is everything. Color evokes emotion, color is strong, sensual, luxurious and dramatic."
Here, in this example in the living room of Wearstler's home in Beverly Hills, the eye-catching mix includes bold blues, potent pinks, snakeskin print upholstery and metallic accents. Oh, and that wallpaper on the ceiling? It's a Wearstler design.
Click through this online gallery of "Hue" to see more examples of Wearstler's evolving design sensibility.
(Grey Crawford)
A guest room in Wearstler's Beverly Hills home has a vibrant mix of yellow and pink anchored by a black bed and double doors that lead to a bathroom with a 20th century modern Italian neoclassical vibe.
"I always make a room my own by giving it an unconventional spin," she writes. One such spin: Covering vintage armchairs in pink ruched leather. The carpet is Tracery, a Wearstler design for
the Rug Co.
.
(Grey Crawford)
The book cover shows Wearstler striking a pose between those guest room chairs. The wrinkled leather gives the color extra depth. "You can have many colors in a room, but to do this successfully, it becomes about the proportion, value and texture of those colors," she writes.
Packed with beautifully styled color photos, "Hue" takes a minimalist approach to text. The book offers an introductory Q & A with Wearstler that explores her philosophy cites some of the architects, designers and artists who have inspired her. But photo captions are non-existent, while credits and resources are relegated to an illustrated index at the end of the book. The message? This is eye candy: Look and learn.
(Mark Edward Harris)
Wearstler's bold choices for walls and floors are evident in her design studio office. Unless it's
Easter
, mixing yellow and purple is a tricky proposition. "A crisp exuberant yellow was my color of choice for the hand-dyed rice paper wall covering," she writes. "This became the lead hue for the space. The rich amethyst shade of the carpet grounds the entire room, while the fuchsia goatskin on the vintage 1980s chair adds a spark."
The nearly floor-to-ceiling abstract by
Los Angeles
painter
Lana Gomez
incorporates all the shades of Wearstler's unconventional color scheme and pulls the room together. The gilded antique chair behind the desk and frilly glass chandelier adds a touch of ornate grandeur to a room decorated with streamlined modern furniture.
(Francois Halard)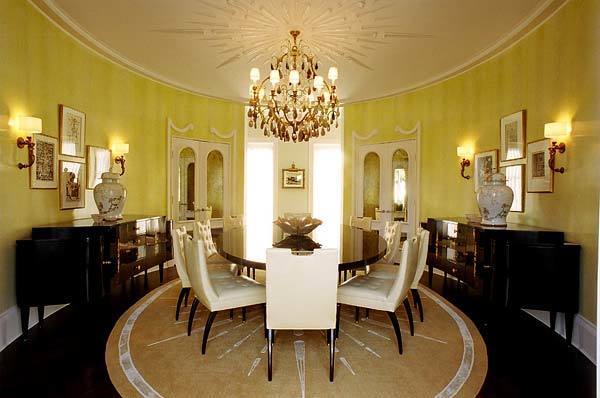 From wild to mild: Not all of Wearstler's interiors are explosions of color and pattern. Here, for a client in Bel-Air, she used yellow walls to brighten an oval dining room with dark floors and twin buffets. The white pattern on the caramel-colored custom rug mirrors the starburst molding on the ceiling.
(James Waddell)
"A neutral room does not have to be a bore," Wearstler writes. "The solution is to create contrast. This can be achieved with the use of metallics, a striking piece of art or sculpture, tactile rugs, textiles or patterns." Her master bedroom illustrates the principle. The ornately carved paneled walls may be Old World, but the 20th century furnishings -- stone tables, leather and metal club chairs, a brass bench and a mirrored wardrobe -- add a rock 'n' roll edge to the traditional setting.
(Grey Crawford)
A few clues that this room is for Wearstler's kids: a stuffed toy in the burl wood four-poster bed, a dresser covered in graffiti and, in the lower right corner, an elevated stage for puppet shows. It's a sophisticated space for children, but Wearstler claims color keeps it youthful. "The saturated use of the tangerine colored snake printed wallcovering infuses the space with enthusiasm, creativity and fascination," she writes.
(Grey Crawford)
By contrast, warm shades of orange and red can create an adult atmosphere. Wearstler's design for the Coral Bar at the
Tides South Beach Hotel
in
Florida
is an intimate space, furnished with one of her carpet designs and tables made of brass with inlaid stone. When it comes to color, Wearstler writes, "I do not think there are any rules. I often hear, 'Do not paint a low ceiling dark.' I totally disagree." In this room, which is only 7 feet, 4 inches high, she broke that rule. "I purposely chose a rich shade of coral for the coffered ceiling to raise the height perception. The rich laquered color made the ceiling feel lighter."
(Annie Schlechter)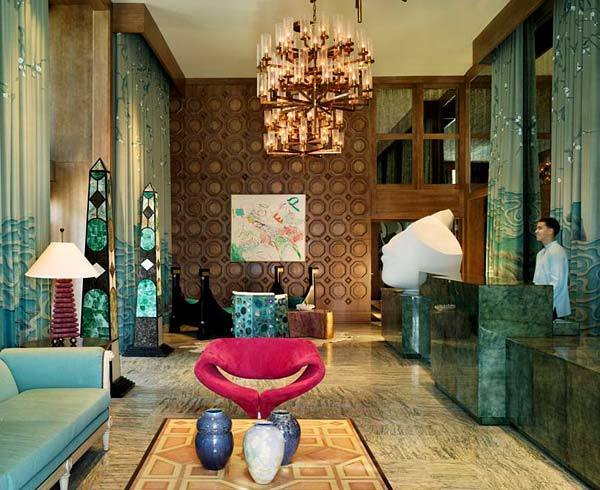 Wearstler's work for the Viceroy hotels shows the progression of her style. The Viceroy in Santa Monica and in Palm Springs in the early part of this decade helped to spur the Hollywood Regency revival that repopularized glamorous modernism. Here, Wearstler's more recent lobby design at the Viceroy in Miami bears the influence of Tony Duquette, who mixed gemstones and Asian prints into his interiors. The Pierre Paulin chair upholstered in a shocking pink is a typical Wearstler touch. "Unique color compositions create either a visual tension or harmony," she writes. "Both can be equally beautiful."
(Annie Schlechter)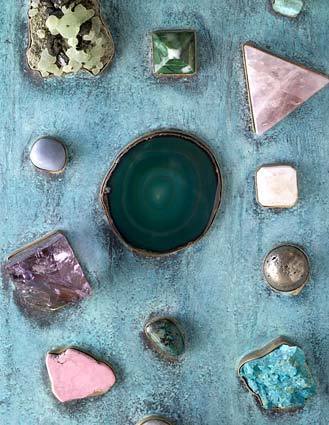 Wearstler, who created bejeweled bauble boxes for Bergdorf Goodman, enlarged upon the idea to create a custom chair for the lobby of the Viceroy in Miami. This close-up shows the frame of the chair studded with gemstones such as turquoise, rose quartz and agate.
(Annie Schlechter)
Wearstler designed the department store's restaurant, BG, in icy shades of blue with accents of pungent yellow and green.
(Annie Schlechter)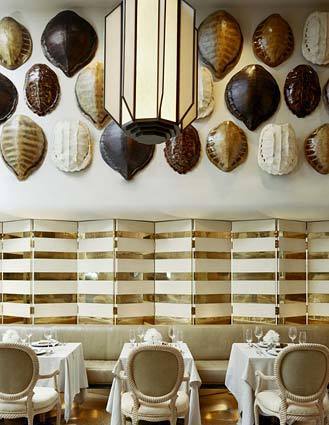 Following her beige-needn't-be-boring credo, Wearstler designed La Marea restaurant at the Tides Hotel South Beach using organic materials to add texture and subtle variations of color to a pale room.
Dining chairs carved with rope details sit on a terrazzo floor, and a collection of tortoise shells turns a plain wall into a display worthy of a natural history museum. Metallic stripes on the hinged wall screen reflect the soft light from a bronze Art Deco-style lantern.
"My source of inspiration is always changing," Wearstler writes. "I continually discover new techniques and materials."
(Annie Schlechter)
Even a black and white palette can be energized with a blast of color. Of course, not everyone would be as bold as Wearstler, who created this wall design.
"When it comes to color, be confident, go with your heart and follow your emotions," she writes.
(Grey Crawford)
A more sedate approach in Wearstler's foyer: Abstract art is framed in wood paneling and flanked by large horns in patinated metal that coordinate with the dusty green in the painting.
(Grey Crawford)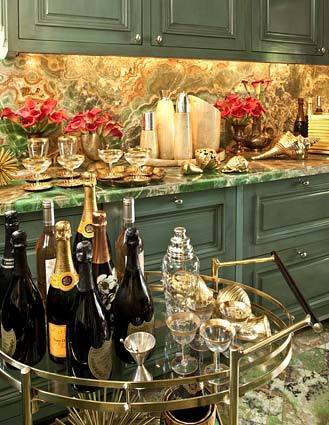 The wet bar in Wearstler's residence is a sea of green. The muted cabinet color sets off the onyx countertop and backsplash and the mossy stone floors. Gilded accessories add extra sparkle. "It is about having a hierarchy of color, where one prevailing hue sets the tone for the space and the rest follow, whether it is in the form, pattern or texture," she writes.
(Grey Crawford)
In her son Oliver's bathroom, Wearstler emulates the patterns of classical tile -- and the drawings of M.C. Escher -- in a marble floor that fools the eye into thinking it is seeing three dimensional cubes. Subway tile with bullnose trim creates panels in place of painted walls. "For me it is more about the intensity of a color rather than the hue itself," Wearstler writes.
(Grey Crawford)
"I am a modernist at heart but I love the blend of classical and period antiques paired with contemporary pieces," Wearstler writes in "Hue."
In her Beverly Hills home, antique chairs share a space with a contemporary sofa, and abstract sculpture serves as a counterpoint to classical urns. Wearstler covered the walls in an intense orange that brightens the paneled walls
(Grey Crawford)
Earlier in her career, Wearstler used stark geometric patterns that had the formal look of trellises and gates. Her most recent designs, such as this wallpaper pattern in her sitting room, exhibit a more finely textured, hand-drawn finesse.
The overall impression points to the elegance of the Art Nouveau and early Art Deco periods, yet in the mirror one can see the stark silhouette of a modern lighting fixture. With its numerous patterns and textures, the room is grounded by a deep, rich blue.
(Grey Crawford)