Your grandmother wants to grow marijuana in her backyard. She needs this book.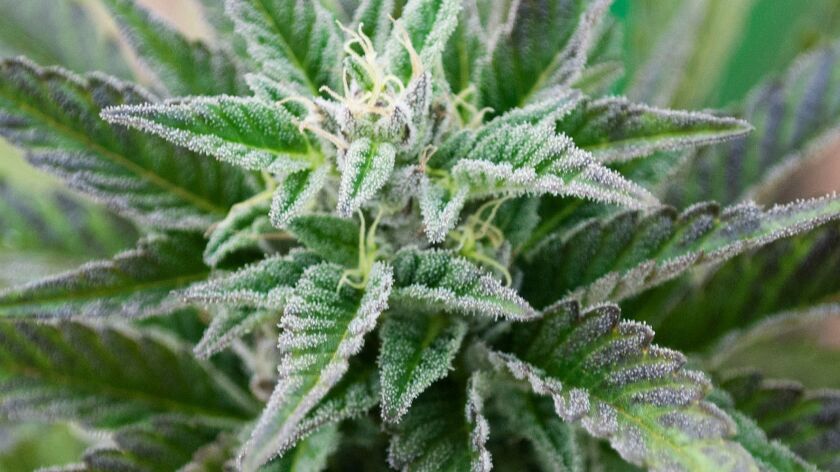 If you've spent most of your life buying slippers or perfumed powder for your grandmother, here's a chance to finally make amends. Buy her a copy of "What's Wrong With My Marijuana Plant?," a new and very helpful guide to growing healthy cannabis.
The book has gained a following among the gray-haired set, according to authors David Deardorff, 75, and Kathryn Wadsworth, 67, who are longtime writers (kathrynanddavid.com) and master gardeners.
They began teaching cannabis cultivation classes this year in their small town of Port Townsend, Wash.
So far, attendees have "all [been] baby boomer women," Deardorff said, describing them as "grannies growing dope at home, almost entirely for medical reasons."
The authors are strong advocates of growing your own, in particular because today's marijuana offerings are a lot more diverse than the THC-heavy bud that boomers bought to get high in the '60s. Many new strains focus on the nonpsychoactive CBD (cannabidiol) compounds of cannabis, to keep you alert or help you sleep or just relieve pain, Deardorff said. But of course there's still plenty of the THC variety to get you very, very stoned.
"You have to be careful," Deardorff said, "because some of the strains today are so powerful and so potent."
Growing your own means you can control what you're getting, and it ensures that the plants haven't been dusted in pesticides or other toxic chemicals, Wadsworth said. It's also cheaper, she added, "and it's important for we, the people, to control our own medicine."
Deardorff is a botanist, a former professor of plant pathology at the University of Hawaii and a faculty adviser to the master gardener program at Washington State University. He also spent two years at the Los Angeles County Arboretum and Botanic Garden in the mid-1970s. His wife, Wadsworth, is a naturalist who also writes crime fiction when she's not working on their series of "What Wrong With My..." books, which have touched on the challenges of growing fruits, veggies and houseplants.
They focused on marijuana for their fifth "What's Wrong" book because of its growing acceptance (Medical marijuana is now legal in 29 states, according to governing.com) and their longtime interest in medicinal plants.
Californians ages 21 or older can grow up to six plants per residence for personal use if the plants are out of sight and locked away, in the back yard, for instance, or indoors. Best to call your city hall to see whether there are any additional local restrictions.
The couple's book is an easy-to-follow guide for identifying and solving any problems your plants might have, with color photos to help with diagnoses. Their remedies are all organic, with recipes for making your own natural insecticides as well as useful advice for planting, composting and watering.
Truth be told, much of the advice for marijuana plants applies to other plants as well, Deardorff said, so this book can spice up your coffee table while providing lots of practical and handy advice for other ailing plants. But it also provides plenty of "who knew?" gems too. Here are just a few:
Healthy marijuana plants look like they've been dusted in sugar. "The things that look like sugar crystals are granular hairs called trichomes that produce those wonderful chemicals like THC and CBD," Deardorff said. A literal case of the more the merrier.
Marijuana plants like full sun and can grow very tall, from 6 to 16 feet. "That's hard to keep a secret in your backyard," Deardorff said, so plan accordingly.
Certain flowers are friends
Marigolds are a natural deterrent to root nematodes that can stunt the growth of many plants, including cannabis. To avoid that problem, plant your marijuana in the same spot where marigolds were previously grown and rotate growing locations annually.
Spider mites and their tiny relatives are the biggest pest problem for cannabis, indoors or out. Remedies include Hirsutella thompsonii, a fungal pathogen, insecticidal soap and horticultural oil.
If you're growing inside, use a fan to keep the air moving. "Without airflow from the outside, your plants will quickly suck up all the available CO2 in the air and stop growing, even if it's getting plenty of light, water and mineral nutrients."
---