In 'Bohemian Modern,' '70s style helps shape elegant, modern interiors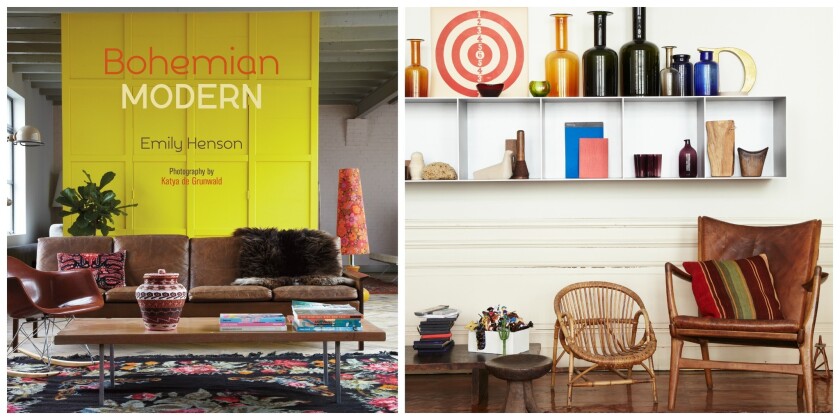 In Emily Henson's new book "Bohemian Modern" (Ryland Peters & Small, $29.95), the interiors stylist and author proves that the current '70s style revival is more than just a "modern hippy" vibe.
Traveling Europe, Henson highlights homes that blend different styles and eras including a converted garage in Amsterdam, a Victorian warehouse in London and a traditional barn in Morocco. While the homes are vastly different architecturally, the interiors feature elements of the "bohemian modern" look of today: an eclectic mix of color, pattern, textiles, personal collections and plants.
Sure, macrame and dream catchers may make some cringe, but here they combine to create warm, livable and modern interiors that are each uniquely sophisticated.
Recently, we caught Henson between styling jobs for Anthropologie Europe at her home in London. She spoke with us about the book and why the 1970s is enjoying a comeback.
In a nutshell, how would you describe "Bohemian Modern" style?
I think it's taking all of the great things from the '70s and juxtaposing them with modern elements like concrete floors and whitewashed surfaces. It's really about doing things in your own way so it feels current and not stale. I know people are crazy for midcentury design and other eras, but I like to mix it up. I don't like sticking with one particular era.
Why the 1970s comeback?
There is always a style cycle. When I was growing up, there was a '50s influence in fashion. What is different this time in terms of interiors is how people are making them feel modern. Whether it's hanging macrame or dream catchers, it's done in a contemporary way. That's what stood out to me. I kept seeing this bohemian look everywhere I went, but it was done in a unique way. Like neon pink hangers against a plywood wall. It was not hippy. It was really modern.
Color and pattern are important elements to bohemian modern style. Color can be scary. Any advice on how to introduce color at home?
Add color to your home with textiles. My house in L.A. has white walls and white floors, so I have colorful textile rugs. Or paint just one wall. Try painting an old piece of furniture something crazy just to give it a shot of color. I have seen a lot of really great floor tiles recently. If you don't want to paint, or hang wallpaper, you can fake it with fabric wallpaper that you just install temporarily.
Sculptural houseplants also figure prominently in creating an eclectic style. But plants, like color, can also scare homeowners.

The truth is, you can grow anything in L.A. I think it's about the choices you make. Do your homework. Succulents will stay alive indoors. Ficus is another good one. London interior designer Abigail Ahern has a new line of great fake plants. She creates really dark interiors and accessorizes with faux plants that are incredible.
How do you display collections so they don't overwhelm a room?
I think it's about looking at it as an installation. Is it wall-based or shelf-based? Contain it. Look at it as some kind of art whether its rocks or knickknacks. Group things tightly or in an artful way that makes a statement rather than a big old messy pile. There is so much beauty in things people throw away. Find something you love and display it in the right way.
You're a stylist. How do you style a room so it does not look "decorator done"?
That is what my career has been built around – real versus fake. I've been freelancing many years for Anthropologie Europe. My job is to make things look pretty, but I always want it to look like someone just left a room. It's about having signs of life. I always want it to look like people live there. I think it makes people feel better about themselves not to see perfect interiors all the time. I'd rather have books shoved someplace you won't be afraid to pick them up. When I styled the Ghent house in the book (pictured above, at right), they had incredible furniture but the pieces were all worn out. They had huge bookshelves that were messy and I just left them that way. We just put a throw over the sofa to cover it up. For photographs, I often will sit on a sofa to mess it up.
---