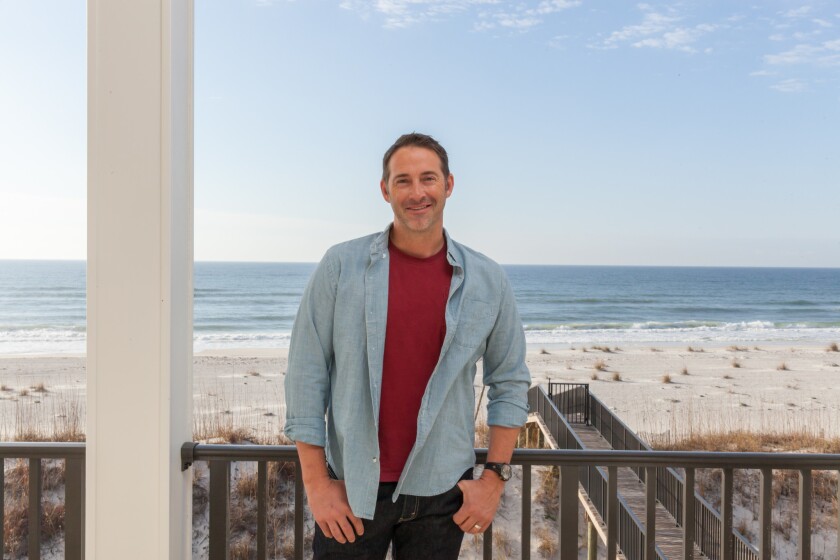 Like a doctor at a cocktail party, general contractor and TV personality Josh Temple often finds himself cornered by anxious homeowners looking for advice. "It happens absolutely everywhere I go! Like yesterday I was at the airport and when you're waiting an hour to board, people start pulling out pictures of their bathrooms and kitchens," he says with a chuckle. "But it's a compliment, at least that's how I take it, so I embrace it."
The ebullient star of DIY's "House Crashers" — where he wanders the aisles of Home Depot offering gratis renovations to lucky shoppers — Temple can be seen as a host and mentor on HGTV's "Beach Flip," in which competing teams revamp run-down beach homes. With 20-plus years of experience under his (tool) belt, the Silver Lake resident's expertise is irrefutable and probably pricey. Good thing he agreed to reveal his best tips for what you can DIY at your beach pad to add value and appeal, and what you should leave to the pros (like him).
Projects you can DIY:
Paint
A fresh coat of paint can transform a space. Walls with old paint can appear dirty even if they aren't. Beach houses are susceptible to moisture and, thus, mold. Repainting walls can alert you to mold or water damage and a fresh coat of paint can help deter mold.
Note: Dark colors can make a room feel small and depressing. People come to the beach for the sun, water and sand, so keep the colors light and refreshing (i.e., a deep maroon den doesn't belong at the beach).
Paint can also transform an old chair or table; add a second coat to protect from damage.
Wall and ceiling treatments
Wall and ceiling treatments are a perfect way to break up the monotony, infuse personality, and give dimension and texture to an otherwise flat space.
Shiplap, barn wood, and reclaimed wood on walls are all popular right now. And there's good reason: It's an easy install, the cost is low, and the aesthetic is calm and pleasing. But there are a few things to keep in mind when installing wood on a wall or ceiling:
-Make sure the wood is free of pests and mold. Planing or sanding the boards is essential to ensure at least the material is dirt free.
-Almost all boards are warped, crowned or bowed, so plan on little gaps. I like to "shade" the wall before installing the wood, which is painting the wall black. That way when there are gaps or knotholes the wall color doesn't shine through.
-When installing boards on a wall try to nail into studs (which means cutting boards at a length to meet on a stud) or at least use construction adhesive on the back to keep the boards in place.
-Lastly, I suggest coating the wood with a polyurethane, lacquer, whitewash or paint to protect the material and keep it clean.
Flooring
Flooring is my favorite DIY project. A new floor can drastically change a room's vibe. On "House Crashers," I always make the homeowners do the flooring with me. Most people are simply afraid of screwing it up, so I like to show them that it's no big mystery.
With the exception of 3/4-inch real wood, nail-down floors, flooring comes with easy-to-follow manufacturer's instructions right on the package. And even with nail-down flooring, there are plenty of instructional videos online that give great instructions.
There are so many options for flooring. Hardwood, engineered wood, laminates, vinyls and tile are all viable options and each choice comes with hundreds of designs, colors and durability ratings.
My biggest advice for installing your own floor is to take your time and have patience. Remember: Sometimes the best lessons come from making mistakes.
Projects that need professionals:
Windows
Beach houses are set in some of the most beautiful environments imaginable, so highlight that by adding windows to bring in the sun and the views. Plus, new energy-efficient windows can end up saving you thousands of dollars in heating and air conditioning costs.
But leave this install to the pros. Beach-side properties usually come with a wet off-season, and windows need a proper airtight — and more importantly — moisture-tight seal. There are just too many elements to deal with for the average homeowner: framing, exterior patch, interior patch, water proofing and flashing, even possible electrical and plumbing relocation.
Decks
I'm a firm believer in empowering homeowners to tackle renovation projects, but there's so much liability to risk with decks, especially on a beach house. It's the place for gatherings of large groups, it gets heavy traffic, and it's constantly exposed to the elements. And beach properties call for different building code guidelines than in other areas. Plus, decks are already expensive in material costs alone, so if it's done wrong, you'll lose a lot of money.
Decks are such a great improvement for a beach house. It facilitates indoor/outdoor living and increases the overall usable square footage of any beach house. And let's be honest, even at the beach, sometimes you don't want sand getting everywhere.
HVAC
There are some models of split A/C units that the more experienced DIYer could install, but generally speaking, it's a terrible idea to install HVAC yourself. You're working with refrigerant, which is very dangerous, so you need someone who's certified for this, at least a licensed technician if not a plumber.
When it comes to power, water or gas, my motto is to hire an expert. There are too many things that can go wrong and downsides like flooding, fire and even explosions. I'm a licensed contractor and I worked in HVAC for eight years before that and even I hired a professional to install the HVAC in my house. Sure, it's not cheap, but if you do it right initially, it's going to cost you less in the long run.
ALSO:
In Palm Springs, a renovation to meld midcentury, modern, light and art
How to landscape with pavers that are low on water, high on appeal
Garden party: Floral wallpapers that will make you forget the drought
Twitter: @latimeshome
---