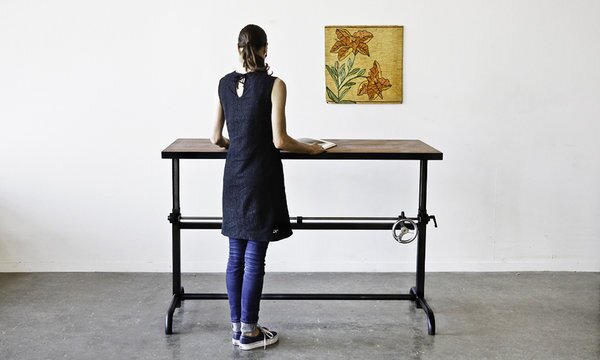 7 Images
Standing desks: Designs to stay on your feet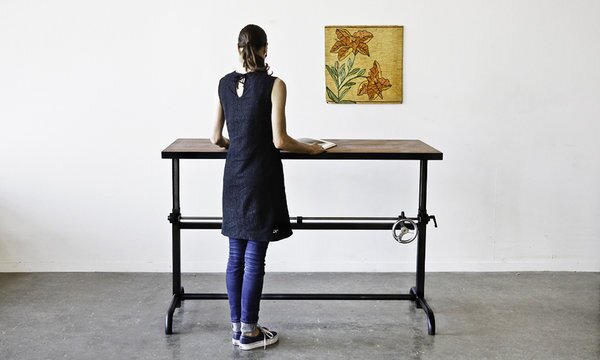 Adler table
For a handcrafted take on the idea: The Adler table from Ohio Design in San Francisco has a crank made from steel gears and a chromed, cast-iron handle. The work surface shifts from 27 to 42 inches high and can be ordered in a variety of woods, including walnut, oak and maple. Power-coated steel legs are available in "practically any color." It's $1,925.
www.ohiodesign.com
(Ohio Design)
Elevate II
Anthro's new electric Elevate II can rise from a sitting height of 27 inches to standing height of 53 inches with the push of a button. It's $1,299 to $1,549, depending on size and your choice of four finishes.
www.anthro.com
(Anthro)
ModTable
The ModTable's work surface can rise to nearly 4 feet high courtesy of a hand crank. Mix and match table tops and bases in a range of colors. Combinations start at $599. Coming soon: A version of the desk with built-in LifeSpan treadmill, $1,699.
www.multitable.com
(MultiTable)
ModTable with treadmill
MultiTable's ModTable with Lifespan Treadmill is available for preorder. Orders begin shipping at the end of August. $1,699.
(MultiTable)
Ikea's Galant desk
Ikea's
Galant
collection of desks includes this piece whose work surface can be adjusted to about 35.5 inches high. It comes with four options for table top, with prices from $85 to $105.
(Ikea)
In Case You Missed It...Photos