20 Images
The Week in Photos: Dec. 31 - Jan. 6
A birds-eye view of the casket of President Gerald R. Ford in the Capitol Rotunda in Washington, D.C., where it lay in state through Tuesday.
(Genaro Molina / LAT)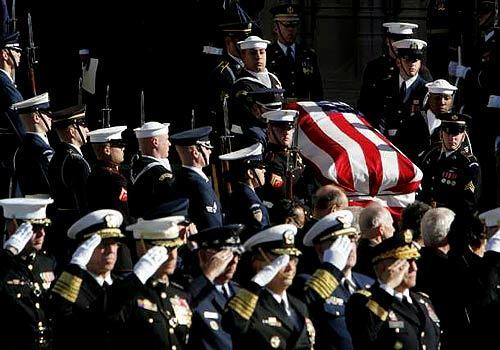 Members of the Honor Guard carry the casket of President Gerald R. Ford out of the National Cathedral at the conclusion of funeral services for the 38th president in Washington, D.C., Tuesday morning.
(Genaro Molina / LAT)
Under the watch of the Honor Guard, the public files by the coffin of former President Gerald R. Ford in the Capitol Rotunda Dec. 31.
(Mark Boster / LAT)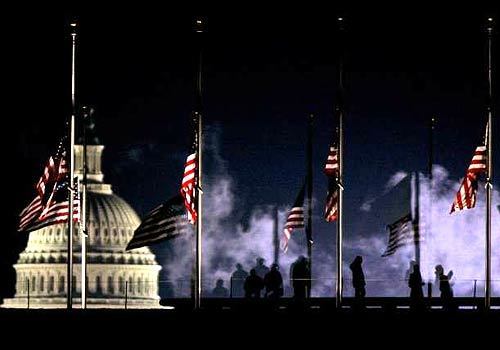 Flags fly at half-staff in Washington, D.C., where a military guard stands watch at the casket of President Gerald R. Ford. Six days of funeral rites finished Jan. 3 with his burial in Grand Rapids, Mich.
(Mark Boster / LAT)
With their mother Betty, the children of President Gerald R. Ford gather at his casket in the Capitol Rotunda Jan. 1. Left to right: Mike, Susan, Steven and Jack.
(Mark Boster / LAT)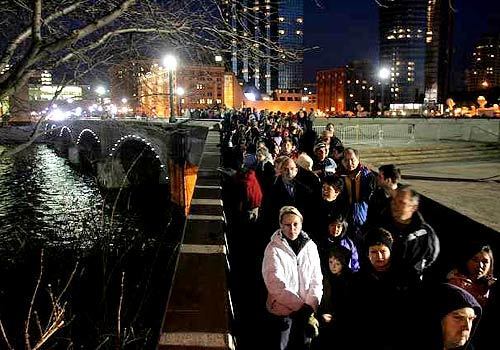 After a private ceremony inside the Gerald R., Ford Presidential Museum in Grand Rapids, Mich., people line up to view his casket alongside the Grand River Tuesday evening,
(Gary Friedman / LAT)
In Sicily, clouds tinged by the setting sun float above the Cathedral of Piazza Armerina. The village is near the ruins of the Greek city-state of Morgantina, a rich site from which some experts believe the Getty Villa's $18-million statue of Aphrodite was looted. A local journalist said the plundering of ancient art once was once so common that antiquities were openly sold in the town squares of central Sicily.
(Luis Sinco / LAT)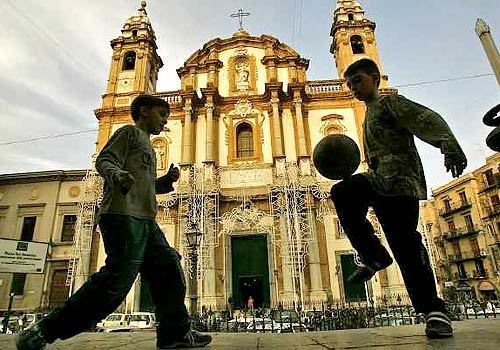 Boys play in the Piazza San Domenica in Palermo, Sicily. Rich in history but crippled by corruption and a weak economy, Sicily has been ravaged by looters.
(Luis Sinco / LAT)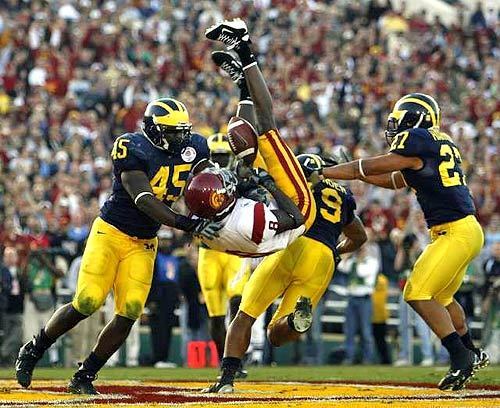 Members of the University of Michigan defense pressure USC wide receiver Dwayne Jarrett, who had 11 catches for 205 yards and two touchdowns in USC's Rose Bowl victory Jan. 1. If he is to leave school and turn pro, Jarrett must decide by Jan. 15.
(Wally Skalij / LAT)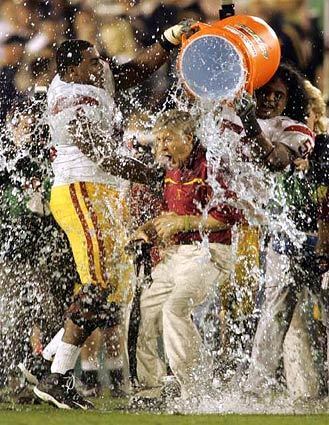 USC Coach Pete Carroll gets a shower from two of his players in celebration of their Rose Bowl victory.
(Lori Shepler / LAT)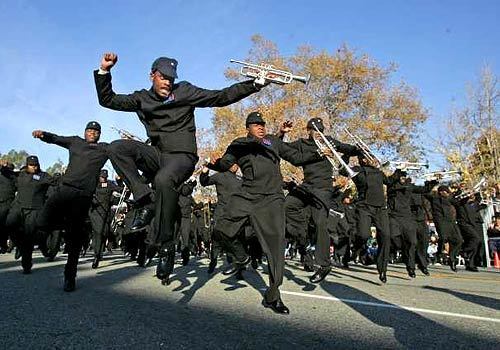 An estimated 1 million people watched the Rose Parade in person, entertained here along Colorado Boulevard in Pasadena, Calif., by the high-stepping Grambling State University Tiger Marching Band from Grambling, La.
(Francine Orr / LAT)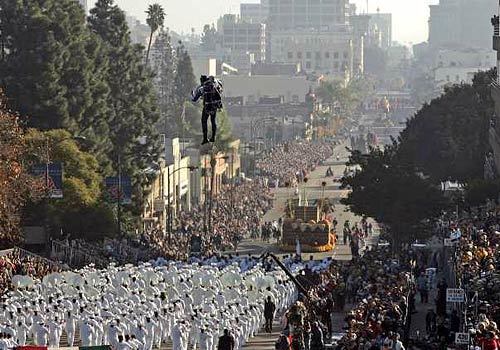 A high flyer with the Oklahoma Rising entry soars above Colorado Boulevard during the 118th annual Rose Parade in Pasadena, Calif.
(Anne Cusack / LAT)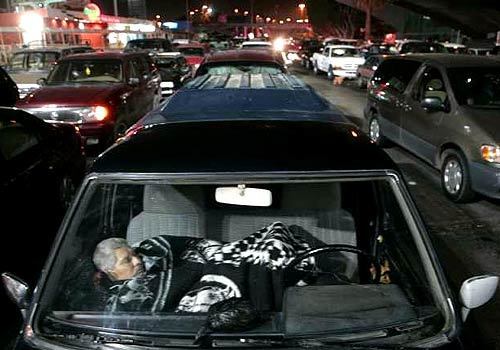 A man sleeps in his car just south of the San Ysidro Port of Entry from Tijuana, Mexico to the U.S. Many workers sleep rather than wait hours in line to cross later in the morning. The entry opens at 4 a.m., and hundreds of cars start lining up at 2 a.m.
(Don Bartletti / LAT)
Anthony Thomas, 16, is comforted by his sisters Sanita, 20, left, and Antoinita, 21, outside their former home on West 41st Street in Los Angeles. A space heater placed too near a sofa sparked a fire that destroyed the residence.
(Mel Melcon / LAT)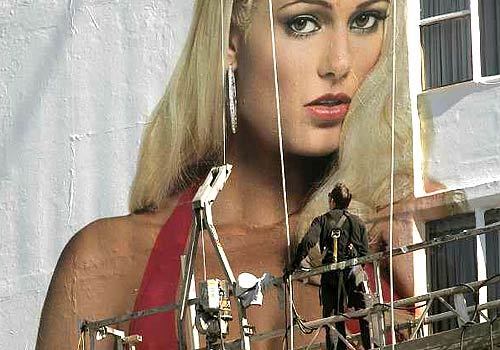 The model on this billboard in West Hollywood is dressed appropriately for Southern California, where temperatures reached into the 70s on Jan. 3.
(Luis Sinco / LAT)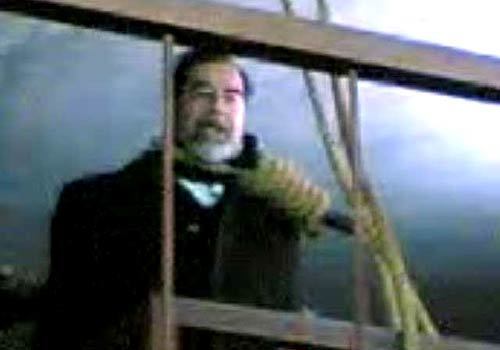 An image from a mobile phone video appears to show Saddam Hussein's head in the noose just before he was hanged in Baghdad on Dec. 30. Iraqi officials are taking new precautions to ensure that in the future, cell phone cameras are not present in the execution chamber.
(AFP/Getty Images)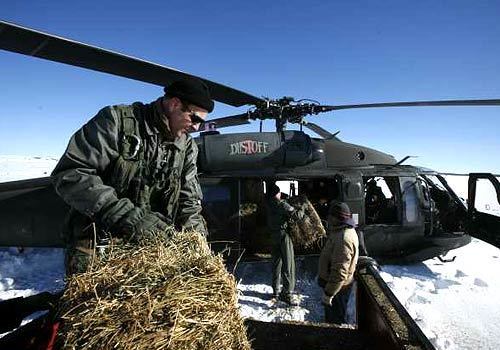 New Mexico National Guard First Sgt. Rob Farris helps load hay bales into a waiting Black Hawk helicopter on a cattle ranch north of Clines Corners on Jan. 3. With another winter storm expected to hit New Mexico by week's end, emergency officials are keen to drop food for stranded livestock and assist snowed-in ranchers.
(Karl Stolleis AP/Pool)
In Diwaniyah, 80 miles south of Baghdad, an Iraqi Shiite girl drinks water from a tap in a camp for the capital city's displaced Shiite families.
(Alaa al-Marjani / AP)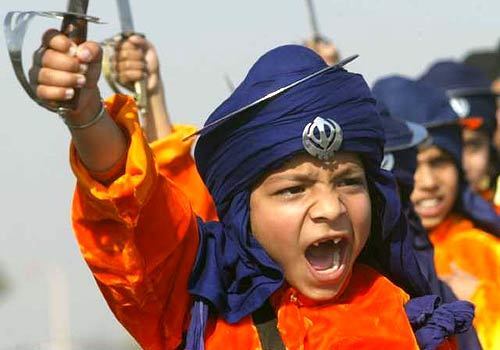 Sikh children shout slogans during a procession on the eve of the birthday of the 10th Guru of the Sikhs, Guru Gobind Singh, in Jammu, India, on Jan. 3.
(Channi Anand / AP)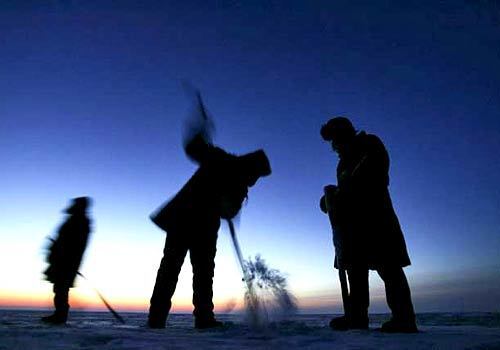 Before sunrise, fishermen drill a hole through the 2-foot-thick ice of frozen Chagan Lake in Songyuan, Jilin Province of Northeast China. Chagan Lake, where winter fishing has occurred for more than 2,000 years, is one of the 10 biggest fresh water lakes in China.
(Cancan Chu / Getty Images)