12 Images
In Focus: Staff photos from Jan. 20-26
Hike
Elizabeth and So Lee hike down Mt. Baldy in the San Gabriel Mountains amid snow brought by the first of three storms expected to affect Southern California into the weekend.
(Robert Gauthier / Los Angeles Times)
Sledding
Angie Armenta of Upland emerges from a snowbank after sledding down a hill at Mt. Baldy.
(Robert Gauthier / Los Angeles Times)
Santa Clara River
Snow tops the mountains of the Los Padres National Forest near the Santa Clara River in Ventura County.
(Al Seib / Los Angeles Times)
Celebrating
Senurs Mixon, left, and Yvette Freeman cheer on performers during the Martin Luther King Jr. Kingdom Day parade on Martin Luther King Jr. Boulevard in South Los Angeles. About 5,000 people watched the parade, which ended in Leimert Park.
(Mel Melcon / Los Angeles Times)
Big win
Dwight Lewis, left, O.J. Mayo (32) and Daniel Hackett celebrate on the Pauley Pavilion court after USC's 72-63 upset win over fourth-ranked UCLA.
(Wally Skalij / Los Angeles Times)
Recovery
Mohammed Malek, 18, rests in his apartment provided by Loma Linda University after doctors at the medical center performed surgery to shorten and strengthen the remains of his legs. He lost his limbs in a mine blast in Kabul when he was 15.
(Mark Boster / Los Angeles Times)
Ho, ho, ho
Members of the Amalgamated Order of Real Bearded Santas pose for a group photo at their annual luncheon, held this year at Knott's Berry Farm Resort Hotel in Buena Park, where they meet to promote pride and improve performance. The event is always held in Southern California, where the group was founded.
(Karen Tapia-Andersen / Los Angeles Times)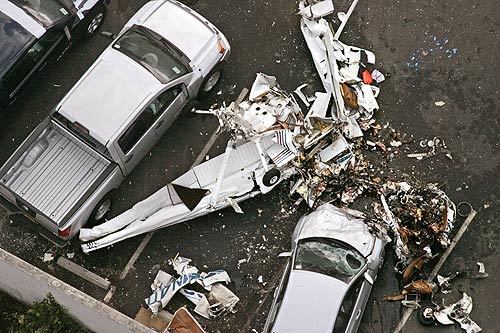 Plane crash
Wreckage from a plane that collided with another light aircraft over Corona lies in the parking lot of a car dealership. Four people died in the planes, and a fifth was killed on the ground by falling debris. Crowded skies and bright sunlight may have played a role in the midair collision.
(Karen Tapia-Andersen / Los Angeles Times)
Doo-Dah Parade
Charles Valle of Twentynine Palms marches as Uncle Fester of "The Addams Family" at the annual Doo-Dah Parade in Old Pasadena. This spoof of the Rose Parade bills itself as "Pasadena's other parade."
(Anne Cusack / Los Angeles Times)
Crenshaw Plaza mall robbery
Police searching for bank robbery suspects pat down customers at the Baldwin Hills Crenshaw Plaza mall. The suspects ran into the mall after they crashed their SUV while being pursued by the Highway Patrol. Two men were arrested, but three others remained at large.
(Karen Tapia-Andersen / Los Angeles Times)
WGA strike
Hollywood's striking writers have told top studio chiefs that they will drop previous proposals to unionize writers who work on animated movies and reality TV shows. The concession signals a possible thaw in the 3-month-old labor dispute with the Alliance of Motion Picture and Television Producers, which represents the major studios in negotiations.
(Brian Vander Brug / Los Angeles Times)
USC students
Freshmen interviewed at USC, shown, and other local campuses agree with a UCLA survey finding that most are comfortable with hands-on involvement by parents in their college lives. According to the survey, 84% of freshmen nationwide said that their parents showed the right amount of involvement in the decision to go to college.
(Al Seib / Los Angeles Times)