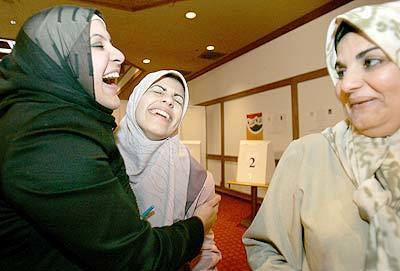 11 Images
The Iraqi Election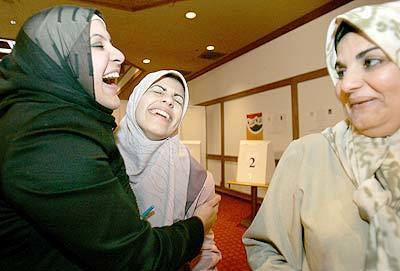 JOYOUS OCCASION:
Iraqi expatriates Dalia Ridha, 22, left, and Marwa Sadik, 19, with her mother, Najah Mohamed, right, celebrate at the polling place at the former El Toro Marine Base in Irvine.
(Brian Vander Brug / Los Angeles Times)
A BANNER DAY:
Seattle residents Mechell Qatrani, left, and her husband, Muhamed, draped their rental van in the flags of Iraq and the United States for the drive to the polling place in Irvine.
(Brian Vander Brug / Los Angeles Times)
Kurdish women wait to cast ballots in the northern city of Irbil.
(AP)
A man studies the ballot at a polling station in the largely Sunni Muslim town of Zubayr. Many Sunni Arab Muslims boycotted the vote out of fear or anger.
(Andrew Parsons / AP)
Voters in the city of Amarah, southeast of Baghdad, trek to the polls amid a ban on most vehicles for security reasons. Many Iraqis across the country made the trip on foot.
(James Vellacott / AP)
Iraqis dance with a flag at a polling center at a U.S. air base in Al Anbar province. "Today is a day of celebration that makes me forget the sons that I lost," said a voter in Najaf.
(Staff Sgt. Chad McMeen / U.S. Marines)
Iraqis are searched at a polling station in the turbulent northern city of Mosul. Across the country, at least 44 people were killed in insurgent attacks. Overall, turnout was estimated at 60 percent and was highest in Shiite Muslim and Kurdish regions.
(Moises Saman / Newsday)
Election workers empty a ballot box to start tallying votes in Abul Khasib in southern Basra, Iraq.
(Odd Andersen / AFP/Getty Images)
Shiite Muslim election officials in Najaf count ballots at the end of election day. In the holy city, the capital of Iraq's Shiite Muslim heartland, fears of insurgent violence were dwarfed by a wave of electoral optimism. Voters there referred to the day as an irris, or celebration.
(Ghaith Abdul-Ahad / Getty Images)
MAKING HIS MARK:
An Iraqi casts his ballot, his finger offering evidence of his vote.
(Odd Andersen / AFP/ Getty Images)
The president strides to the podium to express his satisfaction with election day in Iraq. The vote may soften the attitudes of some opponents of the U.S. presence there.
(Michael Kleinfeld / EPA)