19 Images
The Week In Photos: February 5 -11
MOMENT OF PRAYER:
A Los Angeles County Sheriff's Department chaplain prays with Latino inmates at the Pitchess Detention Center's North County Correctional Facility on Thursday. About 70 clergy members toured the jail. Shortly after they left, another melee broke out at the facility.
(Brian Vander Brug / LAT)
UP IN THE AIR:
Green Day singer Billie Joe Armstrong, center, tosses a trophy in front of bandmates Mike Dirnt, left, and Tre Cool. The rockers took home the record of the year award.
(Bryan Chan / LAT)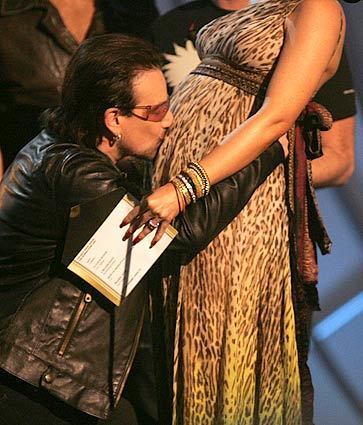 GLOWING:
U2's Bono plants one on pregnant singer Gwen Stefani's stomach.
(Richard Hartog / LAT)
FIGHTING FIRE WITH FIRE:
A firefighter sets a backfire along the 241 toll road Monday as flames consumed thousands of acres in Cleveland National Forest in Orange County.
(Luis Sinco / LAT)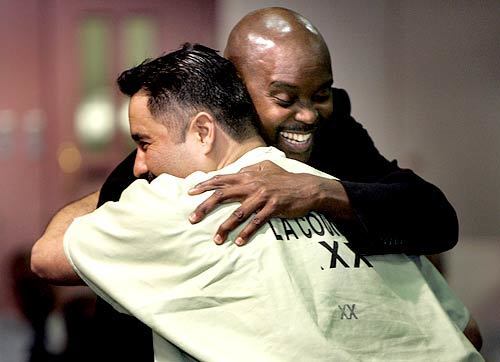 PROUD MOMENT:
Fernando Catalan, left, hugs instructor James Beard during graduation from Bridges to Recovery program. "James changed my life," one inmate said. "James taught me that no one can make me angry except myself." The program run by the Los Angeles County Sheriff's Department tries to put a dent in the domestic violence caseload by teaching batterers how to control anger.
(Mark Boster / LAT)
TAKING IT TO THE STREETS:
Singer Wyclef Jean reunites with his band, the Fugees, for a free concert in Hollywood on Monday. Jean and bandmates Lauryn Hill and Pras Michel became well known in the '90s with their blend of hip-hop, soul and Caribbean sounds.
(Gary Friedman / LAT)
BORDER DEBATE:
During a loud but peaceful confrontation, Ray Herrera of Victorville yells during a protest staged by the Minuteman Project where immigrant laborers wait for day-labor offers in Vista, Calif. on Feb. 4.
(Don Bartletti / LAT)
OPEN-AIR WORKOUT:
Alicia Armstrong of Manhattan Beach swings on the rings at the Santa Monica Pier on a warm winter day Wednesday as unseasonable weather warmed the Southland this week.
(Allen J. Schaben / LAT)
IN YOUR FACE:
UCLA center Ryan Hollins dunks despite the efforts of Arizona's Bret Brielmaier on Feb. 4. The Bruins defeated the Wildcats, 84-73, proving worthy of their No. 14 national ranking.
(Allen J. Schaben / LAT)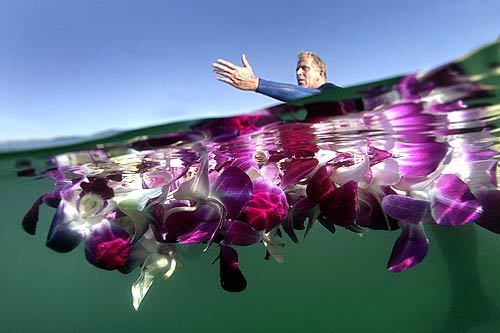 SURFERS' FAREWELL:
Flowers float in the Pacific as surfers, including Richard "DK" Kinzer of Dana Point, toss more leis to honor Patrick Tobin, an artist and surfer who died in late January. The paddle-out followed a memorial service at Doheny State Beach in Dana Point.
(Allen J. Schaben / LAT)
ELECTION CROWD:
Haitians tear down a door blocking their way to a voting station on the outskirts of the impoverished area of Cite Soleil, in Port-au-Prince, where U.N. troops and Haitian police work to control the crowd. In the first presidential election since the ousting of former President Jean Bertrand Aristide, many of the country's poor were desperate for change.
(Carolyn Cole / LAT)
THE MOUNTAIN AWAKES:
U.S. Geological Survey workers fix a web camera at Mt. Augustine in south central Alaska. The uninhabited volcanic island has been active since Jan. 11.
(Michelle Coombs Alaska Volcano Observatory/USGS)
HOLY DAY:
Iraqi Shiites flagellate themselves as they mark the anniversary of the death of Imam Hussein on Thursday. Tens of thousands of Iraqi Shiites gathered in the city of Karbala, Iraq, for the religious day known as Ashura.
(Wathiq Khuzaie / Getty Images)
IN PUBLIC:
Isabelle Dinoire this week with the nose, lips and chin the 38-year-old Frenchwoman received in November in the world's first partial face transplant.
(Michel Spingler / AP)
CORETTA KING REMEMBERED:
President Bush leads Sen. Hillary Rodham Clinton (D-N.Y.), former President Bill Clinton, former President George H. W. Bush and former President Jimmy Carter through the crowd during the funeral for Coretta Scott King at the New Birth Missionary Baptist Church on Tuesday in Lithonia, Ga. King, the wife of slain civil rights leader Martin Luther King, died Jan. 30 age 78.
(Jason Reed Pool/Getty Images)
SNAGGED:
An Afghan boy cries for help after getting caught in barbed wire outside a U.S. military base in Bagram, Afghanistan, during a demonstration against the publication of caricatures of Muhammad in some European newspapers.
(Rafiq Maqbool / AP)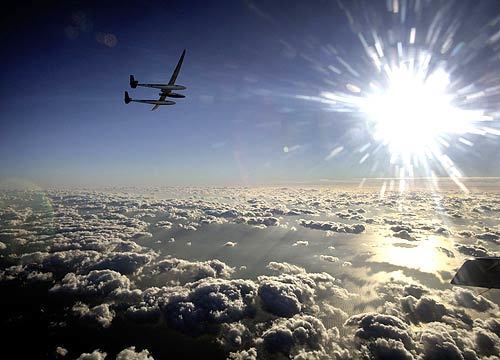 FLYING HIGH:
Adventurer Steve Fossett soars over the Atlantic Ocean in the Virgin Atlantic Global Flyer II on Wednesday. His goal was a nearly 27,000-mile trip, once around the world and then across the Atlantic again. The 80-hour voyage would break the airplane distance record of 24,987 miles set in 1986.
(Dan Chung / The Guardian)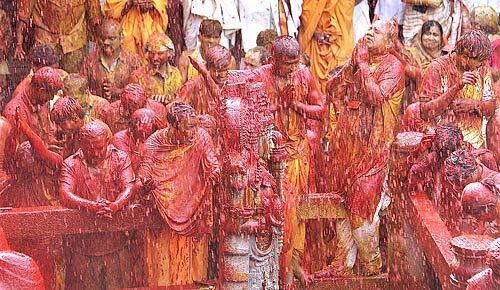 RELIGIOUS BATH:
Devotees are soaked in liquid vermilion as it is poured over the monolithic statue of Jain sage Gomateswara during the first day of the Mahamastak Abhisheka ceremony Wednesday in Sravanabelagola, India. The ceremony is held just once every twelve years, when the statue is bathed with milk, yogurt, saffron, gold coins and other religious items.
(Mario Tama / Getty Images)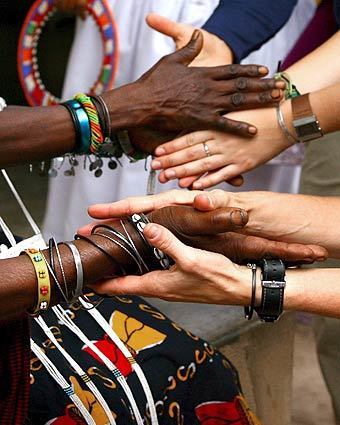 HELPING HANDS:
Walkers from the United States exchange greetings with Maasai women during the third AIDS Walk Africa near Arusha in Tanzania on Wednesday. The fifty walkers raised a total $620,000 to support Tanzanian projects of the Elizabeth Glaser Pediatic AIDS Foundation.
(Jon Hrusa / EPA)