19 Images
The Week in Photos: Feb. 11 - Feb. 17
The standard poodle Ch Brighton Minimoto, also known as Remy, took first place in the nonsporting dog group at the 131st Westminster Dog Show in New York.
(Seth Wenig / AP Photo)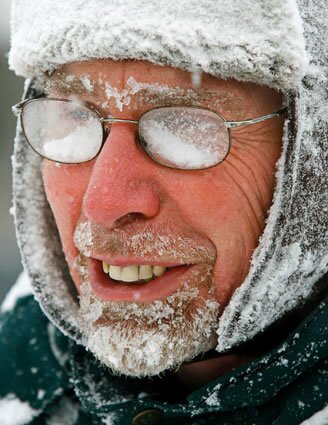 Bruce Papky wears the evidence of winter storm ripping through Hamilton, Ont.
(Nathan Denette / AP Photo)
A pedestrian makes his mark in a snow-covered Chicago sidewalk. The city was on the northern end of a massive storm moving across the Midwest, disrupting air traffic and rendering roads hazardous.
(Charles Rex Arbogast / AP Photo)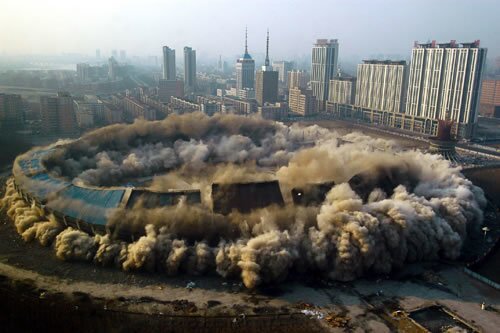 The Wulihe Stadium implodes in 6.6 seconds in Shenyang, China. Regarded as a lucky venue for the Chinese national soccer team, the stadium was host to the country's 2002 World Cup team.
(EyePress / AP Photo)
Room for one more on a train at Nanjing Railway Station during Chunyun, or Spring Festival, in China. The Railway Ministry predicts 156 million people will travel during the five-to-six week period.
(China Photo / Getty Images)
Police pile into a van in a slum north of Rio de Janeiro where residents accused officers of shooting innocent pedestrians during a confrontation with alleged drug traffickers.
(Antonio Lacerda / EPA)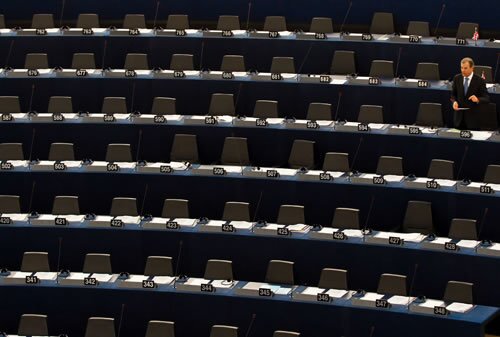 The lonely voice of German MP Hubert Pirker at the European Parliament in Strasbourg, France, before debate and a vote on the final report of alleged illegal CIA activities in Europe.
(Christian Lutz / AP Photo)
A refugee camp in Chupanga, Mozambique. Dam water released through floodgates in northern Mozambique compounded floods that have killed dozens of people and swept away hundreds of homes.
(Themba Hadebe / AP Photo)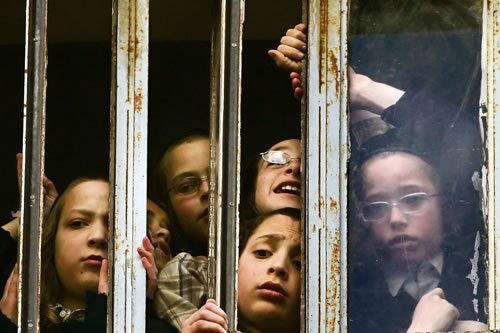 Ultra-Orthodox Jewish children gather at a window in the Mea Shearim neighborhood in Jerusalem.
(Emilio Morenatti / AP Photo)
The Dixie Chicks--from left, Martie Maguire, Natalie Maines and Emily Robison--celebrate one of their five Grammy Awards after their album, "Taking the Long Way," was snubbed recently at the Country Music Assn. Awards.
(Anne Cusack / LAT)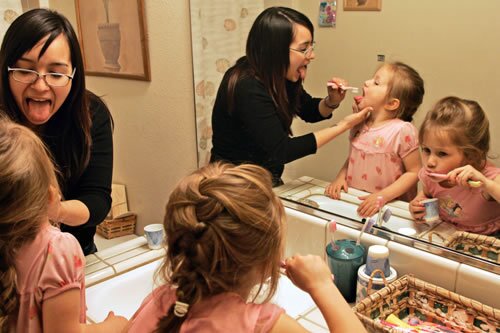 Audrey Delgadillo, 20, helps her sisters, 3-year-old Emily Smith, left, and Ashley Smith, 4, prepare for bed. Delgadillo's parents, Sgt. Claudia Hernandez-Smith and Sgt. Gary Smith, are deployed with the Army in Iraq.
(Irfan Khan / LAT)
Married for 71 years, Betty Davis, 95, and Jeffrey Davis, 96, renewed their vows in a small ceremony on Valentine's Day. "We want to make the best that we can of the next few years," Jeffrey Davis said. The couple met at a party in Boston. "He was a great dancer," Betty says.
(Francine Orr / LAT)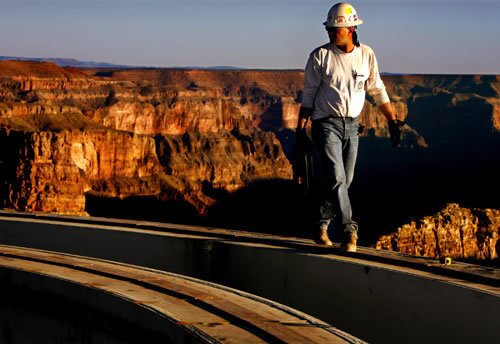 A worker navigates part of the cantilevered Skywalk over the Grand Canyon. The controversial project is intended to catalyze a 9,000-acre development for the Hualapai Tribe in Arizona.
(Mark Boster / LAT)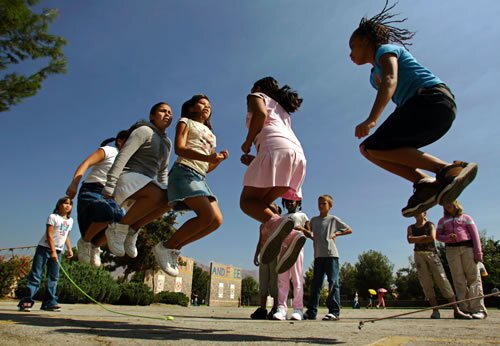 Students burn some energy during their lunch break at Park Hill Elementary in San Jacinto. Those considered "English language learners" account for more than 40% of the student body.
(Irfan Khan / LAT)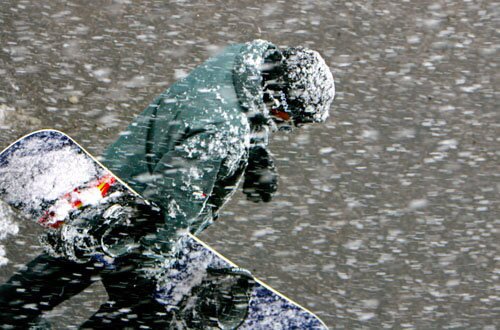 Like a figure in a snow globe, a snowboarder makes his way through flurries in the parking lot at Bear Mountain Ski Resort in Big Bear Lake.
(Karen Tapia-Anderson / LAT)
Overcome with emotion, Joyce Boney embraces her son Timothy Atkins. He was released from L.A. County Jail after a judge overturned his 1987 murder conviction after a key prosecution witness recanted her testimony.
(Luis Sinco / LAT)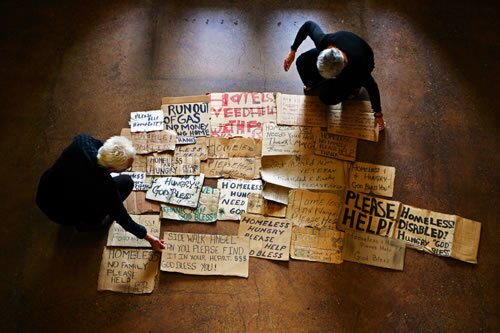 Chela and Joseph Bañuelos have collected about 30 signs for a project in which the homeless are paid $5 to $10 for their sign and given cardboard and a pen to make a new one.
(Allen J. Schaben / LAT)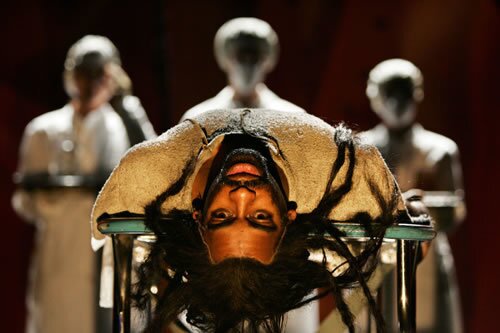 Daniel Breaker, portraying the king's son Segismundo, is strapped to a gurney in the play "Life Is a Dream."
(Don Bartletti / LAT)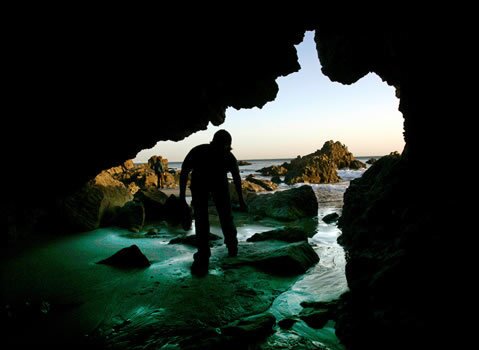 The cleft in a rock at Leo Carrillo State Park near Malibu attracts sand crabs, sea slugs and beachcombers.
(Stephen Osman / LAT)